Are you sick of the standard clip or belt-loop holsters? Do you find yourself fumbling around trying to reholster your weapon? Have you ever been afraid of your concealed OWB holster being seen?
The pancake holster is a style that still wears like a normal holster but offers some unique features. If you go and buy one, you may be wondering exactly how to wear a pancake holster. Don't worry, we've got you covered.
To wear a pancake holster properly, you need to make sure you buy the right size for your gun, keep it tight to your body, and dress for your preferred style of carry. The right size holster keeps your gun in place with good retention. By keeping it tight to your body, the pancake holster offers extra comfort and leverage for everyday wear. Dressing the correct way can make sure the holster is concealed and/or easily-accessible in case of emergencies.
Read on for more detailed information on pancake holsters.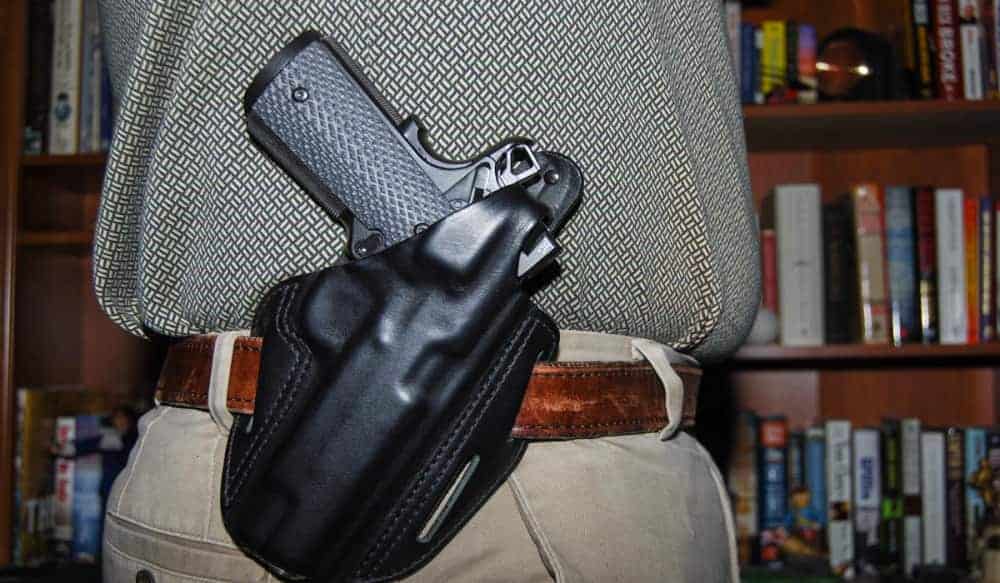 WHAT IS A PANCAKE HOLSTER?
We've mentioned the pancake holster, but do you know what a pancake holster is? In order to better understand why you might choose one or how to wear it, you may find it helpful to know more about pancake holster.
This special type of holster was designed by Roy Baker 60 years to hold your gun closer to your body than the standard holster. This increases its comfort level and concealment ability.
There are two main features of the pancake holster: 1) Two pieces of material creates a flat shape to hold the gun in place. This is where the "pancake" name comes from. 2) The belt slots the holster attaches to the belt with.
Most holsters use a flat piece of material in combination with a piece that's molded to the gun's shape. While this gives good retention and makes it easy to draw the weapon, it makes the holster harder more uncomfortable. This is the strength of the pancake holster.
HOW THE HOLSTER ATTACHES
Pancake holsters by two or three belt slots with three belt slots being the most common. Belt slots are different from belt loops because they allow less wiggle room for the holster and hold the holster tighter to your body.
If the pancake holster has three or more belt slots, the holster has different configurations it can be worn with. This lets you choose the cant—angle the gun rides—that you prefer. It also lets the holster be worn from different draw positions and makes strong-side draws or cross-draws simple.
When you wear a pancake holster, try it out in different positions. Drawing should be a natural motion. In an emergency, you don't want to be fumbling for your gun, so be sure you're happy with its cant and position.
PICKING FOR THE RIGHT SIZE
Since pancake holsters have been around for six decades, there is a holster for your specific gun; you just have to look for it.
When shopping for a pancake holster, look for the specs and features of the holster. The company should be advertising which specific guns or gun sizes fit best.
While some pancake holsters can come with a thumb guard retention, it's not that common. Most of the time, it's only friction that's holding your gun in place. This makes it extra important to find the best size.
Imagine you're walking in the grocery store parking lot when some lady's cart starts to roll away. You, being the kind soul you are, run after it to grab it. But the jostling from running loosens your pistol out of your oversized pancake holster, and the gun falls onto the ground.
Or worse! Imagine there is a shooting situation, and you need to draw your gun. When you go to draw, the too-small holster causes the gun to get stuck for a split-second too long.
These can be avoided if you find the right sized holster. Take the time to double check. It's worth it.
DRESSING FOR THE RIGHT CARRY
If you've picked the right pancake holster for your gun and gotten it attached to your belt how you want, your next step is to dress for the holster. This boils down to two main considerations.
Gun Belt – The belt slot way of securing to your body requires a top-notch belt. I recommend a gun belt at the width described by your specific pancake holster. Most gun belts come in at 1.5 inches.
Regular belts won't cut it. Even with a thick leather belt, you're going to find that the extra weight wears it down quickly. This cause the holster to flop around more causing a potentially uncomfortable and even dangerous situation.
Coverage – Pancake holsters can be easily concealed because of how close they cling to your body shape. If the holster is like most pancake holsters, it rests on the outside of your waistband. To conceal this, you're going to need a coat, sweater, or long T-shirt to provide concealment.
Take care not to pick clothing too long or baggy. Sometimes this actually draws attention to you and makes some people think that you're carrying. Choose natural looking clothing that rests farther than the holster.
As always when carrying, be careful that the clothing will not get in your way when drawing. In an emergency, every second counts.
WHO SHOULD WEAR A PANCAKE HOLSTER?
Anyone can wear a pancake holster with success, but there are some specific situations or types of people that may want to check them out in particular. This may be for you if you:
Are sick of heavy holsters that hang off the belt
Have pain at the hip joints or lower back
Have a larger abdomen
Are looking for a low-profile holster that is easy to conceal
Don't want to mess with belt clips
CONCLUSION
Now you know how to wear a pancake holster. Pick one that is right for your size of handgun, wear it at the angle and position you prefer, and dress in a way that works with the holster.
They work for everyone but especially those listed above. There's a reason this style has been around for 60 years: it just works.
If you enjoyed this article you'll probably like these: