When you carry inside the waistband (IWB), you are choosing the most effective and common way to carry concealed carry. By tucking your gun and holster between your pants and your body, you make it easy to cover the weapon with loose clothing.
A gun belt is crucial to success when carrying IWB, but which ones are right for you? Read on to see Gun Goals pick for the best gun belts for IWB.
FEATURES TO LOOK FOR IN A GUN BELT
People assume that gun belts are all basically the same, and the only difference is in how they look. There are actually a lot of different features you need to be aware of in order to find the right gun belt for you.
Below are some of the most important features to consider when buying a gun belt. All the Top 5 selected by us are great purchases, but it's up to you to balance these features and buy the one that meets your needs.
DURABILITY
Gun belts are going to be holding a holster and other gear for long periods of time. They need to be able to handle that extra weight.
Durability is often broken down into two parts: does the material stay together? And does the belt sag or flip when holding a holster?
A good gun belt can stand the test of time and hold—at least—a holster with a handgun. IWB carry makes durability a bigger deal because the holster and gun often put pressure over a smaller area wearing that area faster. 
WIDTH
The most common width for a gun belt is 1.5 inches. Most IWB holsters fit this width although are adjustable and can fit other sizes as well.
The more width, the more secure a holster stays. This is crucial for an IWB. If the gun slips at all, you'll be fiddling with it all day.
REINFORCEMENT
To make a gun belt more sturdy, companies use a few different techniques. They can choose stiffer materials, double the layers of material, or add a polymer or steel core inside the belt.
The more tricks they use, the more inflexible the belt. But this also results in more carrying potential without sagging or flipping.
MATERIAL
Gun belts usually come in two types of material. Neither type is the clear winner, so it's up to you to compare the two and pick which one you like best.
Leather – As with holsters, leather is generally more durable and stiff. It often comes in the most visually pleasing varieties and can be ideal for IWB holsters because the holding clips—if matching colors—can easily blend in. They are also comfortable to wear.
The downside of leather belts is a higher price and a tendency to react to sweat.
Nylon – Nylon products have a bad reputation when it comes to holsters, but nylon belts are almost as common as leather. When double-layered, they can be almost as sturdy as leather but at a lower price. They are comfortable to feel and give a tactical look to your outfit.
The main downsides of nylon are that they aren't as durable, absorb moisture, and don't match a more formal clothing style.
COMFORT
While both materials for gun belts are naturally comfortable, a poor design can make anything uncomfortable. If the belt doesn't stay tight, the holster flops around and pulls awkwardly on your waist. A heavy gun belt may also become a tiring nuisance for those with lower back pain.
STYLE
Unless you're covering a belt with a shirt, someone is going to see it. Depending on your outfit, different belts can match.
If you're carrying IWB, you probably don't want anyone to know that you have your handgun with you. A suit with a green nylon tactical belt stands out like a sore thumb.
You don't need to buy a hundred different belts for each outfit, but you may want to consider what you can get the most use out of. Nylon belts go well with casual outfits while leather fits almost everything as long as the colors belong.
Go with a black belt unless your clothes and shoes are brown; then go with brown or green. It seems silly, but you don't want to draw attention your gun when concealing.
PRICE
While gun belts aren't usually expensive, they do vary in price depending on brand name, material, and extras. All else being equal, think about how much you're going to use this gun belt.
If you're using the belt a lot while carrying a lot of gear including an IWB holster, it's a safe bet to invest more into a belt that lasts.
In contrast, if you're going to use it only occasionally or buy multiple belts, then you should be fine saving the cash for something else.
REVIEW OF THE TOP 5 GUN BELTS FOR IWB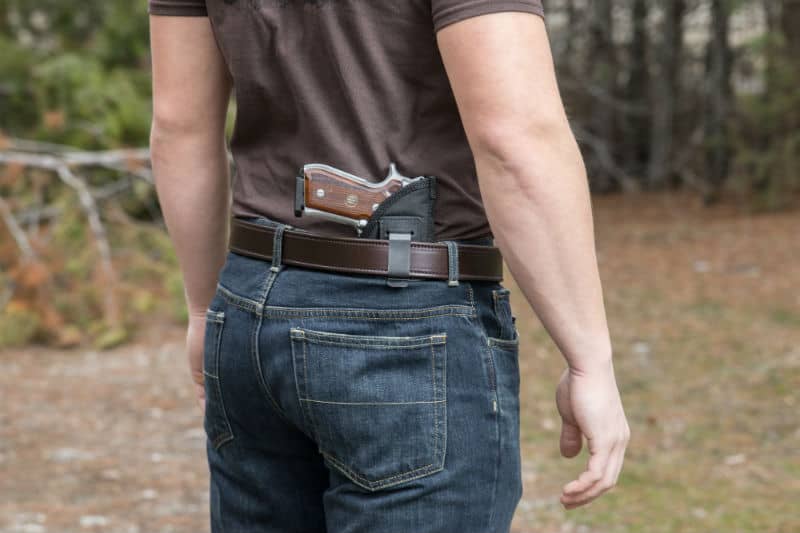 We're going to breakdown the main features of each gun belt in this section. While these five are all top picks, not every one is right for every situation. Consider what you're looking for in a gun belt based on the features above and decided which gun belt satisfies what you're looking for.
RELENTLESS TACTICAL THE ULTIMATE CONCEALED CARRY CCW GUN BELT
Relentless Tactical The Ultimate Concealed Carry...
PROUDLY HANDMADE IN THE USA! LIFETIME WARRANTY! If you are ever unhappy with this belt for any reason just let us know and we...
KEEP YOUR FIREARM WHERE YOU WANT IT WHEN YOU NEED IT! Won't stretch, bend or sag! A Strong and Secure platform for your IWB...
SAY NO TO NYLON BELTS! This 1.5 Inch 14 ounce Premium Full Grain US Leather Belt is strong enough to carry all your gear and...
THE BEST REVIEWED GUN BELT ON AMAZON! Great for Open Carry as well.
CHECK OUT THE SIZING CHART TO EASILY FIND YOUR SIZE! Buy one today! If you want the cheapest then go ahead and buy the...
Relentless Tactical's Ultimate Gun Belt aims to provide high-quality in every feature you want in a gun belt. Stitched from durable leather, the belt is designed to remain stiff and secure after a long period of use.
This concealed carry belt can be used with OWB and IWB holsters and comes in a variety of attractive colors. While this belt may cost more than other belts, this belt could potentially hold your holster, additional magazines, and all other gear you may want to carry for optimal preparedness in an emergency.
The belt is 1.5 inches wide and is made in a variety of lengths. Relentless Tactical believes in this product so much they offer a Lifetime Warranty. On top of all the above, these belts are made 100% in America, so by purchasing this belt you're supporting a fully native company.
Here's what actual users have to say about this belt:
Positives Recap for This Product
Very tough
Holds shape even when carrying a lot of gear
Just the right amount of weight
Looks sharp and discreet
Thick enough to carry holsters, but thin enough to wear with dress clothes.
Negatives Recap for This Product
No consistent customer complaints were found
XTAC QUICK RELEASE EDC BELT
Sale
WOLF TACTICAL Heavy Duty Quick-Release EDC Belt -...
BUILT FOR CONCEALED CARRY Featuring stiffened 2-ply nylon webbing to support IWB and OWB holsters without rolling over, our...
QUICK-RELEASE BUCKLE The metal quick-release buckle gives convenient, instant attach-detach capability. Velcro hook and loop...
PREMIUM HEAVY DUTY MATERIALS Crafted with two layers of rugged, rip-resistant 1.5 nylon webbing reinforced for added...
COMFORTABLE AND ADJUSTABLE For an EDC belt, comfort and fit are king. Double-layer nylon webbing makes the perfect...
TRUSTED WOLF TACTICAL QUALITY Wolf Tactical designs mission-ready tactical gear built to last. We are based in the USA and...
If you're looking for an affordable but high-quality nylon belt, then the XTAC Quick Release EDC Belt may be for you. The nylon is double-layered for extra rigidity and durability. XTAC designed this belt with OWB and IWB carry in mind.
The 1.5-inch wide belt will fit most holsters and features a quick release buckle making this one of the easiest belts to use on the list. The metal buckle functions just like a seat belt buckle. With a loop to adjust the length, the belt can be adjusted to any length with an exacting degree.
XTAC built this concealed carry gun belt with authorities and security in mind. They believe in their product and offer a 100% money back guarantee if you're unsatisfied.
The nylon belt looks like any other simple nylon belt, but it only comes in black and tan colors. If you're planning on carrying IWB and covering the belt with a shirt anyway, you shouldn't have a problem with its look and color.
People who have used the XTAC have this to say:
Positives Recap for This Product
Affordable
Quick release buckle works nicely
Rigid enough to hold a holster and gun
Easy to adjust the length
Negatives Recap for This Product
Not as sturdy as leather belts
Can only tighten so much before it loses its tightness
Hard to get through belt loops
HANKS GUNNER CONCEALED CARRY CCW LEATHER MADE GUN BELT
Sale
Hanks Gunner - USA Made Concealed Carry CCW...
THICK & DURABLE GUN BELT - MADE IN THE USA OF USA LEATHER - 100% American - 100% Quality - GUARANTEED NO BREAK BELTS! Made by...
100% FULL GRAIN LEATHER -ONE PIECE - NO FILLERS- These ccw belts will never split like some cheaper belts will - Made from...
14OZ LEATHER - 1.5" WIDE - Vegetable Tanned leather. Approximately .22-.23 thick No Sag, No Rollover, No Stretching we...
100 YEAR WARRANTY - yep that's right we are so confident in our shooting belts we have your back for 100 years! This belt...
100% FREE EXCHANGES IF NEEDED! If you have any questions please contact us. We are here to help
Hanks Gunner made this gun belt to be rigid and durable. The leather gun belt is made 100% in America by Amish craftsmen and comes with a 100-year warranty.
At 1.5-inches wide and almost a quarter-inch thick, this gun belt is made to fit most holsters and hold even the heaviest holsters and gear. Hanks Gunner suggests that their product can carry any and all gear you need with no sagging or deformity.
The concealed carry gun belt comes in five different colors and looks like any other leather belt. The buckle is attached with Chicago screws instead of snaps making it very easy to switch out with your preferred belt buckle.
With IWB carry in mind, the belt holds stiff and secure to your body. This makes carrying safer, more comfortable, and an easier to access.
Customer reviews point out these pros and cons:
Positives Recap for This Product
Lower in price than other leather belts
Comfortable to wear
Thickness is perfect for holding a wide variety of gear
Looks great and different colors allow for different styles
Negatives Recap for This Product
Not as rigid as other leather belts or ones that are stitched
RELENTLESS TACTICAL THE ULTIMATE STEEL CORE GUN BELT
The Ultimate Steel Core Gun Belt | Concealed Carry...
PROUDLY HANDMADE IN THE USA! LIFETIME WARRANTY! If you are ever unhappy with this belt for any reason just let us know and we...
THE TOUGHEST GUN BELT ON AMAZON JUST GOT TOUGHER! Based on our best selling and top rated Ultimate Gun Belt, we added a...
WON'T STRETCH, BEND OR SAG! A Strong and Secure platform for your IWB or OWB holster, mag pouches, flashlights and any other...
SAY NO TO NYLON BELTS! This 1.5 Inch beautiful USA made Leather Steel Core Belt is strong enough to carry all your gear and...
CHECK OUT THE SIZING CHART TO EASILY FIND YOUR SIZE! Measure from the middle of the buckle to the middle belt hole to get...
With the success of Relentless Tactical's Ultimate Gun Belt (reviewed above on our list), they decided to take support and durability one step farther and add a steel core insert in this belt.
By adding a steel core to the already thick and durable leather, the Ultimate Steel Core Gun Belt is designed to carry everything you need with no sagging. Putting on your holster, extra magazines, knives, and anything you can imagine is simple with this belt.
Like the other Relentless Tactical belt, this kind comes in at 1.5 inches thick with a Lifetime Warranty. Unlike the earlier model, the steel core variety comes in Midnight Black and Whiskey Barrel Brown for colors. With the addition of the steel core, you can expect this type to cost even more.
Consistent customer reviews use the phrase, "this is the gun belt you're looking for." Not only does it look great but it holds up. For a steel and double leather belt, the users say that you won't notice its weight.
Users go on to describe their experience with this product like this:
Positives Recap for This Product
Carries many add-ons with no sagging
IWB carry is tight and secure
Doesn't stretch over time
Comfortable to wear
Looks great
Negatives Recap for This Product
Expensive, but worth it according to most users
FAIRWIN TACTICAL GUN BELTS, 1.5" HEAVY-DUTY TWO LAYER EDC BELT WITH QUICK RELEASE BUCKLE
Sale
Fairwin Tactical Gun Belts, 1.5 Inches Heavy Duty...
Tactical Belt SizeLength: 49(125cm), Width:1.5(3.8cm), fits waist 36"~ 42". Buckle Size: 2.4"(6cm) in width and 5/16"(8mm) in...
Concealed Carry BeltThis edc carry belt is great for wilderness hunting survival. Stiffened to support any IWB or OWB holster...
Quick Release BuckleThis tactical quick release belt attached a military grade metal buckle. Intuitive and smooth quick...
Gift Box PackagingEach tactical ccw belt comes with a gift box. Its the best gift for father, husband,boyfriend, or woman who...
Best Warranty2 years warranty for the tactical belt, 60-day hassle free return. Reply within 24 hours.
The Fairwin EDC Belt is the most affordable belt on our list. The double-layered nylon belt is designed to fit any size with a loop and Velcro length adjuster, and the quick release buckle is easy to use.
Two layers of stiff nylon fight sagging when wearing an OWB or IWB holster. Fairwind claims the belt can hold all of your survival gear without flipping over.
The belt looks the part of a tactical nylon belt and comes in three different colors: black, brown, and green. The belt is not designed to be worn with dress pants which often have smaller loops, but it is meant to match casual and tactical pants.
Fairwin guarantees this belt with a 60-day hassle free return and 2-year warranty. They designed this belt for tactical use with OWB and IWB holsters.
User reviews break down into the following points:
Positives Recap for This Product
Very affordable
Stiff nylon holds holsters well
Easy-to-use buckle
Fully adjustable length
Negatives Recap for This Product
Doesn't stay in tight
Buckle needs to be removed to fit through most belt loops
Belt won't fit all pant belt loops
Doesn't match dress or formal clothes
CONCLUSION
We hope you enjoyed our 5 best gun belts for IWB. A lot of the same features are needed for OWB and IWB. With IWB, each feature becomes more important because of its placement close to your body.
Think about what you want in an IWB gun belt and decide which of our top 5 are the best for you at the price you want to pay.
If you enjoyed this article you'll probably like these: