Carrying the 1911 pistol is not only a wise self-defense choice, but it really makes you feel a connection with American history. You have the handgun, but do you have the right holster?
The 1911s firepower and reliable design make it great for outside the waistband (OWB) carry, so we've compiled a list of the top 5 best 1911 holsters OWB. Read on to learn more about which product may be the best for you.
REVIEW OF THE BEST 1911 HOLSTER OWB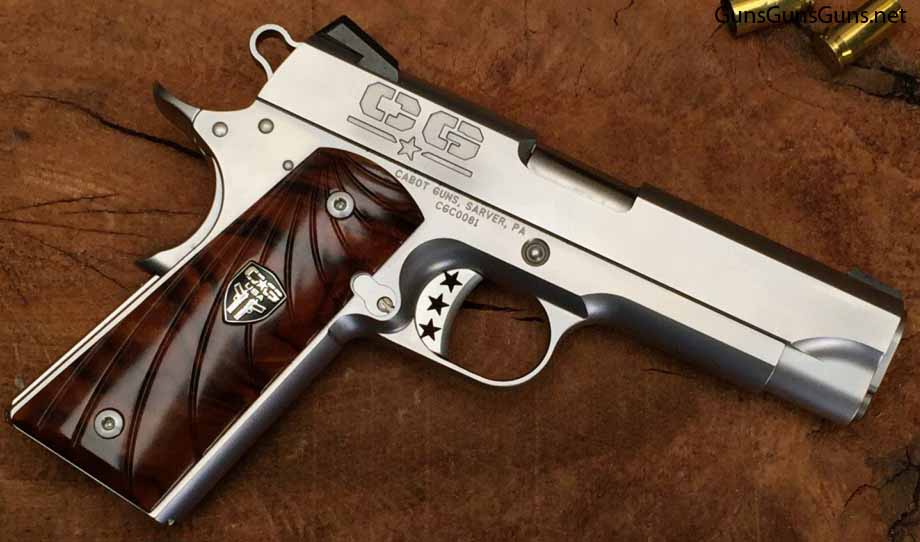 Below are the breakdowns for the OWB holsters. Each one has its own specific pros and cons, so be sure to read carefully and then buy with confidence.
CYTAC 1911 5-INCH PADDLE HOLSTER WITH TRIGGER RELEASE
Polymer OWB Holster Fit 1911 5" NO Rail - Colt...
Compatible & Incompatible: Compatible with colt 1911 .45 5" without rail, girsan 1911 mc, variants 1911, taurus 1911,...
High Safety: Level II Retention. It will automatically lock on the trigger when you put the weapon in, and makes a "click"...
Excellent Design: Made of military polymer material, easy to clean and maintain, so light to carry. Simple structure in the...
Paddle Attachment: 360 degrees tooth gear for omnidirectional rotation, feel free to wear on Web Belts within 2 inches and...
Widely Used: Daily concealed carry under your coat, and extreme temperature tolerance. Suitable for different places like...
CYTAC's affordable paddle holster is designed for OWB carry of the 1911 with a 5-inch barrel. The paddle system attaches to your belt, but it allows for some customization in carry. 
This company understands that many people choose the 1911 because of their love for the gun; that's why they designed a passive retention system where the only point of contact is at the trigger guard. With this system, the gun is protected from wear by the polymer material.
The holster also uses a quick-release button and active retention system that automatically secures the 1911 when you holster it. Active retention may slow down draw speed, but CYTAC minimizes that with its simple button to release.
The cant can be adjusted with an Allen wrench for further carry preference. Along with holster, you also get a microfiber cloth to care for the gun and holster. The slim material should make it concealable if you'd like to carry concealed.
Users have this to say about using the holster:
Positives Recap for This Product
Low profile
Great retention; easy to use
Comfortable feel
Adjustable carry positions
Negatives Recap for This Product
It may not fit every 1911; check your specific type for a match
1791 GUNLEATHER 1911 RIGHT HAND OWB LEATHER GUN HOLSTER
1791 GUNLEATHER Right Hand OWB Leather Gun Holster...
COMFORT & QUALITY: Upgrade your carry to the 1911 leather gun holster. Made with 100% American Steerhide Leather that is...
CONCEALMENT & CONVENIENCE: 1791's 1911 holster is designed for concealment and convenience. Our easy to conceal OWB leather...
PROTECTION & CRAFTSMANSHIP: 1791 Gunleather's 1911 Belt Holster is hand crafted to protect both you and your firearm at all...
CUSTOM FIT: This 1911 leather pistol holster fits both 4 and 5 inch barrels as well as belts up to 1 & 3/4 inches. Its...
LIFETIME WARRANTY: All 1791 products are backed by lifetime warranty. We produce the finest leather gun holsters used by law...
This middle-priced holster is the leather holster meant to match the great look of the 1911 and still being very useful. It comes in 6 different styles including:
Black
Black/Brown
Carbon fiber
Classic brown
Signature brown
Stealth black
The holster uses only passive retention, but the leather is molded to fit 1911s without rails and 4-inch muzzles or longer tightly. The leather material and belt loops make the OWB fit closely and comfortably with your body all day long.
Speaking of material, Gunleather has a strong reputation for the quality of their craftsmanship and leather. The holster has an open top for optimal draw speed. It is only right-handed, so lefties need to look elsewhere.
The customers reported the following about using the holster:
Positives Recap for This Product
Leather is tough but comfortable
Looks great
Great fit and retention
Fast and easy draw
Excellent craftsmanship
Negatives Recap for This Product
Too bulky to conceal easily
1791 GUNLEATHER COMBO 1911 OWB HOLSTER AND MAG POUCH
1791 GUNLEATHER 1911 Holster, Right Hand OWB...
COMFORT & QUALITY: Upgrade your carry to the 1911 leather gun and mag holster combo. Made with 100% American Steerhide...
CONCEALMENT & CONVENIENCE: Lighten your load with our 1911 holster combo. Combining our 2 best selling holsters into 1 this...
PROTECTION & CRAFTSMANSHIP: 1791 Gunleather's 1911 Belt Holster is hand crafted to protect both you and your firearm at all...
CUSTOM FIT: This 1911 leather pistol holster is custom made for an exact fit. It fits both 4 and 5 inch barrels and 4 inch...
LIFETIME WARRANTY: All 1791 products are backed by our lifetime warranty. We produce the finest leather gun holsters used by...
This holster is really similar to the standard leather holster with one big exception: the extra pouch for magazines. For a little bit more money, you can a place to carry some extra ammo just in case you find yourself in the dire situation where you need it.
Like the other Gunleather holster, it comes with excellent craftsmanship and high-quality leather. This leather is likely to last for years without coming apart.
The passive retention may not give a lot of protection from holster grabs, but you can draw easily and quickly. It's hand molded to fit 4 and 5-inch 1911s with rails.
Even with the extra mag pouch, Gunleather slimmed down the material to make it easier to conceal. This holster still looks great, but this one only comes in 4 styles: black and brown, classic brown, signature brown, and stealth black.
Gunleather backs this holster up with a lifetime warranty.
Here are the users' comments in one, quick list:
Positives Recap for This Product
High-quality, comfortable leather
Great fit for 1911s
Looks great
Durable and tough
Extra mag pouch is useful
Negatives Recap for This Product
No consistent complaints were found
1791 GUNLEATHER 4-WAY 1911 HOLSTER
Sale
1791 GunLeather 4-WAY 1911 Holster - OWB and IWB...
The MOST versatile holster you can buy allows for 4 different CCW positions. The sturdy steel clip allows for reliable IWB...
Upgrade your carry to the 1911 leather gun holster. Made with 100% American Steerhide Leather that is reinforced and double...
Our 1911 holster is designed for concealment and convenience. Easy to conceal in both IWB and OWB positions this holster has...
1791 Gunleather's 1911 4-WAY Holster is hand crafted to protect both you and your firearm at all times. The hand molded...
This Gunleather holster is unlike the other ones on our list. For the middle-of-the-road price, you get a holster that can be worn in four different ways.
They accomplish this by slimming down the leather material a lot and adding multiple ways of attaching the holster. On one side, there is a strong metal clip. On the other, there are multiple slots for the belt to go through with each combination offering a different way to carry.
You can carry this holster in the following 4 ways:
 OWB strong side
OWB cross draw
SOB horizontal
IWB
This versatility is what makes it unique from other holsters. Because of the holster's smaller size, it's molded to fit 1911s with a 3 or 4-inch barrel.
Like all other Gunleather products, you can expect great craftsmanship and high-quality leather. On top of this, there's the standard lifetime warranty.
See what the users have to say:
Positives Recap for This Product
Effortless draw
Strong clip secures well
Strong leather
Fits described 1911s well
Very comfortable
Negatives Recap for This Product
Dye may bleed when wet
Tip of the muzzle may poke out of the end of the holster
OUTLAW HOLSTER STEALTH BLACK USA FLAG KYDEX OWB
Outlaw Holsters' OWB holster is affordable and tough. The Kydex polymer resists water damage and lasts a long time.
The holster secures to the belt with 1.5-inch belt loops. There is an option for an additional purchase of a paddle holster if you prefer that style. In general, they are a little easier to use.
The most appealing feature of this holster, besides the affordable price and ability to choose 1911 size, is the design. The holster is made in the USA and the black and white USA flag print on it only serves to show that off more.
With this holster, Outlaw Holsters gives a one-year warranty.
Hear what the customers said about using the holster:
Positives Recap for This Product
Very comfortable and form fitting
Good retention, draws easily
Good construction
Right and left versions
Affordable
Negatives Recap for This Product
May be hard to conceal if you wanted to
WHY CARRY OWB?
When you carry OWB, it's a conscious choice. Those who do so, do it for a large variety of reasons which we discuss below.
Open Carry – Some people just want to open carry. Using an OWB doesn't mean you have to open carry, but you can if you want. It can help deter crime, project a feeling of safety, or start conversations with other gun enthusiasts.
Comfort – When compared to inside the waistband (IWB) holsters, OWB are typically much more comfortable. The holster rides on the outside of your pants, and so it doesn't poke as you move around like the holsters do when they're in between your pants and body.
Access – When the holster rides on your hip, it's a quick motion to draw the gun. If the gun is concealed by tucking your shirt over an IWB, it takes an extra moment to get under your shirt.
Style – You can laugh at this one if you want, but, if you're honest, you know that some holster and 1911 combos just look great. When you carry OWB, you can show off to the whole world.
Whatever reason you decide to carry OWB, you have the right and ability to do so if your state allows (and most do). Check your state laws for what kind of carry you can perform legally with or without permits.
HOLSTER FEATURE BREAKDOWN
If you're reading this article, you've already made the smart choice to look for more information to help you make a good purchase. Keep going on that roll by finding out what features to watch out for in our reviews later in the article.
Draw Speed – If you're in a live-fire situation, do you want to be fumbling with your holster? Every second counts! As we break down holsters, take note of the draw speed.
Durability- If you're spending money on a holster, you want to make sure it holds up over time. In general, leather and polymer holsters are tough and durable. Nylon tends to be floppy and breaks easily, but it is cheaper.
Comfort – OWBs are known for being more comfortable, but that doesn't mean that they're all equally comfy. A lot of it comes down to how the holster attaches to the belt.
Another big consideration is if the holster is held tight against the body. Close fits to the body are great for comfort.
Retention – Retention refers to how the handgun is held in the holster. There are two kinds of retention: passive and active.
Passive retention is just how the natural tightness of the holster secures the gun. This type is easy to draw from, but it's more vulnerable to someone grabbing the gun out of your holster.
Active retention involves extra mechanics securing the gun. These tools can come in the form of thumb break straps, loops, or locks. These are more secure, but they do add another step to drawing.
If you're concerned about holster grabs, go for an active retention system. Otherwise, a good passive retention should be fine.
Style – Everything else being equal, it's perfectly fine to pick a holster just because you think it looks good. Leather holsters have a classic look and come in different styles. Kydex polymer holsters often look more tactical, but they can also have designs printed on them.
We discuss any style or look concerns as we break down the products below.
Extras – A holster may just be a holster, but some companies add extras to their products better match their customers' needs. The more extras, the higher the price. Here is a brief list of extras you may come across:
Different ways to carry
Adjustable cant (angle of carry)
Adjustable retention
Extra pouches
Alternate securing methods
Price – Don't make the mistake of buying something cheaper just because it costs less. Often it sacrifices something in the price drop.
On the other hand, don't blindly buy the most expensive holster you can find. In the best situation, you think about what features above you need and compare them to our reviews coming below.
COMMONLY ASKED QUESTIONS
Is the 1911 a reliable pistol? – Yes! It's stuck around for so long because of its reliability. It balances firepower, accuracy, responsiveness, and reliability. Compared with more modern pistols, the only area it struggles with is that it may need more upkeep the more you fire.
What are some reliable makers of the 1911 model? – The 1911 has been so popular over the past 100+ years that almost every gunmaker has their own version of it. They're all pretty consistently good too. Here are some standard makers you can trust:
Springfield
Smith and Wesson
Remington
Colt
Kimber
Ruger
What made the 1911 so revolutionary? – Many reasons made it revolutionary. One is the type of parts used. It basically invented the modern pistol model as we know it today including the barrel link and slide lock.
Also, the new trigger design and grip made it simple to fire with accuracy. Even with the new design (at the time), it still provides a good base for many accessories and customization.
CONCLUSION
We hope you enjoyed looking at our reviews of the best 1911 holster OWB. Each one may the right fit for you if you think about what you want.
I recommend the Gunleather 1911 Combo holster. For a little more, you get that extra mag pouch on top of the already great quality holster. Plus, there were no consistent complaints from users.
If you're a lefty or don't want to spend the money, any other one would be fine, but I suggest you consider the Outlaw Holsters Kydex one. They have a good reputation for customer service, the holster is more affordable, and the Kydex can last a long time.
If you enjoyed this article you'll probably like these: