We all have our own favorite pistols, and, for many, that's the Sig Sauer P226. This handgun packs a punch while still being easy to manage and aim. But are you using the best holster for the Sig P226?
We dug through the hundreds of holsters that work for this gun and found the best 5. Read on to find out more about picking the best holster that works for you and your handgun.
REVIEW OF THE BEST HOLSTER FOR SIG P226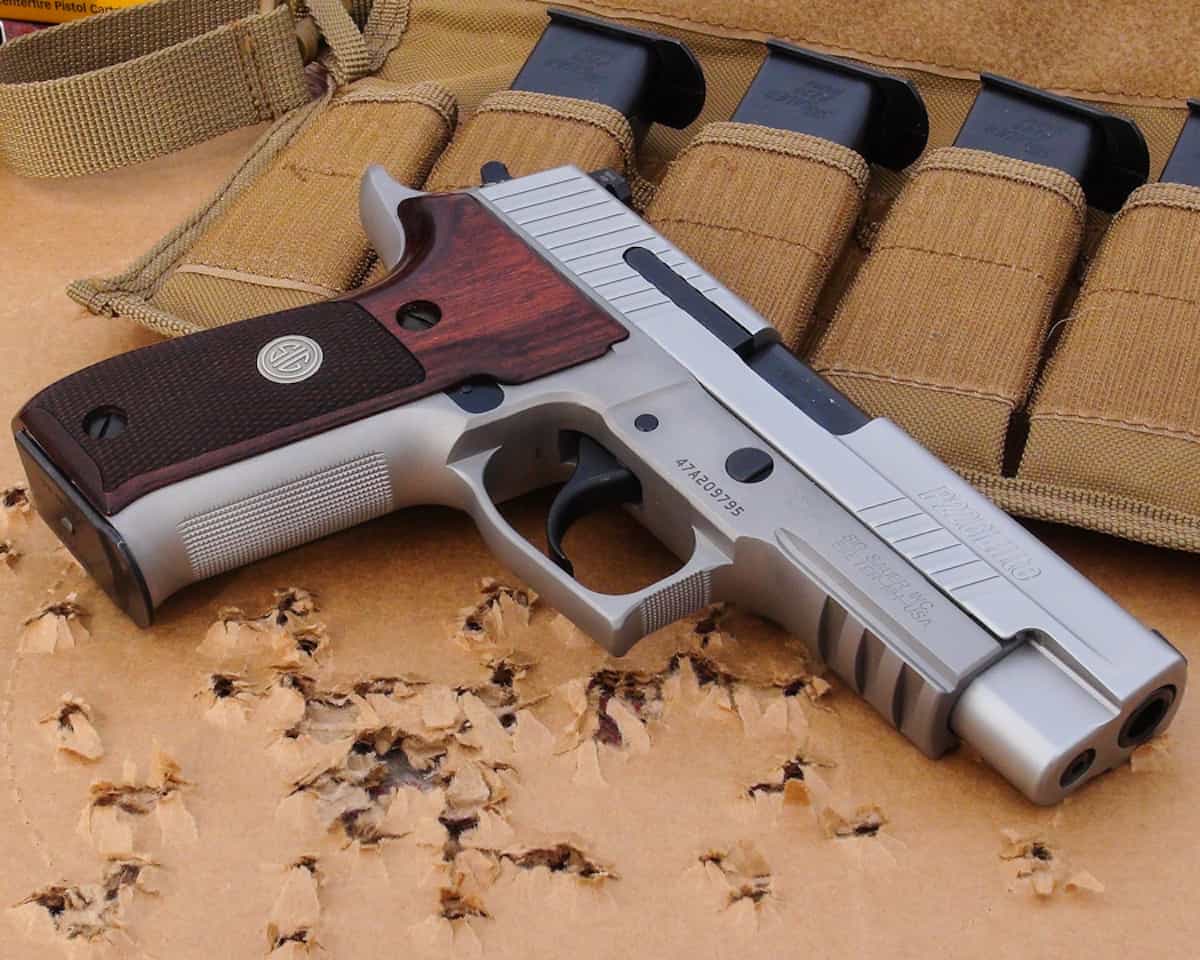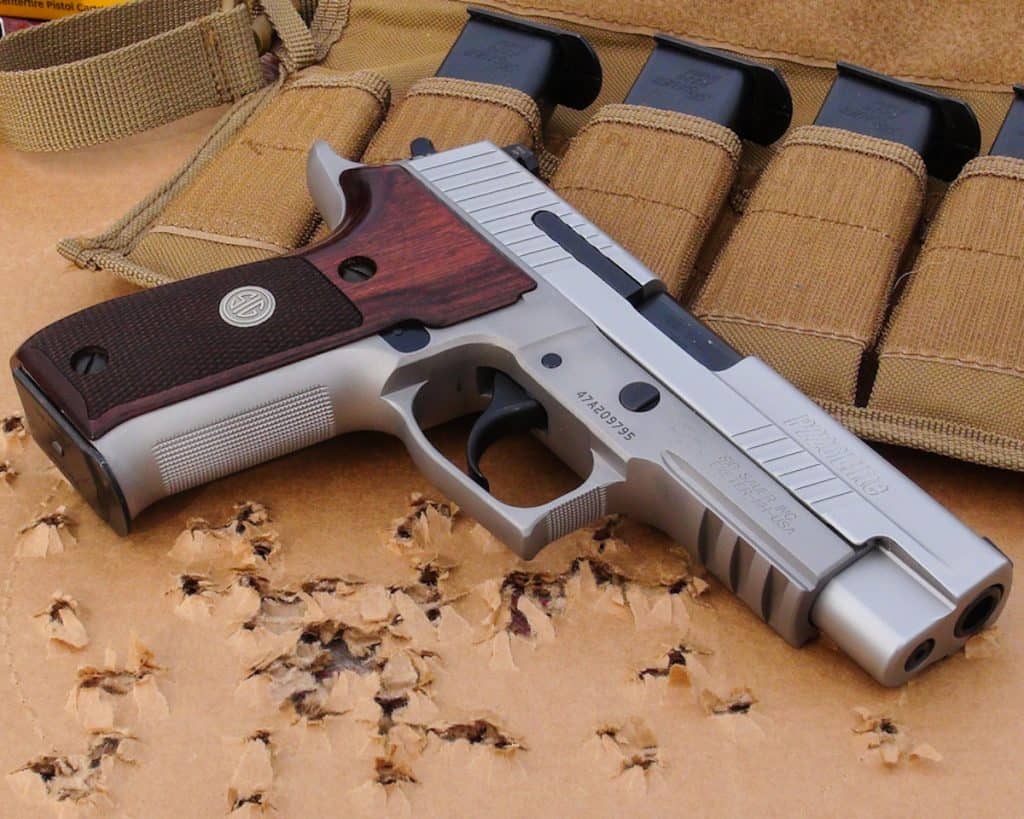 Here it is, our breakdown of the holsters. We go over the maker's design and how it impacts the holster as well as combine any user thoughts into an easy list of pros and cons. Use this info to find the right holster for you.
BLACKHAWK SERPA CQC CONCEALMENT HOLSTER
Sale
BLACKHAWK SERPA Concealment Holster - Matte...
Sherpa auto lock Release
Passive retention detent adjustment screw
Speed-cut design for rapid draw, target acquisition and re-holstering
Includes belt loop platform and Paddle platform
Fits shoulder, S.T.R.I.K.E., quick disconnect and tactical holster platforms
Blackhawk's SERPA CQC holster is a great balance of concealment and usefulness. The polymer material means that it fits the gun well and lasts a long time.
The above-average cost holster comes with the SERPA lock system for strong, active retention. When you holster your weapon, the lock engages and won't release your gun unless you push the release button and draw. The prevents holster grabs if you're engaged in close quarters combat (CQC).
Even though it's designed for OWB, the slim material and profile of the holster make it simple to conceal. With a fully exposed grip, you can easily grip the gun as you draw.
Blackhawk offers two options for securing to your belt: belt loops or a paddle holster. Paddle holsters are little easier to use, but loops offer more security. On top of this, it comes in 6 different styles in right and left-handed.
The user experience boils down to this:
Positives Recap for This Product
Secure wear on belt
SERPA lock system is strong but easy to use
Durable over a lot of use
Comfortable and easy to conceal
Negatives Recap for This Product
As you release the retention, several people have reported their fingers falling on the trigger
1791 GUNLEATHER HOLSTER TO SIG SAUER P226
1791 GUNLEATHER BH2.3-SBL-R BH2.3 OWB HOL STLTH...
COMFORT & QUALITY: Upgrade your carry to the Sig P226 leather gun holster. Made with 100% American Steerhide Leather that is...
CONCEALMENT & CONVENIENCE: 1791's Sig Sauer P226, P220, P229 holster is designed for concealment and convenience. Our easy to...
PROTECTION & CRAFTSMANSHIP: 1791 Gunleather's Sig Sauer Belt Holster is hand crafted to protect both you and your firearm at...
VERSATILE FIT: This Sig Sauer P226 holster also fits Sig P220, P229 models as well as 1911 with Rails, H&K VP9 and Beretta...
LIFETIME WARRANTY: All 1791 products are backed by lifetime warranty. We produce the finest leather gun holsters used by law...
1791 Gunleather's holster may be in the middle of the price range for holsters like this, but the quality from the leather-focused company is high. The right-handed OWB holster is specifically molded for the Sig P226 making it a nice fit.
Gunleather has a reputation for great craftsmanship and quality leather made in the USA. Between the makers and the material, this holster should last you a long time, and the supple leather should be easy on your gun and your body.
The low profile makes it easy to conceal, and it connects to the belt with convenient belt loops. This holster uses only passive retention (friction from the holster) to hold the gun in place, but this also makes it even quicker on the draw.
Gunleather backs up this holster with a 100% lifetime warranty. The holster comes in four different colors: Classic Brown, Signature Brown, Stealth Black, and Carbon Fiber.
Customers have this to say about using the product:
Positives Recap for This Product
Great looking style
Tough, durable material
Holster curve makes it comfortable to wear
Rides tight against the body
Quick and easy draw
Negatives Recap for This Product
May require a lot of breaking in
WE THE PEOPLE IWB KYDEX HOLSTER
We The People made this affordable IWB Kydex holster with versatility and user preference in mind. Many of the features are geared towards people adjusting the holster to meet their needs.
The Kydex polymer material means it is going to last for a long time and be resistant to moisture and weather. In fact, We The People treated the holster with waterproofing (a feature most holsters don't have.)
It uses adjusting screws to change the ride height and cant of the holster to match how you like to carry. This adjustment allows for all kinds of different carry options, and the IWB position makes it simple to conceal.
The IWB holster uses passive and adjustable retention making it quick to draw. While this technically makes it more vulnerable to holster draws, the position in your waistband eliminates that risk almost entirely.
It connects to your belt with a strong belt clip, and the entire product is backed by a lifetime guarantee.
When users were interviewed their experience said this:
Positives Recap for This Product
Great water resistance
Fully adjustable
Easy to conceal
Good retention of the gun
Affordable
Negatives Recap for This Product
Belt clip isn't strong
May wear on the slide of the gun
BADGER CONCEALMENT SIG SAUER KYDEX HOLSTER
Badger made this light, IWB holster for a very affordable price. There aren't too many special features of this holster, and that's OK. You'd be hard-pressed to find a polymer holster at a better price.
The IWB holster comes with tension screws to adjust the retention to fit your preference. Badger already made a model of this to fit the Sig P226, so it should already fit nicely with the potential for a quick draw.
The company claims it's the "lightest, most comfortable holster on the market." It does come in at a light 3 ounces, and the small size makes it easy to conceal.
It also connects to your belt with a Kydex belt clip. This clip is 1.5-inches which is the standard width for gun belts.
This is what users have said about the product:
Positives Recap for This Product
Very affordable
Clips easily
Comfortable and easy to conceal
Retention and fit is good
Negatives Recap for This Product
Slight cant orientation doesn't allow for adjustment
Clip loses its holding power over time
SHAVER HOLSTERS NYLON GUN HOLSTER FOR SIG P226
This Shaver Nylon holster wins the award for most affordable on our list. Normally, nylon isn't the material I would recommend for a holster, but it features some extra thickness and double-stitching to compensate for the flimsier material.
The metal clip can be moved from side to side to adjust how you feel like carrying that day. On top of this, it also comes with an extra magazine pouch for quick reloading of your weapon in emergency situations. Though running out of ammo isn't a big concern for the P226, it's always good to be prepared.
Nylon holsters don't have great passive retention and Shaver Holsters knows that. That's why they added an easy-to-use thumb break to keep the gun in the holster. And with the slim material, you can conceal easily, and no one will know it's even there.
The following is the breakdown of the holster experience:
Positives Recap for This Product
Good size for the P226
Extra magazine pouch is useful
Easy to conceal
Very affordable
Negatives Recap for This Product
May flop around too much as you move about
FEATURES FOR HOLSTERS
When shopping for a TV, you want to make sure you understand what makes a good TV. It's the same for holsters. There are many about holsters to consider, so read this section to a get an idea of what you need when you get to our reviews.
HOLSTER WEAR
Holsters can come in different types such as over the waistband (OWB), inside the waistband (IWB), and small of back (SOB). Each type has its own pros and cons, but it really comes down to preference. What do you want?
OWB – This holster attaches to your belt on the outside. This is the most common type for wear. It's easy to draw and use your handgun with this type, but it's harder to conceal.
IWB – These holsters go in between your belt and body. They are really easy to conceal, but they are harder to draw from and may be uncomfortable.
SOB – These holsters hold the handgun in dip your back forms as it goes up. This holster is extremely concealable more difficult to draw and cause back pain. This is usually a good go-to for a backup pistol.
When looking for a holster look for any notes about the type of wear if that's a concern for you.
DRAW SPEED
Imagine you're walking down a grocery store aisle when someone pulls a gun on the cashier. You aren't looking for trouble, but you're prepared to defend yourself and those around you. You've practiced safe drawing and shooting techniques many times; you're ready.
But is your holster? Is the holster going to draw quickly enough?
Draw speed is, to some folks, one of the most important features a holster can have. Take note of where draw speed is mentioned in our breakdowns and balance it with what you're looking for in the other features.
DURABILITY
If you spent money on something, would you want it to wear out in a few weeks or months? When picking a holster, you don't want one that's going to wear out quickly.
A holster's material is a key factor when considering if the product is going to last over time. The most common holster materials and their pros and cons are below:
Leather- Very durable, comfortable, and stylish. It often costs more and takes some breaking in. This material has been in use for holsters for as long as we've had guns. It's the gold standard.
Synthetic- A polymer material such as Kydex. It's cheaper than leather, but more resistant to weather changes and very durable. Often less comfortable and wears harder on the gun's slide.
Hybrid- A leather backing for comfort with a synthetic shell for best retention and durability. It may be more expensive.
Nylon- Very soft. Too flimsy, usually, but they are very affordable. You can get around its flimsiness by adding some extra layers and well-placed double stitching.
RETENTION
Retention refers to how the pistol is held in place in the holster. There are two basic kinds: passive and active.
Passive retention depends on the shape of the holster. Many holsters are molded for a specific size or even a specific gun. Because of this, the gun fits tightly without slipping out.
Active retention is when something else like a thumb break (strap), thumb loop, or mechanical locking system holds the gun in the holster. These are usually released with the use of a button. Active retention is great for protection against holster grabs and hard moving, but they do slow down draw speed to some degree. `
COMFORT
For those who want to carry a handgun but don't, the most common reason they don't is that they don't find it comfortable. As useful as having a gun handy can be in an emergency, you're not going to face those emergencies often (hopefully). If your holster is uncomfortable, you're going to reach a point where you question whether wearing that miserable holster is worth it.
Don't let this be you. As we review the best holsters for Sig P226, we'll mention any specific comments and thoughts about the comfort of the holster. Keep in this mind as you read on.
PRICE
Be honest with yourself about what you're willing to spend. If you can afford it and want to drop the cash, go for it! If you can't, you won't have any problem finding what you want as long as you keep the above features in mind.
Our top 5 holsters for the Sig P226 cover a wide spectrum of pricing, and they're all good quality. Find the one that's the best fit for your price range.
CONCLUSION
We hope you enjoyed our review of the best holster for Sig P226. If this pistol is good enough for the Navy and other Armed Forces, it should be good enough for you. Now, you can pick the best holster to go with it.
I recommend the 1791 Gunleather holster. The quality of material, construction, and style can't be beaten even at a higher price.
But if money's a concern, you can always go for one of the other options. I'd try the Badger Kydex holster.
If you enjoyed this article you'll probably like these: