Looking for the best scope for Ruger 10 22 takedown? It won't matter if you're a first time 10-22 owner or if you've used this rifle for years because you have come to the right place. Here we will explore a little about the Ruger 10-22 Takedown and what could be the ideal optics for it.
The Best Scope For A Ruger 10-22 Takedown
Now that we've covered the ins and outs of what to look for and different options, here's a list of our top five picks for the Ruger 10-22 Takedown rifle.
Simmons 511039 3-9x32mm
Simmons 3-9x32mm .22 Waterproof Fogproof Matte...
Features Truplex Reticle. Waterproof, fogproof and shockproof
Parallax correction preset from 50 yards to infinity
Rimfire 3/8" dovetail mounting rings included
HydroShield coating ensures a clear sight picture
SureGrip rubber surfaces simplify adjustments under any conditions
The Simmons 511039 3-9x32mm .22 mag series riflescope has claimed the tradition of being America's most popular Rimfire scope. With the Simmons patented true zero adjustment system and quick target acquisition (QTA) eyepiece, this rugged scope is certainly a favorite of many. The QTA eyepiece contributes to performance by providing a large, constant 3.5 inches of eye relief throughout magnification.
Additional features of this scope include high-quality fully-coated optical glass for crisp, sharp images, a HydroShield lens coating to help maintain a crystal clear sight image that stands up to weather conditions, and Simmons SureGrip rubber surfaces for simple adjustments even with gloves on. Add the included full set of mounting rings and you just can't go wrong with this one!
Customers who have bought this scope claim that it holds zero very well and has excellent clarity. On the downside, most agree that the mounting rings provided are too small, and most end up using different ones. Also, there are some complaints that the adjustment knobs are stiff and do not work well.
Positives Recap for This Product
zero adjustment system
Quick Target Acquisition eyepiece
HydroSheild lens coating
Simmons' SureGrip rubber adjustments
full set of mounting rings
Negatives Recap for This Product
mounting rings are too small
adjustment knobs too stiff, don't work well
Nikon ProSaff Rimfire with BDC Reticle
The Nikon ProStaff Rimfire 3-9x40mm with a BDC reticle is a beautifully sleek and durable scope. It is guaranteed waterproof and fog proof, thanks to a nitrogen-filled chamber and sealed with O-ring gaskets. To back this up, it comes with a full lifetime warranty.
Other great features of this scope are the quick focus eyepiece with fully multi-coated optics. Nikon claims this optic achieves up to 98% light transmission! The quick zero reset turrets are repeatable and precise with a hand-turn ¼ inch to 50 yards reticle adjustment.
Customer reviews are outstanding for this scope. They love the way the Nikon is sturdily built and the clear, crisp high-quality optics and reticle. One customer reported that his scope survived a three-foot drop without even losing zero.
One thing people don't seem to care for on the Nikon ProStaff is the adjustment caps. Several people stated that they cross-thread, or one of the adjustments just won't work.
Positives Recap for This Product
durable
waterproof and fog proof
full lifetime warranty
98% light transmission optic lens
Negatives Recap for This Product
people do not like the adjustment caps due to cross-threading
some have complained that one of the adjustments won't work
Bushnell Optics Drop Zone-22 BDC Rimfire Reticle Riflescope
Bushnell Optics Drop Zone-22 BDC Rimfire Reticle...
Fast focus eyepiece
Drop Zone 22 LR Bullet Drop Compensating (BDC) reticle
Side focus parallax adjustment for adjustable long range accuracy and a fast-focus eyepiece
Target turrets (1/4 MOA click value) for pinpoint precise adjustments
Fully multi coated optics for incredible brightness
The Bushnell Optics Drop Zone 22 Rimfire rifle scope with BDC reticle is a beast scope for the AR platform. This super rugged scope is nitrogen purged and sealed with an o-ring to be waterproof and fog proof. Thanks to the high-durability, anodized finished aluminum alloy design, it is also rustproof and virtually scratch proof.
Other features of this scope include fully multi-coated optics for excellent brightness and clarity and a fast focus eyepiece. This one also has the tactical style target turrets that I'm partial to, and a side parallax for unmatched accuracy. The Bushnell Optics Drop Zone is a second plane scope and was designed to be zeroed at 50 yards, with aiming points out to 125 yards.
Some of the things customers like about this scope are that it holds zero very well and the BDC points are accurate to their marks. The glass is very clear and bright and the adjustments are easy to use.
The downside of this scope is that it's a bit bulky and heavy at 1.23 lbs. Also, you should check what kind of clearance you need or want for your firearm. This scope has an erector cap assembly that protrudes out the bottom near the windage and elevation control housing and must be mounted on at least medium height rings to fit.
Positives Recap for This Product
rugged, waterproof, fog proof, rustproof, scratch proof
multi-coated optics for brightness and clarity
fast focus eyepiece
tactical target turrets
Negatives Recap for This Product
bulky, heavy
erector cap inhibits the use of low mounts
Tasco MAG39-32D Rimfire Series
Sale
TASCO MAG39X32D Rimfire Series 3-9x 32mm 30/30...
Beautiful design and durability built to last
Tailor-made for .22 rimfire rifles--includes rings
Features full-sized, 1-inch Advanced Monotube Construction, 50-yard parallax setting
Magenta multi-layered lens coatings and fully coated optics provide bright, clear images
Magnification: 3x to 9x
The Tasco MAG39-32D Rimfire Series riflescope would be an impressively handsome scope to fit on your 22 rifles! But looks aren't everything, and this scope backs up its performance with some great features. HD clarity, high-quality fully-coated optics, and magenta multi-layered lens coatings provide a wide range of magnification and a bright, clear image with reduced reflection.
It's one-inch Advanced Monotube construction is durable, and it's 100% waterproof and fog proof. Tasco designed this scope with a 30/30 reticle, which is useful for calculating distances to some degree, and have included mounting rings as well.
Customers of this scope enjoy the high-quality, clear optics and that it is very easy to mount and sight in. This scope likes to hold zero, and a lot of people really appreciate that it is a budget-friendly option as compared to other scopes of similar quality.
As far as possible problems go, it seems that many people complain pretty consistently that the reticle starts spinning, which as you can imagine, does not help with holding zero. Also, the provided ring mount is small so you may have to purchase separate mounts.
Positives Recap for This Product
Hansom rugged design
waterproof/fog proof
fully-coated optics, magenta multi-layered lens coatings
30/30 reticle
Negatives Recap for This Product
complaints of reticle staring to spin
does not hold zero
provided ring mounts too small
Vortex Optics Crossfire II 2-7×32 Rimfire
Vortex Optics Crossfire II 2-7x32 Rimfire, Second...
The 2-7x32 Crossfire II Rim fire riflescope is one of many configurations in the Crossfire II line. The V-Plex reticle is a...
With long eye relief and an ultra-forgiving eye box, you'll be able to quickly get a sight picture and acquire your target....
Anti-reflective, fully multi-coated lenses provide bright and clear views for the user.
Capped reset turrets are finger adjustable with MOA clicks that can be reset to zero after sighting in.
A single piece tube constructed from aircraft grade aluminum ensures strength and shockproof performance. O-ring sealed and...
The Vortex Optics Crossfire II is a slick little scope with an all-purpose V-plex reticle that is easy to use in a variety of hunting and tactical applications. With a long eye relief and a fast focus eyepiece that allows quick and easy reticle focusing, the optics on the Vortex offer superb clarity and brightness from anti-reflective, fully-multi coated lenses.
The construction of the Vortex Crossfire II is durable, made of an anodized single piece tube of aircraft grade aluminum that is O-ring sealed and nitrogen purged, for a scope that is shockproof, waterproof and fog proof. The capped MOA turrets are resettable and finger adjustable, which is a very handy feature. I also love that Vortex is veteran owned and consistently produces great functional scopes.
Customers of this scope praise the accuracy and great fit. Plus, it is easy to mount and zero-in. It seems that a lot of people are specifically putting this scope on a 10-22 Takedown. Some customers have stated that the receiver will not properly fit back into the pouch with the scope on after break down.
Positives Recap for This Product
V-plex reticle
fast focus eyepiece
fully-coated anti-reflective lenses
shockproof, waterproof, fog proof
resettable, finger adjustable turrets
Negatives Recap for This Product
some people have stated that the scope inhibits the receiver from fitting back into the pouch after breaking down on a 10-22 Takedown
About The Ruger 10/22 Takedown
The Ruger 10/22 Takedown is a sweet gun. It has been labeled by many as one of the ultimate survival or bug-out rifles dues to its easy disassembly and reassembly. You can literally take and break the gun down in half within a few seconds. Reassembly is an even faster process by simply realigning the barrel component and action, then twisting them into place.
This is the feature description list from Ruger.com:
Easy take-down enables quick separation of the barrel from the action for ease of transportation and storage. The takedown is as simple as locking the bolt back and verifying that the rifle is unloaded, pushing a recessed lever, twisting the sub-assemblies and pulling them apart.
Simple reassembly allows for a secure connection of the barrel and action and returns the firearm to zero, even when receiver mounted optics are used, ensuring consistent accuracy, shot after shot.
Easy-to-use extended magazine release provides smooth, no-fuss removal of flush-mounted magazine.
Legendary action, a tried and true Ruger design, ensures consistent, reliable performance.
A combination scope base adapter for both Weaver-style and .22 tip-off scope mounts included.
Patented, detachable 10-round rotary magazine features a unique rotor to separate cartridges and provide reliable feeding.
Positive, push-button, cross-bolt manual safety.
Heat-stabilized, glass-filled, polymer trigger housing assembly is precision-made of high-tech material for improved manufacturing tolerances, impact and abrasion-resistance and unmatched ability to withstand the elements.
Precision-rifled, cold hammer-forged barrel.
It also includes a convenient carry-case.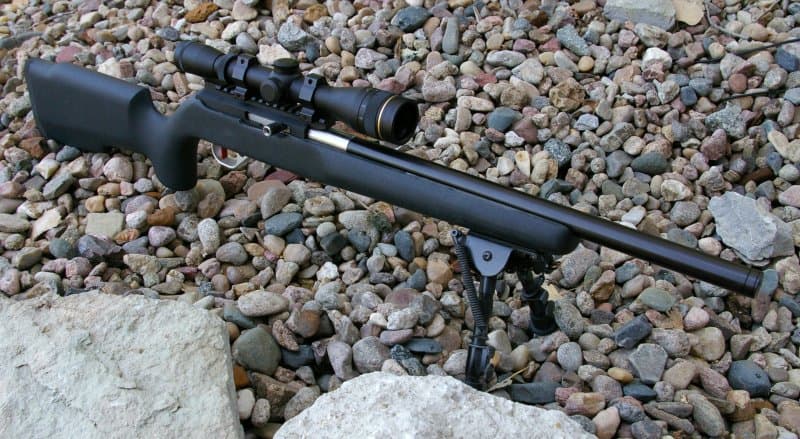 Choosing A Scope For Your Ruger 10/22 Takedown
The Ruger 10-22 Takedown is a pretty unique rifle and therefore may demand a unique scope. You would want a scope that's as rugged and versatile as the Takedown, with great optics that stand up to whatever applications you've got for it, but at the same time would be lightweight and compact enough in stature to fit a broken down rifle without much hindrance for transport or storage.
With all the different options and features out there, it may be a little overwhelming trying to decide on exactly what to fit on your gun. Let's take a look at some of the options available and see what could be the most ideal setup for what you need.
The Glass
For quality and performance, you want to choose a scope that has excellent lenses. You will want glass that is multi-coated to help cut back on glare and reflection, and that protects it overall. Ideally, you will get a good optic that maintains a clear image no matter what the magnification is set at and lets in the optimal amount of light.
The ways that different coatings protect the lenses are by reducing glare and loss of light, increasing brightness and contrast. Many of the coatings are scratch resistant, and help to shed water in the case of high humidity or rainy conditions.
Magnification
You will want to choose what kind of distance you will primarily be shooting and the appropriate magnification. There is no point in choosing a crazy expensive scope that is over-kill on magnification when you are only going to be shooting at a maximum distance of 400 yards. You really want to be magnified at the lowest setting that gives you a clear, complete view of your target anyway. Most hunters find that a magnification of 3x-4x is sufficient for a 400-yard distance, and 10x power for 1000 yards.
The other thing you want to be aware of is that the higher the magnification range, usually, the heavier and larger the scope, which may not be the best option for a 10-22 Takedown. You want to balance out your magnification with a clear, quality optic. Without proper glass, your magnification is useless.
Durability
The Ruger 10-22 Takedown is a durable little rifle that can take some abuse. It needs a scope to match. You definitely would want one that is gas purged to create a waterproof and fog proof optic, and a tough exterior such as aircraft grade aluminum constructed.
A shockproof scope would make things nice too. According to Ruger, the Takedown can be disassembled and reassembled without losing zero, so having a scope that can at least resist recoil and being jostled around is a huge advantage.
Turrets
Turrets are the external raised knobs on your scope that control the windage and elevation (side to side/up and down) adjustments. These make a huge impact on what scope you may want on your rifle. Turrets are either capped or exposed.
Personally, I like the exposed tactical style turrets as it is easier to see where your settings are and they are finger adjustable, which just makes more sense to me, as it is a quick adjustment and easier to return to zero. The downside of exposed turrets is that they are exposed to weather and other potential damage.
Capped turrets have a screw on cap that covers the adjustment knobs, and are usually adjustable with a penny, screwdriver or thumbnail. The caps protect the turrets from the elements and abuse better than having them exposed. The downside is the time it takes to make your adjustments and keeping track of the caps while they're off. A capped turret may not be the way to go while hunting.
The ability to return your scope to zero faster and more efficiently is a major bonus. You can't control whether or not you will be thrown out of zero by recoil or possibly dropping your rifle, and if you need the quick adjustments to put it back on target then this is certainly a feature you want to consider.
Reticle
The reticle is the cross-hair or aiming point when you look through your scope. They can come in all different styles and functions, thin cross-hair, thick cross-hair, dot, duplex, BDC (bullet drop compensator), mil-dot, illuminate or non-illuminated. A lighted reticle can be simply a focused light, an image etched in glass and illuminated, or an image suspended in the glass.
Subtension is the amount of space the reticle actually covers on the target. Thinner cross-hairs equal decreased sub-tension and are more precise, but can be harder to see, whereas thicker cross-hairs increase sub-tension and are easier to see, but can obscure your target.
When you see a reticle that is labeled 30/30, it is a predetermined measure of distance and target size. What that means is on a duplex cross-hairs, the inner section (which is the thinner lined intersection) of both the horizontal and vertical lines are 30 inches at 100 yards of distance, for a 4x powered scope. This is just another way of making a scope as accurate as possible.
Focal Plane
A scope can be on one of two focal planes, first or second. On a first focal plane scope, the reticle actually increases in size with the magnification. These are a really great choice if your shooting long range or in a tactical situation, as they offer a bit more flexibility. The range values remain constant throughout the entire power range of the scope.
On the second focal plane, the reticle size is fixed and remains the same throughout magnification. This is the most common scope option.
Scope Mounts
Generally speaking, you want the best scope mount that will hold your scope firmly in place so as not to lose zero due to recoil or another jostling that may occur. However, with the 10-22 Takedown, it might be difficult, depending on which scope you choose, to work with the bulkiness of the scope while trying to stow your rifle after break down.
There is another option for this. It is called a detachable or quick release scope rail. These are claimed to be super snug fitting and will not come loose due to the abuse you put your gun through, but can quickly detach for break down and storage, and reattach just as quickly and easily. From what I understand, many people use this option for their Ruger 10-22 Takedown.
Commonly Asked Questions
What is a V-Plex reticle?– The V-plex reticle is a Vortex specific reticle that is basically a standard MOA cross-hair reticle. Per Vortex, it is the best all-purpose reticle and is easy to use in a variety of applications.
What size is the broken down rifle and what size scope should fit? – The Ruger 10-22 Takedown breaks down into 20 inches for the receiver end and 18.5 inches for the barrel end and fits conveniently into its pouch. A scope would have to either be small enough to not overhang the 20-inch receiver end, detachable, or you would have to be OK with the overhang and inability to not zip up the case, or else substitute the case.
What is the best magnification power setting for a 10 22 Takedown?– Generally a 1×4 or 3×9 power scope will be just fine for whatever you want to do with your 10-22.
Can I use see-through scope rings? – Yes, you can use see-through scope rings on this rifle. Many people prefer the see-through mounts for a 10-22 so that they can use the iron sights as a backup if something should go weird with the scope.
How is a scope made waterproof and fog proof? – First, the scope is sealed with o-rings between the lenses and housing to keep moisture and dust out of the optic. This is what waterproofs the scope. Then the barrel is purged of oxygen with either nitrogen, argon, or an argon/krypton gas mixture, which effectively fog-proofs the scope. Finally, special coatings are put on the lenses to protect the glass and shed the water away from it.
Conclusion
I hope this guide has helped you obtain the information you need to find the best scope for Ruger 10 22 Takedown. With all the different options, features and components out there to consider, it can be frustrating and exhausting trying to find one with all of the qualities that you want.
But now that you are armed with what to look for in your lens, magnification, reticle, focal plane, turrets, durability and mounts, and by checking out these top five scopes, you can be well on your way to finding that perfect scope that's just as tough and versatile as your 10-22 Takedown.
If you enjoyed this article you'll probably like these: