The Ruger 10/22 has been America's favorite .22 rifle since it was released over 50 years ago. One of the great things about popular firearms is that many third-party manufacturers make parts that you can use to upgrade your weapon. In this post, we'll share some reasons why you might want to improve your 10/22 trigger and what to look for in an upgrade. Then, we'll review some of the best Ruger 10/22 triggers on the market.
REVIEW OF THE BEST RUGER 10/22 TRIGGERS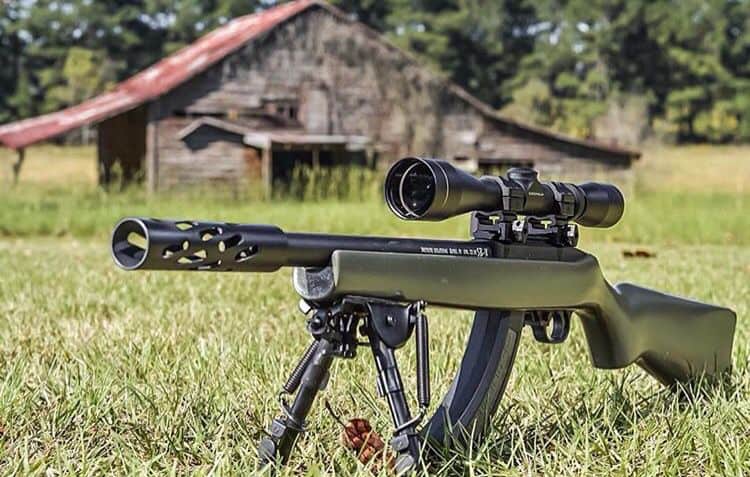 We'll start with the most affordable units and, roughly, go in order of ascending price. Each option on our list is a drop-in, so if you're seeking a big trigger project that lets you strip down your gun, you, unfortunately, won't find it on our list. However, if you want to make an upgrade that's highly impactful without spending hours working on your rifle, you've come to the right place. Let's jump on in!
RUGER BX 10/22 TRIGGER
The Ruger BX is an awesome option for rifle owners on a budget. The most significant difference between the BX and the stock 10/22 trigger is the pull weight. The BX requires 2.5 – 3 pounds, compared to 6 pounds for the stock version. This will make a massive difference in your shooting precision, without breaking the bank.
The BX is a drop-in trigger, so the installation is a breeze. Since the trigger is made by Ruger for Ruger, the parts fit together perfectly. There are no intricate pins or screws to install, so in just a few minutes, your BX will be ready to use.
The BX has a trigger stop, so there shouldn't be much post-travel after the break. This is one of the aspects that enhances your accuracy – the less your trigger has to move, the more stable your rifle will be. A stable rifle means a more accurate shot. Also, the break is crisp and clean, which a lot of shooters prefer.
POSITIVES RECAP FOR THIS PRODUCT
Great budget buy.
Made by Ruger, so it fits the 10/22 like a glove.
The BX has a trigger stop, so there's little to no post-travel after the break.
NEGATIVES RECAP FOR THIS PRODUCT
It's a big upgrade from the stock 10/22 trigger, but the performance isn't quite as good as more expensive triggers.
POWDER RIVER PRECISION INC RUGER 10/22 DROP-IN TRIGGER ASSEMBLY
Like the BX, the Power River trigger is a drop-in, so installation should be very easy, even for first-timers. The price of this trigger (and all of the following units) is quite a bit higher than the BX so it may not be for every rifle owner.
Power River machines the entire system from steel, which elevates the construction quality over some competing models. The precision-machined parts make for an easy, quality upgrade for new or experienced gun owners.
The pull weight of the trigger is 2.25 pounds. Not only is it dramatically lighter than the stock version, but it's even a bit lighter than the Ruger BX. You'll notice a major difference in the precision of your shots right away.
Powder River's trigger unit features a large magazine release lever. Competitive shooters or those with smaller hands will appreciate having a bit of extra length on the lever so that they don't have to change their grip to reload. They'll save precious seconds whether they're in a competition or an emergency.
POSITIVES RECAP FOR THIS PRODUCT
Drop-in for easy installation.
Features a large magazine release lever.
Quality, steel construction.
NEGATIVES RECAP FOR THIS PRODUCT
The large magazine release lever adds bulk to the housing.
VOLQUARTSEN RUGER 10/22 TRIGGER GUARD 2000
Like the Ruger BX, the Volquartsen has a 2.5 pounds pull weight. You have the option of adjusting the pre-travel and post-travel on this unit, but many owners feel that to be unnecessary since there's virtually none from the minute you complete the installation.
Volquartsen built their trigger with oversized hammer, sear, and action pins. This helps eliminate any wobble in the trigger, which could reduce your accuracy. A stable trigger feels better and performs better than one that wiggles.
This unit comes with an automatic bolt release that owners really like. Instead of pushing up on the locking mechanism to release it, you just have to pull the bolt back slightly and it'll slide into place. It also has an extended magazine release like some of our other options, so reloading is quick and requires not grip adjustment.
Owners love the crispness of the break on the Volquartsen and how quickly they can fire multiple rounds. The entire unit is exceptionally well-made, so while it's quite pricy, you won't be disappointed with this trigger.
POSITIVES RECAP FOR THIS PRODUCT
Adjustable pre and post-travel.
No left to right wobble.
Crisp break and quick to cycle through rounds.
NEGATIVES RECAP FOR THIS PRODUCT
The price is high, but so is the quality.
TIMNEY 10/22 DROP-IN TRIGGER ASSEMBLY
Like all of our prior options, the Timney is a drop-in unit. Installation should be simple, just remove the action pins and swap out the units. This trigger has an extended magazine release lever. Using only one finger, you can release your empty magazine and quickly reload. An experienced shooter may even be able to use the lever ambidextrously because of its generous size.
The weight of the Timney pull is just 2 pounds, making it the lightest trigger on our list so far. If you shoot competitively, you'll really like your improved accuracy with this light trigger. If you're inexperienced, you'll need to be extra cautious about keeping your finger off the trigger until you're ready to shoot. It doesn't take much to send a round flying with this Timney unit.
The unit is made from aircraft-grade aluminum and is built to last. Like the Volquartsen, the Timney has an automatic bolt release. Pull back slightly, and you'll unlock the bolt, even if you haven't inserted a new magazine.
POSITIVES RECAP FOR THIS PRODUCT
Extremely light pull, only 2 pounds.
Extended magazine release lever that you can operate with just one finger.
Features an automatic bolt release.
NEGATIVES RECAP FOR THIS PRODUCT
The weight of the pull is not adjustable.
TIMNEY RUGER 10/22 CALVIN ELITE TRIGGER SHOE KITS
The Timney Calvin Elite is our most sensitive trigger. At just 1.5 – 2 pounds straight out of the box, it's practically a hairpin trigger. Even shooters who have run many thousands of rounds through their 10/22 and who are already shooting with precision will be amazed at the improvement in accuracy from this light trigger.
Especially in comparison to the stock version, this extremely light trigger will make your rifle feel like a whole different class of weapon. Not only does the lighter trigger improve your precision, but it also improves your shooting speed.
The Calvin Elite model features Timney's large magazine release lever. Even if you're wearing gloves in the rain, you'll be able to release your empty magazine with this trigger.
Don't let the "trigger shoe kit" name fool you. This Timney is a drop-in unit just like the rest on our list. It's our priciest option, but the installation is easy, so you'll be testing out your new trigger in no time.
POSITIVES RECAP FOR THIS PRODUCT
SUPER lightweight trigger pull.
Large magazine release lever for quick reloads.
Drop-in unit for easy installation.
NEGATIVES RECAP FOR THIS PRODUCT
The only downside of this unit is the price. Other than that, it's an incredible option.
RUGER 10/22 OVERVIEW
The Ruger 10/22 is one of the best .22 rifle offerings from any American manufacturer. It comes with a uniquely designed ten cartridge rotary magazine that reliably feeds cartridges with fewer jams and misfires. The dependability of the 10/22 is a huge factor in its popularity.
The weight of the trigger (how hard you have to pull the trigger to fire) that comes standard with a new Ruger 10/22 is approximately six pounds. Triggers with a heavier pull are harder to shoot accurately than those with a light pull because your finger has to move more to fire. Each micromovement at the trigger gets magnified as the bullet travels a greater and greater distance from your barrel. Even tiny movements can snowball into inaccurate shots.
Trigger weight is highly subjective, so you may or may not like a heavier trigger. If you'd like to learn more about how a trigger works and some pros and cons of different trigger weights, check out this video:
WHY WOULD YOU UPGRADE YOUR TRIGGER?
ACCURACY
As we've mentioned, many people choose to upgrade their factory trigger for a variety of reasons. The most common is probably to improve their accuracy. Upgraded triggers usually have a lighter pull, so they don't move as much as heavy triggers, which can help you shoot more precisely.
Some factory triggers have an inconsistent pull with each shot, with up to a full pound of variance from one shot to another. If your trigger breaks (fires) at a different spot each time you fire, it's hard to aim with precision.
Upgraded triggers provide much greater consistency, often with less than an ounce or two of variance. Consistency is the number one factor that improves your accuracy. If your gun fires the same each time you pull the trigger, it's obviously easier to improve your use of it.
Everyone wants to hit their target, whether they're hunting, shooting as a hobby, or competing. If you can only afford to upgrade one part on your 10/22, the trigger is an excellent candidate because it can have a significant impact. However, expensive triggers can only do so much for your accuracy; the rest comes down to how much you practice your shooting.
SPEED
Triggers with a lighter weight increase your shooting speed. When you don't have to pull as hard or as long before the break, you'll be able to shoot more rounds faster.
SAFETY
Heavy, factory triggers can sometimes creep a little even if your safety is on. As long as the safety is engaged, your gun won't fire, no matter how much creep it has. However, so much wiggle can make a person nervous. Upgraded triggers have much less pre-travel (the distance that the trigger moves before the break) than stock versions.
FEATURES TO LOOK FOR IN AN UPGRADED TRIGGER
Pull weight – make sure that the weight of the trigger isn't too heavy or too light for you. You certainly don't want to fire unintentionally because the weight is too low, but you want it to be light enough for precise shooting.
Pre and post-travel (how much the trigger moves before and after the break) – this is highly subjective. Some people like having some pre-travel, some don't. You can even purchase triggers that let you customize the amount of travel so you can get it just right.
Little to no side-to-side movement – if you're going to spend the money on an upgrade, it should be stable!
The complexity of install – depending on how comfortable you are with taking apart your rifle, you may prefer a drop-in trigger over a kit that requires you to take apart your entire trigger housing.


If you buy a kit and realize that you're in over your head, you can always take your rifle to a gunsmith to finish the installation.

Budget – you can easily spend more on a trigger than you spent on the 10/22 if you want something high-end. You can also get an affordable trigger that revolutionizes your accuracy. It's your call.
The combination of weight and travel can make or break your shot. The trigger is the part of the rifle that the shooter interacts with most closely, so it needs to be just the right balance for your individual preferences.
CONCLUSION
Whether you want to spend a little or a lot, upgrading your trigger to one with a lighter pull will increase the tightness of your shot groupings. Some trigger units let you adjust the pre and post-travel to suit your tastes, which improves accuracy even further. Whatever your budget, we hope you found the best Ruger 10/22 trigger among our suggestions.