If you've ever worked on a rifle on your own, you know how important the receiver is to the function of your firearm. So what happens when that part breaks on your Ruger 10/22? Trash the gun? Take it to a gunsmith?
Well, it is possible and (mostly) easy to just replace or upgrade the part by doing it yourself. To do this, you're going to need to find the best Ruger 10/22 receiver that matches what you're looking for.
If you don't know what you're looking for, we did the hard work of sorting through many options and narrowing it down to these top 5. Read on for our break down on each receiver and the features you should consider when buying them.
REVIEWS OF THE BEST RUGER 10/22 RECEIVERS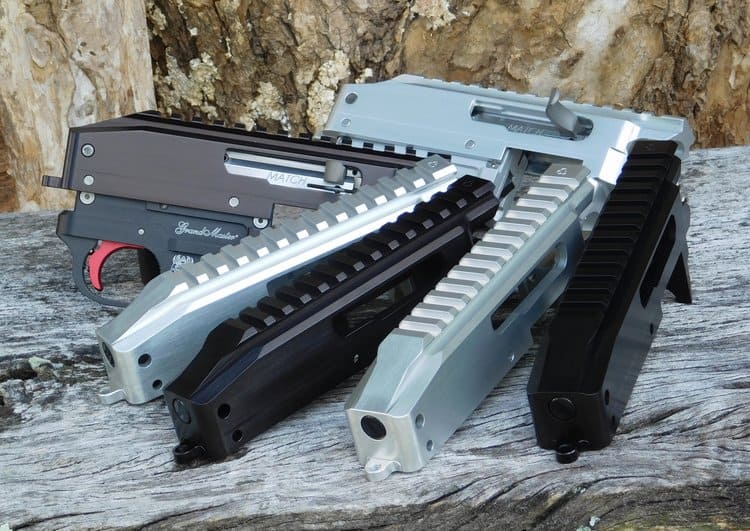 In this section, we break down each of the products for you. As we discuss the features we connect them to how it may impact your use of the receiver and what we believe is good or bad about them. Then, we draw on users for their thoughts on how the receiver actually plays out in real life.
VOLQUARTSEN STAINLESS STEEL .22LR RECEIVER
Volquartsen is known for its quality in receivers and this part built specifically for the 10/22 is no exception. Though the price is much higher than you may find with other products on this list, it still may be the best choice for you.
The receiver is made from stainless steel. This means that it has better durability and recoil absorption. Even with the heavier metal, the part still comes in at a modest 1lb 2oz.
The receiver, made in the USA, is a stripped, drop-in receiver which means that is fully finished and machined to be simple to install. Volquartsen made this as a replacement for the factory 10/22 receiver.
Though it doesn't have a finish, the stainless steel metal is already resistant to dirt, sweat, and grease. The top of the receiver also comes with a rail for multi-use.
As a stripped (or finished) receiver, this product is subject to FFL restrictions.
Here are what the users had to say about the experience:
Positives Recap for This Product
Durable and consistent design
Stainless steel is a nice material
Easy to install
Works with scopes
Trusted company to work with
Negatives Recap for This Product
BROWNELLS BRN-22 BARRELED RECEIVER FOR RUGER 10/22
With this medium-priced receiver, you get the addition of a barrel. With this inclusion, you know the barrel fits perfectly with the receiver, so you just need to look for other features that match the two most important parts.
The barrels can be in Sporter or Heavy contours depending on your preference in the 16" length which is standard for a medium-long ranged .22. You can also choose to go for a 10" rifle if you're doing a pistol build or trying for a short-barreled rifle (keep in mind that SBRs are heavily regulated).
The receiver is made from 6061 aluminum which means it's lighter and makes the rifle easier to use. There's also an anodized finish for protection in a black matte color.
The receiver fits with standard Ruger 10/22 parts, so it should be easy to install and be compatible with other standard accessories. You can choose to go for the standard layout which matches the factory receiver (with some upgraded materials) or you can opt for the railed option which adds a Picatinny rail for scope compatibility.
This part requires a FFL to purchase. The customer's experience boils down to this:
Positives Recap for This Product
Affordable pricing
Reliable company to work with
Picatinny option is useful
Lightweight material
Easy to install and fits with most other standard parts
Negatives Recap for This Product
May suffer from accuracy problems
Product may come with some extra metal not milled off correctly
VOLQUARTSEN 10/22 SUPERLITE RECEIVER
Volquartsen nails it again with the high-priced but high-quality receiver. The Superlite receiver is as the name implies; it's designed to be extremely light while still offering the reliable design and easy use that Volquartsen provides with its standard receivers for the 10/22.
The receiver is made from aircraft-grade aluminum with CNC machining. CNC refers to Computer Numerical Control which means that the milling process is exacted in the way that only highly-advanced machines can be. You can trust this product to work consistently.
This part fits with Ruger factory bolts and trigger guards as well as most other company's parts designed to fit with the same settings including other Volquartsen accessories and parts. The receiver has a hard coat anodized and epoxy powder coated finish for protection from dirt and moisture.
The manufacturing process is so exact that the cycling is very smooth and reliable meaning the receiver won't jam or fire inaccurately as often. Volquartsen also includes the following:
Hardened steel, locking V-block
Retaining screws
Hex head takedown screw
Recoil buffer
This receiver also includes a full-length Weaver-style base for optical sight mounting. The part does require a FFL to purchase.
Here are what the users had to say about the experience:
Positives Recap for This Product
Very lightweight
Reliable and accurate
Drops right in and easy to install
Fits with standard Ruger 10/22 hardware
Recoil buffer and finish help make the softer metal more durable
Trusted company and design
Negatives Recap for this Product
RUGER 10/22 RECEIVER PARTS KIT LESS TRIGGER
If you're just looking to replace a broken part of your receiver, this Ruger product is for you. At the most affordable price on our list, you don't get the entire receiver, but you do get a collection of parts to replace the most often broken parts of the receiver.
Ruger made these parts, so you know they fit with the factory receiver. With the purchase of this you get:
Bolt assembly
Charging handle
Spring
Receiver cross pins
Bolt stop in
Another good use for this product is if you're building your own receiver that doesn't always include the trigger and bolt. The stripped receivers you can buy from our list don't include these parts; the assumption is that you reuse what you already have. But by buying this kit, you can start completely over from scratch.
These parts are not subject to an FFL regulation. You can just order it online without any problem. This is because the parts don't contain the firing mechanism.
When customers used the product, this is what their experience was:
Positives Recap for This Product
Completes a stripped receiver
Affordable replacement for broken parts
Fits standard and factory Ruger parts
Fairly easy to use
Negatives Recap for This Product
Requires more work on the part of the buyer
Some of the products may come with burrs that you need to take off before it fits properly
BROWNELLS BRN-22 STRIPPED RECEIVER FOR RUGER 10/22
Brownells makes this affordable stripped receiver to meet your needs with nothing too much extra. It does the job of being a quality and reliable part without all the additions that may jack up the price.
In fact, this receiver is the same as the barreled receiver from above just without the barrel. It's designed to be fully compatible with most standard Ruger 10/22 parts whether they're factory or aftermarket.
The receiver is machined from aluminum making it light and improving the rifle's overall ease of use. Machining is the new modern way of making receivers as opposed to the traditional forging. Proponents of forging say that the part loses some strength in the machining process, but the benefits of machining (namely, increased reliability and accuracy) may outweigh that downside.
The stripped receiver has a pre-drilled cleaning hole which makes cleaning the part easier and safer because you're less likely to damage the chamber with the rod. It has a matte black anodized finish that protects it from dirt, moisture, and chemical damage.
You can get the stripped receiver in a standard formation that matches the factory part with upgraded aluminum and design. You could also opt for the railed version which includes a Picatinny rail for scope and sight attachments. Buying this product requires a FFL.
Actual users had this to say about the features:
Positives Recap for This Product
Afforable price
Fits well with most Ruger 10/22 accessories
Picatinny option is useful
Lightweight making the rifle easier to carry
Reliable company to work with
Negatives Recap for This Product
May suffer from accuracy problems
May require fitting work to match alternative and some aftermarket accessories
WHAT IS THE RECEIVER?
In short, the receiver is the part of the gun that contains all of the mechanisms that go into firing the weapon. The receiver is absolutely essential to using a firearm; it won't function without it.
It includes the following parts (where applicable depending model and type of firearm):
Trigger mechanism
Hammer
Magazine chamber
Bolt
Firing chamber
The name receiver comes from the purpose of "receiving" the rounds and then firing them. A common misconception is that the barrel is part of the receiver, but it isn't. It attaches to the receiver.
Rifles, such as the Ruger 10/22, often come with an upper and lower receiver. Due to the larger nature of the weapon, it's possible to separate them into different parts. Most of the time, when you replace or upgrade a receiver on a rifle, you're working with the upper receiver which is the part that contains the firing mechanism and not the trigger itself.
The receiver is the part of the rifle that is controlled by the ATF federal agency. Often, these receivers are required to be registered and have a serial number imprinted on them. This is to prevent "ghost" weapons which are untrackable in crimes.
In short, the receiver is the key to the entire gun. Replacing it is absolutely needed if it breaks, and upgrading can make your Ruger even better with a simple switch.
WHY CHANGE THE RECEIVER?
The obvious answer to the question, "Why change the receiver?" is that the receiver got broken and now you need it to make the gun work. If your receiver breaks for some reason, look into replacing it and save your rifle.
Less obvious answers may include customization and upgrading. Some receivers may just be better at doing their job if you swap the standard one out for a more expensive option. Better receivers can be more reliable, have better accuracy, increase your firing speed, and have less recoil.
One of the things that avid gun owners love to do is build or customization their firearms. You can buy every part individually to make it exactly how you want it to be. But not all parts can fit well with another.
If you're dying to use a specific stock or barrel for your Ruger 10/22 but it doesn't match with the current receiver, you have two options:
Take it to a gunsmith and get it machined to fit
Replace the receiver with one that matches
In some cases, doing the second option can be faster, easier, and cheaper to do.
FEATURES OF RIFLE RECEIVERS
If you're still interested in changing your Ruger 10/22 receiver, there are some features you want to consider as you read the reviews below. These design elements can affect what purchase is right for you and your rifle at this time. As you look over these features, keep in mind what seems like things need or don't need.
MATERIAL
The material the receiver is made from often forms the basis for the rest of the part's features. They can be made from any metal or synthetic material, but you usually find them in either steel or aluminum.
The cost of either can be around the same depending on the other features the manufacturer puts into it and the process used to make the metal. In general, steel is more durable and is better at spreading heat and recoil, but it's heavier. Aluminum is extra-light and can dramatically reduce the overall weight of the gun, but it's a softer metal that can be damaged a little more easily over time.
The process of making the material and shaping it can also be important. Traditionally, the part has been made by forging, but the modern method is to use computer-driver machine finishing.
This results in cheaper parts with precision beyond that which humans can accomplish. The machined receiver are generally more reliable and accurate due to the smoother firing and cycling process.
FINISH
Some receivers come with a minimal finish such as stainless steel. Others have some sort of finish on them. This provides some extra protection from the elements especially dirt, sweat, and air moisture.
Some gun purists claim that too much of a treated finish can impact the overall effectiveness and accuracy of a weapon because of how the chemicals interact and detract from the metal's natural strength. In my experience, it doesn't make enough of a difference to be noticeable, but if you're going to be target shooting competitively you may want to consider the downsides.
COMPATIBILITY
A dealbreaker for a receiver is if it doesn't fit the other parts of the rifle you're using. If you have a specific barrel, lower receiver, or other parts you need or have then make sure the receiver you purchase can be used with it.
It would be very frustrating to have to go through all the effort of picking and purchasing this part only to have to return it without even getting to try it.
RELIABILITY
When you look at the reliability of a receiver, you're looking at how often it jams, the firing speed, and if the receiver negatively impacts the gun's accuracy. There aren't any specific things to watch out for in the design of the part, so you just have to rely on reports from users and the company's reputation for quality design which we cover in our reviews below.
FFL RESTRICTIONS
Depending on what's exactly involved in the receiver on our list, the part may be subject to restrictions requiring a Federal Firearms License to purchase the part. This is because, in some cases, the receiver you may be buying is technically capable of firing as is which makes it a firearm.
It is possible and not especially difficult to meet this need and buy online. We make sure to note which products need the FFL and which don't.
EXTRAS
As with many products, some receivers come with some extra features that aren't directly related to the part itself, but they can be nice perks that help you pick one product over the other. Some of these extras can include:
Attached barrel
Cleaning rod access holes
Recoil buffer
Compatibility with different sights
Picatinny rails for scope mounting and security
The extras may not be at the heart of what you're looking for, but if you're bouncing between two close choices, the extra features can help you tip the balance one way or the other.
PRICE
When shopping, it always pays to know what you can spend. Receivers vary wildly in their price depending on the features and quality of the part. If you think about what you need it for, you can pick the product that's right for you and your wallet.
Sometimes it's helpful for people to list down everything a product can do that you're interested in. Then, split that list into "needs" and "wants" with the "needs" column being the features you can't live without. This may help you to find the right receiver.
COMMONLY ASKED QUESTIONS
What is the difference between an upper and lower receiver? – This term usually applies to AR-15s and other rifles where the receiver can be divided into two parts. The upper receiver contains the firing chamber and the hammer as well as any reloading gas systems. The lower receiver is the part that connects to the magazine and contains the trigger mechanism.
Both are considered to be a firearm in and of themselves. While the lower receiver is where the serial number is typically located, both parts are subject to FFL restrictions.
What is the difference between an 80% receiver and a stripped receiver? – An 80% receiver is one made by a company that hasn't been finished. Usually, the company leaves off some simple hole drilling and milling that needs to be done. The 80% number comes from the ratio that is the limit of federal regulation because these receivers aren't considered finished and, therefore, don't need to be registered.
A stripped receiver is one that has been completely finished by the company. Someone who buys this can put it in the gun right away and trust that it will work to a high-quality. They cost a little more and are subject to FFL restrictions, but they require no drilling or milling on the part of the gun owner.
CONCLUSION
We hope you enjoyed reading about the 5 best Ruger 10/22 receivers. Replacing the receiver is essential to a gun's operation and upgrading the part can help you turn your Ruger into the rimfire weapon you've been looking for.
Replacing the part isn't hard if you find the right one. Volquartsen receiver are the top of the line whether you want the strong and reliable stainless steel or the Superlite aluminum option. If the price firghtens you off, then the Brownells options can be a great fit at a lower price.
Don't forget to make sure your trigger, bolt, etc still work or you may also want to buy the Ruger trigger kit. If you're really strapped for cash and your receiver parts break, you can also look into buying that and just replacing the individual parts.