Looking for the best scope for your Ruger precision rifle? We've covered 5 scopes that will compliment your rifle and match its shooting ability. If you're going to own a $1,200+ rifle you have to get a scope that can handle it. The scopes we've reviewed below are each excellent options and you can view them in the below table.
For more detailed information on each of these scopes we've reviewed each one in more detail further down this article.
5 Best Scopes for Ruger Precision Rifles
Below is our more detailed information on the 5 scopes we recommend for your Ruger Precision Rifle. Any of these 5 scopes would make a great addition to your rifle and serve it well.
SWFA SS 3-15×42
The SWFA SS is the most budget friendly option on our list and what we would use as a baseline option for a Ruger Precision Rifle. Even though we consider it the baseline for this rifle that doesn't mean it's cheap. Actually it's far from cheap.
This scope is made with extreme quality. It's a tactical style scope with easily adjustable turrets. Comes in a matte finish and is a first focal plane scope. The reticle is a patented mil-quad reticle. This will serve you well for long range shooting between 700 – 1200 yards. Customers of this scope have great success beyond 1200 yards.
It doesn't come with an illuminated reticle and the turrets do not lock into place. It can shoot up to 50 caliber and the clarity at maximum magnification is crystal clear. It's popular for it's quality and performance at a price that's a little easier on your wallet.
When it came to what the customers of this product had to say it was all very positive. We didn't come across any negative things about the scope. Just some clarification on the turret system and we've mentioned it in the negatives recap below.
Positives Recap for This Product
wallet friendly
rated for up to 50 caliber
mil-quad reticle
Negatives Recap for This Product
uses original turret style instead of the newer HD system
NightForce SHV 5-20×56
NightForce scopes are always crystal clear even out to the edges. It's ability to track is unbeatable and you know exactly what you get with any adjustments. Most people would tell you that you can never go wrong going with a Night Force scope.
This scope comes with a tube diameter of 30mm, roughly 3.5″ inch eye relief, mounting length of 6.5″ inches, and weighs 30.5oz. It's a second focal plane scope with exposed turrets you can lock in place. It will handle shooting above 1,000 yards easily.
The customers buying this long range precision scope have nothing bad to say. Only compliments coming out left and right. Every where I searched there wasn't any common negative comments on the scope which is always a great sign!
Positives Recap for This Product
extremely accurate tracking
glass super clear from edge to edge
lockable turrets
very reliable adjustments
Negatives Recap for This Product
didn't come across any common negative mentions
Vortex optics Viper HS LR
This is the Vortex Optics Viper HS LR it's a first focal plane scope that's suited for both hunting and long range shooting. It has an XLR reticle that's hashmarked MOA-based long range reticle. The XR glass gives you a great image from edge to edge. It's multi-coated and crystal clear.
The HS LR has exposed turrets and allows you to dial in elevation at long ranges. Also includes a CRS zero stop allowing you to get back to zero even after adjusting several revolutions. It's a very durable scope with scratch resistant lenses. Inside it's argon purged for fog proofing and waterproof performance.
Vortex backs their scopes with a strong warranty just in case you do run into an issue. Customers state it's well worth the price tag with a clearly noticeable level of quality. Shooting targets at 1,000+ yards with precision is a piece of cake.
Positives Recap for This Product
very durable & scratch resistant lenses
Vortex lifetime warranty
zero stop reset
Negatives Recap for This Product
loses light at max magnification
Burris XTR II
This is the Burris XTR II and it has been one of the top go to scopes for a while for long range shooting. It has an F-Class MOA illuminated reticle. If you're new to scopes then you'll likely find MOA easier to use since the math behind it is simple. Essentially, one MOA adjustment is 1″ inch per 100 yards,
It's a first focal plane scope that can withstand 50 caliber recoil. It has a 34mm main tube, zero click stop adjustments knobs, and is very durable. It has a high maximum magnification and mixed comments on the level of clarity on these higher zooms.
Customers are overall happy with the scope. It performs well compared to other scopes in the same price range. The glass is clear, tracks well, and adjustments are reliable. The downsides we came across were the illuminated reticle being hard to see and mixed opinions on the clarity at maximum magnification.
Positives Recap for This Product
glass comparable to higher end scopes
knobs are crisp and percise
perfect for 1000 – 1200 yards
Negatives Recap for This Product
hard to see illuminated reticle
mixed comments on clarity at maximum magnification
Vortex Optics Viper PST Gen II
This is the Vortex Viper PST Gen II it's a first focal plane scope  with tactical features. It comes with laser etched turrets, adjustable parallax, and RZR zero stop. The reticle offers detailed hold points without cluttering the view space.
It has extra-low dispersion glass to increase resolution and color fidelity. It's XR multi-coated for increased light transmission and the Armortek coating protects the lenses from scratches. It's o-ring sealed and argon purged for fog proofing and water proofing. The body is aircraft-grade aluminum which is both light and durable.
Some customers claim this is the best first focal plane reticle in this price range. The level of quality in this scope is often compared to that of scopes in much higher price ranges. It comes with a sun shade and would be a great option for your Ruger precision rifle.
As for customer complaints the only one we really came across was about the eye relief and it seemed to be a one off complaint instead of a common theme. Overall this is a heck of a scope.
Positives Recap for This Product
comparable to higher end glass
considered the best FFP at this price range
tactical features, click sound turrets
Negatives Recap for This Product
slightly slacking in verticle adjustments
shorter eye relief
Choosing A Precision Rifle Scope
If you're shooting with a Ruger Precision Rifle that goes for $1,200+ you don't want to equip it with a lower end scope. That would be like rebuilding a muscle car and putting a cheap low horsepower motor in it. Instead, you need a rifle scope that will compliment your rifle and its capabilities.
You'll find excellent hunting scopes at around $500 but you're an amazing precision shooting rifle that will require a higher caliber scope. The type of scope you're going too want to go after will be $1,000+ but there are some budget friendly exceptions and we've included one on our list, the SWFA SS 3-15×42. If you're on a tighter budget it'll do but if you can I recommend having a look at the other 4 scopes on our list.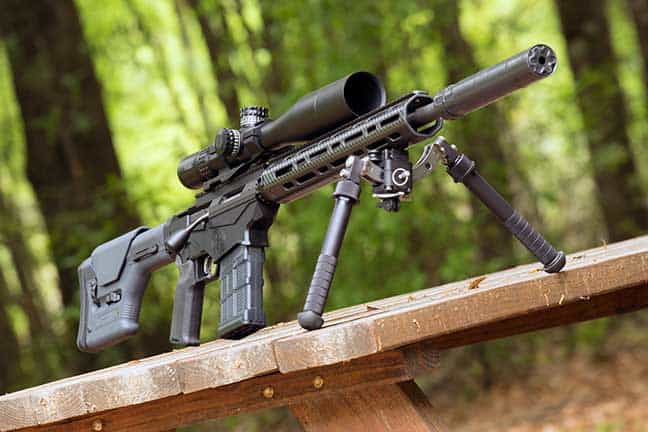 Should You Save For The Right Scope?
If you don't have the $1,000+ to spend on a scope you should be patient and save up for the right scope. You're going to be eager to get out there shooting but in the meantime you can equip a lower end scope for shooting at 100 yards while you're saving up or if there's no way you're going to equip a $1,000 scope you should take a look at these other best long range scopes for the money.
As it turns out however, the higher end scopes are well worth the wait. It's the difference in nailing targets at 1,500+ yards and not being able to even have the chance. if you're going to get into long distance precision shooting you absolutely need scopes that can make the shots happen.
Lower quality scopes become blurry at high magnification. The glass won't be as clear when you're focusing on a target in the distance and any number of problems could occur that will stop you from having an accurate shot.
Your average Shooting Distance
You really have to take into account your average shooting distance and scenario you'll find yourself in most often. Typically people associate mid range shooting to 200 – 600 yards, long range 600 – 1500 yards, and extreme long range over 1500 yards.
If the majority of your shooting will be in the medium to long range then you may not want to spend more than $1,000 on a scope. That will be the top of the line for that range of shooting. If you're going for extreme long range over 1500 yards the scopes over $1,000 become worth the price.
Understanding yourself and style will save you some dollars.
Scope Characteristics
Different scope brands tend to be known for different things. Some are known for their amazing warranty, quality products, or for making a good price to quality ratio product. Some have crazy following and loyal fan like customers. Either way, if you're shooting with the Ruger Precision Rifle here are some characteristics to go for when picking your scope.
Durability
If you're going to buy a scope that costs nearly as much as the rifle it's going on it should be able to withstand some damage. Your scope's going to have wear and tear from normal use and it should be able to withstand being used.
You often get what you pay for but durability is one of things that often remains intact at lower prices. So even if you go for a more budget friendly scope it should be durable. The first thing to suffer when going for cheaper scopes is clarity at higher magnification.
Range
Earlier I talked about understanding the shooting situation you will most often be in. Get a scope that performs well at those ranges. This could save you some money but if you know you'll be shooting over 1500 yards and will need the higher end scope it's not like that same scope won't perform at medium range.
Sometimes it's just better to go ahead and get that more expensive scope. It just depends on your shooting style and budget.
Clarity
Clarity has to be the most important scope characteristic for precision shooting. Quality glass and clarity is often what makes scopes more expensive too. If you're doing any long range shooting it'll make a huge difference.
The scope should be just as clear at maximum magnification as it is at its base magnification. There are tons of scopes out there that fall off at their higher zoom. This shouldn't be a problem with the $1,000+ scopes but it's something to keep in mind if you're on a budget.
Commonly Asked Questions
Should I use MOA or MIL? – You should stick to the one you're most comfortable with. I wouldn't make a change if you have been using one over the other. If you're a beginner and haven't had time to get comfortable with one of these then I would recommend going with MOA. Simply because the math is easier and you'll pick it up quicker.
What magnification should I be shooting with? – This can depend on a couple factors and the scope you're using is one of them. The general rule of thumb is to use the lowest magnification that gives you a clear image of your target.
What if I'm on a steep budget? – If you're on that tight budget I still recommend saving up for one of these scopes on the list. If that's going to be a long time you may want to consider getting a wallet-friendly scope just to hold you over.
Conclusion
I hope you enjoyed this article on the best scope for Ruger precision rifles. You've got an awesome long range rifle that deserves a scope that compliments it. Getting a scope that's able to match your rifles shooting ability is your key to success.
If you enjoyed this article you'll probably like these: