Imagine you're out hunting with your M1A when the most beautiful buck you've ever seen wandered across your field of view. You've got clear shot, so you sight up through your scope and fire. The shot goes wide.
You're frustrated because this keeps happening every time despite repeatedly going to the range and zeroing your rifle. But this may actually be a sign that your scope mount is failing, and it's time to get a new one.
Finding the best M1A scope mount can be tricky, but Gun Goals is here again to help. We checked out the options and found the top 5 that may work for you. Read on for more details.
Review Of The 5 Best M1A Scope Mounts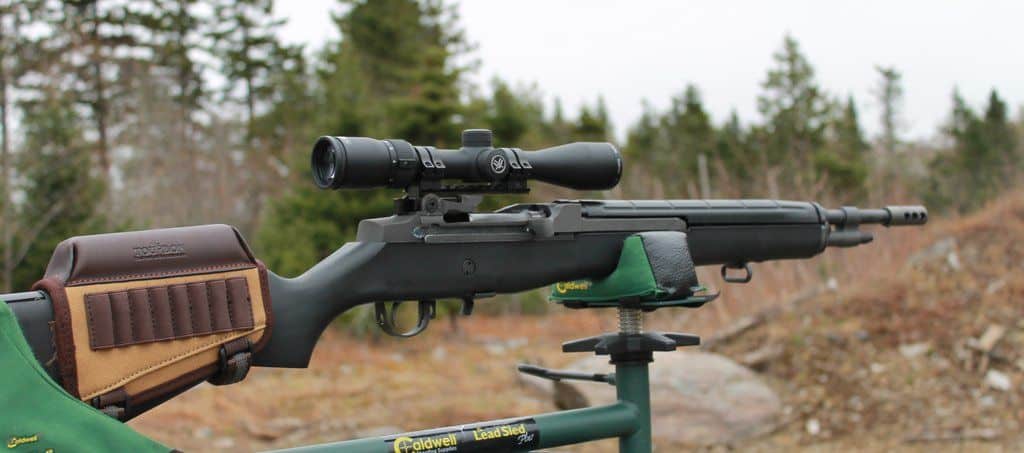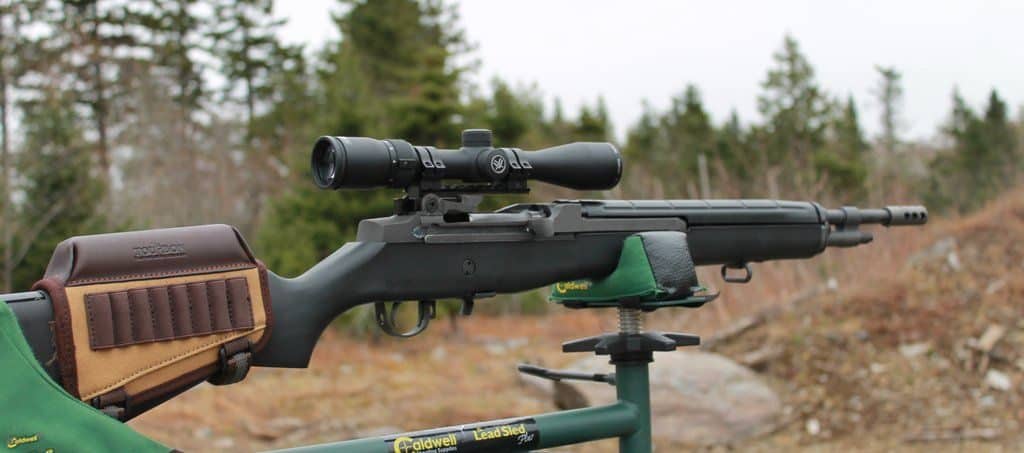 If you keep the features we discussed above in mind, you shouldn't have any problem when looking at our reviews in this section. Each of these 5 products are great for different situations. Read our reviews and user recaps for help in picking the best.
Springfield Armory M1A Generation 4 Scope Mount
Springfield Armory is the company that makes the M1A, so you'd expect this higher-priced mount to fit perfectly. It does not disappoint.
Made out of aluminum, which is the new standard for mounts, the tough but light material can stand a lot of use. It features a Picatinny rail above for easy and secure mounting. There are 10 locking slots on the mount for connecting scope rings.
Springfield Armory saves some weight by splitting the rails into the two ends. This is an unique feature, but it does limit some flexibility on where exactly to mount the scope. This probably won't be a problem for most people.
It secures to the rifle with 3 solid points of contact. This is the standard number on most scope mounts, so it's proven to provide a solid foundation. 
Springfield Armory provides all mounting hardware and instructions when you purchase the scope mount. The scope mount also features a see-through center channel, so you can still use your iron sights.
Customers report the following on their experience with the product:
Positives Recap for This Product
Can still use iron sights
Surprisingly light
Durable aluminum machined consistently
Helps hold zero well over a long time and with bumpy walks and rides
Reliable company to work with
Negatives Recap for This Product
Directions are difficult to read and make installation difficult
UTG New Gen 4-Point Locking Deluxe M14/M1A Scope Mount
Sale
UTG New Gen 4-Point Locking Deluxe M14/M1A Scope...
New Gen mil-spec quality deluxe sniper mount for M14/M1A rifles
Over 6-inch fully Picatinny-compatible top rail with 15 slots; accepts Weaver-style rings and allows use of iron sights
1-piece machined from aircraft-grade aluminum alloy with black matte finish
Side plate features locking point, horizontal bottom guide and adjustable side screw to provide a rock solid foundation
Installs easily, no gunsmithing required; measures 6.1 by 1.6 by 1.8 inches (L x W x H)
UTG's scope mount is the most affordable on the list, but that doesn't mean you shouldn't consider it. Their goal with the design was to create a mil-spec quality, deluxe long-range rifle by providing a good foundation for a powerful scope.
The scope mount is made from aircraft grade aluminum for that balance of light weight and durability. To top it off, UTG used a matte black finish for protection from corrosion.
With just over 6 inches of length, the mount strikes the middle ground between flexibility and weight. UTG uses a Picatinny rail system with 15 slots for locking to the scope. This system works with Picatinny rails, but it's also compatible with some Weaver rail accessories.
It features a 4 point locking system to try to provide a firm foundation for scope mounting. They claim that it installs easily with no gunsmithing required, and the easily accessed side plat locking point, horizontal bottom guide, and adjustable side screw back this up. But the customer experience disagrees.
Here's what the customer experience boils down to:
Positives Recap for This Product
Good material and lightweight
Finish is nice and consistent
Picatinny rails work well for mounting a scope
Very affordable price
Negative Recap for This Product
Directions may not be clear, and it's not easy to install
Some report that over time it doesn't stay as secure to the rifle
Sadlak Industries M14/M1A Lightweight Airborne Model Steel Scope Mount
Sadlak Industries' scope mount is by far the most expensive on the list, but it's durability and quality design might make it the most secure mount you could look for. Don't be scared off by the price.
The Airborne scope mount is made from a solid chrome-moly steel bar. This unique (and expensive) alloy makes the steel 20% lighter while being just a durable as a standard steel. This avoids the sacrifice in strength you get when you opt for aluminum.
Everything is precision machined including the mil-spec Picatinny rail which is the standard for secure mounting of the scope to the platform. To attach to the rife, Sadlak chose a 3 points of contact design for strength.
As an added bonus feature and to cut down on weight, this scope mount also has a see-through U-channel down the length of the Picatinny rail. This lets you still use your iron sights by looking below the scope and through the U-channel.
Installing the mount takes a little effort, but Sadlak provides everything you need. With the purchase of this part, you get all mounting hardware, fasteners, hex wrenches, and detailed instructions provided.
Does the user experience back up their design? Find out below:
Positives Recap for This Product
Extremely durable and tough chrome-moly steel
Specialized alloy and cut-out make it as light as aluminum but much tougher
Easy to install with all parts included
Secures solidly to the rifle and the scope
Quality machining ensures product reliability
Negatives Recap for This Product
M1Surplus Scope Mount Rail
M1SURPLUS Scope Mount Rail - Low Profile Design -...
M1SURPLUS Brings You A Low Profile Scope Mount Rail For Springfiled M1A Rifles - Does "NOT" fit M14
Provides a Picatinny Mounting Rail For Attaching Scopes or Optics
Includes a Set of Low Height Aluminum Scope Ring Mounts
Low Profile Design With See-Through Channel Allows Use of Your Rifles Iron Sights
This Item Cannot Be Exported
The reasonably priced M1Surplus Scout mount rail may be exactly what you're looking for if all you need is a simple but reliable mount. It secures to your rifle with a locking 2-point system providing a firm foundation to mount your scope from.
The mount rail is made from a durable aluminum which is the standard for mounts because of its balance of light weight and durability. M1Surplus used an anodized matte black finish to provide corrosion protection.
This mount is compatible with Piactinny and some Weaver ring mounts as well. It's 6.25" long which provides some flexibility in how you mount your scope. The rail also has a see-through channel down the center to reduce weight and still let you see your iron sights below the scope.
Installing this mount may be tricky. You may have to remove the rear stripper clip guide and add some minor filling to the mounting bracket to get it fit exactly. M1Surplus tries offset this by including detailed instructions.
The customers' experience boiled down to this:
Positives Recap for This Product
Affordable price
Once installed provides a secure and solid base
Strong material and design offers a lot of durability
Picatinny rail design fits with matching and Weaver accessories
Negatives Recap for This Product
Requires a few extra steps to install
GG&G Scout Scope Mount For M1A
GG&G's medium-priced scope mount balances easy installation and low profile. It's designed for use with a red dot scope or long eye relief magnified scope.
It's comes with 7" of Picatinny rail for a lot of flexibility in where and what kind of scope you use. To avoid the weight problems that come with a long mount, GG&G carved out a long center groove down the middle of the mount. This allows let you see below the scope and still see your iron sights.
It fits securely to the receiver with 8 clamping screws. If it's attached properly, it's not going anywhere.
The mount is made from aluminum which also help to cut down on the weight. Aluminum is still tough enough to get the job done and hold on to the scope firmly. The scope mount is also finished in Type III hard coat anodized matte black finish for protection from corrosion.
Users had this to say about the product:
Positives Recap for This Product
Fits perfect with the M1A Squad Scout
Longer rail works with different combinations well
Tough materials and good finish add to the durability
Easy to install
Can still use the iron sights
Negatives Recap for This Product
May not fit without some trimming
About The M1A
The M14 service rifle that was the Armed Forces active rifle from 1959 to 1964, and the M1A is Springfield Armory's civilian version of it. Even though it isn't in primary service now, it's still in use for tactical and sniper rifle purposes.
When the US Army wanted to develop an assault rifle like the Russian AK-47, they built the M14. It was built on the M1 Garand's model, but they chose to use the shorter 7.62 NATO ammo. The rounds still pack a punch, but they have less recoil for faster firing.
The M14 also included the selector switch to let the firearm go from semi-automatic fire to fully automatic fire. Later, the gun was replaced by the more effective M16.
When a gun has access to full auto, it's considered an assault rifle and is Federally regulated. This is why Springfield Armory made the M1A. As an exact copy of the M14 without the option for full auto, it avoids regulation but is still an effective weapon. 
Features Of A Scope Mount
There are different features of a mount to watch out when looking for the perfect mount to meet your needs. In this section, we offer a quick guide on the features and how they may impact your use of the part and the M1A overall.
Material
As with most gun products and accessories, a key part of the scope mount is the material and finish. Finishes help to protect the metal against corrosion which happens naturally when the part comes in contact with moisture, sweat, and grime. Scope mounts are typically made from steel or aluminum.
Steel – While this has been the standard for scope mounts, it's fallen out of favor when compared to the other option. In general, steel is more durable and can attach more securely. On the downside, steel costs more and weighs more.
Aluminum – This has become the new common material for scope mounts. They offer a good balance of durability with lighter weights. Because the scope mount doesn't handle as much of the recoil, it doesn't necessarily need to be made from ultra-tough materials. 
Rail System
All modern scope mounts come with some kind of rail system. The most common is the Picatinny rail which fits other Picatinny accessories in an interlocking way.
More expensive scope mounts have rails also designed to accept some Weaver-rail accessories. The quality of the rail system depends on the manufacturer, so the best way to see if the rails are good is check out what the customers say. We combine these reviews for you in the "recaps" section below each product.
Attaching System
If the scope mount doesn't attach securely to the rifle, it doesn't matter how amazing your scope is. A loose mount can cause the scope to lose its zero and even be damaged.
Most companies are very clear about how their products secure to the M1A. There more points of contact there are, the more secure the mount is. This is also true when it comes to how many screws there are in the mount.
In general, more complex attaching system also cost more. So it's up to you to balance exactly what it is you need. I don't recommend skimping on this feature.
Ease Of Installation
Some may consider the ease of installation to be a "convenience" feature, and that's true to a certain extent. But if you buy a mount that's too complicated to install you may break it in the process or give up entirely. Either way, you've just wasted money.
We make sure to note in the reviews below how easy each scope mount is to install and what other users have to say about it. This is especially important for people who aren't experienced in customizing their weapons.
Length
Scope mounts come in different lengths and positions. Usually, the mount is attached at the receiver, and then the rail system continues down the length of the barrel.
When a scope mount is longer, it offers more flexibility when it comes to the type and position of scope that you can mount on top. The downside of this is that it costs more, requires more securing parts, and adds to overall weight of your rifle.
Price
As you should always do when you shop, keep your budget in mind when you check out the products below. We point out the general price range of each scope mount in our reviews below.
Because prices are always changing, it's a good idea to check out the specific price on Amazon. You never know when one of them might also be on sale. 
Commonly Asked Questions
How much do scope mounts actually affect the accuracy of a scope? – You might think all a scope mount needs to do is hold the scope in place. And you're right!
But if you buy a cheap one, it could wiggle too much and throw off the scope's zero. Worse, the mounts could put pressure in the wrong places and permanently damage your scope.
Why not mount the scope on the side or off-center from the barrel? – While there may be advantages to having a scope off-center (early rifles used side-mounted scopes at times), scope are almost exclusively mounted on top in the center in modern times. The main reason for this is that it becomes easier to aim quickly when in a stressful situation.
Side-mounted scopes can be equally accurate, but it requires some more thought to adjust your aiming procedures to do this. One common set up with AR-15s are to have the center mounted scope with off-center iron sights. This lets you have quick access to the scope but, with a simple tilt, still access the close-range sights.
What are Picatinny rails and why are they important? – Picatinny rails are a system of attaching scopes to receivers more securely. They are grooved "rails" that the scope slots into. Weaver rails are also option, but make sure that your accessories have matching rail systems.
The main downside of Picatinny rails is the added weight. Picatinny rails can be found on many upgrade parts including scope mounts, receivers, barrels, and stocks. 
Conclusion
We hope you found our guide to the 5 best M1A scope mounts helpful. There are a lot out there, and each one may be perfect for you depending on what you're looking for. You need to balance what features are important to you with the price you're willing to pay.
I recommend the Sadlak Industries scope mount for anyone looking for the best mount on the market. Through superior design and modern manufacturing technology, this mount manages to combine everything you could want in a scope mount. It's only drawback is the higher price.
If you're afraid to drop that much money on a scope mount, then the GG&G scope mount works just fine. It's secure, durable, and comes in at a lower price. Just make sure you're happy with the extra work it may take to install.
If you enjoyed this article you'll probably like these: