Welcome to my review of the best M1A magazines.
The M1A by Springfield Armories is an iconic American rifle, in part because it packs a powerful punch with minimal recoil. You can shoot this rifle all afternoon and walk away from the range without feeling like you've just fought a bear. Since it's so enjoyable to shoot, you'll want to put quite a few rounds through it, and for that, you'll want some spare magazines. Instead of stopping to reload each time you empty your mag, pick up a few spares from our list of the best M1A magazines.
In this article, we'll cover what makes the M1A so exceptional, how to pick a quality magazine for it, and a few other topics before we review three of the best M1A magazines.
The Best M1A Magazines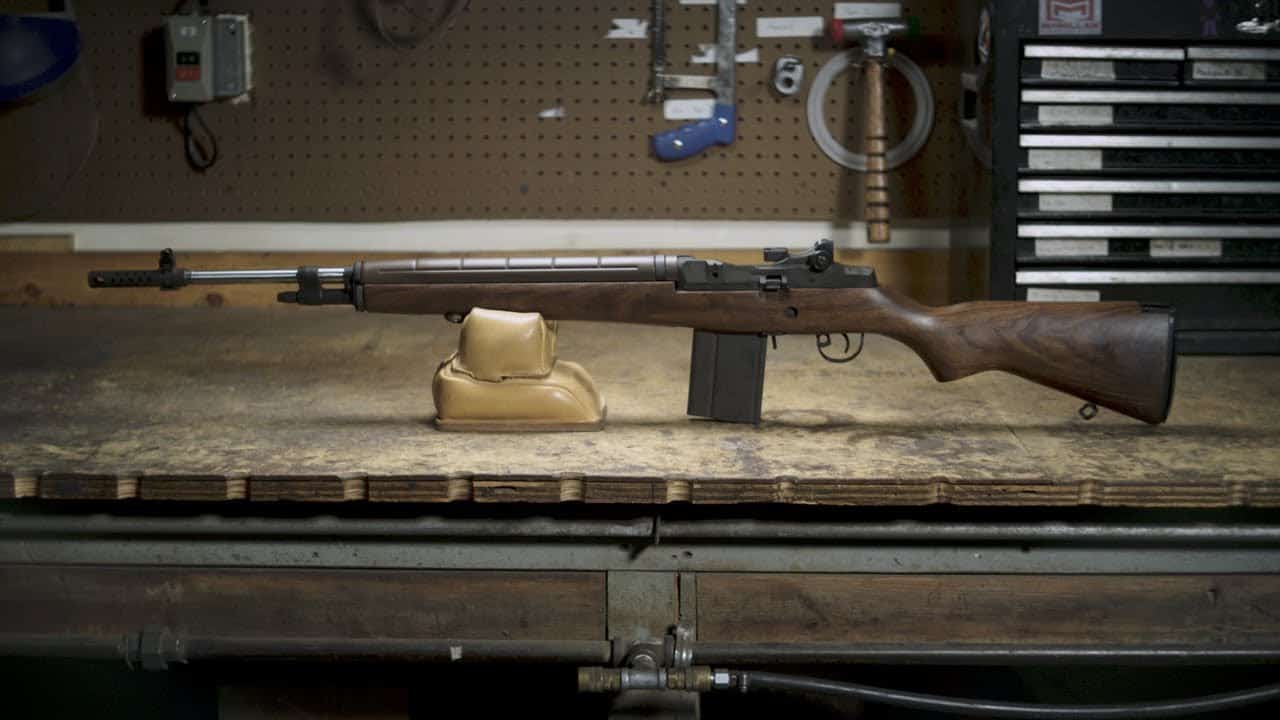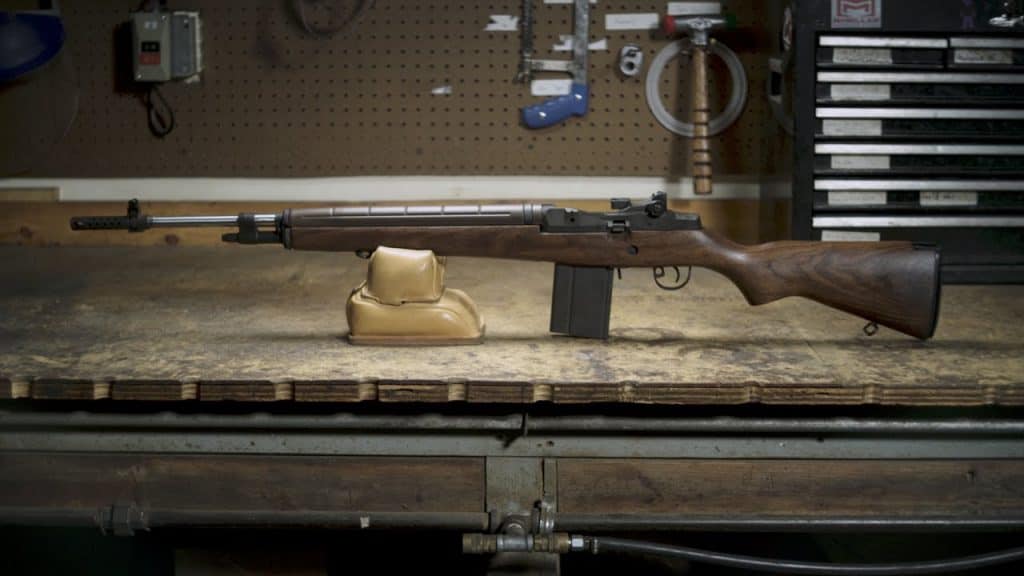 Each magazine on our list is an excellent option, but we'll review the specific pros and cons of each with you. Let's get started!
Check-mate Industries – Springfield M1A 10RD Magazine 308 Winchester
The Check-Mate magazine is welded stainless steel, so it's extremely durable. The Parkerized finish resists rust and corrosion, so your magazine should stay in great shape for years, no matter the weather conditions or how rough you are with it.
This particular magazine has a ten-round capacity, but the company also sells five, fifteen, twenty, and twenty-five-round magazines, so you can find a Check-Mate option to suit your needs. Don't forget to check your state's laws before purchasing magazines that hold more than five rounds.
This magazine has a precision-wound spring and TeflonÒ coated steel follower, so your cartridges will feed correctly every time. The magazine also has a removable floorplate, so cleaning is easy, which also helps ammunition feed well.
Positives recap for this product:
Parkerized stainless steel, so it's highly durable.
TeflonÒ coated steel follower for precision feeding.
Available in several different capacities.
Negatives recap for this product:
Stainless steel is heavy, so this may increase the weight of your rifle.
Springfield Armory M1A .308 20RD Magazine
Like the Check-Mate magazine, this Springfield magazine is stainless steel. It's highly durable, but this twenty-round capacity mag will add noticeable weight to your rifle.
The rough finish on the outside of the magazine, plus its extra length, helps when removing and inserting these magazines. You'll never have to worry about this mag slipping out of your hand.
The steel floor plate is removable for cleaning, and functions at Springfield's high standards, so you won't have feeding issues with this magazine.
Having a high-capacity magazine is great for days at the range or for shooting competitions, but there are some disadvantages to such a sizeable magazine. First, it's length might make it difficult to use stands to benches when you shoot. Also, the weight may change the way your rifle performs. And, as we've stated already, this type of magazine may not be legal in your home state.
Positives recap for this product:
High-quality stainless steel for strength and durability.
Rough finish for easier loading and unloading.
Removable feeder for easy cleaning.
Negatives recap for this product:
High-capacity magazines add noticeable weight to the rifle.
May not be legal in your home state.
Springfield Armory – M1A/M14 Magazine 308 Winchester 10RD
Like it's twenty-round brother, this Springfield magazine is stainless steel. It'll last through the toughest environmental conditions, as well as regular wear and tear. However, since its capacity is just the standard ten rounds, it's less bulky and won't add much noticeable weight to your rifle.
This mag has wide feed lips, so it'll never catch or hinder cartridges as they feed into your chamber. The steel follower and precision spring both facilitate smooth feeding as well. Keeping your mag free of dust and dirt also helps with feeding, and luckily, this magazine has a removable floor plate for easy cleaning.
The finish of this magazine has the same grit as the twenty-round Springfield, so loading and unloading are seamless.
Positives recap for this product:
Durable, stainless steel.
Wide feed lips, removable floor plate, and precision spring all facilitate precise feeding.
The rough finish makes loading and unloading easier.
Negatives recap for this product:
Stainless steel is durable but heavy.
Springfield Armories M1A Rifle Overview
The M1A is a semi-automatic rifle that's popular for hunting and for shooting competitions because it's incredibly reliable, which is what you'd expect from a Springfield Armory weapon.
The M1A is the civilian version of the military's M14, which was the standard issue American military rifle from 1959 to about the mid-1960s. It's seen limited use since then, but it was replaced by the M16, which is still widely used by militaries across the globe.
Springfield made early versions of the M1A with Army surplus supplies, which allowed them to maintain the American military's rigorous standards for accuracy and reliability in the civilian version of the gun. The M1A is chambered for 7.62 NATO/.308 Winchester ammunition, so it's a very powerful rifle.
Springfield has innovated the design of the gun to reduce recoil for more comfortable, accurate shooting. The company's proprietary muzzle break redirects gasses propelled from the muzzle when you fire so that you have less muzzle rise and feel much less recoil in your shoulder.
Modern models of the M1A, like the SOCOM 16, are compact tactical rifles, so you don't have to choose between power and size. The SOCOM CQB (close quarter battle) has an even shorter barrel than other M1A models, so it's a great choice for home defense where you may find yourself in close quarters with an attacker.
At this time, Springfield is manufacturing seven different models of the M1A, so you'll have no trouble finding one that suits your needs.
The rifles are a bit heavy, hovering near nine pounds, which also helps with recoil. However, it can be a bit of a burden if you have a long trek to get to your favorite hunting spot. You'll likely find that the accuracy of the M1A is a fair tradeoff for its extra weight, though.
The M1A comes standard with Picatinny rails, so you can add any compatible accessory that you like. Keep in mind that you can use Picatinny accessories on a Weaver rail, but that Weaver accessories most likely won't fit your Picatinny system. However, Picatinny rails allow for a lot of customization. You'll have a lot of accessory choices with a popular rifle like the M1A, so you shouldn't struggle to find compatible versions of all of your favorites.
Why Should You Buy Extra Magazines?
Your M1A comes with a magazine, so why would you want to purchase spares? There are a few good reasons:
When you go to the range, it's much more fun to burn through your ammunition without stopping to reload each time you empty your magazine. If you have spares on hand, you can shoot for quite a while before you have to reload.
Rifles are a smart choice for home defense, especially the SOCOM CQB version of the M1A, and having a spare magazine is prudent. Your accuracy is very likely to suffer in a high-stress situation when your adrenaline is pumping, so give yourself the option of a quick reload.
If you live on a ranch or tend to livestock, you may want extra ammunition on hand to protect your livelihood from predators.
If you live in a state that restricts magazine size, you'll probably want a few spare mags on hand. Whether you're out hunting or just burning through rounds on the range, you won't want to stop and reload after every five shots.
Magazine Capacity Restrictions
We are not lawyers, and what we say should not be taken as legal advice, but as of May 2019, eight U.S. states and Washington, D.C. have high capacity magazine restrictions. Before you select and purchase new magazines for your M1A, make sure that you're legally allowed to do so.
If you live in Colorado, Connecticut, Hawaii, Maryland, Massachusetts, New Jersey, New York, Vermont, or Washington, D.C., check your state's laws or consult with an attorney licensed in your state before you purchase additional magazines.
Some states specifically restrict magazine sizes for hunters using auto-loading (a firearm is designated as auto-loading when the act of firing a bullet draws another one into the chamber, which is true for semi-automatic rifles like the M1A) firearms to just five cartridges. If you live in Maine or Oregon, check your state's laws before buying extra magazines.
Qualities of a Good M1A Magazine
Once you decide that you want to purchase spare mags, and you've determined that you're legally allowed to do so, it's time to shop. But what do you look for in a quality magazine? Can one magazine really be that different from another? Is it worth spending a few extra dollars, or can you get away with the cheapest mag you can find?
Like all rifle parts, magazine quality does matter. The M1A has a reputation for reliability, but part of that reputation comes from being paired with good magazines that feed cartridges correctly.
Quality Follower
Your spare magazines should have a good follower, the part of the magazine that goes under the bullets to propel them upward as they feed into the gun. A quality feeder will prevent jams. It should be self-adjusting and anti-tilt so that the bullet at the top of your mag feeds smoothly into your chamber.
Magazines made from cheap materials or made inconsistently won't feed cartridges into the chamber properly. You want a magazine that's as reliable as the M1A, so it should feed cartridges without issue every time you load it into your rifle.
Durability
We're rough on our magazines, much more so than we ever are to our rifles, so magazines need to be sturdy and durable to stand up to our abuse.
Often, shooters throw spare magazines into their gun bags and let them float around in there, banging against whatever else is in the bag. Even if they're secured, they may be loaded but unused for some time. Also, if you pull the ejection lever and aren't ready to grab the empty magazine, it can fall to the ground.
You should inspect your magazines each time you reload them to make sure that there are no bends or dents in the material. Even if you never drop your clip and you always secure it in your gun bag, inserting and removing the mag can wear it out. To ensure that it feeds correctly, make sure it's in good condition before you reload it.
Material
You can readily find magazines for most firearms that are steel, stainless steel, aluminum, or various polymers. When you pick out a mag, you need to weigh the durability of the material with the heft of it. If you plan to carry five spare loaded magazines with you, you should consider the overall weight that you're adding to your pack.
Polymer magazines are often lighter than steel, but many rifle owners prefer the classic durability of an all-steel magazine. You'll need to determine for yourself what's most important to you, the weight of your magazine or it's longevity.
Grip and Fit
Magazines with a little texture will be easier to load into your rifle. It doesn't have to be anything extreme, but a magazine that's as smooth as butter will be more slippery and difficult to load than one with some grit.
Similarly, the magazine should be a good fit for your M1A. Manufacturers need to have rigorous quality control procedures in place to maintain consistency in their offerings so that each magazine loads and unloads easily. You shouldn't need to wiggle or jiggle the mag to get it into your rifle, nor to release it from your weapon.
Capacity
Spare magazines have a variety of capacities, so the one that you select should meet your needs. You can get magazines for five, ten, fifteen, twenty or more rounds, depending on what you're seeking.
As we cautioned above, make sure that you check your state's laws before purchasing a new magazine to make sure that it's legal for you to own. If you plan to hunt or shoot in a state where you do not reside, check that state's laws as well. As you know, you're required to follow the laws in any state in which you set foot, even if you're not a resident.
The larger the magazine is, the heavier your rifle will be. Some people prefer low-capacity magazines even if their state of residence doesn't restrict the capacity because they're lighter, so it's easier to maintain their accuracy. People who shoot from standing may have a marked preference for smaller, lighter magazines. Those who shoot from a bench or a stand may prefer mid-sized ten-round magazines over extended, large capacity mags.
Conclusion
When it comes to rifle accessories, extra magazines are one of the most affordable options you'll find, plus they're very convenient to have on hand. Whether you're looking for a five, ten, or twenty-round magazine, you'll find a high-quality option on our list of the best M1A magazines. You'll appreciate having a few extra magazines on hand the next time you take your rifle out, whether you end up choosing the Check-Mate or one of the Springfield magazines.