The M1A is a classic and popular tactical rifle that looks great and is fun to shoot at the range. But if you wanted to improve the use and look of the gun without too much cost then replacing the stock can be the perfect candidate.
This simple upgrade can make a world of difference in your shooting, but what should you look for in a gun stock. Take a look below at our 3 picks for the best M1A stocks and which one may be right for you.
Best M1A Stocks Review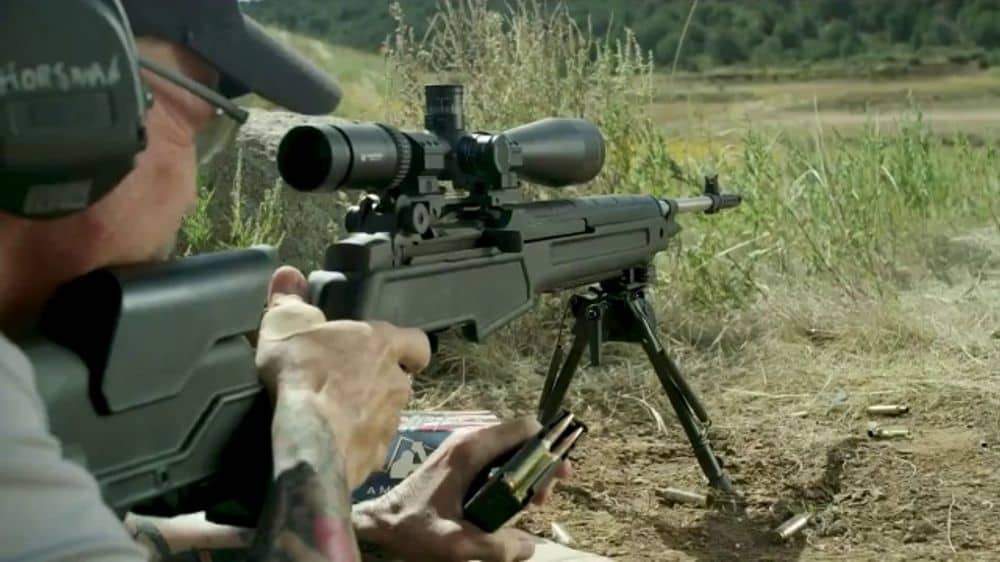 Below our the breakdowns of the 3 best M1A stocks. These cover a variety of features and prices, so you should be able to find one of these that meets your needs. Keep in mind how the features impact the stock's use as you read on.
Springfield Armory M14 Stock OEM Wood Brown
This is the classic looking stock from Springfield Armory which is the gunmaker that invented the M1A. Don't be confused by its label as an M14 stock. The design for the M14 and the M1A stocks are the same as we discussed briefly in the above section.
This medium-priced is stock may be for you is you're looking for the classic wood stock to replace your broken or cracked one. The brown walnut wood is sturdy and protected by a natural finish.
Because this stock comes from the original manufacturer, you can rest easy knowing that it fits perfectly with other M1A factory parts. The stock is designed in the original equipment manufacturer (OEM) style which provides firm grip and holds tight to shoulder.
This stock also comes with two loops for attaching a strap for easy carry of the rifle. Springfield Armory makes this stock all in the USA and offers a lifetime guarantee for the product.
Here's what actual users had to say:
Positives Recap for This Product
Fits perfectly
Looks great
Affordable price
Durable and tough wood
Comfortable grip
Negative Recap for This Product
May not come with all the screws needed to install if you previously used a synthetic stock
No extra features
Pro Mag Archangel M1A Precision Stock
Pro Mag's precision stock for the M1A is also a medium-priced product. This one has some extra features that don't come on the standard M1A stocks you may be interested in.
To start, the stock is made from carbon fiber reinforced polymers. This makes it much lighter than wood stocks while still being durable. As a synthetic stock, it's resistant (the company uses the word, "impervious") to weather, gun solvent, chemicals, and other debris.
Pro Mag designed this stock as a drop-in model. This means that it should fit easily into any M14 or M1A rifle.
On top of these features, the Archangel Precision Stock is also fully adjustable. There are many places to adjust the grip and hold including the following:
Length of pull through a thumbwheel
Cheek riser
2 swivel studs
Grip storage compartment
Holes for 4 more swivel studs
The forend has an integrated Picatinny rail for attaching different extras. Pro Mag offers this stock in both black and tan. The stock is made in the USA and is protected by a lifetime guarantee.
When customers used this stock, this is what they had to say:
Positives Recap for This Product
Affordable price
Tough, weather-resistant, and light synthetic material
Adjustable parts fit each person individually
Easy to install
Trusted company with quality product
Negatives Recap for This Product
Grip may be a little uncomfortable
Sage International Springfield M14 Enhanced Stock Chassis
Sage International's enhanced stock is the most expensive on our list, but it's also the most unique and premium of the stocks. The other two are solid and classic choices for great stocks for the M1A, but this one is something else.
For starters, unlike almost any other stock for any other rifle on the market, this one is made from aircraft grade aluminum. This unusual metal provides a killer balance of durability, reliability, and lightness. To ensure the best quality in construction, Sage uses a CNC (computer driven) milling process for exacting design.
This stock is also fully adjustable to match exactly how you want to hold it. Once locked in how you want it, the combination of perfect hold and aluminum material are so secure that they help improve your accuracy and precision. The metal is also finished with a hard-coat anodized.
The CNC machining and design make this stock easy to install on M14 and M1A rifles. On top of these features, there are also some extras they include:
5 Picatinny rails
3 sling mounts
Removable Kydex forend with palm swell
Soft recoil pad
The user experience boils down to the following:
Positives Recap for This Product
Aluminum is tough but still light
Easy to install
Many extras
Comfortable to hold and use
May greatly increase accuracy and precision
Fierce, tactical look
Negatives Recap for This Product
About the M1A
The M1A is Springfield Armory's civilian copy of the M14 service rifle that was the Armed Forces active rifle from 1959 to 1964. Even though it isn't in primary service now, it's still in use for tactical and sniper rifle purposes.
The M14 was built on the M1 Garand's model but with the shorter 7.62 NATO ammo which still gives good stopping power but less recoil for faster firing. This was the US Army's first attempt at the assault rifle like was developed in Germany and Russia with the AK-47.
As a type of assault rifle, the M14 had a selector switch which allowed for the gun to switch between semi-automatic and full automatic fire. This gun was later replaced by the M16.
As an assault rifle, the military version of the M14 isn't available for civilians without special licensing from the ATF. That's why Springfield Armory made the M1A. It's an exact copy of the M14 without the ability to fire at full auto.
Why Change Your M1A Stock?
If a stock is cracked or warped, you obviously need to change it. But replacing the stocks with upgrade materials can have a big impact on your accuracy, precision, and overall shooting experience.
Better handling – As you get a better stock, you can pick the stock style that fits you the best. Whether it's the classic style or it's adjustable, you can find the stock that makes the whole rifle simple to handle. If you opt for a synthetic stock or an unusual, light metal choice (like we found below), it's also lighter.
Holds zero – Stronger materials and better, modern design can absorb and spread the recoil so that when you fire the kick doesn't throw off your aim. This keeps the rifle better on target.
Better stability – A stock that fits you better can fit tightly into your shoulder. The palm swells and the design in the forend may give you a stronger grip. These makes the gun a more stable platform to shoot one.
Features of Rifle Stocks
As you read our reviews below, the stocks have features and designs that impact its use in shooting. Check out these features for what you may need in your gun stocks.
Material
The material is one of the key features in picking the stock that works for you. There are three main materials for stocks each with their own pros and cons. Check out a quick look at them below.
Wood – This is the classic material for rifle stocks. They absorb recoil well, look great, and are known for their durability. On the flip side, they often cost a little more, are heavier, and are more vulnerable to weather and moisture which is why finishes are important to look at with wood.
Another big concern with wood is that it shows dents and scratches better than synthetic stocks. If the stock comes into contact with the barrel, there's also a danger of the wood warping from the heat of firing.
Synthetic – Synthetic stocks are usually made of polymer, and they're becoming extremely popular especially with tactical rifles. They're more affordable to produce than wood stocks, lighter, and resistant to moisture. On top of this, they can also be very durable.
It used to be that synthetic stocks looked bland when compared to the natural grain of a wood stock. But if a tactical or patterned look is something you want, a synthetic stock may be just the thing.
Hybrid – Hybrid stocks combine some wood and synthetic elements. They are less common because they cost more, but they really try to get the best of both worlds.
Stock Styles
Stocks come in different styles and designs for different types of shooting. Experts love to debate about which one is the perfect for each situation, but does it really matter? Maybe to a small extent, but unless you're looking to be professional marksman just pick the one that feels or looks best to you.
Here's a quick list of stock style options:
Gary Goudy Classic Rifle Stock
MOD.54 Winchester-Original Issue Style
Oberndorf Classic
Mannlicher Rifle Stocks
Freischütz Classic
Rollover Sporter
British Stalker Thumbhole Sporter
British Express Rifle Classic
Original Issue Military
G & H High Comb Classic
.22 Cal Stocks
G & H Classic-Open Sight
Poor Man's Kimber
The best way to pick a style is to try it in person, but a close second is take what people using the stock and decide off of the different opinions. We do that for you in our reviews below in the recaps section.
Stock Look
Don't be ashamed to consider the look of the stock as one of your big considerations. The stock is the most visible part of the weapon. If all else is equal, pick the stock that looks the best to you.
Finish
The finish on the stock can have a big impact on your shooting. The chemical finish serves a dual purpose.
It protects the material from grime such as dirt, sweat, and dust. This is especially needed with wood stocks because they are more vulnerable to that damage.
A good finish can also add some extra gripping strength to the stock. The stock is what you hold, and the combination of a good grip and an easy-to-hold stock style may provide a stable platform for shooting from to increase your accuracy.
Extras
You can expect there to be some extra features on stocks that cost more. Can you live without these features? Sure.
But these extras can also take your M1A to a whole other level. Don't knock it until you try it because these features can be very useful:
Adjustable
Bedding in the forend
Thumbhole
Raised cheek rest
Left-handed cheek pieces
Checkering on stock near trigger for grip
Engravings
Price
As always when shopping, stay within budget or you may find yourself regretting the purchase and resenting your weapon. On the other hand, keep in mind that stocks tend to be more expensive.
The stock is the first thing you, as the shooter, interacts with. A premium stock can make your rifle feel like an extension of your body and make the entire experience of owning the M1A feel great.
Conclusion
We hope you enjoyed reading about our picks for the 3 best M1A stocks. Each one of these may be the best fit for you, but it really depends on what you're looking for.
The Sage M14 Enhanced Stock Chassis is clearly the best option if you're looking to upgrade your stock with the best option available. It's high quality construction, aluminum material, and great tactical look. But it costs a lot more than the other options.
Either of the other two are also great if you want a simple upgrade or replacement. Springfield Armory's wood stock is the option for those who want the classic look and reliability. Pro Mag's synthetic stock offers good quality with a lot of adjustability.