Imagine you're out firing your AR-15 with some heavy-duty ammo at the range, but the recoil keeps kicking your shots off target. Or maybe your shoulder is getting tired from absorbing the recoil. It may be a good idea to check into adding a muzzle brake.
Muzzle brakes can do a lot in absorbing the recoil from firing which can make using the AR-15 more accurate and more fun. Picking the right one for you and your budget can be tricky, that's why we looked at 7 of the best AR-15 muzzle brakes.
Read on for more information on how to pick the right muzzle brake and our reviews of the products below.
Review of the 7 Best AR-15 Muzzle Brakes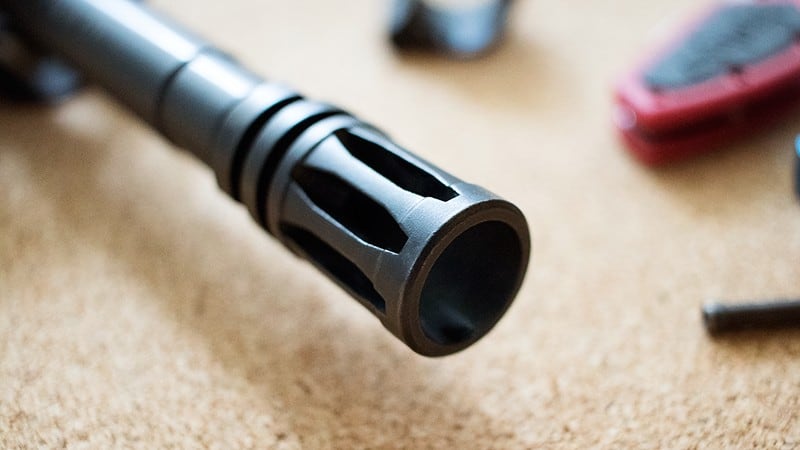 In this next section, we break down the muzzle brakes into their features and specs. Keep the above features in mind with what you see, and then check out the recaps for what actual users are reporting about the products.
Precision Armament AR-15 Severe Duty Compensator DLC .22 Caliber
This high-quality and high-priced muzzle brake by Precision Armament is designed to reduce a lot of the recoil and muzzle rise that comes from the AR-15. It's built for the .22 caliber and comes with 1/2-28 TPI thread. This muzzle brake has a diameter of 0.875".
The compensator is made from stainless steel which is tough and provides natural protection against corrosion. On top of that, it also has a black finish to give it a dark tactical look.
Precision Arms made the compensator with a reverse venting design. The larger initial expansion chamber redirects the pressure to the sides and back for avoiding recoil and muzzle rise. This system makes it more expensive, but it's known to work well.
Perhaps the biggest downside is requirement to have Accu-Washer for installation which are sold separately. Here's what users had to say about the part:
Positives Recap for This Product
Tough and durable material
Reverse venting design disperses pressure very well
Can handle repeated fire without warping or being damaged
Easy to install
Negatives Recap for This Product
Requires extra parts to install
Wilson Combat AR-15 Muzzle Brake Q-Comp
Wilson Combat's medium-priced compensators do their job well. They provide three different thread options which can work with a variety of calibers. The threads include the following sizes:
The muzzle brakes are made from steel and finished in Melonite QPQ. This prevents damage due to corrosion from the environment and the heat that comes from repeated firing.
They built these muzzle brakes with rapid fire in mind. Wilson claims that their design displays no muzzle flash and greatly reduces recoil and muzzle rise. The slotted expansion chamber is what makes this possible.
Installing only requires the use of a crush washer which is provided when you buy this product. Here are what the customers said about the product:
Positives Recap for This Product
Great value
Different options fit different threads
Included crush washer makes it easy to install
Durable steel and finish
Reduces recoil and muzzle rise
Negatives Recap for This Product
"Catch all" options may not work as well with every caliber
Bravo Company AR-15 Gunfighter Comp Mod 1 .22
This high-priced compensator or muzzle brake by Bravo Company comes with a lot of features that may just make it worth it. The part is designed for the .22 caliber AR-15 and fits 1/2-28 TPI threads. It also comes with a 0.860" diameter.
The muzzle brake is made of stainless steel which is naturally durable and provides some good protection from corrosion. To add to it, Bravo used a black oxide for a finish to give another layer. This combination make it strong against the heat that comes from repeated firing as well.
Bravo's design reduces recoil and muzzle rise by its special "baffling" system. This system redirects the combustion gas energy. Bravo Company claims their special system avoids side blast and the extra noise that other muzzle brakes create.
Another great bonus of this product is that the exterior is designed to accept blank firing adapter and flash hider mounted suppressors. This makes it so much more than a single product.
The Gunfighter compensator comes with the washer it needs. But Bravo does recommend that a qualified gunsmith install it for you.
When customers bought this, they had the following to say:
Positives Recap for This Product
Tough and durable material
Reduces recoil and muzzle rise well
Reduces sound from firing
Compatibility with mounted suppressors is useful
Negatives Recap for This Product
Higher price
May be complicated to install on your own
Blackhawk Muzzle Brake Barrage 5.56mm
Blackhawk's medium-priced muzzle brake packs in a lot of features that you'll be surprised it costs as little as it does. This part is made for the 5.56mm (same as .22) caliber and 1/2-28 TPI threads.
Blackhawk makes this from a stainless steel alloy and a matte black finish to maximize durability under repeated fire. The three large ports redirect gas pressure away from the shooter and reduce recoil which prevents muzzle rise.
Installing this part doesn't require any crush washers. All you need is a wrench that fits the flat, easy-to-grip sides of the brake and the correct sized barrel.
The extra compatibility is what makes this muzzle brake shine. Blackhawk designed the product to also accept the Blackhawk Barrage Suppressor, but you don't need the suppressor to use the compensator as it is.
The users reported the following information about their experience:
Positives Recap for This Product
Tough steel for durability
Ports provide good recoil reduction
Easy to install with no extra parts
Compatible with the Blackhawk suppressor
Reliable use over time and repeated shooting
Negatives Recap for This Product
May not be as effective at recoil reduction as other parts at a similar price
Foxtrot Mike Products AR-15 Muzzle Brake 9mm
Though this muzzle brake by Foxtrot Mike is the cheapest on our list, it does exactly what it's meant to do. This product is built for the 9 mm caliber and has 1/2-36 TPI threads.
The muzzle brake is machined from steel for precision reliability and durability. It then received a matte black finish for some corrosion protection and tactical stylings.
The simple 2-inch long compensator attaches to the muzzle and diverts some of the recoil and muzzle rise through its two gas vents. Foxtrot Mike doesn't provide crush washers or shims you may need to install the product, but the flat sides offer wrenches a strong grip for easy installation when you do have all the parts.
The customer experience boils down to this:
Positives Recap for This Product
Very affordable
Tough steel
Does a decent job of reducing recoil and muzzle rise
Easy to install
Works great with 9mm AR-15 which is more uncommon
Negatives Recap for This Product
Finish may wear off easily
Requires extra parts that aren't provided
Not as effective as more expensive products
Smith Enterprise AR .308 Muzzle Brake
Smith Enterprise is a higher priced muzzle brake designed for the .308 AR. It has a 5/8-24 TPI thread and is 0.905" in diameter.
The product is made out of 8620 stainless steel with a salt-bath nitrided finish. Though it may cost more, these materials and care make it very durable.
The design of this muzzle brake is standard to reduce recoil and muzzle rise, but it's closed at the bottom to reduce dust signature. The recess gas ports (holes) redirect the gas pressure away from the weapon to work. This makes your AR-15 more accurate and able to fire more quickly and smoothly.
With the inclusion of a lock nut, the Smith Enterprise muzzle brake becomes easy to install on any AR with threads that fit its specification. When users reported on this product, this is what they had to say:
Positives Recap for This Product
Works on the .308 caliber which is less common
Tough steel and finish for high durability
Easy to install
Redirects recoil fairly well
Negatives Recap for this Product
Higher price for few features
Primary Weapons AR-15 Compensator .22 Caliber
Primary Weapon's AR-15 muzzle brake is the most expensive on the list, but it's many features make it a high-quality part that can handle a lot. It's a .22 caliber compensator with 1/2-28 TPI thread and a wider diameter of 1.375" diameter.
The muzzle brake is made from steel with a black, parkerized finish for protection from corrosion. This makes it a tough and resistant part that's sure to last a long time.
The part comes with scallop-type cuts to redirect the gas pressure to the front to protect the shooter and those next to him from the energy. Inside is an internal blast chamber with side facing ports to help reduce recoil and muzzle rise without affecting the AR-15's gas system.
One of the bigger problems with muzzle brakes in general is that it can increase the visible muzzle flash from shooting in low-light situations. Primary Weapons gets around this with its bigger size and design. They say that this muzzle brake actually reduces muzzle flash.
The needed washers come with this product to install it. They even add flat sides for easy gripping with a wrench, so it's easier to install than some other muzzle brakes.
Customer reviews boiled down to this:
Positives Recap for This Product
Very durable material can handle a lot of shooting
Easy to install
Reduces muzzle flash
Reduce recoil and muzzle rise
Redirects energy in safe directions without impacting the gun
Negatives Recap for This Product
Higher price
May weigh more than you want it to
Related: Best AR-15 Ambidextrous Safety
What Is A Muzzle Brake?
A muzzle brake, also known as a recoil compensator, is a part that attaches to the end of the muzzle with the goal of lessening recoil's impact on firing. Its biggest goal is to prevent muzzle rise.
Muzzle rise is the torque force that makes the muzzle jump up when you fire. This can make your shot miss and make it harder on your body to absorb all the recoil. If you're someone who shoots a lot (more than just hunting), then this can be a serious problem for you.
A muzzle brake works by redirecting the gas energy in different directions to dispel recoil and actively prevent muzzle rise. In general, they are a small to medium-sized tube which has holes and slits throughout. These holes are what redirects the recoil gases in a specific direction.
Installing a muzzle brake isn't hard either. The end of the rifle barrel often has threads already in it. You just screw it in.
After that, you may need to adjust the orientation of the muzzle brake, so the recoil-directing holes compensate correctly to your preference. Once you put it out, test fire a bit to see what you want changed. Then turn the muzzle brake and fire some more to see if you've got it right.
Features Of Muzzle Brakes
All the products on our list of muzzle brakes for the AR-15 are good ones, but not every one may be the best for your situation. In this section, we walk you through the features you'll want to pay attention to you in our reviews and how they affect the use of the muzzle brake.
Material
Muzzle brakes can be made from many metals, but the standard is steel. Muzzle brakes take a lot of the brunt force that goes from firing, so you need a metal that's tough and can last.
Steel is the most common, but it often comes with a finish. This helps protect the part from corrosion and moisture. Another option that includes natural protection is stainless steel.
Not all steel and finished are made equally though. There are different that companies can use. The best way to tell if it's good or not is to check out customer reviews which we compile for you in the reviews below.
Durability
Because the muzzle brakes take so much pressure from shooting, you're definitely going to want to buy one that has proven durability. This comes down to a combination of design and material.
You don't want to go through the effort of buying and installing the part only to have it break weeks later. A good muzzle brake may even outlast the barrel on your AR-15.
Design
When we talk about the design of a muzzle brake, we refer to where and how the gas dispersing elements are placed. There are many types of designs including holes, scallops, slits, and many more. Check out the responses on the design in the recaps and reviews for each product.
Related: Best Quick Release Scope Mounts
Size and Weight
A heavy muzzle brake may do a great job of eliminating recoil and muzzle rise, but it may be so heavy that your balance is thrown off. Because the part attaches to the end of your barrel, you want to make sure its size and weight match with what kind of setup you have with the rest of your AR-15.
Installation
Installing a muzzle brake can be as easy as screwing the part on or as hard as forcing something to fit that it wasn't meant for. Each product comes with its own caliber and thread size. You may be able to make it fit even if it's not meant to, but that's a lot of extra work you don't have to do.
Another thing to keep in mind is how much you plan on using the muzzle brake. If you're taking it on and off regularly, easy installation will be extremely important.
Suppressor Compatibility
A muzzle brake cuts back on recoil and muzzle rise, but it won't do too much on suppressing the sound of your shot. If you also want to customize your weapon by adding a suppressor, check to make sure the muzzle brake/compensator allows for you to do that.
Barrel Length
A muzzle brake can fit with any AR-15 barrel length, but you do want to be careful. The shorter the barrel, the more energy the muzzle brake has to handle at one time. If you bought a cheaper option, it may be worn out fairly quickly on a shorter length barrel. If you're using a long barrel, the length of the barrel helps with dispersing the energy making it less of a problem.
Price
As always when shopping, you need to keep your budget in mind. Muzzle brakes won't break the bank, but you don't want to just get the cheapest option and then be disappointed when it doesn't work exactly how you want it to.
Think about what you need and go for the muzzle brake in your price range. It's always a good idea to check the current price on Brownells by clicking the button by the product. Prices often change, so you never know when you might find a sale.
Related: Best 9MM AR Upper Conversion
Conclusion
We hope you enjoyed learning about our picks for the 7 best AR-15 muzzle brakes. Any of these may be the perfect fit for you; you just need to find out what threads and caliber you're using and then decide what is important for your shooting style.