Welcome to my review of the best 6.5 Grendel bolt carrier groups.
With the 6.5 mm Grendel cartridge, the AR-15 and its related rifles, such as the M16, found a low recoil yet accurate round. But if your bolt carrier group is broken or old, you may not be getting the best shot you can out of your semi-auto.
The easiest solution is to replace the bolt with a better, more modern choice, but there are hundreds of choices out there. How do you narrow it down?
We did the dirty work for and boiled down the huge list of products into these top 5 best 6.5 Grendel bolts. Read on for more information on the ammo, bolt carriers, and our reviews of the parts below.
What Is A Bolt Carrier Group?
The bolt carrier group is essential on gas operated action rifles such as the AR-15 and M16. This is the part of the weapon responsible to kicking out the fired cartridge, cocking the firing pin, and reloading another round.
It's the bolt carrier in combination with the gas operated action that was one of the key reasons the first assault rifle was so effective and feared. Gas operated action means that some energy in firing the bullet was also redirected back into the bolt carrier group to extract, cock, and reload the rifle quickly.
The bolt carrier group typically contains the following parts:
Bolt
Ejector
Ejector spring
Ejector roll pin
Extractor
Extractor pin
Extractor spring
3 gas rings
Bolt carrier
Bolt cam pin
Bolt carrier key
Bolt carrier key screws
Firing pin
Firing pin retainer pin
Review Of The Best 6.5 Grendel Bolt Carrier Groups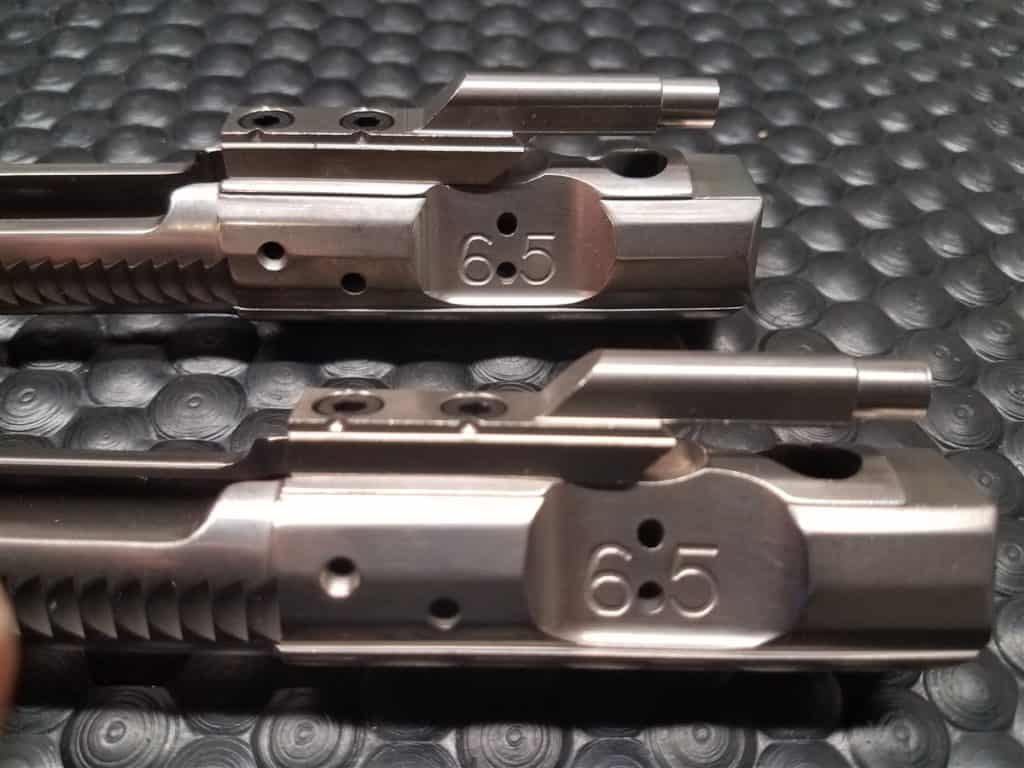 Here is where we break down each product with a review of the bolt carrier groups' features and how actually using the product pans out. These are the best 6.5 Grendel bolts we could find, and we hope you find this information helpful.
JP Enterprises AR-15 6.5 Grendel Full Mass Bolt Carrier Group
This bolt carrier group by JP Enterprises is the most expensive on our list, but you'll see why as we review its features. For the AR-15 and 6.5 Grendel ammo, this BCG may be a good fit for those looking for the highest quality parts for their weapons.
This BCG is precision machined instead of forged which means that it was made with the exacting help of computers to ensure quality. The stainless 9310 steel is both a strong metal to last a long time and the natural stainless steel finish offers proven protection from the elements.
JP Enterprises offers a low mass and full mass option for their BCG. The company explains that the low mass option has less recoil and faster reload speed, but the full mass option has a better reliability.
JP also provides their QPQ finish which provides resistance and protection to further ensure longevity and smooth operation. The purchase of this product includes all parts needed for bolt carrier installation including the extractor and firing pin.
The user experience boils down to this:
Positives Recap for This Product
Strong steel and finish for long life
Machining provides smooth operation and reliability
Fits with standard AR-15 products
Low mass and full mass products to match your needs are helpful
Negatives Recap for This Product
Faxon Firearms M16 Bolt Carrier Group 6.5 Grendel Mil-Spec
Faxon Firearms bolt carrier group is in the medium price range, but it doesn't sacrifice quality in its construction or materials. The cost to quality ratio may exactly what the serious gun builder is looking for.
The BCG uses a Type II size bolt (.136") made of 9310 steel which is a standard for its strength and durability. Faxon put it through MIL-SPEC shot peening and heat treatment for increased ability to last many repeated shots.
This extra durability is important because this is an M16 model BCG which means that it could be used with full auto firing. Full auto is harder on the rifle's parts because it fires more rounds (obviously) and generates a lot more heat which can affect the metal's performance.
The BCG is MPI tested for certified smooth function. The bolt and carrier have also gone through a salt bath nitride finish for better dirt, sweat, and chemical resistance.
The customers reported the following on using the Faxon BCG:
Positives Recap for This Product Experience
Affordable price and good quality
Smooth function and cycling
The finish makes cleaning easy
Quality construction
Negatives Recap for This Product Experience
No consistent complaints were found for this product
PSA 6.5 Grendel Stainless Steel Barrell & BCG Combo
Palmetto State Armory offers this product at a little of a higher price, but it comes as a combo. When you buy this, you get a stainless steel barrel and a bolt carrier group.
The barrel is good quality stainless steel which is durable and resists grime. At 20", the barrel is designed for medium to long-range shooting and uses a rifle length gas system. For more information on 6.5 Grendel barrels, you may want to check out our article at the link.
The BCG itself is 9310 steel which provides durability and long life. It's one of the standard metals for this part. It's also nitride coated for further protection.
The bolt carrier is a full auto profile (like the M16 options discussed previously). Even if you don't use that currently, you may want to consider it if you decide to eventually switch your action.
Positives Recap for This Product
Good accuracy and precision
Smooth function and cycling
Great value as a combo product
Easy to use and install
Negatives Recap for This Product
May come with tool marks from the manufacturer
JP Enterprises AR-15/M16 6.5 Grendel Enhanced Bolt Completion Group
LP Enterprises made this medium-priced bolt completion group to upgrade or replace your bolt without replacing the entire carrier group. This may be the option for those of you who don't want or need to switch out the whole carrier, but just want to get enhanced individual parts.
With this completion group you get the following parts installed:
Bolt assembly
Extractor
Gas rings
Ejector
Pins
Springs
LP claims the 9310 steel (standard for bolt parts) can withstand up to 60,000 firings. The group also has nitride finishing for resistance against grime and chemicals. All of this adds up to a durable and smoothly functioning product.
Positives Recap for This Product
Great durability and reliable function
Useful for enhancing the bolt without replacing the carrier
Strong steel and machined design for smooth cycling
Fits well with standard AR-15 and M16 parts
Negatives Recap for This Product
A little pricey for only part of the whole carrier group
Brownells M16 6.5 Grendel Bolt Carrier Group Nitride MP
Here is Brownells budget-friendly bolt carrier group for the 6.5 Grendel. Coming in at the lowest price on our list, this may be the choice for you if its features can still match what you're looking for.
The bolt is made from 9310 steel for proven strength and durability. The bolt carrier is made from 8620 hardened steel which doesn't have as strong of reputation, but it is cheaper. Because the carrier also doesn't receive as much of the pressure as the bolt itself, so you may be able to get away with the 8620 steel.
Your Type 2 bolt undergoes shot peening, heat treatment, and black nitride coating and finishing which improves the parts overall strength and smooth function. It's then MPI tested for certified reliability. The M16 style also means that you could use this with a full auto firing mode if you chose to go through the regulation process.
Positives Recap for This Product
Lowest price
Strong bolt steel, construction, and treatments
Reliable company to work with
Fits with standard parts without much effort
Negatives Recap for This Product
May not last as long as BCGs with higher quality materials
Why Replace The Bolt Carrier Group?
All parts on guns wear out over time. The bolt carrier group does a lot of work if you fire repeatedly. This wear can start to show in the functioning of your rifle.
If the bolt breaks, the rifle won't function beyond one shot. Common problems that arise from broken or worn BCGs can include:
Cartridge doesn't eject
Firing pin won't cock
Next round doesn't reload
Fired round gets jammed in the bolt
Fresh round gets caught between the magazine and the chamber
There aren't any hard and fast rules for how often you need to replace the part. Obviously, if notice an increase in these problems you may want to check out the bolt and see if it's getting worn.
If you shoot your rifle a lot, some experts recommend changing the part once a year. Unless you're part of a regular shooting club or you go to the range a lot, you probably don't need to change it that often. But it may be worth it to consider changing it every few years.
In addition to this, if you're using an older factory bolt that came with your weapon, a new bolt carrier group can come with features such as an improved design that can have some great perks. These perks can include:
More reliable firing
Fewer stuck cases
Better precision and accuracy
Faster reloading and firing
Extended life of the rifle
Features Of Bolt Carriers
There are a lot of bolt carriers out there for the 6.5 Grendel, and, honestly, you could probably be happy with a couple of different choices. But if you don't know what to look for, you may pick a BCG that isn't what you're looking for. Read on for a quick guide on important features.
Related: Best 6.5 Grendel Scopes 
AR-15 Vs M16 Style
Bolt carrier groups can come in AR-15 and M16 styles. The AR-15 is the standard style; it's lighter at the back end of the BCG and works well for the standard semi-auto firing action.
The M16 is also known as the "full-auto" BCG. It's heavier which allows for faster and smoother cycling and compatibility with full-auto actions. This BCG doesn't make your gun full-auto, that's in the action, but it does provide the option if you adapt the rest of the gun for full-auto firing (just remember that those are regulated by the ATF).
Both are fine options, but if you want a lighter and more affordable option go with the normal AR-15. If you want a heavier and smoother BCG, go with the M16.
Tested Bolts
As we discussed in the above sections, the bolt is one of the key parts to the function of the rifle. When you look for bolt carrier groups, there are two big tests you want to look for to guarantee the bolt's reliable function.
MPI Tested – Magnetic Particle Inspected is when a magnetic field is exerted on the metal to see if there are any imperfections in the contour of the bolt. This ensures smoother function.
HPT Tested – High Pressure Testing is when a higher pressure round is fired with the bolt (and barrel usually). After the high pressure round is fired the bolt is inspected for cracks and imperfections. The thought is that if the BCG can withstand a higher pressure firing then it can easily handle many firings by normal rounds.
Bolt Material
Bolt carrier groups are usually made from steel, but there are different types. Some people argue about which type is better, but the differences are pretty minimal in my opinion. If you're worried about it, we'll still discuss the BCG material.
Finish
Another big feature to watch out for is the finish on the metal. The finish protects the metal from dirt, grease, and chemicals.
Each company tends to use its own type of finish. The best way to determine what's best is to look at what users say about using the BCG which we cover in the reviews below.
Shot Peening
This extra process involves firing multiple pieces of metal (called shot) against the part during the finish. The dimples it creates reinforce each other to create a stronger overall product that is resistant to stress. BCGs that have had this done are usually considered to be higher-quality.
Price
As always when looking for a product, you need to keep the price of each one in mind. More expensive options have a lot of great features and are of high quality, but if they're out of your budget, you may regret it later on.
Then again, if you can go for it, the more expensive options are going to last for a long time.
Related: 5 Best 6.5 Grendel Magazines
Conclusion
We hope you enjoyed reading about our picks for the top 5 best 6.5 Grendel bolts. Replacing a bolt carrier groups is necessary for your semi-auto rifle, and upgrading the BCG can make your good gun a great one.
I recommend the Faxon Firearms BCG. It has all the good qualities of an expensive BCG without the high price. It's a safe purchase that won't break the bank, but it's ultimately up to you.