Welcome to my review of the best .450 Bushmaster barrels.
Your AR-15 or M16 is probably your baby. As one of the most customizable firearms in the history of mankind, you've probably done a lot to make it just how you like. Or maybe you're just considering starting doing some work with it.
Many people opt to buy or rework their rifle to use the .450 Bushmaster ammo. This caliber is famous for its balance and compact size. When refitting your gun, you need to find the right barrel to use as well.
There are more barrels out there than you'd think which is why so many people get scared off by doing their own work. We can help!
Here's our list of the best .450 bushmaster barrels for the AR-15/M16 including reviews, a side by side comparison, and a guide on what to look for.
Review Of The Best .450 Bushmaster Barrels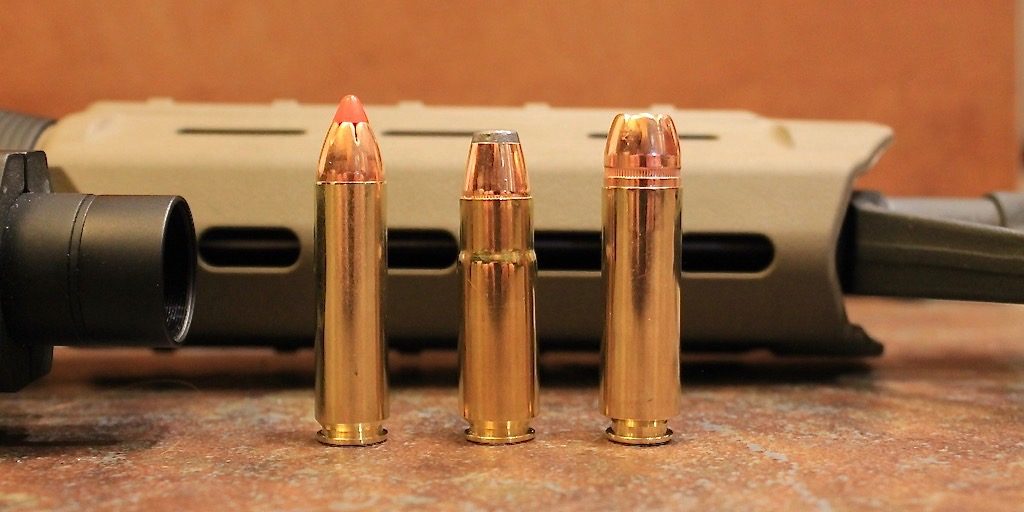 In this section, we review the features of each .450 Bushmaster barrel and how the different design elements may affect your experience. We also compiled different user experiences to see what the positives and negatives of each product were from that side as well.
Brownells Premium Barrels – AR-15/M16 450 Bushmaster Barrel
This is Brownells specially made barrel by Satern barrels and designed explicitly with the AR-15/M16 and the .450 Bushmaster in mind. This more expensive barrel may be just what the avid hunter in looking for.
The barrel was machined from 416R steel. Machining uses computers to help ensure as much quality and consistent for each product with little to no burrs or imperfections in the product. This is preferred to forged barrels because it's more consistent.
The stainless steel finishing process provides natural and excellent protection from grime, corrosion, and scratches. It also adds a beautiful look to the barrel as well.
The 5R button rifling is a premium feature on rifle barrels. With 5 "lands" or grooves, the twist becomes more efficient because there are no lands directly opposite one another.
The 1:20" twist is a good ratio because it works well with a variety of types of .450 ammo. The barrel is 16" in length for long and short range versatility and also has a mid-length gas system.
This barrel comes with a thread of ¾-24 and fits with gas blocks at .496. To help secure the barrel, Brownells adds dimples opposite of the gas ports for gas block set screws to secure the barrel and prevent snagging from screws sticking out.
Users had this to say about the barrel:
Positives Recap for This Product
Stainless steel finish and material resist damage and have an extended barrel life
Optimally designed to help with accuracy using the .450 Bushmaster
5R rifling is an upgrade feature from conventional rifling options
Excellent and reliable company to work with
Negatives Recap for This Product
May require some fitting to install on some models
Higher price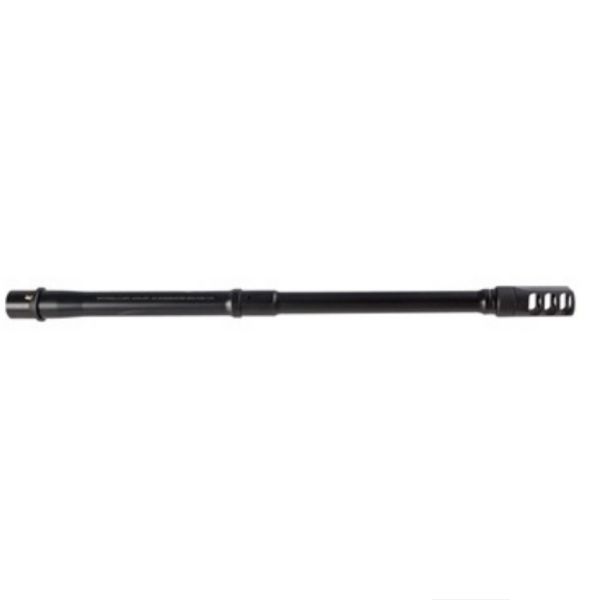 Faxon Firearms – AR-15 Gunner Big Barrel Bore .450 Bushmaster
The medium priced barrel for the .450 Bushmaster and AR-15 still comes with many features that may make it your top choice. Faxon Firearms is also well-known for its consistent products with AR-15.
Faxon Firearms – AR-15 Gunner Big Barrel Bore .450 Bushmaster
The medium priced barrel for the .450 Bushmaster and AR-15 still comes with many features that may make it your top choice. Faxon Firearms is also well-known for its consistent products with AR-15.
The barrel is made from 4150CMV steel for durability and longer barrel life. This steel may sacrifice a small amount in the precision machining and corrosion-protection category, but it makes up for it with its high levels of durability and heat resistance. This is what the military usually uses.
To help with the slightly lower corrosion protection than stainless steel, Faxon used a salt nitride bath for its finish. This is an excellent finish that adds a lot to resist moisture damage.
The barrel length is 16" for a good balance of shooting styles and comes with a 1:16" twist ratio. This may make it less effective at long ranges than longer twist ratios.
The muzzle threads are 11/16-24", and the gas block is a Carbine length block. This makes it handle recoil better and easier on the rifle with a slightly higher chance of jamming. The button rifling is the conventional format which works well but not as efficiently as a 5R configuration.
The customer experience boils down to the following:
Positives Recap for This Product
More affordable
Long barrel life from the more robust steel and Carbine gas block system
Length and design provide a good balance for different types of shooting
Finish works well to prevent corrosion
Negatives Recap for This Product
May jam more often than other gas blocks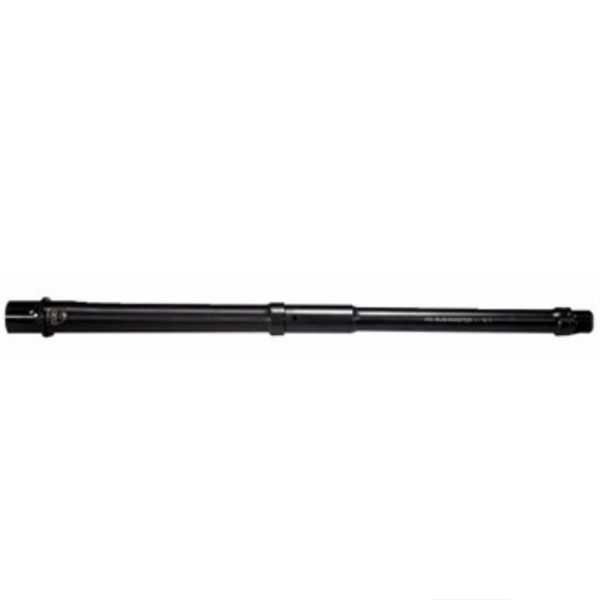 Brownells – AR-15 450 Bushmaster Barrel Stainless Steel
This barrel by Brownells is a little more affordable than the other premium option from the company. The barrel is 4150 GBQ mil-spec steel which means that it's very tough but not as naturally resistant to corrosion, and it's harder to machine as precisely.
Brownells still uses a nitride finish to help counteract that. The combination is effective and gives the barrel a long life.
This barrel features a 1:14" twist rate which is much shorter than the other two options. This means that the .450 Bushmaster rounds should be more accurate in general because of the faster spin, but it does lose some range potential.
The threads are at 11/16-24," and the gas block fits .875. The gas block system itself is Carbine length which matches the 16" barrel length.
This barrel does accept a suppressor, and Brownells sends a bolt and 3 port muzzle brake along with the barrel. Muzzle brakes are useful for lessening recoil and preventing muzzle rise which disrupts accuracy especially on more powerful ammo (like the .450 Bushmaster).
Here is what the user experience boils down to:
Positives Recap for This Product
Sturdy material and finish give it a long barrel life
Extra bolt and muzzle brake are a great added bonus
Greatly improves accuracy
Easy to install if all parts match
Negatives Recap for This Product
No consistent complaints were found for this product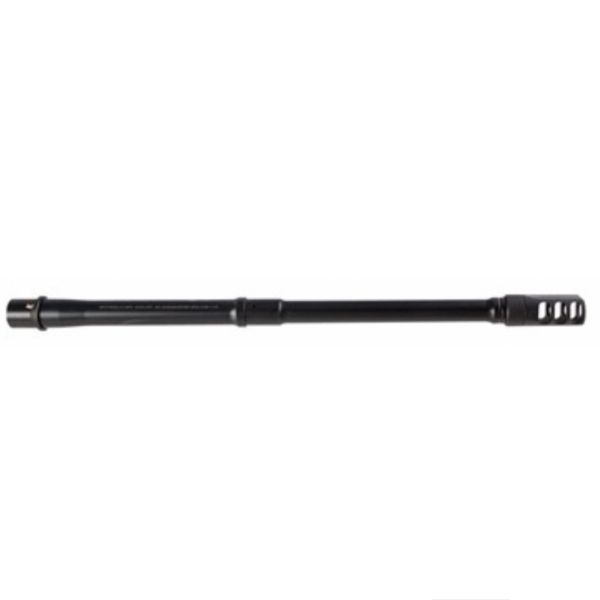 Side By Side Comparison Of The Best .450 Bushmaster Barrels
As an added reference, you can check this side by comparison of the barrels and their specifications. For more information on how these specs affect the use of the product, look into the specific reviews in the section above. This section is best used after you read the breakdowns and features.
| | | | |
| --- | --- | --- | --- |
| Feature | Brownells Premium Barrel | Faxon Firearms | Brownells Stainless Steel |
| Length | 16 inches | 16 inches | 16 inches |
| Cost | High | Medium | Medium-high |
| Material | 416-R Steel | 4150 CMV Steel | 4150 GBQ Steel |
| Finish | Stainless Steel | Nitride | Nitride |
| Twist Rate | 1:20" Twist | 1:16" Twist | 1:14" Twist |
| Thread | ¾-24 | 11/16-24 | 11/16-24 |
| Gas Block System | Mid Length | Carbine Length | Carbine Length |
| Gas Block Size | .936 | – | .875 |
| Barrel Life | Good | Great | Great |
| Rifling | 5R Button Rifling | Conventional Button | Convention Button |
| Extras | – | – | Bolt, 3 port muzzle brake |
| Caliber | .450 Bushmaster | .450 Bushmaster | .450 Bushmaster |
Hopefully, this side by side look helps you directly compare the features of each barrel and reach a happy buying conclusion. An AR-15 build or upgrade is something of a rite of passage with gun enthusiasts, and the .450 Bushmaster barrel may be just what you need in your customized rifle.
About the .450 Bushmaster Ammo
When the AR-15 and M16 were developed, they used the .223 Remington caliber ammo. This was the compromise to providing good decent firepower with a lighter, shorter round that could be fired quickly in semi-auto and full auto configurations.
Gun writer and Marine, Jeff Cooper were dissatisfied with the caliber's usefulness outside of military use. He envisioned a "Thumper" round that was large enough to take down a large animal when hunting at 200 yards. The .223 couldn't handle that.
Tim LeGendre of LeMag Firearms then developed his .45 Professional ammo with this in mind. He shared it with Cooper and ammo manufacturer Hornady who requested they make it shorter. So LeGendre and Bushmaster agreed, and that's what brought it to the length of 1.700", and they renamed it the .450 Bushmaster.
This round tries to balance the power of the larger bore with the easy use and rapid semi-auto of the AR-15/M16. In general, your magazine can only carry about half the amount of .450 Bushmaster ammo than you can with the .223.
About the AR-15/M16
In the late 1950s, the US Armed Forces were looking for their own assault rifle equivalent of the AK-47, so ArmaLite started developing what would become the AR-15 (or ArmaLite Rifle). This rifle fits the bill with its semi and full auto firing modes, lighter design, gas-powered reloading, and smaller shorter ammo.
The AR-15 didn't take off right away, so they sold the design to Colt, who later turned it into the M16. During the Vietnam war, the M16 was chosen to be the primary weapon for soldiers. Due to its popularity, Colt then scaled back the full auto and resold the AR-15 as a civilian model of the armed forces firearm.
The AR-15/M16 weapon is one of the most popular options for gun enthusiasts today because of its reliability, usefulness, and place in American history. Because of its popularity, many gun makers have made parts and customization options for the rifle.
Reasons To Change Or Upgrade Barrels
There are many reasons you want to change or upgrade your rifle's barrel even if it already matches the .450 Bushmaster. Check out some of these reasons below and see if any of them speak to you.
It's busted – Barrels don't last forever, although they can last a long time with proper care. As soon as you notice any warping, corrosion, or decrease in accuracy that's not caused by misaligned sights, you may want to consider replacing your barrel.
Change the range – The barrel has a significant impact on the effective range of your gun. Barrel length, twist, and caliber can all extend or shrink the range of your weapon to meet the kind of shooting that you're doing.
Increase durability – Modern materials and design technology have made newer barrels vastly superior to the old kind. If you're someone who likes to shoot a lot, then you may want to consider switching up to a barrel with some more toughness to it. This is especially true with the more powerful .450 Bushmaster rounds.
Make it easier to hold – Upgrade barrels often use unique contouring to help with the weight and heat distribution. Finding the barrel you like can make it easier to carry.
Add extra features – There are additional features you can add to your rifle that isn't available on most factory parts. This can include several options that we discuss in the features section below.
Features Of Rifle Barrels
There are a lot of good barrels out there, and it's hard to pick the right one sometimes. We did a lot of work for you, but you ultimately have to decide for yourself. Look at the features in this section and how they can impact the rifle.
Material
The material of a rifle barrel is one of the key features that helps a barrel stay working for a long time. In general, steel the option of choice when making barrels. This is because it's durable, resistant to corrosion, and handles the heat that comes from firing well.
The two main types of steel used are 416-R and 4150 steel. Both are excellent choices but check into each to decide which you want.
416-R is easier to machine which provides a consistent and reliable function. Compared to 4150, it's a little less durable and less naturally resistant to corrosion. With a stainless finish, it compensates for that problem.
Length
The length of a rifle impacts the bullet's velocity when leaving the gun. Longer rifles have a more extended range and more powerful shot. The downside is that they're heavier and more awkward to use quickly.
Gas Block System
The gas block is the way that the energy used from firing is redirected into reloading the chamber. Depending on the length of the AR/M16 barrel, you need to go with different gas block systems. The main ones for AR-15 rifles (not pistol configurations) are as follows:
Carbine – For use with 10-18" barrels. It provides less recoil and helps keep the barrel in working order longer.
Mid-length – Works with 14-20" barrels. Provide consistent shooting with few jams and misfeeds.
Rifle-length – Works on 20+" barrels. The best way to prevent problems with such a long barrel is to use this long gas block system.
If there's a place where two systems overlap, it comes down to what you're looking for in a barrel. Balance consistency with a long life to find the right one for you.
Contour
The contour of the barrel refers to the shape of the outer part of the barrel. They can come in different kinds which can make the barrel lighter and disperse heat better.
The contour can also affect the look of the rifle. Well-balanced barrels are contoured well. If it's not, the barrel can become challenging to handle, which results in poor accuracy.
The best .450 Bushmaster barrels we found all have standard contours. But if you're looking at the Brownells site and find another that works with a different contour, you'll know what to look for. We recommend starting with our choices (and checking the current prices by clicking the button), but if you wanted to use our guide to help you find your own, that's OK too.
Here are some common contour choices:
Lightweight
Magnum
Target
Bull
Heavy bull
Fluted
Rifling And Twist
When a rifle bullet leaves the barrel, it needs to spin or twist to increase its accuracy. A general rule is that the longer a round is, the more twist it needs to stabilize. Too fast of a twist is hard on the barrel.
For a .450 Bushmaster, you can get away with anything from a 1:14 to a 1:20. It all depends on what's a worry for you when you're shooting.
The rifling is what gives the bullet its twist. The most common type is the conventional button rifling. These are grooves or lands that twist around on the inside of the barrel.
Barrel Life
Barrels aren't cheap, and they're an essential part of the rifle that affects pretty much every way the weapon works. If you're going through the effort of dropping some cash and installing the new section, you don't want to go through the process of switching everything over a couple of years later. You need to find a barrel with a long barrel life.
This is a feature that you don't want to sacrifice anything on if you go to the range a lot or shoot competitively. Your barrel needs to handle the increased heat from the rapid fire and a lot of use.
If you only practice shooting occasionally and use your rifle mostly hunting, this may not need to be a top priority for you; this may be a feature you can give a little on for a lower price.
Thread And Gas Block Compatibility
Be sure to check that the barrel you're looking for matches the thread and gas block that you currently have. If you're planning on doing a build or rebuild, also make sure all the parts you buy are compatible with one another. You can still attach pieces that don't match exactly, but it requires a lot more work, adapters, and expertise.
Price
Whenever you shop, keep your budget in mind. Be prepared to spend a good chunk of change on a barrel, but if you stick with our top choices, then your barrel should last you a long time. Consider it as an investment.
Your wallet may not be able to handle the premium prices for the "best" barrels, but that doesn't mean the slightly lower amount of some of the barrels will give you an inferior product. Balance the features from above that you find valuable with the .450 barrels below to find that sweet spot.
Commonly Asked Questions
What is a .450 Bushmaster suitable for? – The .450 Bushmaster is what you want to use with your AR-15/M16 if you're going to use the rifle for hunting big game. With the larger bore, you get more stopping power, but sacrifice some in the rapid-fire and carrying capacity.
If you plan on using your gun to shoot rapidly at the range, the .450 may not be for you. But if you want the AR style and reliability while out in the woods, refitting your gun may be a great choice.
What is the range of the .450 Bushmaster? – The .450 Bushmaster isn't designed for long range shooting, but it still has an effective range of up to 250 yards. In most places that you go hunting, this is plenty of distance to spot that boar and take it down. If you're hunting on broad plains, you may want a different rifle entirely like the SKS.
Does the .450 Bushmaster kick? – Recoil depends on other factors besides the size of the round, including the design of the barrel, gas block, stock, and how you hold the firearm. However, bigger ammo indeed tends to give a bigger kick. Firing the .450 Bushmaster from an AR-15 is comparable to shooting a muzzle-loading rifle or a 20 gauge shotgun.
Conclusion
We hope you found our guide to the best .450 Bushmaster barrels helpful. By looking at the features, reading the reviews, and considering the side by side analysis, you can go and buy with confidence.
Each one of these is designed specifically for the .450 Bushmaster, and each one may be what you need. We narrowed it down as far as we could, but now it's up to you to decide which product has the features you want.
If you enjoyed this article you'll probably like these: