Do you want your AR-15 to be a little better for hunting?
Are you considering rebuilding your rifle to use the .450 Bushmaster ammunition?
Then you may need to think about getting a new upper receiver.
Finding the best .450 Bushmaster upper receiver can help you get the most out of your rifle setup.
We here at GunGoals want to help. We searched for you and found the best products we could for you to compare.
Read on for more information on how to pick the best upper for your needs and our reviews of the receivers.
Review of the Best .450 Bushmaster Upper Receivers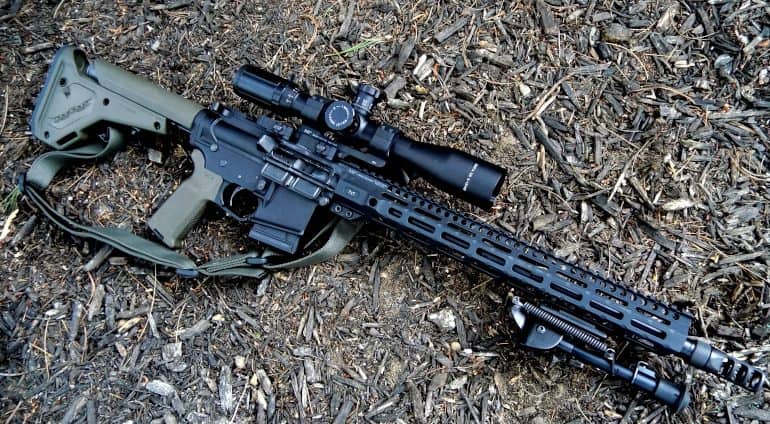 Here we break down the products we found for the best .450 Bushmaster upper receivers.
Keep the information from the section above in mind as you read and decided which of these is the best for you.
Bushmaster .450 Upper Complete
The upper receiver by Cabela's is at the upper end of the price range, but this the company that makes the ammo so you can expect a good match for the ammo.
The .450 Bushmaster upper is designed to mount right onto an AR-15 mil-spec lower receiver making this an easy part to install.
Aluminum makes up the forend, which provides an attempt to balance light weight and durability. It may not be as tough in the long run as steel, but it makes the weapon easier to handle.
To compensate for the metal, Bushmaster lined the bore and chamber with chrome. This is one of the upper's best features.
The chrome lining serves several purposes:
Protects from corrosion
Ensure smooth operation
Makes it easy to clean
Adds durability in the key parts of the upper
As a complete upper receiver, it also includes a 16in barrel that free floats from the aluminum forend.
Free floating the barrel keeps the parts working longer because the heat from the barrel doesn't damage the rest of the upper. 
It also improves accuracy as the barrel heat is more quickly disbursed by all the air between the barrel and the rest of the upper.
When you buy this upper, you also get a 5 round magazine.
Here's what users had to say about this product:
Positives Recap for This Product
Drops right into your .450 Bushmaster AR build
Perfect upper for a hunting rifle
Chrome lining makes a big difference in the life of the upper
Improves accuracy for your rifle
Negatives Recap for This Product
Bolt may stick after you use it for a while
#1 Recommended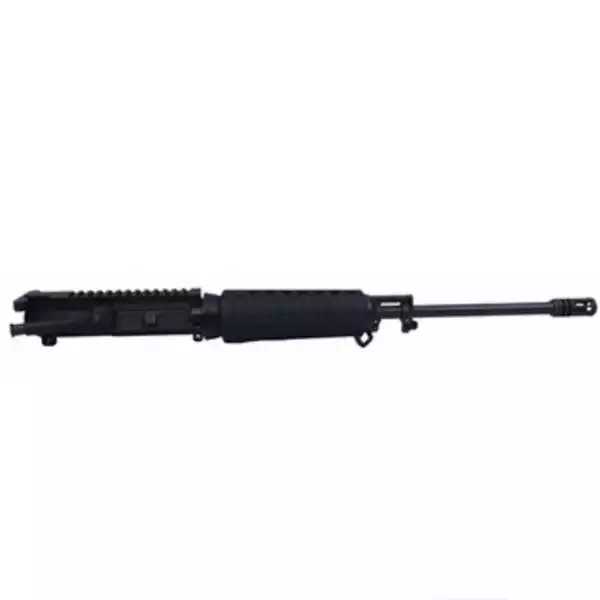 ATI – AR-15 16″ Complete 450 Bushmaster Upper Receiver
ATI's upper receiver is a medium-priced replacement for your upper that completes you .450 Bushmaster build on your AR-15. Despite it's simple, yet quality design, it still features some nice extras.
The upper is made from aluminum for a balance of lightness and durability. This is a common choice for uppers.
The handguard is also made from aluminum and free floats away from the 16" barrel. This feature adds to the life and accuracy of the parts.
The barrel uses the carbine length gas system which is ideal for the length of the barrel.
It ensures accuracy and lowered recoil which isn't to say the .450 Bushmaster won't give any kick, but it'll be a little less than other systems.
From this platform, ATI includes a bunch of extra features that may be what you're looking for this complete upper receiver:
KeyMod compatible handguard
Picatinny rail for mounting
5 round magazine
3-port muzzle brake
This is what the customers had to say about the upper receiver:
Positives Recap for This Product
Affordable price
It comes with a ton of features that make it a great valued addition
Tough and durable design
Designed to increase accuracy in the 200-yard range for hunting
Negatives Recap for This Product
May require some effort to install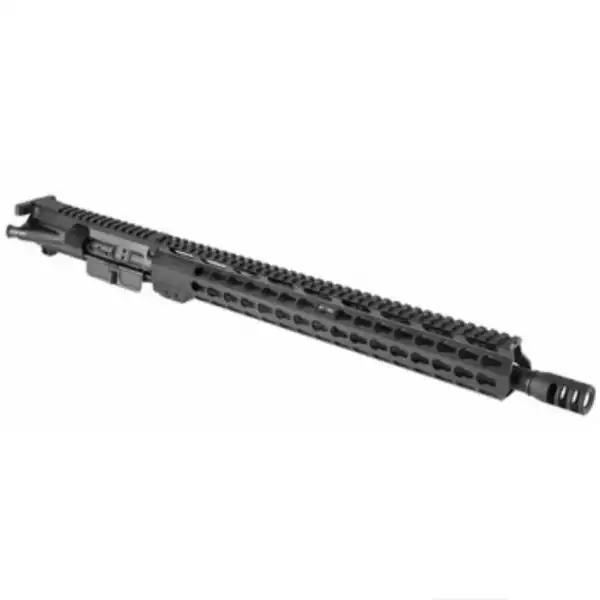 Radical Firearms – AR-15 Complete 450 Bushmaster Upper Receiver
Radical Firearms designed this medium-priced upper for the .450 Bushmaster or other larger caliber rounds and focused their design energy on making a quality product with some nice extra features.
They chose to make this product out of chrome-moly steel, which is durable and resistant to heat and corrosion damage. The downside of this choice is the higher weight.
With a Melonite finish, there's some extra protection there as well making this one of the longer lasting options on our list.
The installation should be easy if you have experience. It was designed to fit with any mil-spec lower receiver easily.
You can buy this upper with 16" and 20" barrel options. Both of these are fine lengths for hunting with the .450 Bushmaster.
Along with these lengths, it also uses a mid-length gas system for the 16" barrel and a rifle length gas system for the 20" option. These choices help a lot with accuracy and reliable precision over repeated firing.
On top of this, Radical Firearms also includes the following extras:
Standard charging handle
Custom Radical Firearms Panzer Brake
15" Free floating M-LOK handguard rail
Gen 3 Picatinny rails
When the user talked about their experience with the product, it boiled down to the following:
Positives Recap for This Product
A lot of nice extras
Affordable price
Drops in easily with mil-spec lowers
Tough steel gives it a long life
Negatives Recap for This Product
May be heavy when handling the 20" option especially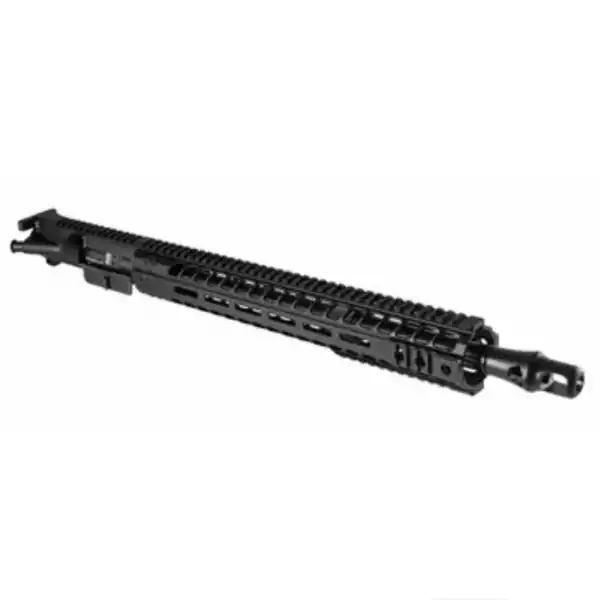 Those are the top 450 Bushmaster Upper Receivers we recommend, but there's a lot more to it than that.  Why should you upgrade?  What does it cost?  Is it worth it?  All these are answered below.  You can also check out our article on the 5 Best AR-15 Build Kits if you want! 
Side By Side Comparison
In this section, we'll look at the features of each upper receiver side by side. This section may be useful for you as a quick reference chart to help you decide which one to buy.
If you have any questions on the importance of a feature, make sure to go back to the reviews and look at the details there. You'll also find the customer review recaps in that section as well.
| | | | |
| --- | --- | --- | --- |
| Features | Bushmaster Upper Receiver | ATI Upper Receiver | Radical Firearms Upper Receiver |
| Caliber | .450 Bushmaster | .450 Bushmaster | .450 Bushmaster |
| Manufacturer | Bushmaster | American Tactical, Inc. | Radical Firearms |
| Material | Aluminum | Aluminum | Chrome moly steel |
| Installation | Easy drop-in | Drop-in with effort | Drop-in |
| Barrel length | 16 inches | 16 inches | 16 inches and 20 inches |
| Barrel design | Free floating | Free floating | Free floating |
| Finish | Chrome-lined bore and chamber | Black | Melonite |
| Buying options | Only one option | Only one option | Two size options |
| Extras | 5 round magazine | KeyMod compatible handguardPicatinny rail for mounting5 round magazine3-port muzzle brake | Standard charging handleCustom Radical Firearms Panzer Brake15" Free floating M-LOK handguard railGen 3 Picatinny rails |
| Price | High | Medium | Medium |
Looking at the products side by side may give you a new perspective as you decide which is the best .450 Bushmaster upper for you.
Make sure you check the current pricing for potential sales and price changes, which could dramatically impact your decision.
About the .450 Bushmaster Ammo
The .223 Remington was the caliber of choice when the AR-15 and M16 were developed. This ammo had the needed balance of decent firepower and being a lighter, shorter round that fit the quickfire options in both full and semi-auto configurations.
It was popular for a long time, but gun writer and Marine Jeff Cooper wasn't happy with the caliber's usefulness in civilian life.
He imagines a "Thumper" round more suited for taking down a larger animal at 200 yards when hunting as opposed to quick-fire against enemy combatants.
The .223 couldn't handle that.
Hearing this idea, Tim LeGendre from LeMag Firearms developed the .45 Professional in this vein.
He shared it with Cooper and ammo manufacturer Hornady who requested they make it shorter.
So LeGendre and Bushmaster agreed, and that's what brought it to the length of 1.700″, and they renamed it the .450 Bushmaster.
The .450 Bushmaster balances power with a larger bore and the easy, reliable use of the AR-15/M16.
What Is An Upper Receiver?
The receiver is the part of a firearm that keeps the mechanisms that are involved in the actual firing of the rounds.
On all guns, it usually includes the following parts:
Hammer
Bolt or breech lock
Action
Firing mechanism
It gets its name from the fact that the part is designed to "receive" both the barrel and the stock and handle. It's the middle of the weapon and its heart and soul.
On a rifle, especially the AR family, the receiver is broken up into two parts: the lower and upper receivers.
The lower receiver generally contains the area of the trigger, magazine well, and firing pin.
Even without its other parts, it's considered a complete firearm in itself, which is why they're subject to federal regulations for registration and online selling.
The upper receiver is the rest of the part. Often, complete upper receivers will also come with an attached barrel.
This is convenient because not all barrels fit every receiver without fitting. By buying a complete upper, all you need is the matching lower for it to fit right into.
Why Get A New Receiver?
There are a few reasons you may want to opt for a new upper receiver.
If your current receiver is broken or worn, obviously you need to replace it even to use your rifle.
An older receiver is worth replacing too. New technology and design knowledge to create receivers that are better than the one that may have come with the one you got when you originally bought the rifle.
You may also want to upgrade the receiver from the stock option that came with the rifle.
More durability – The better-designed aluminum and steel alloys and finishes are more durable than the receivers of the past.
They can handle the heat better from repeated firing. They are also more resistant to corrosion.
Lighter weight – These new alloys are also lighter without sacrificing durability. This makes your rifle easier to handle.
Consistent function – There are also newer design choices, like free floating the barrels, that help the receivers work more consistently over a longer period.
Extra features – Stock parts may not come with extra features either. These extras can include different mounting options, muzzle brakes, and Picatinny rails.
Extra features are important when you go through the effort of building your AR-15.
If you're doing all the work, you want to get it set up exactly how you need it to be used, and extras go a long way to helping to just that.
Related:The 5 Best Rifle Scopes For The 450 Bushmaster
Features Of Upper Receiver
In this section, we offer a quick guide on what to look for in an upper receiver. Use this information to inform your reading when you check out the reviews below.
Not every upper may be right for every situation, but this guide should help you know which features may be important to your specific needs.
Material
As with most gun parts, the material the upper receiver and the attached barrel are made from directly impacts the product's usefulness.
The two main choices that companies go with are aluminum and steel. Each has specific pros and cons.
Aluminum is becoming more popular because it's a lighter metal that's still pretty tough.
It may not hold up under a lot of repeated firing, but when you only use the rifle for hunting (like many people do when it's set up with the Bushmaster ammo), it should be fine.
Steel and its variants (stainless, chrome moly, etc…) have been the standard in the past. It's tough, durable and resistant to damage and grime.
The main downside of steel is its weight. If you have a longer barrel on your upper, then the rifle may get harder to carry and handle.
Finish
To compensate for weaknesses in metal and add heat and corrosion protection, many manufacturers add a special finish to the upper receiver.
This finish can be as simple as a powder coating or as complicated as chrome lining. Any finish helps, but not all finishes are the same quality.
Make sure to check each product for the type of finish it uses. This can dramatically increase the life and reliable function of the upper.
Barrel Length
Complete upper receivers (like the ones on our list) come with a barrel attached. The barrel length may vary depending on the maker.
With the .450 Bushmaster ammo, a 16" barrel is the most common length. This gives a good balance of accuracy and recoil management.
Longer barrels may be a good choice for you if you want more range and velocity out of your rifle. But it becomes harder to handle because of the extra weight and the recoil is worse.
Barrel Design
On modern rifles, uppers and their barrels are designed to deal with the heat that comes off the barrel when you're firing.
It used to be that the handguard would hug the barrel tightly for a more fit.
But then the heat was trapped in the barrel, and they noticed that the barrel and handguard would warp over time, which caused poor accuracy and a shorter life span.
New design techniques include a free floating barrel. This means that the handguard is only connected to a few key points.
By giving the barrel more space, the air disperses the heat faster and makes the entire upper receiver more effective.
Installation
If you're going through an AR rebuild, you should check how easy or difficult the installation is. This is especially true if it's your first time doing one of these.
Most companies will claim that their products drop right in and are simple to use, but this may not be the case in real life.
In general, if the description of the upper talks about fitting a mil-spec lower, it is fairly easy to install the part yourself.
However, the best way to tell if it's easy or not is to look at what other users had to say.
We took care of this for you in our recaps section in each of the reviews.
If you're new to working with gun parts, make sure you go for an easy installation. Otherwise, it's up to you what you want to try.
Price
We're not going to lie; upper receivers aren't cheap.
They're one of the key components to your weapon and involve many of the most intricate working parts.
Don't think of it as throwing money away, though; think of it like investing.
Upper receivers can last a long time and make all the difference in your rifle build.
You may be able to find a cheaper part than what we found, but chances are, it's going to fail you at the worst possible time.
Still, there's some variation in price on the products we picked. So find the one that works for you.
Similar: Best .450 Bushmaster Barrel
FAQ's
What is the range of the .450 Bushmaster ammo?
There's some debate on the exact effective range for the .450 Bushmaster, but the answer is somewhere between 200-250 yards.
The difference depends on several different factors that may impact your shooting.
The first one is your ability. If you don't know how to hold, aim, and accurately, it doesn't matter the range of your gun.
A longer barrel can also extend the effective range by providing more velocity. The downside of this is the higher recoil and wear on the parts.
Is the .450 Bushmaster good for deer hunting?
Yes!
The .450 Bushmaster was specifically designed with hunting larger game in mind.
It's much larger than the standard .223 Remington ammo, so it has more stopping power. Any standard big or small game in the US will benefit from using the .450 ammo.
In the United States, unless you're hunting on a prairie, you won't hunt outside of the 250-yard effective range of the ammo either.
Does the .450 Bushmaster have strong recoil?
Yes, but it's manageable.
As a .450" caliber when compared to the .223 Remington standard for the AR-15 it's a much larger caliber.
Because it's bigger, it needs more gunpowder to get it moving, and this is what gives it the kick.
Many gun owners compare it to the recoil of a 20 gauge shotgun. With a good stock and muzzle brake, you can lessen the effects of the recoil to one where you don't notice it as much.
Take care if you choose a longer barrel, though. This will increase its recoil, but you'll get a better range and higher velocity from the .450 round.
What does mil-spec mean? 
Mil-spec is the short version of the phrase "Military Specifications."
The military likes to standardize their equipment to common dimensions. This makes it easier for them to produce parts that easily switch with another.
It also serves the added benefit in isolated situations of being interchangeable with other parts and weapons.
When it's seen on civilian gun parts, it means that the part is made with military specs in mind. Anything with "mil-spec" on it should easily fit any other mil-spec part.
This isn't always the case, but it's a good place to start.
Are receivers regulated for online sale by the government?
Yes and no.
When it comes to rifles, especially the AR-15, the lower receiver is the part that qualifies for federal regulation.
This regulation limits the sale online to those with registered licenses. This process isn't hard to go through, but it takes a bit of time.
You can get around this by buying 80% receivers which aren't finished. You have to do the end milling and drilling yourself, but you can buy it online.
Upper receivers don't qualify, so you can freely purchase these online without any problems. 
Also read: How Far Can An AR-15 Shoot Accurately?
Conclusion
We hope you enjoyed our guide to the best .450 Bushmaster upper receivers.
Getting the best one can be tricky, but it's important. A good upper can improve accuracy, keep your rifle working for a long time, and match the shooting setup of your dreams.
By looking at the .450 Bushmaster's purpose, our guide, and the reviews above, we hope you can buy with confidence.
If you enjoyed this article you'll probably like these: