Most rifles come pre-drilled with rails or some other means to mount a scope on them. What do you do when you have a nice, older rifle that was not drilled for a scope or mounts of any kind? How do you mount a scope on a rifle without a rail? 
It's not too difficult of a fix, but let's discover step-by-step what we have to do to get a nice scope on that rifle of yours.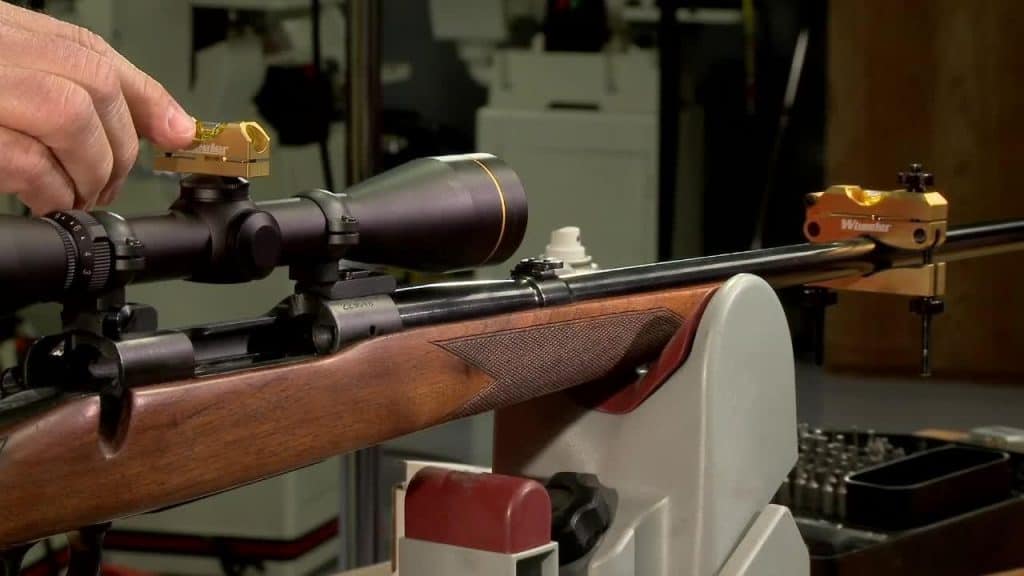 Some Things You Will Need
Your Rifle – Obviously, you are going to need the rifle that you want the scope to be mounted on. 
Scope Of Your Choice – Another obvious, you want to have the scope that you want on the gun. You could set up the gun with rails for a future scope, but it never hurts to have the scope on sight to check everything.
Mounting Rings And Rail For Scope – These, of course, are necessary for mounting the scope and keeping it stable. There's no way around it, you have to have them. 
A Good Gunsmith Or Necessary Tools – Some people may be able to properly and precisely tap and drill their own rifle with the correct tools, but at the risk of screwing up your rifle, most of us just want to hire a good gunsmith. 
What a gunsmith would have to do is drill and tap for a new base plate, install the plate and rail, then the scope. They would need absolute precision to be sure that everything lines up straight, so as to avoid drilling more holes in the gun due to the base plate not fitting right or being off center. 
Boresighter – After everything has been installed correctly, the smith will use a boresighter to make sure everything lines up correctly and is pointing true. 
How To Mount A Scope On A Rifle Without A Rail
Step 1 – The Smart And Easy Way
You do have to have a scope base and rail attached to your rifle if you want to mount a scope, there's just no other way around it. The very easiest way to do this is to take your gun and scope to a gunsmith. 
Steps 2 through 6 will be completed by gunsmith. 
Step 2 – Drill And Tap
The gunsmith will take your receiver and secure it in a vise. He will then place a special jig on top that has holes pre-drilled in a perfect line that the smith just needs to drill through into your rifle's receiver. This ensures that the holes are drilled directly in line with each other and will not be off in the slightest. 
If your gun already had drill holes in it but no base plate, then your step 1 actually starts here, at step 3. 
Step 3 – Base Plate
The next step is to install the base plate. This is pretty self-explanatory and attaches the rail to the receiver. Before screwing down the base plate, you will want to put some Loctite on it to ensure that no moisture gets underneath the mount, and also for a more permanent attachment.  
Related: How to scope in a rifle at 25 yards 
Step 4 – Rail
You can now attach the rail to the base plate. This also will now be a semi-permanent fixture, depending on what type of rail you install. The most universal would be a Picatinny rail. 
Step 5 – Scope Rings And Scope
Now that the rail is properly in place, it's time for the scope and it's rings. This is pretty much the final step. Yay, you have a scope! The final step is to just double check everything. 
Step 6 – Boresighting
Once the scope is all installed and set well, it's time to boresight. Just put a laser boresighter down the barrel and test out the scope, making sure it is properly aligned and set. 
Related: Best Scopes for .223 Bolt Action Rifle
Common Questions
Does my rifle have to be drilled to have a scope? – Yes. In order to fit a proper, strong mount that won't compromise your scope, or your face, you have to have it correctly secured, which means drilled and tapped. 
How much does it cost to tap and drill?– This answer is all over the map because some smiths charge a flat rate per hole and others charge an hourly rate. Usually, this task doesn't take very long. But it also depends on the type of firearm and all other tasks the smith is going to do to the gun. Some shotguns only cost about $10 to $20, but other rifles can be $100 flat rate or $40-$60 per hour. In general, expect to pay about $100 for these services. 
What does it mean to drill and tap? – Some rifles are already drilled even though they do not have a base plate. Drilling is simply drilling a hole in the metal to make way for screws, and tapping is making the threads on the inside of the hole for the screws to grab. 
Related: The 5 Best M1A Scope Mounts
Conclusion
You now know how to mount a scope on a rifle without a rail. The best way is to let a gunsmith worry about it, and you just enjoy the finished product. Yes, your antique rifle will have to have holes drilled into it, but if you want the optic, you have to modify the piece. 
Your next steps are to take it out and shoot it! Sight in the scope to make certain that everything was installed properly, and have fun with it.
If you enjoyed this article you'll probably like these: