Welcome to my review of the best long range rifle scopes for the money. 
You're either walking around with some money burning a hole in your pocket, or you've been saving for a while, and are out looking for the perfect scope. There are literally hundreds to choose from, with all different price ranges and bells and whistles. What is the best long range rifle scope for the money? Let's explore a few and see if we can narrow down what exactly you are looking for.
Best Long Range Rifle Scopes For The Money
Now that you have a good idea about what to look for and what decisions you need to make about your scope features, have a look at our top five picks for the best long range rifle scopes for the money.
Vortex Optics Crossfire II 6-24×50 AO
Sale
Vortex Optics Crossfire II 6-24x50 AO, Second...
The 6-24x50 Adjustable Objective Crossfire II riflescope is one of many configurations in the Crossfire II line. The...
The adjustable objective provides image focus and parallax removal to the shooter while anti-reflective, fully multi-coated...
With long eye relief and an ultra-forgiving eye box, you'll be able to quickly get a sight picture and acquire your target....
Capped reset turrets are finger adjustable with MOA clicks that can be reset to zero after sighting in.
A single piece tube constructed from aircraft grade aluminum ensures strength and shockproof performance. O-ring sealed and...
The Vortex Optics Crossfire II AO (Adjustable Objective) is yet another winner for the Vortex Crossfire II product line. The adjustable objective provides image focus and parallax removal, and a Dead-Hold BDC reticle ensures a great shot at varying distances where estimating holdover could be a factor. The lenses on this scope are fully multi-coated, anti-reflective, and provide a clear, bright view.
Other great features of the Vortex Crossfire II are finger adjustable capped reset turrets with MOA clicks that can be reset to zero after sighting in, a fast-focus eyepiece that allows quick and easy reticle focusing, long eye relief and ultra-forgiving eye box. This second focal plane scope is shockproof, waterproof and fog proof, for extra durable performance. On top of all this, it is a value-priced scope compared to other scopes in its class.
Customers of this scope praise the quality of it for the price. They love the clarity of the optic, the lifetime, no-questions-asked warranty and the superiority of Vortex's customer service. Some customers complain that they cannot get the scope zeroed-in, and has a hard time holding zero.
Positives Recap for This Product
adjustable objective
Dead-Hold BDC reticle
anti-reflective, fully multi-coated lens
fast-focus eyepiece
second focal plane
shockproof, waterproof, fog proof
no question lifetime warranty
Negatives Recap for This Product
difficult to zero
doesn't hold zero well
Bushnell 756245B Trophy Xtreme X30 6-24×50
Bushnell 756245B Trophy Xtreme X30 6-24x50 Scope...
Fully multi coated optics and rain guard HD offer 91 percentage light transmission in any weather
100 percentage waterproof, Fogproof and shockproof 30mm one piece tube construction with integrated saddle
6 24X magnification with doe Lr800 reticle and 3.6 inch eye relief. ¼ MOA fingertip windage and elevation adjustments
Fast focus eyepiece and 1/4 MOA fingertip windage and elevation adjustments
Backed by Bushnell no Questions Asked Lifetime Warranty
The Bushnell Trophy Xtreme is a great 6-24x50mm scope with a DOA (Dead On Accurate) LR800 reticle and ¼ MOA fingertip windage and elevation adjustments. It is waterproof, fog proof and shockproof and features Rain Guard HD fully multi-coated lenses keeping your view completely clear even in the worst weather conditions. This scope also features a fast-focus eyepiece and a side parallax focus for easy spotting and target following.
The Bushnell Trophy Xtreme has a very large objective lens and a 30mm tube so as to obtain optimal brightness. This scope also in on the second focal plane and come with a no questions asked lifetime warranty from Bushnell.
Customers who like this scope say that this is a very well performing scope. It is incredibly easy to zero and has crystal clear optics. Others praise the outstanding reticle with hash marks out to 800 yards. What's more, this is another well-made, high-quality budget pick!
There really are not a lot of consistent customer complaints about this scope. Most people tend to love it, and those who have had problems have individual incidents.
Positives Recap for This Product
Dead On Accurate 800 yard reticle
fully multi-coated lenses
fast-focus eyepiece
large objective, 30mm tube construction
second focal plane
Lifetime no questions asked warranty
Negatives Recap for This Product
Related: Best Scope For 308 Bolt Action Rifle: Top 5
NightForce SHV 5-20x56mm
NightForce SHV 5-20x56mm Zeroset .250 MOA, Matte...
NIGHTFORCE SHV 5-20x56 - The most powerful of our SHV series performs beautifully at both close and extended ranges on...
SPECS - It features a full 80 MOA of elevation adjustment, side parallax adjustment and ZeroSet technology which allows a...
WHAT'S IN THE BOX - Rubber Lens Covers, Cleaning Fob/ Cleaning Cloth, Owners Manual, Other Tools (Loose Allen Keys, etc)
RETICLES - SHV 5-20x56 Scope is available with Forceplex and MOAR - 20 MOA - Center Illumination. This Scope delivers...
AVAILABLE MODELS - MOAR Center Only Illumination - C535; Forceplex Center Only Illumination (N. America) - C587; MOAR...
The NightForce SHV is a formidable .250 MOA, MOAR non-illuminated rifle scope with nice large eye relief. This is a sporty looking scope, with tactical style exposed turrets. One nice feature is the standard zero-set, which allows a rapid return to zero, even after several elevation adjustments have been made.
The superior optics on this scope deliver extreme clarity, crispness and color contrast throughout the entire magnification power range. This NightForce is on the second focal plane, as NightForce has only one optic currently on the first focal plane. The quality parallax goes from 25 yards to infinity.
Customers of this scope really seem to love the NightForce, as there are very little, almost no, customer complaints. What they like is the extreme ease of use and excellent, superior quality glass.
Positives Recap for This Product
non-illuminated reticle with large eye relief
exposed turrets
rapidly returns to zero
clear, crisp optics
second focal pane
parallax from 25 yards to infinity
easy-to-use
Negatives Recap for This Product
no consistent product negatives or complaints
Trijicon TR23 AccuPoint 5-20×50
Trijicon TR23 AccuPoint 5-20x50mm Riflescope with...
SUPERIOR QUALITY LENSES: Multi-coated lenses provide superior clarity and light gathering capabilities with zero distortion
BATTERY-FREE ILLUMINATION: Fiber optic technology automatically adjusts the brightness level and contrast of the reticle...
AIRCRAFT-GRADE ALUMINUM HOUSING: All-weather rugged construction protects against the toughest elements
SECOND FOCAL PLANE RETICLE: Reticle size remains constant as magnification increases which provides a more exact aiming point...
ZERO FORWARD EMISSION: The illuminated reticle doesn't project any illumination from the objective lens
The Trijicon TR23 AccuPoint riflescope features an advanced fiber-optics and tritium aiming point illumination that speeds target acquisitions and extends available shooting hours. This is made possible by the use of the dual illumination system. Fiber-optics illuminate by gathering existing ambient light and reflecting it back outward. Tritium creates its own light and will continue to be luminescent even in pitch black conditions. A manual rightness override allows the shooter to manually adjust the brightness of the reticle for optimal target finding. A dual system like this also has no need to be battery operated.
Other features of the Trijicon have externally exposed turrets and a side parallax adjustment for enhancing accuracy at longer ranges. This scope is on the second focal plane and seems to offer a choice for reticle cross-hair styles.
Customers of this scope are impressed with the extremely clear glass at all magnification settings and the incredibly quick focus. Plus, it gets a lot of praise for how well it works in low light, and needs no batteries!
Some complaints are that the tritium lighting had no glow, or that the green was weak or absent.
Positives Recap for This Product
dual system fiber-optics/tritium illumination system
requires no batteries
exposed turrets
side parallax
second focal plane
quick focus
clear glass
Negatives Recap for This Product
tritium had no glow
green lighting may be weak
Related: Best Varmint Scope For .223 
Bushnell Elite Tactical Illuminated 6-24x50mm
Bushnell Elite Tactical G2DMR FFP Reticle...
Ultra Wide Band Coating and fully multi-coated optics for light transmission and image clarity; Rain Guard HD anti-fog...
Adjustable power, tactical target scope with 6 to 24x magnification and a 50-millimeter objective lens offers exceptional...
G2DMR features a mil-hash marked First Focal Plane (FFP) reticle designed for ranging, holdover and windage correction
Features side focus parallax adjustment for adjustable long-range accuracy; .1 Mil Click Value
30-millimeter one-piece tube; argon purged; 3-inch sunshade; limited lifetime warranty
The Bushnell Elite Tactical with an illuminated reticle is another excellent choice for distance shooters. This is a first focal plane reticle designed for ranging, holdover and windage correction. It features an ultra wide band coating and fully multi-coated optics for light transmission and image clarity. Another feature is the Rain Guard HD anti-fog protection that keeps your lens clear no matter what the conditions.
This adjustable powered scope offers exceptional brightness and extended range magnification and a side focus parallax for long-range accuracy. Waterproof and fog-proof with an argon purging, it comes with a 3-inch sunshade and a limited lifetime warranty.
Customers of the Bushnell Elite Tactical love this scope and say it is super durable, accurate, returns to zero and has excellent clear, distortion-free optics. They have high compliments for the G2 reticle, however, state that the description is wrong and the reticle is not illuminated.
Positives Recap for This Product
first focal plane
fully multi-coated optics
waterproof/ fog-proof
sunshade
limited lifetime warranty
Negatives Recap for This Product
reticle not illuminated as advertised
Related: Best Rangefinder Scopes 2020
What To Look For In A Long Range Scope
When picking out the best scope, especially for long range shooting, there are several factors that affect the overall quality and performance. Attributes to be looking for include optical and lens quality, coatings and treatments, reticle, focal plane, turret adjustments, and magnification power.
Then, of course, there's that price thing to take into consideration. Scopes can greatly range in price, so you definitely want to get the best bang for your buck. You don't want to go way overboard, or maybe money's no object for you and you do want to go overboard, but you probably at least want to make sure you're getting the best quality and features for what you need at a price-tag you're comfortable with.
What Exactly Is Considered Long Range?
In today's world where we have numerous types of ammunition, firearms, and skilled marksmen the term "long range" is a bit unique to the individual and what they're shooting with.
A good place to start is to find where your round begins to significantly drop off. Use a bullet ballistics chart to determine that distance. From there you'll know about where using a scope will be of great benefit to you.
Optics and Lenses
One of the first things you probably want to consider when picking out your scope is glass. This is actually the most important aspect, as, without proper glass, you have no scope. Of course, you want to have crystal clear glass with a nice wide optic for better light transmission, eye relief and a larger field of view. The more light gathering ability the optic has, then less mirage effect you will get.
Part of the quality of your optics has to do with the lens coatings. For the best optics, you probably would want lenses that are fully multi-coated,  meaning every lens of the optic is coated with multiple layers of different coatings.
The coatings have different functions. Some are for a tough, scratch resistant barrier, some are for allowing maximum brightness and light letting qualities, and some are for water resistance. Better optics have more coatings that do all of these things.
In terms of durability, you would also want a scope that is waterproof, fog proof and shock resistant. The water/fog proofing is helped out by the coating layers on the glass, but the scope tube is then gasket sealed around the glass and gas purged to keep any oxygen or moisture out.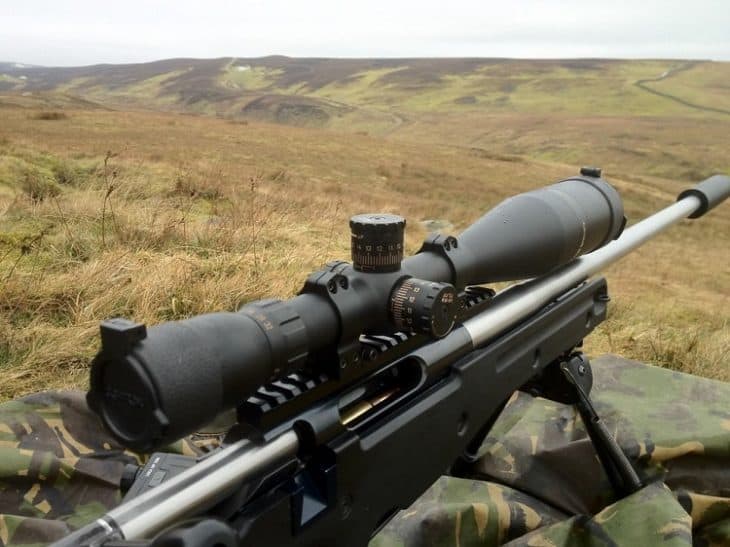 Related: Best 30-30 Scopes
Reticle and Focal Plane
The reticle used for long-range shooting is an important feature to pay attention to as well. There are many different reticle options out there, but some are better than others for long range. MIL dot or MOA mark reticles are a great option, as they are versatile for almost any shooting scenario, but also never change. The marks always have the same value, which is very nice.
Etched reticles are also a great option, as they are thin and easy to put on target. Also, if you happen to have a lighted reticle, the etched back up is a game saver if something happens and your illumination fails.
Finally, the BDC (bullet drop compensator) is a reticle that is very popular among long-range marksmen. These work very well for calculating your bullet drop at certain distances, thus making a target hit pretty much guaranteed. However, they tend to only work so great up to about 300 yards, they are not quite so accurate. The other downside to the BDC is that they are very much caliber specific, ballistic weight specific, barrel length specific, and velocity specific. In other words, they're very picky to be accurate.
Along with the reticle, you will also need to determine what focal plane you prefer, first or second. My personal preference is a first focal plane scope, where the reticle points increase or decrease in size with the magnification adjustment. The range values remain the same no matter what magnification power you are at. On a second focal plane scope, the reticle size is fixed and is constant wherever your magnification power is at.
Turrets and Magnification
The adjustments for your scope is super important as they literally control all of your scope settings, how you'll be seeing and how you'll be shooting. If the adjustments are non-functional, you may as well just be shooting with iron sights.
The turret adjustments control your elevation and windage settings that put your cross-hair dead center, right where you need them. The tactical style exposed turrets are my personal favorite, as they are more user-friendly. They usually are finger adjustable and easily return to zero. However, they are exposed, so can be susceptible to weather conditions, physical damage or knocked off your setting.
Capped turrets are a bit more protected but take longer to adjust, as you need to unscrew the caps and make your adjustments with a penny, or screwdriver. It's also a pain in the butt when you drop and lose a cap, because now it is exposed to abuse, and still more difficult to adjust.
Optimal magnification should honestly be the lowest possible setting that provides a clear and complete target. Too much power will limit your peripheral field of view, blocks light, and will make it harder to track the movement of your target. Too little power and you may not be able to get a perfectly placed shot. Though you don't want to go over-kill on the magnification range, depending on how long range you're shooting, you definitely want to be sure you get the power range that can stand up to your performance distance.
Commonly Asked Questions
Is it better to have an illuminated or non-illuminated reticle? – This is a personal preference. Both have their advantages and disadvantages. The illuminated reticle is cool and can improve your shooting hours by adding needed light, but it can also hinder your shooting by adding a distraction or glare over the target. It is always a good idea to make sure you have a back-up etched reticle in case your illumination fails.
What is the best reticle for long range shooting? -MIL dot and MOA mark reticles are always a great option, as they are versatile, accurate and easy to understand. The marks always have the same value, so the consistency factor is nice. Many people love the BDC reticle, as it aids in estimating where the bullet will drop at what distance. Again, this is personal preference.
What is a fiber optic? – Fiber optics are thin strands of glass or plastic that collect existing ambient light and reflect it back outward. They do not require batteries and will last until the actual fiber wears out, but they do require that existing light source to illuminate.
What is a tritium reticle? – Tritium is a radioactive isotope of hydrogen and creates its own luminescence. Unlike fiber optics, it can work in complete darkness and has a half-life of twelve years.
What are coated lenses? – Coated lenses are the treatments put onto the lenses to make them scratch resistant, waterproof, fog-proof, dust-proof, glare and reflection resistant, or brighten the optic. There are a few different terminologies.
Per opticsplant.com: The following are acceptable terms for coatings:
Coated: A single layer on at least one lens surface.
Fully Coated: A single layer on all air to glass surfaces.
Multicoated: Multiple layers on at least one lens surface.
Fully Multicoated: Multiple layers on all air to glass surfaces.
Related: Best AR 10 Scopes
Conclusion
Hopefully, this guide has armed you with the knowledge of how to choose your next high-powered, long-range rifle scope and what features you truly want or can live without. There are so many options out there and added features, it's hard sometimes to nail down exactly which ones are wanted or necessary.
With our top five picks, maybe you have seen one that is the scope of your dreams, or maybe it just is assisting you with your wish list. I am confident though that with this guide, you are on your way to choosing the best long range rifle scope for the money. Have fun with the hunt, no matter what it might be!
If you enjoyed this article you'll probably like these: