If you're looking for a good, high-quality scope that's budget-friendly, this review of the Bushnell Banner 3-9×40 rifle scope should have your attention. We will be looking at all the details and features of the scope, the good, the bad and the ugly, so you will be well educated as to whether this scope would be a good choice or not for your rifle.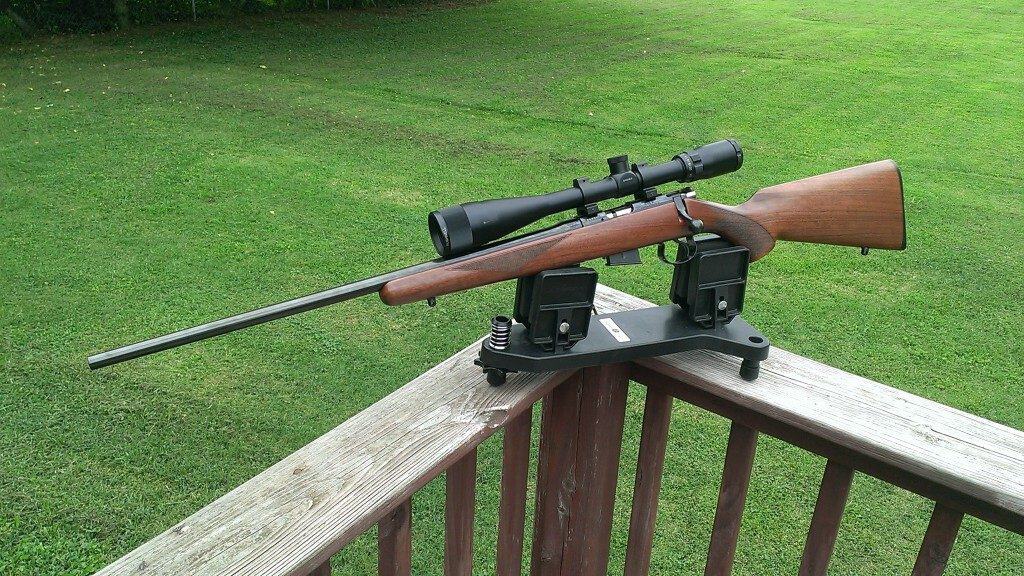 The Bushnell Banner 3-9×40
The Bushnell Banner 3-9x40mm rifle scope is a beautifully designed, durable scope. It is dry-nitrogen filled and claims to be 100% waterproof, fog proof and shockproof, and features a 3.3-inch eye relief and a fast-focus eyepiece. The Multi-X reticle is a very user-friendly, second focal plane reticle and the turrets are ¼ MOA fingertip windage and elevation adjustments, which is handy.
The high-quality optics of the Bushnell Banner are super clear. They are treated with a Dusk and Dawn Brightness (DDB) multi-coating for optimal clarity and brightness in failing light conditions when the hunt is usually the best.
Not only is this scope easy on the wallet, but it also backed by Bushnell's Limited Lifetime Warranty and their 100% money back guarantee, which is independent of their warranty.
That's a great feature because what it means for you is that not only is it a quality product, but Bushnell wants to be certain that you are totally satisfied with it.
Another wonderful attribute of this scope is its lightweight. At 12 inches in length, it is only a total of 13 ounces. This will really help on those long hunts where you have to carry your rifle for a few days. Even the smallest bit of weight reduction would be a great relief to your muscles.
Product Positives:
durable waterproof, fog proof and shockproof construction
3.3-inch eye-relief and a fast-focus eyepiece
multi-X second focal plane reticle
¼ MOA fingertip turrets
DDB multi-coated
lightweight
Limited Lifetime Warranty plus 100% money back guarantee
Product Negatives:
can have problems holding zero
if you're looking for long range, this is only a medium range scope
basic reticle, nothing fancy
Things To Consider Before Buying
Some of the things that you should definitely consider before purchasing this scope are quality for the price, magnification power, type of reticle you want, and what kind of equipment is necessary for this scope. First and foremost is quality. Whether your interest is in a budget scope or a high-dollar scope, you should not have to sacrifice the functionality for a dollar amount.
Bushnell is a big name in the rifle world and is known for producing high-quality scopes and optics. This should hold true no matter what the price point of the optic is, so with this scope being a wallet-friendly choice, you should expect to not see a lack of quality or performance.
Magnification power is a big thing to consider depending on your target and preferred shooting distance. This particular scope is a 3-9x40mm and is placed in the medium power category. This is perfect for large game hunting at medium ranges, somewhere between 100 and 400 yards.
Reticle preference is a very personal option. There are many reticle choices out there and go from very basic to very fancy. If you are looking for a fancier, high-tech reticle, this is not the scope for you. The Bushnell Banner reticle is a Multi-X reticle, and is similar to a 4-plex, with thick cross lines that switch to a thin cross-hair in the center. Personally, this is my favorite style of the reticle. It may not be the most high-tech, but it is super versatile, accurate and easy to comprehend.
Since the reticle is considered a basic type reticle, there is no need for batteries for this scope, which is a plus. However, you still will have to purchase scope rings to mount it, as these are not included.
Questions and Features
Can this scope be used with an air rifle? – Yes. It actually works quite well on an air rifle, an AR, and even on shotguns.
Does this scope come with a sunshade? – No. It does not come with a sunshade provided. I do not believe Bushnell even offers one with this particular scope.
Does this have an adjustable magnification? – Yes. The magnification is adjustable 3x-9x.
Does this come with scope rings? – No scope rings are included. These need to be purchased separately.
Is this scope imported or made in the USA? – This scope is imported. I believe it is manufactured in Japan and assembled in Korea.
What is the tube diameter? – This scope has a 1-inch tube diameter.
What size mounting rings do I need for this scope? – The size scope ring you need for this scope is going to depend largely on what rifle you are using so you can get the correct measurements. You want the scope, ideally, as low as you can get it without touching the rifle, and still comfortable to look through without any issues with the image.
Can I put this gun on a bolt action rifle? – I believe you can, just depending on what scope rings to use to mount the scope. Bushnell calls this scope an "all around big-game scope."
Can I put this scope on a shotgun? – Yes. Per Bushnell's website, this scope is great for rifles, shotguns or muzzleloaders. It withstands the recoil well.
Features
For a basic scope, the Bushnell Banner has a ton of great features. Here, we will highlight and break them down for you.
The durability of this scope is very good. Made from a one-piece aluminum tube with a matte finish, it is dry-nitrogen-purged and designed to be 100% waterproof, fog proof and shockproof. That means that all of the oxygen inside the tube has been replaced with dry nitrogen, so the inside of your scope has no moisture in it, and can't fog up.
The 3.3-inch eye-relief is awesome! The eye-relief is the distance the scope can be held away from the eye and still present the full field of view, so this means that the scope can show the full field of view when held up to 3.3 inches away from your eye. Plus, Bushnell scopes have a neoprene eye guard to help protect against recoil.
The fast-focus eyepiece is for quickly focusing the reticle over the image, and sharpening the reticle image in the field of view.
The Multi-X reticle is super easy to understand. This reticle style is my favorite style to use as it is so accurate is almost every application. It is a thick lined cross up to the center, then thins out to a thin cross-hair.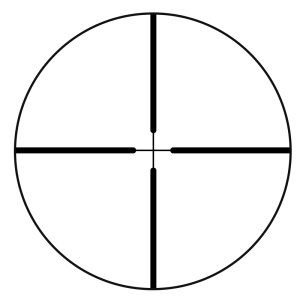 In my personal opinion, this is the perfect reticle set-up. The thick line ensures that the cross-hairs won't be lost in the busyness of the image and if you can't see the thin cross-hair you still will know where the center mark is. But, it's also got the benefit of the thin cross-hair to accurately place the center cross right over your target without covering up and obscuring the image, as a thick line can sometimes do.
This scope is on the second focal plane, meaning that the reticle never changes size when the magnification changes. It is always the same, consistent size, which can actually lose some of the accuracies with the magnification power change.
The ¼ MOA fingertip turrets adjust the windage and elevation ¼ inch per 100 yards per click and can be adjusted with your fingers. This is a big plus, as it is quicker and easier to adjust this way, as opposed to needing a tool of some kind to adjust the windage and elevation. The turrets are capped, which protects them from external and elemental damage.
The Dusk and Dawn Brightness (DDB) multi-coat promotes better clarity and brightness during the failing light conditions of dusk or dawn when it's hardest to see and the game are at their most active. These coatings reduce light loss and glare due to reflection and lead to better light transmission, brightness and higher-contrast images that reduce eye strain. The multi-coat refers to multiple layers of these coatings on all lens surfaces.
The power and objective lens is 3-9x40mm. The magnification power is adjustable from 3x to 9x with a 40mm objective. This is a medium power range scope and is perfect for most hunting distances and applications.
The scope body tube diameter is 1 inch, making it easy to fit most scope rings, as this is one of the most common tube diameters.
How Do Customers Like This Scope?
Most people rave about what a wonderful, quality scope this is for such a modest price. Many have commented on how very clear, bright and great at light transmission the optics are in low light situations. Also, many say that the Multi-X reticle is appreciated, as it is not hard to see, even in low light conditions.
On the flip side, more than a few people have complained that the scope will not hold zero or else they have trouble zeroing it. Most other complaints seem to be inconsistent and isolated incidents. Overall, this scope has received very high ratings.
Alternatives
If for some reason you have decided that the Bushnell Banner 3-9x40mm dusk and dawn won't work for what you need, here are a few similar alternatives for comparison.
Bushnell 613946C Rifle Scope 3-9x40mm
This scope is very similar to the Bushnell Banner 3-9×40 in that is has the same useful power range to keep a nice clear, focused image at lesser power than what you might get at higher zoom ranges.
It also features the same dusk and dawn lens coatings that the Banner is well known for, making it an excellent piece of optical work with clarity and brightness in the lowest light conditions.
The main difference is the reticle. This scope may be what you're looking for if you prefer that more high tech, intricate reticle, which is illuminated with selectable red or green aiming hairs and BDC (Ballistic Drop Compensation) indicators on the lower vertical hairs. Because of the illuminated reticle, this scope requires batteries.
Bushnell Banner 6-18x50mm
The Bushnell Banner 6-18x50mm is another nice option if you need a little bit more zoom power for longer distances. It features an adjustable objective for parallax with setting from 10 yards to infinity.
Besides this larger magnification option, and a duplex reticle, this scope has all of the other same great features as the 3-9×40. However, with that bigger 50mm objective, this scope will be a bit on the heavier side at 1.12 pounds.
You also will have to keep in mind that a larger objective will probably call for a difference in scope ring height for an optimal fit when mounted.
Bushnell Banner Dusk and Dawn 4×32
The Bushnell Banner Dusk and Dawn 4×32 is a dandy little scope intended mostly for shotguns or a .22. This has a non-adjustable 4x power and a 32mm lens with the same great DDB multi-coat that you find on the other Bushnell Banner line products.
The reticle on this scope is a circle-x reticle rather than the multi-x, but the body is constructed of the same tough one-piece aluminum and dry-nitrogen purged for a waterproof, fog proof and shockproof scope. This scope is 11.3 inches long and only weighs 11.1 ounces. Customers all seem to have nothing bad to say about this scope. It seems that these Banners are winners!
Conclusion
Hopefully, with this Bushnell Banner 3-9×40 review, you now know everything you need to be able to look at this scope and decide if this is the one for you, or if you'd like something with different features.
For a budget-friendly, basic hunting scope, this one seems to have the quality to keep it in the highly desired category. When you've got one like this that can hold its own with the big dogs, you know you've got one at least looking into.
If you enjoyed this article you'll probably like these: