If you're looking for the best scopes for AK47 then you found the right article. The AK47 is a fun and versatile rifle that's fun to shoot and deserves a tough rugged optic to go along with it. In our review you'll find scopes, red dots, ACOG scopes, and prism scopes that will make a great fit for your rifle.
You can view our recommendations in the quick table below and see more detailed information on each one a little further down the article.
Best Scopes for AK47
We've broken down the 5 scopes on our list in more detail below. The list isn't in any particular order so the first one we review isn't considered the top pick or the last one the least favorable. Any of the five options below would be a great option for your AK47.
Aimpoint PRO Patrol
Aimpoint PRO Red Dot Reflex Sight with QRP2 Mount...
Absolute co-witness with iron sights (with the supplied spacer installed)
Features 2 MOA red dot for accurate target engagement
Includes front and rear plastic flip cap lens covers
Features 10 brightness settings including one extra bright for use in bright sunlight
Up to 30,000 hours (over 3 years) of constant operation from 1 DL1/3N battery
This is the Aimpoint PRO Patrol rifle optic. You've probably came across this optic before if you've been looking for AK47 scopes for any amount of time. It's a very popular option if you're in the market for a red dot sight. The "always red – always on" feature is a big part of the marketing behind this product. It can last 3 years on one battery and eliminates the use of on/off switches.
It's a hassle free design makes it an attractive option. It's dated to remind you when to service the device to keep maintenance easy and reliable. If you're looking for something you'll nearly never have to touch once you've equipped it on your rifle this would be your pick.
It provides you with quick target acquisition using a 2 MOA red dot. So it'll be very effective at any distance you'll be using your AK47 in.
Customers of this red dot sight love how reliable it is. The information we've come across shows over and over that people love Aimpoint and have a lot of faith in this product. They've put this optic through some tough condition and usage that it has held up to well. It's a great partner optic for the AK47.
Some of the negative comments we came across related to Aimpoint as a company. Some people feel they're falling "behind the times" and should make improvements to stay competitive. However, these customers still went through with purchasing this product so take it for what you will.
Positives Recap for This Product
rugged build and tough
excellent companion for the AK47
extremely long battery life
hassle free design
Negatives Recap for This Product
nothing negative that's product specific
Vortex Optics Crossfire II
Vortex Optics Crossfire II 1-4x24 Second Focal...
The 1-4x24 Crossfire II Riflescope is one of many configurations in the Crossfire II line. The V-Brite reticle uses the...
With long eye relief and an ultra-forgiving Eye box, you'll be able to quickly get a sight picture and acquire your target....
Anti-reflective, fully multi-coated lenses provide bright and clear views for the user.
Capped reset turrets are finger adjustable with MOA clicks that can be reset to zero after sighting in.
A single piece tube constructed from aircraft grade aluminum ensures strength and shockproof performance. O-ring sealed and...
This is the Vortex Optics Crossfire II. It's a 1-4x scope which is perfect for the AK47. It provides bright illuminated reticle center dot that a lot of people like on this type of rifle. It also gives you generous eye relief and forgiving eye box to help you acquire targets quickly with this scope.
It has anti-reflective, fully multi-coated lenses to provide a bright and clear view. The turrets are capped and finger adjustable with MOA clicks and a reset to zero feature. It's crafted from aircraft grade aluminum for strength and shockproof performance.
It's nitrogen purged and sealed to be waterproof and fog proof. This scope really lives up the features we recommend for the best scopes for AK47. It's also the only "true scope" on this list while the others are red dots, ACOG, etc…
Customers of this scope love it for its multipurpose ability and claim it excels at 100 – 150 yards. Many people mention how reliable and durable the scope is. They've put this thing through the ringer more than once and it came out fine without issue. It's also backed by a strong warranty from Vortex.
The negative comments we came across were mostly related to the illumination of the reticle. While you can use it without illumination some people found when using it that it wasn't very bright. Some people found turning the illumination on got in the way more than it was helpful.
Positives Recap for This Product
checks off our scope recommendations for the AK47
excels between 100-150 yards
strong warranty from Vortex
Negatives Recap for This Product
the illuminated reticle is weak
Trijicon ACOG
Trijicon Acog 4 X 32 Scope Dual Illuminated...
BATTERY-FREE ILLUMINATION: Features a tritium/fiber optic illuminated reticle that automatically adjusts the brightness based...
RUGGED ALUMINUM-ALLOY HOUSING: Forged 7075-T6 aircraft-aluminum-alloy housing provides for a nearly indestructible sighting...
"BOTH EYES OPEN" DESIGN: The ACOG can be used as a CQB sight when shooting "both eyes open," utilizing the Bindon...
COMBAT PROVEN: No other magnified optic has been used more in combat than the ACOG
BULLET DROP COMPENSATING & RANGING RETICLES: The red Chevron ranging reticle allows for bullet drop compensation out to 800...
Trijicon is the leader in ACOG scopes. It provides you with a battery-free illumination feature using a fiber optic reticle that will automatically adjust the brightness based on the available light. The body is crafted from rugged aluminum that's aircraft grade and a nearly indestructible sighting system.
It's both eyes open design that lets you acquire your target extremely fast. You can use the Bindon Aiming Concept when using this optic. This optic has also been used in a more realistic combat situation than any other magnified optic. It also includes a BDC reticle (bullet drop compensating) out to 800 meters for 5.56.
This is the most expensive optic on our list for the AK47. Trijicon makes a crazy good product but they charge for it. If you're someone who really wants the best optic for your AK47 rifle this should be a high priority on your list. You more often than not get what you pay for.
Customers who own this product have tons of good things to say about it. Honestly, too many to mention here but some of the more popular comments are on the quality of glass you're getting and the long term reliability of the product. You can buy this knowing it's going to hold up for years and years.
Positives Recap for This Product
high-quality glass
battery free illumination
fast target acquisition
pairs really well with the AK47
Negatives Recap for This Product
no common negative comments
Monstrum Tactical Prism Scope
Sale
Monstrum P330-B Marksman 3X Prism Scope (Black)
Next generation prism sight with 3x magnification and 30mm objective lens, for lightning fast target acquisition out to 300...
Features a glass prism optical system rather a refracting lens system like traditional scopes, allowing for better optical...
Unlike red dots, the reticle is visible with or without illumination, for a clean sight picture regardless of lighting or...
Brand new single piece machined aluminum design, sturdier and more rigid than ever, guaranteed to hold zero against the...
All Monstrum Tactical Rifle Scope products are backed by a one year warranty.
This is the Monstrum tactical prism scope. It's great for mid range target acquisition out to 300 yards making it a great optic for the AK47. It uses a glass prism optical system rather than a refracting lens system like traditional scopes which gives you better optical quality in a smaller package.
This scope gives you 3+ inches in eye relief and is easily comparable to other optics that are far more expensive. You can illuminate the reticle in either red or green with multiple brightness levels. You can view the reticle without it being illuminated so it's usable with or without battery power.
It's very light weight at 15 ounces, it's 6″ inches in length, and 2.8″ inches in height, and 2″ inches in width. It's crafted from machined aluminum and built to withstand strong recoil.
Customers of this product frame it as "fun, durable, and a cool optic". If you're looking for something without the frills and simply everything you need this may be the optic of your choosing. The zero has held up without issue and the performance is spectacular. Plus it's an optic that won't break the bank.
The one negative thing we saw was some customers receiving the optic with glass issues. It was an apparent issue straight out of the factory or could be something happening during shipping possibly? A few people had cracked glass when receiving the product.
Positives Recap for This Product
handles strong recoil well
illumination not required
budget friendly option
Negatives Recap for This Product
glass issues from factory
Bushnell Optics TRS-25
Sale
Bushnell Optics TRS-25 Hirise 1x25mm Red Dot...
Beautiful design and durability built to last
Black with 3 MOA Dot reticle
High-Rise mount
Waterproof Construction - O-ring sealed optics stay dry inside, even when totally immersed in water.
Shockproof construction - Built to withstand bumps, bangs, drops and the rough-and-tumble environment of the field.
This is the Bushnell Optics TRS-25 red dot sight. It's a very budget friendly option if you're not looking to spend much on your AK47 scope. It provides you with a great image, it's very durable, and lightweight at 6 ounces. It comes with multiple brightness settings to adjust to different lighting conditions.
You end up getting a lot out of this product when you consider what you're paying for it. If you're considering a simple yet effective red dot sight that simply gets the job done this could be the route you want to take. Reflex sights like this perform great on an AK47 and keep you accurate at short and medium range.
If you're the average guy looking to have some fun with their rifle this optic will suit you. You can't be as rough with it as the first red dot sight we covered but this one can still hold its ground. I've said it once but I'll say it again… you often get what you pay for but as long as you keep that in mind you'll be fine.
Customers have been using this red dot with great success. The biggest compliment I came across over and over was the bang for your buck you're getting. It's hard to look away from a good optic that's inexpensive.
Positives Recap for This Product
budget friendly option
quality product – bang for your buck
simple and effective
Negatives Recap for This Product
Mounting Your Scope On A AK47
The first problem people run into is figuring out how to actually mount a scope on their AK47. There aren't many scopes designed specifically for the AK47 but you can use a scope rail mount designed for the AK47 to open the door to use any scope you desire.
It basically gets installed to the side of your AK47 and extends above the rifle to provide you with rail mount. It's the quickest and easiest solution that gives you the ability to use many different optics. If your AK47 doesn't have a mounting option already I would pick this up with your scope.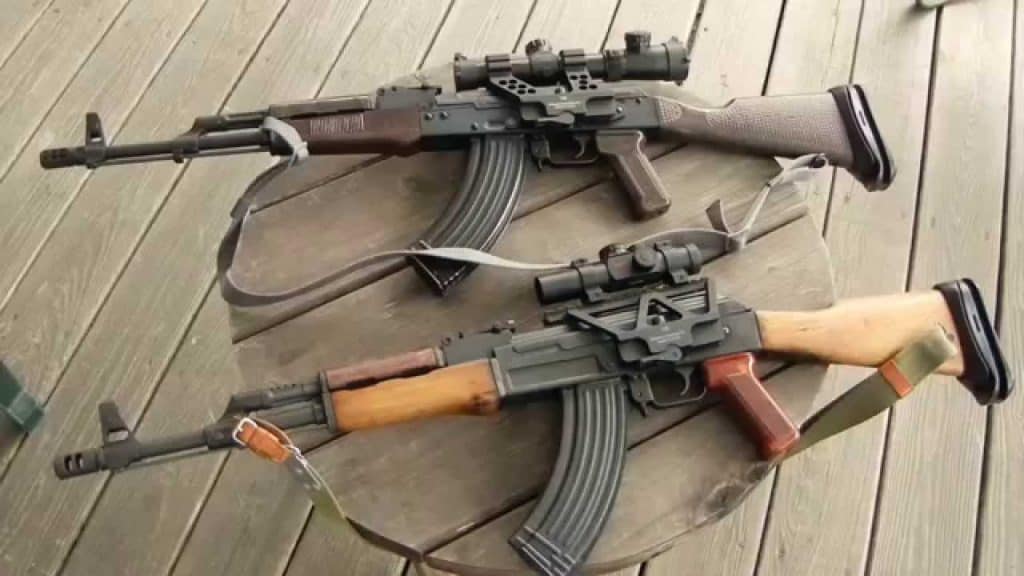 Scope Features For The AK47
There are two main features to focus on when choosing a scope for your AK47. You need a scope that can withstand the heavy recoil and one with generous eye relief. Additionally, avoiding parallax error will keep your shooting more efficient and some scopes are going to offer better adjustments for parallax than others.
As for eye relief everyone's idea of what would be considered generous is different. It'll depend on your vision and what you're comfortable shooting with. Typically anything around 3.5″ inches or more should serve you well. While I stand by my recommendations it really boils down to your personal preferences.
It will take you some time to get accustom to shooting through a scope on a AK47. The heavy recoil makes it more difficult but once you become quicker at re-acquiring targets between shots you'll have it mastered.
Size & Weight
Smaller and lighter scopes are going to be better options for your AK47. Avoid anything with a large objective lens and stick with the straight forward style scopes, compact scopes, ACOG scopes, and other red dot or reflex sights.
With the recoil of the AK47 a large objective lens becomes an obstruction and hinders your shooting ability. The majority of your shooting will be around 100 yards or less and the furthest most people are shooting with these rifles are 300 yards. So you can get away with lower magnification options.
Price Range & budget
When it comes to scope more often than not you're getting what you pay for. My recommendation is to focus on the features most important for your rifle. The best scope for an AK47 should be tough, not a large magnification, and be able to help you acquire targets quickly.
That's why we prefer low magnification scopes that are compact or something like an ACOG or red dot. You can spends a couple hundred dollars or a thousand on any scope. If you're on a budget and looking for the best AK47 scope for the money they'll usually range from $150 – $300 to get something both decent yet affordable.
Durable & Rugged
Most AK47 rifles aren't kept in a expensive protective case. They're thrown around from truck bed to ground and beaten up a bit. That's honestly why the AK47 is so much fun because you can be tough on the gun and it'll shoot reliably day to day.
Scopes on the other hand aren't all made as durable as the AK47. You need to make sure your scope is something that will withstand any abuse you'll put your rifle through. It needs to withstand damage just as your rifle can and continue to perform well.
Another option would be to use quick detach scope rings. This would give you the ability to remove your scope after each use and equip it knowing it'll hold zero. We've reviewed some quality QD scope rings you may want to consider looking into for your rifle.
Why We Recommend 3 Scope Types
Our list consists of: Scopes, ACOG, and Red Dot sights. This is because a lot of people use scopes as a universal term for all rifle optics. While there are a few really great scopes for the AK47 some people are also throwing the other optic options into the "scope category".
It's our way of giving you the best scopes for AK47 including other optic options. It's our way to best serve you the reader and provide you with the absolute best options for all the best AK47 optics,
Above you'll find our detailed review of each of the 5 recommendations on our list.
Commonly Asked Questions
What caliber does the AK47 shoot? – The AK47 shoots a 7.62mm round originally. Other AK calibers include .308 WIN, .35 REM, .222 REM, .223 REM, 7.62x54R, 5.45x39mm (AK 74), 9mm, 9x39mm, 6.5 Grendel and even .22 rimfire.
What is the range of a AK47 bullet? – Shooting the standard 7.62mm round the average shooter would have an effective range of 350-400 meters. Anything beyond that would hit less than 50% of the time for most people.
Is it legal in the US to purchase and possess an AK47? – Yes. Both automatic and semi-automatic versions are legal. There are regulations in place in order to purchase the rifle and extended rules when purchasing the automatic version. This includes the automatic rifle to be manufactured before 1986 among other rules.
Conclusion
I hope you enjoyed this article on the best scopes for AK47. We gave you 5 excellent options to choose from for your rifle and any of them will perform well. There's also an option for any budget. The AK47 is an extremely fun and versatile rifle and you should definitely equip an optic to it. I hope the information we provided throughout the article helped you make an informed decision.
If you enjoyed this article you'll probably like these: