It is fun to accessorize our guns! And reflex sights are no exception. Shooting with these can quickly go from testing the waters to full-time obsession. So what is the best reflex sight for the money? Come check out our top five picks and see what is out there waiting for you.
Best Reflex Sight For The Money & Budget
Reflex sights are fun, and as with any other scope or sight, there are lots of different styles and features to consider. Below is our review of the 5 different budget-friendly sites we recommend and there pro's and cons.
Bushnell Trophy TRS-25 Red Dot Sight Riflescope
Sale
Bushnell Trophy TRS-25 Red Dot Sight Riflescope,...
Matte black featuring a 3 MOA Dot reticle with 11 brightness settings; Mounts easily on most picatinny rails and is...
Waterproof construction: O ring sealed optics stay dry inside, even when totally immersed in water. Parallax - 50
Shockproof construction: Built to withstand bumps, bangs, drops and the rough and tumble environment of the field
Nitrogen purged fog proofing: Nitrogen inside the scope ensures interior optical surfaces won't fog due to humidity or...
The Bushnell Trophy TRS-25 is a stylish tubular type of reflex sight. It is filled with dry nitrogen gas and claims to be one hundred percent waterproof, fog proof and shockproof. It features a tilted front lens for the reflection of the 3 MOA LED red dot reticle, and a multi-coated amber tinted optic for easy identification in low light conditions.
The Bushnell Trophy also sports an illumination control knob for easy adjustment of your red dot in different lighting conditions. You want your red dot to stand out, but not be glaring, as too much light battle can cause distortion of your aim point. There is also a slight resistance in the knob to help ensure your red dot doesn't accidentally get turned on without your knowledge.
Many customers who are a fan of this optic claim that for the money it resists recoil and holds zero well. Other reviews praise the easy install, long battery life, and very durable design.
Conversely, some customers complain about the gold versus white lettering one the sight. It states in the highlighted description for this product that "Bushnell logo color on the product may vary (white/gold)." Per customer findings, the different colors actually differentiate between two different models that have different optical qualities but are being sold as the same. Other reviews are claiming sights are defective on arrival, or that the red dot flickers on and off or is very fuzzy.
Positives Recap for This Product
waterproof, fog proof, shockproof
3 MOA LED red dot
amber tinted lens cuts glare and assists in low light conditions
holds zero well
Negatives Recap for This Product
possibly two different products sold under the same name
many complaints of sights arriving defective
red dots flickering or fuzzy
GERO Tactical Green and Red Dot Sight
Sale
Tactical Green and Red Dot Sight - 4 Reticles...
GET ACCURATE SIGHTING - Holds zero for longer periods of time and more rounds than any other
HEAVY DUTY - Can withstand straight hits on the glass by paintballs traveling around 280 - 300 feet per second (.68 caliber)...
GOOD EYE RELIEF - With the different reticle settings and adjustable brightness, it offers great eye relief and a clear sight
SAVE YOUR BUDGET - Inexpensive, but not cheap. Designed for easy use and made with high quality material, its lightweight,...
BUY YOURS TODAY!! Get one for each of your guns and let us know what you think!
The GERO Tactical green and red dot reflex sight is a lightweight open style sight offering four different reticle patterns. It is heavy duty built, shockproof and water resistant with a built-in Picatinny mount base.
The GERO is a great addition for those who want to stay within a budget, but not sacrifice quality. Plus, the GERO comes with an unconditional one year warranty!
Customers of this red dot sight are impressed with the ease of installation and the way it holds zero. The red dot stays pretty much dead on as long as you stick with one reticle pattern. The quality of this product along with its protective packaging makes it an impressive value.
It seems that some customers are finding that the reticle can become less crisp and a little fuzzy. Switching from one reticle pattern to another may throw off your red dot from zero.
Positives Recap for This Product
lightweight, shockproof, water resistant
built-in Picatinny mount
four reticle patterns
unconditional one year warranty
Negatives Recap for This Product
the reticle can become fuzzy
switching reticle pattern throws out of zero
DD Dagger Defense Red Dot Reflex Sight
DD DAGGER DEFENSE A Veteran Owned Company, The...
Both red and green dot, four position reticles
Equipped with a locking set screw to stabilize your sighting adjustments (use only if needed and turn 1-2 times clockwise...
APERTURE:33mm LENGTH:82mm WEIGHT: 291g FIELD OF VIEW: 15.8m@100m
1x Type Red Dot & Green Dot Sight scope, CR2032 Battery- 1x Instruction Manual- 2x Allen Wrench- 1x Lens Cleaning Cloth
The Dagger Defense DDHB red dot reflex sight is a smart looking little sight featuring four position reticles, both in a red and green dot. A locking set screw has been added to help stabilize your sighting adjustments. This can be handy for if you're having trouble holding zero, then you can turn it 1-2 times clockwise to lock it into position. Do not turn more than 2 times, for risk of damaging the sight!
This red dot is constructed of lightweight aircraft grade aluminum and has an ergonomic design. The side rotary dial serves three purposes, a brightness adjustment, to choose your reticle color from red or green, and is also the battery compartment for your red dot.
Customers of this optic have reported nice bright aiming points and sturdy construction. It seems that those who have had some issues with it love their customer service for being polite, professional, and willing to solve problems or replace the product.
Unfortunately, it seems that a lot of customers have trouble with blurriness and sighting this in right off the bat, and are having to contact customer service. One customer also complained that the battery life is short, causing some of the problems.
Positives Recap for This Product
four position reticle in red and green
locking sight stabilizing screw
lightweight, sturdy
great customer service
Negatives Recap for This Product
problems with zeroing in
blurry aiming points and lines
short battery life
Feyachi Reflex Sight
Sale
Feyachi Reflex Sight - Adjustable Reticle (4...
Reticle allows for 4 different styles. Dot, Circle/Dot, Crosshair/Dot, Crosshair/Circle/Dot combinations. All in one sight!
A 33mm lens provides quick target acquisition. Wide field of view to maintain situational awareness.
Very sturdy and secure rail mounting system. Will not come loose, made to last.
Parallax corrected & unlimited eye-relief, where the dot goes, so does the bullet!
Ultralight, waterproof and shockproof - Powered one 3V lithium battery (included).
The Feyachi reflex sight is a simple open sight with a four pattern adjustable reticle in both red or green. It has a nice wide field of view on a 33mm lens and a secure rail mounting system. It boasts being ultralight at only 4.1oz, shockproof and waterproof with unlimited eye-relief, and a battery included.
Not only is this sight well made, but it is a super affordable option as well. Other things that people love about this optic is that it stays zeroed well. Most people who have purchased this are actually very, very happy with it!
According to customers who have bought and used this, the aiming points stay very clear and not fuzzy unless the brightness is turned up all the way. It is a stable sight and mounts easily. It comes with everything you need to get it installed and shooting.
Some things people don't like about the Feyachi is that there really isn't an on or off switch. Some are reporting seeing a double image of the reticle, unclear image or too much glare.
Positives Recap for This Product
four reticle patterns in red or green
very lightweight, shockproof and waterproof
affordable
battery included
Negatives Recap for This Product
no definite on/off switch
unclear/double reticle image
too much glare
CVLIFE 1x22x33 Red Green Dot Reflex Sight
Sale
CVLIFE 1X22X33 Red Green Dot Gun Sight Riflescope...
Tubeless design with 33mm reflex lens aperture provides a wide field of view, suitable for rapid-firing or shooting of moving...
Dual illuminated ( red and green);4 reticle shapes in one reflex sight, provide various choices in different occasions, like...
Parallax corrected & unlimited eye-relief, improving the accuracy of holographic sights. Allen head screw type windage and...
The red dot sight is precision machined from high grade aluminum alloy with a matte black anodized, includes standard profile...
Screen Size: 22mmx33mm;Weight: 130g; Item Dimensions:3.15in*1.37in*2.08in(8cm*3.5cm*5.3cm)
The CVLIFE reflex sight is another great "bang for your buck" type scope. This is also considered super lightweight, weighing only about 4.58oz, and with the desirable four changeable reticle patterns in a green or red dot. Like other reflex sights, the CVLIFE offers unlimited eye-relief for a more comfortable, easy target finding.
On any sight or optic, good optical clarity is a must and this reflex sight claims just that. It has an anti-glare reflective coated lens ensuring optical clarity and comes complete with a rubber protective cover and two batteries. Your sure to have a good time with this little beauty!
Customers of this sight praise the amazing value, ease of mount and that it zeros in easily, and surprises people that it performs just as well as the higher priced sights.
That said, some of the main complaints are of blurred and/or double image, and the reticle either drifts after some use or disappears altogether. Also, this one is not stating whether or not it is impervious to elements, and some complaints have been that it is not shock resistant.
Positives Recap for This Product
affordable
very lightweight
four reticle patterns in green or red dot
anti-glare reflective coated lens
Negatives Recap for This Product
blurred/double image
reticle shut off or disappearing
not shock resistant
What Is a Reflex Sight?
A reflex sight or reflector sight is a type of electronic sight that uses a red dot or another image as the center point of your target. It works sort of like a mirror, with the aiming point projecting into the lens and reflecting back to you showing the red dot on target in your image and if you want to learn more we've written a guide on how to aim a red dot sight.
There are two main styles of reflex sights, open or exposed sights and tube sights. It is easy to tell the difference. Open reflex sights have an exposed lens sticking up to view your aiming point through. Tubular reflex sights' optics are contained in a tube. Pretty basic.
The open style has one mirror lens and a battery operated light that projects into the lens from the front. The tube style has two lenses with the beam of light coming from inside the tube. This may or may not be battery operated as this could use tritium as its light source.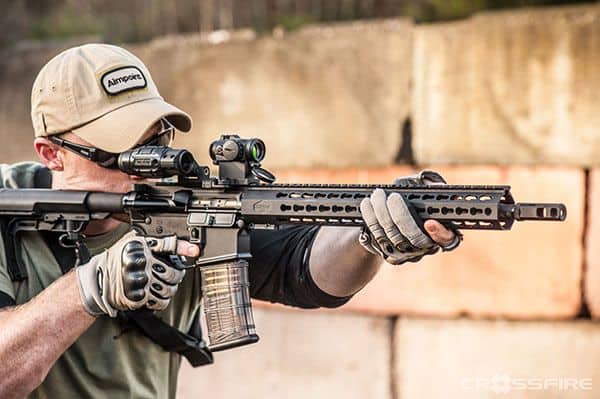 The Reflex Sight Advantage
There are many advantages to using a reflex sight. For one, there is no eye relief needed as you do not have to align your eye to the optic. This makes reacquiring targets really easy. You can keep both eyes open and simply look through your optic and put the dot on the target! This is incredibly beneficial for getting a fast, accurate shot off. This could be very convenient for someone like a police officer, and many police tactical rifles are indeed sporting reflex sights.
Another advantage is that reflex sights are very easy to mount and have been adapted for pistols, tactical rifles, and even some shotgun use. And, as far as price range goes, they are generally less expensive than some other types of red dot sights.
Accuracy
When it comes to rapid-fire shooting, quick target acquisition, and response time accuracy is important. This is what these types of optics are typically used for and compared to iron sights they allow you to snap to a target and fire much quicker and more reliably.
Durability
These optics are compact and require less space than other types of weapon sights. The compact design means it's easier to avoid being damaged from bumping into objects and from normal travel. Even though your goal is to find an affordable reflex sight you won't need to worry about sacrificing durability since features such as being shockproof & waterproof are standard on the majority of these products.
Range
Reflex sights excel at short to medium range targets. They are the perfect close quarter combat sight for the AR-15 and other similar rifles. You can potentially shoot at longer distances with these optics but you would benefit more from a different scope if medium to long range is your goal.
Disadvantages
Probably the biggest disadvantage of a reflex sight is that they are not magnified, so you're talking close range. However, there is a separate scope unit that can be purchased and paired with your sight to magnify the image like this AR 15 red dot magnifier combo.
Being an electronic type of sight, most reflex sights will require batteries to operate the light. This can really be burdensome, especially if your firearm was modified to have the iron sights removed to make way for the reflector. This would leave you with no sight option if your batteries failed when needed. Some of the tubular styles use a tritium lighted point and do not need batteries.
Finally, they can get in the way. For a rifle, it may not be so noticeable as it is very common for rifles to have scopes of various kinds, and most rifle cases are already set up to accommodate the extra room needed for the scope. But a pistol is generally more streamlined. Fitting your pistol into its holster may not work with a reflex sight in place, and it may be necessary to purchase a holster that has been modified for the sight.
Other Things To Consider Before Buying A Reflex Sight
We've covered what a reflex sight is, some of the advantages of them, and some of the disadvantages of these sights. However, there are a few more things to quickly take a look at before deciding which one to buy.
Housing
The most important part of the devices housing to look at is the section directly surrounding the end glass. Some devices have a tube you peer through and others are open with only the end glass standing up.
These minor differences impact the way you would look through your sight to acquire your target. A tube design requires you to take a little more time aiming but offers more light filtering and clearer image.
An open design offers quicker acquisition but may be more difficult to see the reticle in certain light conditions.
Battery
All of these sights use batteries to illuminate the red dot of the sight. Pay attention to the illumination settings the product offers and how many hours they claim you can get out of it.
Some claim thousands of hours but this is typically on the lowest intensity setting and most the time you won't be leaving your illumination setting on low.
Reticle
Not all of these sights use the same standard red dot reticle. If you're already comfortable with a particular reticle you may want to try sticking with it on your next purchase as well.
Using a new reticle can throw off your accuracy and unlike a magnified rifle scope there's no major benefit to using different reticle types.
Mounting
It's an easy thing to overlook but make sure your rifle and the mounting type of your optic are compatible. Some of these optics come with a built-in Picatinny or weaver mount but just double check it'll work for your rifle.
Commonly Asked Questions
What is the difference between a reflex sight and a holographic sight? – Both are red dot type sights. In a reflex sight, the aiming point (light) is projected through a mirrored lens and reflects it back over the image. The holographic sight has the image of the reticle suspended between layers of glass.
Are reflex sights good for long range or short distance targets? – Reflex sights are not magnified, so they are generally used for close range targets. Separate magnification scopes can be purchased that pair behind your sight for magnification.
What kinds of firearms will a reflex sight fit? – Pretty much anything. They are most common on rifles but are becoming very popular on pistols and shotguns. They can even be fitted onto a revolver if you wanted to mount one.
Conclusion
Yes, accessorizing our firearms is addictive. There are so many different features that can be added, and most are not cheap. Indeed, it can be a very expensive obsession to indulge, but as far as optics go, we hope this guide will get you on your way to finding the best reflex sight for the money.
Not only do these lighted little optics give a cool feature to your gun, but they are so fun to shoot with. You will be pleased that you've added a reflex scope to your firearm optics collection for sure.
If you enjoyed this article you'll probably like these: