Are you wondering how to use a red dot scope? This is a great question if you've never had or used one before. They can be a wonderful asset depending on what you need. There may be a misconception that these are too high-tech or difficult to operate. I had this impression, but it's just not the case.
Red dots are incredibly easy to use. It's why they were developed: to improve your speed of target acquisition without decreasing accuracy. If these are also your goals for shooting, then this guide will tell you all you need to know about using this powerful little tool.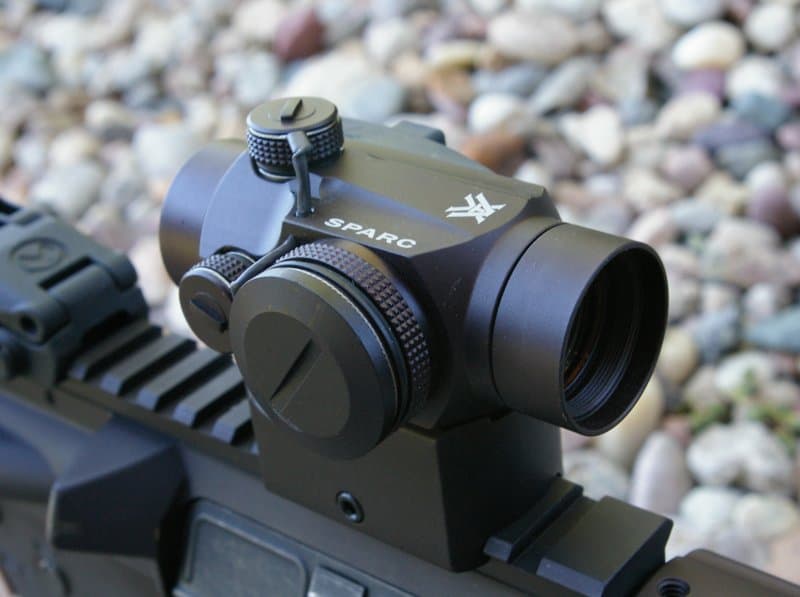 Here's What You're Going to Need
Red Dot Sight – This will be your chosen red dot scope. We will go over how to choose, different types, and how they work below, so you can have a good idea of what it is you want and what the advantages of different red dots are.
Allen Wrenches – These are for mounting your sights. Generally, red dot sights come complete with a Picatinny rail attachment and the wrenches needed. All you need to do is physically mount the sight to the firearm.
Your Firearm – Whichever firearm you are intending to equip. Red dot scopes can be used for tactical rifles, handguns, and shotguns. There are even some that can be fitted onto a revolver.
Target – You will need a target set up to zero-in your sight. Red dots are considered a close distance optic, so it would be best to set your target up at about a 25yd range.
Choosing Your Sight
Red dot sights are a type of electronic optic that gives you an illuminated aiming point within your field of view through the lens. They do not use lasers, they usually involve a light and some kind of reflector that reflects the light back at you making the dot appear over your target. Most are battery operated and they also are not magnified, so they are more of a close range scope. There are other attachments that can be purchased and paired behind the sight for magnification if you are wanting to use the red dot for longer range shooting.
The pros and cons of red dot sights are kind of dependent on the type of red dot that you have. Most are waterproof, shockproof and fog proof and overall are extremely easy to use. Once the scope is zeroed in you literally just have to point and shoot. It practically takes all of the finding the target in the scope and lining up the sights out of the equation. There are three main types of red dot sights: reflex (or reflector) sights, holographic sights and prism sights.
Reflex sights are the most common. These use a light that is projected into the mirrored lens and reflects the aiming point over the target image. These sights can be either open or tubular styles. Open sights have an exposed singular lens to look through. Tubular sights are more of a scope style with the light contained inside the tube and a lens on both ends. Reflex sights can be battery operated for the red dot light, or non-battery operated using a tritium type aiming point.
Reflex sights are super easy to use because there is virtually no eye relief factor to worry about, so you can shoot with both eyes open thus increasing your awareness of your surroundings. Aside from this, the reticle's on the same focal plane as the target, the lighted reticle can improve visibility in poor light conditions and once zeroed in there's no sight alignment needed. You just put the dot on the target and shoot! The drawback is that reflex sights are not magnified.
Holographic sights look like an open or exposed style reflex sight but are built with the electronic reticle image suspended between lens glass layers. The reticle image is illuminated by a battery operated laser diode. Like the reflex sight, holographic sights offer unlimited eye relief so you can shoot with both eyes open. Drawbacks to these sights are also like the reflex sight in that they are not magnified. Also, holographic sights tend to be a bit pricier than their reflex or prism counterparts and seem to have shorter battery life in many cases.
Prism sights use a prism to focus on the target image instead of lenses. These are the least common of the three. They are considered a red dot sight because they use an illuminated reticle like other red dot sights, but the reticle is also etched so if your batteries fail you can still focus on the cross-hairs. Unlike other red dot sights, prism sights do have an eye relief factor so you would have to focus one eye through the optic like a common scope. Prism sights also will normally offer a small magnification.
Mounting Your Sight
Most of the red dot sights that you buy will come complete with a Picatinny rail attachment and the tools needed to mount it. Some may not, but the tools needed are pretty standard like Allan wrenches and hex keys. For a rifle, the best place to mount your scope is directly on top of the receiver. This is the best place for stability and balance so you can properly hold zero. Some people may like it a little bit closer for a closer view of the aiming point but it is up to personal preference. If you decide to mount a magnifying scope behind it, then you will want to mount your red dot as far up the receiver as you can to make some room.
If mounting your red dot on a handgun you will have to buy a corresponding mount plate that you will use to replace the rear iron sights. With either the rifle, handgun or shotgun you want to be sure to tighten your scope down so that there is no movement. It is suggested that you reinforce this by using some blue Loctite to hold the screws snug so that they don't loosen due to recoil. You want to use blue rather than red. Blue will hold your screws securely but they are still removable. Red is a permanent hold.
How to Use A Red Dot Scope
Now that you have your scope properly mounted you can take these simple steps to zero it in.
Step 1 – Set up your target. You probably only want to initially set your target up at about 25yds. This is a good range to zero in at as these are generally close range sights and not usually magnified.
Step 2 – Co-witness your scope. If you have or had iron sights on your firearm, they are great to use as a co-witnessing tool for just a secondary confirmation that you are zeroed in. Look through your optic at your reticle. You want it to line up perfectly and directly on top of your iron post on the end of your barrel. If it does not sit directly on top of that post, adjust the dot vertically and horizontally until it does. That's it! Technically you should now be zeroed in and are properly co-witnessed.
Step 3 – Aiming should be a breeze. Simply point and put the dot on your target. If properly co-witnessed it should be accurate. If for some reason you do not have an iron post at the end of your barrel then you must secure your firearm from recoil and sight in with test fires as you normally would for a scope.
Common Questions
Can I use a red dot for long range shooting? – You can. Most are non-magnified so you are looking at close range but some red dots are actually referring to the illuminated reticle so you can use an illuminated reticle scope or a prism-style sight that has a small magnification. You can also mount a magnifier scope behind your reflex or holographic sights to give them more distance. A non-magnified red dot will generally be fairly accurate between 100-200yds max.
Will a red dot sight need batteries? – For the most part, any type of illumination in your scope will be battery operated. However, there are some red dot sights that you can find that use a tritium illuminated reticle and would not require batteries.
What is co-witnessing? – Co-witnessing is a double verification that you are on target by lining up both your red dot reticle and your iron sight post together. You simply make sure that your red dot is right on top of the post in the image view.
Conclusion
We hope this guide was enlightening and has answered all of your questions about how to use a red dot scope. The most difficult part will probably be just choosing which type of scope you want to mount, as that is your personal preference. Once you have your sight, following the three simple steps in this guide you will leave you with an accurate, fun and easy shooting experience.
If you enjoyed this article you'll probably like these: