Have you ever looked at a Glock 43 alongside another and thought, "same gun, why do they look so different?" Maybe it's the night sight set up.
It may be something you've never even thought about before but there really are a lot of different options out there. So, what are the best night sights for Glock 43? Below is a review of our top five choices to help get you on your way to a great night sight for your Glock.
5 Best Night Sights For Glock 43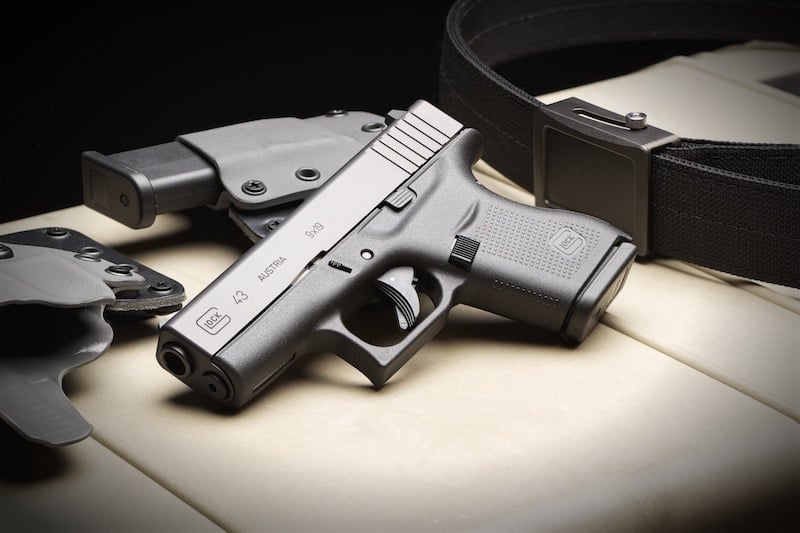 Night sights are cool, low maintenance and practical addition to your Glock.  For such a basic design, there are many options to choose from. To help make the choices a bit less overwhelming, we've outlined our top five night sights to help you decide which is best to outfit your Glock 43.
Trijicon Night Sight
Trijicon Bright and Tough Night Sight Set for the...
Fits: all Glock 42 and 43
Color: green front and rear dots
Finish: black
WHITE RINGS: Bright & Tough Night Sights feature a white ring around the glowing dots for daylight visibility
TRITIUM-PHOSPHOR LAMP: Tritium-filled glass lamp provides superior illumination in no light or low light settings
Trijicon Night Sights are known for their durability and reliability. They are used by military and law enforcement agencies throughout the United States and fit all Glock 42 and 43s. Trijicon offers a limited-lifetime warranty on all their sights.
The Trijicon Night Sight features bright green glowing tritium aiming dots. The tritium-filled phosphor glass lamps boast superior illumination and are protected by an aluminum cylinder from recoil and cleaning solvents that might otherwise damage the lamps. Each Trijicon lamp is capped by a tough sapphire window that aids in even light distribution and resists punctures and harsh solvents.
The color combinations are designed for the most effective sighting. Bright and tough night sights come with a bright white ring around the tritium green dots on both front and rear sights for easy daylight visibility. Other color options include high visibility or glow in the dark rings in either orange or yellow on the front sight with a subdued black in the rear.
Customers tend to love the ease of use and install of these sights, and especially the orange colored ones for their high daylight visibility. Some people have reported some visibility issues however with the front sight upon product arrival.
Positives Recap for This Product
multiple color combination patterns
protected, high visibility tritium green light aiming dots
limited-lifetime warranty
Negatives Recap for This Product
possibly some issue with the front sight tritium
Related: Our 4 Best Glocks
TRUGLO TFO
TRUGLO TFO Handgun Sight Set - Glock 42/43
Fits Glock 42, 43, 43x, 48; Honor Defense (all models)
Our patented TFO technology combines the best features of both Tritium and Fiber-optic technologies for high visibility in...
Available with your choice of green or yellow fiber in rear sights; Yellow fibers in the rear sight increase contrast and aid...
Utilizes quality Swiss Tritium for maximum brightness and glows in the dark without batteries or a light source; Made of...
Concealed fiber cannot be seen by target; Snag resistant design fits standard holsters
The TRUGLO TFO is a tritium and fiber optic combination handgun sight for Glock pistols. These claim to have unmatched visibility in all shooting conditions, and since it combines both sight styles, works both in daylight, low light, and no light situations. The TRUGLO features a green tritium dot and green optic fiber in the front sight and offers a choice of green or yellow for the rear sight for increased contrast and fast target acquisition.
Other features of this sight are a tough Fortress Finish coating for increased protection, concealed grooves that hide the fiber optic so it won't be seen by your target, and a snag-resistant design that will fit standard holsters. It claims to be machined and assembled in the USA and carries a 12-year limited warranty.
Customers love this sight and are big fans of the beautiful design and ease of installation. Most agree that the color combination and arrangement of the tritium and fiber optics together guide your view directly to the front of the sight where it should be.
Consistent complaints about this product are that the front sights wear out fairly quickly; within about one year or 100 rounds. Others reported that the front sight only lasted about three months.
Positives Recap for This Product
Tritium fiber optic combination for all light conditions sight alignment
choice of color combination for contrast
snag resistant and concealable fiber optic
Negatives Recap for This Product
front sight seems to wear out fairly quickly
AmeriGlo Classic
AmeriGlo Classic sights are CNC machined and claimed to be used by law enforcement, military, and gun enthusiasts worldwide. For the Glock 42 and 43, these sights are a favorite of many.
They have that wonderful green and white color scheme with the super bright shining tritium green dots and a bright white ring around the outside on each sight post for easy daytime alignment.
Customers of these sights praise a quick, easy install and love how well they are made. Many people are reporting these to be of the same quality as pricier Trijicons.
The downside of these is that some customers do report that the tritium lamps aren't very bright and actually are kind of dull.
Positives Recap for This Product
green tritium night dot with a bright white ring around it for daytime viewing
well made and easy to installation
Negatives Recap for This Product
may not be as bright as other night sights
Related: Best Open Carry Holsters 
Glock 43 42 Factory OEM Night Sight
The Glock 43 42 Factory OEM Night Sight is a simple but powerful set. It may not be as fancy as some of the combination sights, but it's equipped with a bright quick contrast green tritium night dot that turns bright white in the light for quick focus even in the daytime. These are a true Glock product with their logo stamped into the metal and finished with the same gas coating as the Glock slide. It is the perfect complimentary attachment for your Glock.
Customers of these sights are fans of the nice low profile and the night sight color contrast that is bright enough, but not so much that they would stand out to an intruder that may be ten or more feet from you.
On the flip side, those same bright but not glaring glow are too dull for some people who do want a more radiant light. Also, the white area around the green dots is hard for some people to see at all in a dusk time of day.
Positives Recap for This Product
Tritium green night dots turn to white during daylight hours for easy daytime focus
the sight has the same finished treatment as the rest of your gun and is tough
Negatives Recap for This Product
tritium lamps may be a bit too dull
hard to see either color transition during dusk
TRUGLO Tritium
Sale
TRUGLO Tritium Handgun Glow-in-the-Dark Night...
Fits Glock 42, 43, 43x, 48; Honor Defense (all models)
Tritium night sights transition from standard white dot sights during the daylight, to glowing green dots in the the dark
Utilizes quality Swiss tritium for maximum brightness and unmatched visibility in all shooting conditions 24/7
Glows in the dark with no batteries or light sources needed
Compact design maintains factory sight radius and fits standard holsters; Angled rear sight edge for emergency one–hand...
Finally, the TRUGLO Tritium glow in the dark night sights. These are a simple, yet high-quality Swiss tritium made for extra brightness, that fade from blaring green in the dark or low lighted conditions to white light dots during daylight hours. As with all other tritium made products, no batteries or re-charging necessary.
These are manufactured of tough CNC machined steel, that is both machined and assembled in the USA. Then, it is finished with a Fortress Finish coating for maximum protection. Ultimately, one of my favorite features is the snag resistant design with its rounded outside edges. As with other TRUGLO products, these come with a 12-year limited warranty.
Customers of these night sights report that they are super bright, even brighter than their more expensive competitors. Others love how easy they are to install and that they are not too fancy. The white dots they turn into during daylight hours are more than sufficient for a good line up.
Again, the main customer complaint of this product is that the front sight tends to wear out very soon, within the first 100 rounds or so.
Positives Recap for This Product
super bright green night tritium fades to white dots for daylight
Negatives Recap for This Product
front sights wear out too quickly
Related: Best .22 Pistol Scopes
What Are Night Sights?

Night sights are a luminescent replacement for factory irons or white dot sights. They are very useful for aiming in low light conditions as they emit a soft glow to line up on target.

There are mainly two different types of night sight to choose from. The first is a Tritium sight. Tritium is a radioactive isotope that creates its own light. This type works on independently and will glow in complete darkness. During the day it sort of just looks like a washed out white dot.

The second type is a fiber optic sight. Fiber optics are thin glass fibers that gather existing ambient light and reflect it outward. They are very visible and brightly colored during the daylight or low light conditions, but don't work in complete darkness. They are usually more linear than just dots like the tritium sights.

These are the main two types, however, there is also a combination type sight that combines the tritium and the fiber optics for use together. Just as a side note, you can also get sights that are neither of these, but simply a type of phosphorescent glow in the dark paint that must recharge from direct light every eight hours or so.

Night sights can be chosen in a variety of colors, red, orange, yellow, green or a combination of two. Dual colors can really make your sights stand out more. For the most part, you would want a nice color contrast with your brightest color forward, at the end of the barrel. It is generally concluded that the green is the brightest of these, so that would be what you'd want up front.

Lifespan Of Night Sights

Nothing lasts forever and the same is true for your night sights. Tritium based sights have a half-life of twelve years, so every twelve years their brightness is cut by half. It's a gradual dimming, but you would probably want to replace them once they reach that point as they are not rechargeable.

Fiber optics' glow source will last indefinitely, as it is just a glass or plastic rod that takes in existing ambient light and reflects it back out. The lifespan on this sight then is determined by the actual fiber itself wearing out. These do need to be replaced between every thousand rounds or so. They get broken, loose, cracked or scratched fairly easily.

Benefits Of Installing Night Sights

Most feel that the benefits of night sights vastly out-weight the drawbacks. The biggest benefit is the obvious one, it assists your aim in low light or no light conditions. Having that little bit of glow is great for focusing and lining up your target in the dark. Believe it or not, they also really assist in target re-acquisition after being blinded by muzzle flash.

Most people agree that night sights are much better made than the factory white dot sights that come pre-installed on your firearm. At least they are metal with the glowing goodies. The factory sights are plastic and usually have an inferior dot system painted on them.

Another benefit is that you can pick your own colors. On standard factory set sights, the only choice you get is what comes on the gun, the white dot sights or solid black irons. Bright colors can help you to focus your aim better. And, all dots don't have to be the same color. It's very common to choose the brightest green for the front sight and bright contrasting color like orange for the rear sights. This way, especially in darker conditions, all lights don't fade together and you can get a proper alignment.

It's easier to find your firearm in the dark with the night sights since they emit that constant glow. It really sucks to be fumbling around for your firearm in the dark when you wake up suddenly to the sound of the back door getting kicked in.

Low Light Conditions

This is the main reason for equipping night sights and makes for a huge difference if you're in a situation to defend your home. Being able to see the exact direction you're shooting quickly is very important.

While it's not going to light up the target you're aiming for you have to experience using Glock night sights to really grasp how effective they can be.

Works During Daylight Hours

With the misconception, night sights are less effective during the day or that they don't work at all we had to put this one here.

During daylight hours your night sights will function as enhanced normal sights. I say enhanced because even during the day they're an improvement over the standard sights that come with your Glock.

Quality Sights

With night sights being extremely popular they're being made in high-quality materials that are often better than the default. As long as your sights are coming from a reputable manufacturer it's very likely to be a complete upgrade across the board.

Colors

Not everyone does well or likes the standard night sight color. The good news is these night sights can be found in a wide range of colors from yellow, white, orange, etc..

Drawbacks to Using These Sights

Drawbacks to night sights are few and far between. Fiber optics are rather fragile and the filament needs to be replaced about every thousand rounds or so, but the rods are inexpensive.

Also, you can see the glow of the tritium sights through clothing, depending on the clothing, and that may not be desirable. Finally, night sights are overall less budget-friendly than regular irons, but most people will attest that they are well worth it.

Expense

While there aren't really any negatives for night sights the one thing that does stand out is the price of them. These sights can be expensive and not all sights are going to fit into everyone's budget.
Commonly Asked Questions
What is Tritium? – Tritium is a radioactive isotope of hydrogen. When used in night sights, it is contained in a little glass lamp that usually has some sort of a phosphorescent coating. Tritium emits it's own light and will glow in low light or no light conditions without the use of batteries or any type of charging involved.
How long will Tritium last? – Tritium has a half-life of twelve years, so every twelve years it is only half as dim as before.
How do fiber optics work? – Fiber optics are thin glass or plastic fibers that catch existing ambient light and reflect it back outward. These also have no need for batteries or recharging, however, they cannot work in complete darkness conditions.
Are fiber optics night sights? – Yes, to some extent. Fiber optics require an existing light source in order to work because they capture that light and reflect it back out. They are no good in blackout conditions but work wonderfully when paired with tritium dots as total darkness back up. They help to give contrast and focus during daylight or low light scenarios.
Related: The 5 Best IWB Holsters For Glock 26
Conclusion
Night sights are incredibly easy to mount and use, and are very beneficial for taking aim in low light or no light situations. Some people would consider them essential for home protection or jobs where you may be forced to use your sidearm at night.
Whether you need a simple tritium dot only set or a fancy combination of tritium and fiber optics, with these top five picks, hopefully, you have learned everything you need to know about night sights and what to look for when looking for the best night sight for Glock 43.
If you enjoyed this article you'll probably like these: