With the rise in popularity, the .22 caliber handgun is receiving. More and more people find themselves in the market for handgun accessories. Namely different pistol scopes. Instead of letting you pour through the data, I did the heavy lifting for you. To bring you an answer to the question of which is the best .22 pistol scope.
Best .22 Pistol Scopes
Weaver Classic Silver Handgun Scope
WEAVER Classic Silver Handgun Scope (2x28 with...
Made of the highest quality materials
Hunting scopes pistols
Another quality Bushnell product
Fully multi coated lenses for optimum edge to edge clarity
Nitrogen purged tubes to eliminate internal fogging
With a beautiful classic silver finish and accuracy as good as it looks. It's no surprise to find this scope on our list. It offers a generous eye relief at arm's length with reliable accuracy. Which is important for any scope. The fear of having to re-zero the scope after every 20 rounds is eliminated in the security this scope provides. This scope is also as clear it comes. Making it an easy rival of more high-end scopes like Leupolds.
It also boasts some incredible durability and is made entirely of a single piece. Making it just as good as some of the more expensive scopes out there. However, if you plan on hunting game at more than 150 yards with a handgun then maybe try finding a better scope. Although most likely, you would need a more high powered rifle than a handgun.
Also featuring ¼ click-MOA adjustments. Which makes sighting in an absolute breeze. Include the Dual X reticle and it's a real winner. Made for use in any environment and it stays as ready as you. Given that you zero the scope correctly.
Pros
Clarity even while magnified
Repeatable accuracy
¼ click-MOA adjustments
Cons
Turret adjustment clicks almost inaudible
Doesn't include lens covers with purchase.
Simmons ProHunter Truplex Reticle Handgun Scope
Simmons ProHunter Truplex Reticle Handgun Scope,...
Beautiful design and durability built to last. Shockproof construction
Multi-coated optics and high-quality optical glass provide the brightest, sharpest image in its class
Exclusive TrueZero windage and elevation adjustment system for a locked in zero that lasts through even the most extreme...
Raised tab on power change ring provides an easier grip and surer adjustment
Waterproof, fogproof and recoil-proof to 1,000 rounds from a .375 H&H magnum rifle or 12-gauge slug gun firing a 3.5" shell
Another scope to make our list of the "best .22 pistol scopes". The Simmons differentiates itself by its TrueZero Flex Erector system. It provides a non-shifting point of aim at different magnifications and adjustment settings. While also still being proofed. I'm not telling you to submerge your firearm before trying to use it, but stuff happens, and rain is a thing. So don't take your scopes proofing lightly.
This scope is durable and clear. Providing images faster, flatter, and wider due to the Simmons Aspherical lens. With a high light transmission coating on the lens. For around $100 you could get yourself this gem. Which is most likely easily able to be mounted to your handgun with no extra assembly required after.
This scope is also very durable and has been known to be able to take a beating. It's common when hunting or transporting your pistol that it can be banged up or tossed around. Though, there is nothing to worry about when it's this guy taking the beating. Regardless of how durable it is, however, the windage and elevation adjustment knobs protrude a bit too much from the weapon for my liking. This doesn't hurt the quality of the scope mind you. It just created a bit of an uncomfortable feeling when holstered. That took some time to get used to.
Pros
Non-shifting point of aim
Fast and clear target acquisition
Cons
Windage and elevation adjustment knobs are bulky
Best if used with lower powered handguns
Related: Best Optics For AR Pistol 
Simmons ProHunter Truplex Reticle Handgun Scope
Simmons ProHunter Truplex Reticle Handgun Scope,...
Quality optics with stunning hd clarity
100% quality materials used and tested extensively
Beautiful design and durability built to last
Multi-coated optics and high-quality optical glass provide the brightest, sharpest image in its class
Exclusive TrueZero windage and elevation adjustment system for a locked in zero that lasts through even the most extreme...
This scope enters our list right after it's silver counterpart. With quality optics giving way to stunning HD clarity and being rigorously tested its clear to see why this scope performs so well. It's also matte black highlighting it's beautiful design and durability.

It uses a very high-quality glass and a multicoated lens to provide an unrivaled sharpness and brightness. Which had helped to make this scope stand out from others in a similar price range. It uses the same TrueZero system that the silver scope does. Giving it that repeatable accuracy most come to love when using a Simmons scope, and features raised tabs on the power change ring to give more grip and surer adjustments.

These scopes are quality control tested to be recoil proof up to 1000 rounds. Meaning that a broken reticle or higher powered round isn't going to cost you money. Allowing you to familiarize with the scope itself and improve that accuracy we had talked about earlier.

Great beginner scope without breaking the bank. Although I have heard that viewing this scope while being off angle gives a very distorted picture. For most people, this isn't a big deal, but if you need to keep an eye on the target and move a lot you may find this scope to be a bit difficult to use.
Pros
Lightweight
Durable
QA tested
Cons
Off angle view distortion
Eye relief can be lacking depending on the user
Bushnell Trophy Handgun Scope with Multi-X Reticle
Bushnell Trophy Handgun Scope with Multi-X...
Fully multi-coated optics and rain guard HD offer 91% light transmission in any weather
100% waterproof, Fog proof and shockproof 1 inch one-piece tube construction with integrated saddle
2-6X magnification with multi-x reticle and 20 inch eye relief in Silver
Fast-focus eyepiece and 1/4 MOA fingertip windage and elevation adjustments
Backed by Bushnell no Questions Asked Lifetime Warranty
In talking about scopes you'd be hard pressed not to find a Bushnell or 2 included in any list of the best. The brand itself stands behind every product it manufactures. Boasting it's no questions asked lifetime warranty. Which trust me, out on the hunt it's best if they aren't. Aside from not asking the question, it speaks volumes about a piece of equipment designed to take a beating; that is also backed by a lifetime guarantee. Craftsmanship at its finest in every scope produces.

It also provides 91% light transmission. Giving you the absolute best shot regardless of the environment. It also has a rain guard HD lens coating to give extra clarity in harsh weather. With thanks being given to the If you find yourself in a tough spot then this should be the scope you hope to have on your handgun. With it's 1" tube design being O-ring sealed and filled with dry nitrogen. I can understand why its fog proof.

Equipped also with a fast-focus eyepiece and side-parallax adjustment. Trophies are exactly what you dial in when adjusting this scope. Which Bushnell has made as easy as mounting the scope itself. Making this the perfect scope for the hunter of any experience level.
Pros
Easy to mount
Lifetime no questions asked guarantee
91% light transmission for crystal clear images
Cons
Reported problems with shipping causing damage
Related: How To Make a Concealed and Carry Holster 
Hammers Long Eye Relief Pistol Scout Scope 2-7X32
 If eye relief is your biggest issue then this is the scope to solve that problem. It is also the cheapest scope on this list. However, do not let that deter you from checking this guy out. It's worth every penny. While being used mostly for target shooting than actual hunting.
Providing a zoom from 2-7x and that generous eye relief this scope is just as suited for a handgun as it is for an actual scout rifle. While also having a thin fine line reticle to give spot-on precision when aiming. However, this scope has been found to be less durable than more expensive scopes.
Namely due to the quality of the material used to manufacture them.
That same level of quality isn't found in the craftsmanship of the scope itself, however. For the price, if you are looking to knock out a couple targets on a nice day at around 25 yards then you got it.
If your more advanced or looking for a scope that is more towards the higher end of the spectrum and price isn't an issue. Then I advise you to go check out 1 of the other scopes I've listed for you.
Pros
Great for Handguns and Scout rifles
Good in a maintained environment
Best price for beginners
Cons
High recoil has been known to damage reticle
May need to be re-zeroed after multiple uses
Flimsy mounting rings
What Makes The "Best" The Best?
From beginner to the expert hunter the scope makes all the difference. So before you go throwing your wallet at the cashier lets talk about what you want to get first. In order to do this, we need to take into account the type of shooting you're going to be doing.
Field Use
Unlike a rifle scope, the .22 handgun is used at closer distances. However, a clear and accurate scope could be the difference between going home hungry and not. So before you buy identify the ideal range of shooting you'll be doing.
It's also important to take into account "how" you will hunt. Do you have a stand or are your boots on the ground? Most scoped handguns are used with a solid rest or shooting stick. So it may not be the most ideal fit if you plan on "running and gunning" as the kids say these days.
However, using a scope on a handgun increases the accuracy of the shooter. This is more so because the scope makes you go through the steps of fully aligning the target and increasing trigger control. Then is it due to the clarity of the scope itself.
Clarity
When talking scopes clarity is always a hot topic. If your scope is not pressure sealed or very susceptible to fog and water intrusion then you are missing out on a lot. The clarity of the scope is mainly defined by the glass used and the view of the field from a magnified perspective.
If you can't see you can't shoot and clarity is the game changer in the scope world.
Ensuring that your scope has been pressure sealed and proofed will help in making you get the most for your money. Many early morning hunts have had to be postponed due to lens fog and water damage. If you're going to be using your scope in less than friendly environments. Then keep the idea all around clarity on the forefront of your purchasing process, and you won't be let down.
Can I Even Mount A Scope On My .22 Pistol?
This question is asked because of the size limitations that come with trying to mount a scope on a handgun. The limited space means that eye relief is scarce and movement is amplified when looking through the scope.
Although you may be able to find a rail and mount to use for your scope. It doesn't mean that it will come without extra work. Such as misaligned grooves or some assembly required.
Now that you found you could mount it. You're most likely asking what the purpose of the scope is, to begin with. The scope helps shooters properly control each and every shot before it leaves the barrel.
This emphasizes the mistakes you would make while shooting and allows you to easily correct them. Improving accuracy and confidence while shooting. Think slow is steady and steady is fast.
Amount Of Recoil And Weight
Being a pistol you can't just butt it to your shoulder to stabilize it like a rifle. So it's important to look at the amount of recoil your firearm produces and the weight of the attached scope.
At a full arm's length, a 2lbs scope can easily feel like 100 after just a few seconds. Add increased recoil due to the increased weight and you have the formula for your perfect scope.
It's also important to take into consideration because like a rifle scope the pistol scope must also be zeroed in before use. With the high recoil of a handgun, this zeroing may have to be done numerous times. Unless you find a scope that can lock it in after the first time. Which I recommend but isn't always the easiest to find.
Related: Best Night Sights For Glock 43
Price Point
I've found different scopes for different price ranges. Keep it in mind, however, that the best scopes generally aren't the cheapest.
Although I am confident I have found you the best 22 pistol scope for the best prices, it may come down to user preference than item quality to truly define the best.
This list is just what I have found to be the best for any budget, and I'm sure if you try 1 of these scopes out. You will agree with everything I've had to say.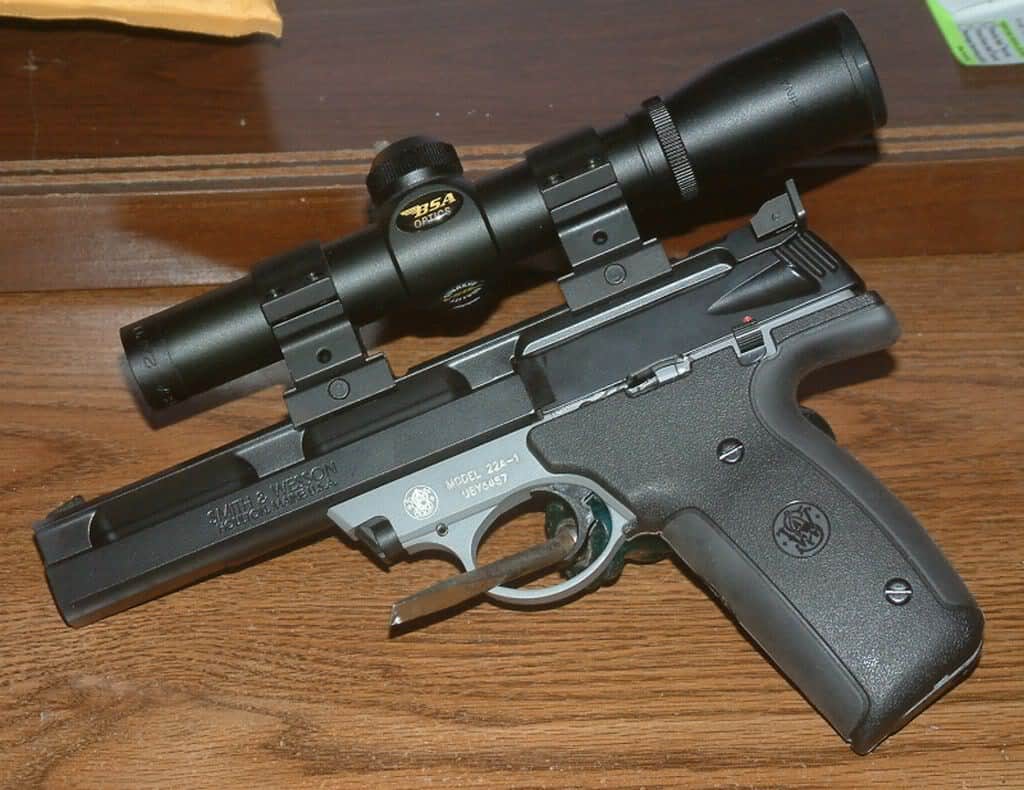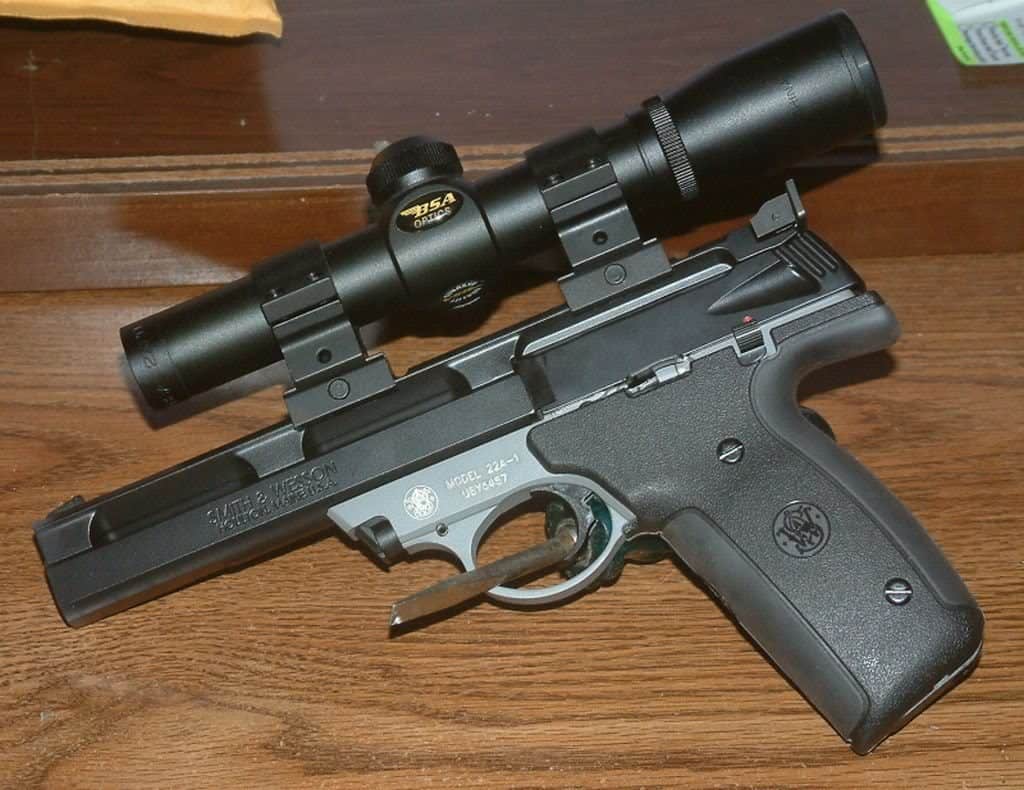 So Which Is The Best .22 Pistol Scope?
Like I said earlier a lot of it is up to personal preference. If you have the clarity but don't need the additional eye relief then you're perfect scope isn't going to be the same as mine. The best way to find the best 22 pistol scope is to try them out yourself. Starting from this list you should identify what you doing and the give the scope best suited to your task at hand a try.
No matter what though, you will not be disappointed. Because every scope I've listed for you is the best 22 pistol scope for each individual task the scope aims to complete. I hope you found this information useful and until next time. Happy hunting!
If you enjoyed this article you'll probably like these: