Alright! You got that new Glock 26 and you got your license for concealed carry if you need it. Now, it's time to find a holster for that beautiful piece so you can carry confidently! We're here to help you determine which IWB holster is the best IWB holster for Glock 26 based on your individual preferences. Let's do it!
Consider This Before You Buy
Before you make a purchase on anything there are always things to consider before spending the money. We've laid out these ideas you should think about before purchasing your IWB holster for your convenience so you can know exactly what you're looking for when you're ready to make the purchase.
Comfortability
When it comes to an IWB (inside-waist-band) holsters, comfortability is a huge factor! Most people use these for concealed carry weapons and that would imply you might be carrying around the equipment all day, every day.
So, it's good to know that OWB (outside-waist-band) holsters are generally more comfortable than IWB holsters, but they are more difficult to conceal and require a strong belt to hold the holster and gun without stretching or sagging.
It's also a good idea to wear pants that might be one size larger but usually, this is not necessary. As long as your gun fits nicely in between your jeans and your body you should be fine even with adding the holster.
Make sure to consider your environment as well when determining the most comfortable holster for you. A leather holster is generally considered more comfortable than the Kydex material which is a type of thermoplastic. However, Kydex can be more comfortable than leather in a hot and humid environment, so keep this in mind.
There is also Boltaron plastic material which is flame retardant, resistant to acidic chemicals and has claims to be more durable in harsh environments than Kydex material. This video here will cover the difference between the two types of plastics to help you get a feel on if you would prefer to go with a Boltaron holster over Kydex:
Not only is it important to take into account how comfortable is but on a general level, it's good to also know exactly how to attach the holster. We attached this video to help you put the holster on in a safe and effective matter:
IWB vs OWB
The Glock 26 is one of the most highly sought after concealed carry weapons. This is largely due to its size and ergonomic handling despite its small magazine size. It's good to consider why you might be purchasing an IWB as opposed to an OWB.
The main reason that people would get an OWB instead is due to the comfortability. They don't want to buy larger pants and they don't like the feeling of the holster inside of their jeans. However, an IWB holster is going to be much easier to conceal than one that is OWB.
So, it depends on what your wardrobe looks like but if concealment is your primary concern for the Glock 26 an IWB is going to be for you.
IWB Holster and Open Carry
The IWB holster is primarily used for concealed carrying. This is only because it is so easy to conceal the weapon once you have it installed by just draping a shirt over it. However, this doesn't mean that open carry is not an option.
Open carry just means that the gun is clearly visible and part of the gun can still be covered, as is the case with an IWB holster. So, if you don't have a concealed weapons license for your Glock 26 and IWB holster will still work for you but since most people get the Glock 26 for concealed carry you're probably already licensed and ready to go. If not, just make sure your shirt isn't covering the weapon!
The Glock 26 With An IWB Holster
The Glock 26 is compact and smaller than what is considered a full-sized pistol. This is why they are extremely popular as concealed weapons and you can be sure that it will be comfortable as opposed to other types of weapons that you might carry as a concealed weapon.
A lot of police officers exercise open carry with a full-sized pistol with an OWB holster which compliments perfectly for a Glock 26 that's being concealed.
The Design
Another thing to consider with the holster itself is the design of it. You want to make sure that the holster is going to create a complete barrier between your body and the gun itself. Things like moisture and dirt can become a problem for your gun and if the gun is contacting directly to your skin this is going to become an inevitable issue.
You also must ensure that the type of holster you get is secure. There are some holsters that are designed specifically for alternative clothing, like sweat pants for example. These holsters are generally designed with some sort of magnetic clip that clips onto the side of the alternative pants or other clothing and is held there securely.
When you draw from the holster you want to ensure you are able to acquire a firm grip on the pistol. You should not have to alter your grip at all once you pull the gun because you will begin firing almost immediately. With all these things in mind, you are well on your way to getting the perfect IWB holster for your Glock 26!
The Best IWB Holster for Glock 26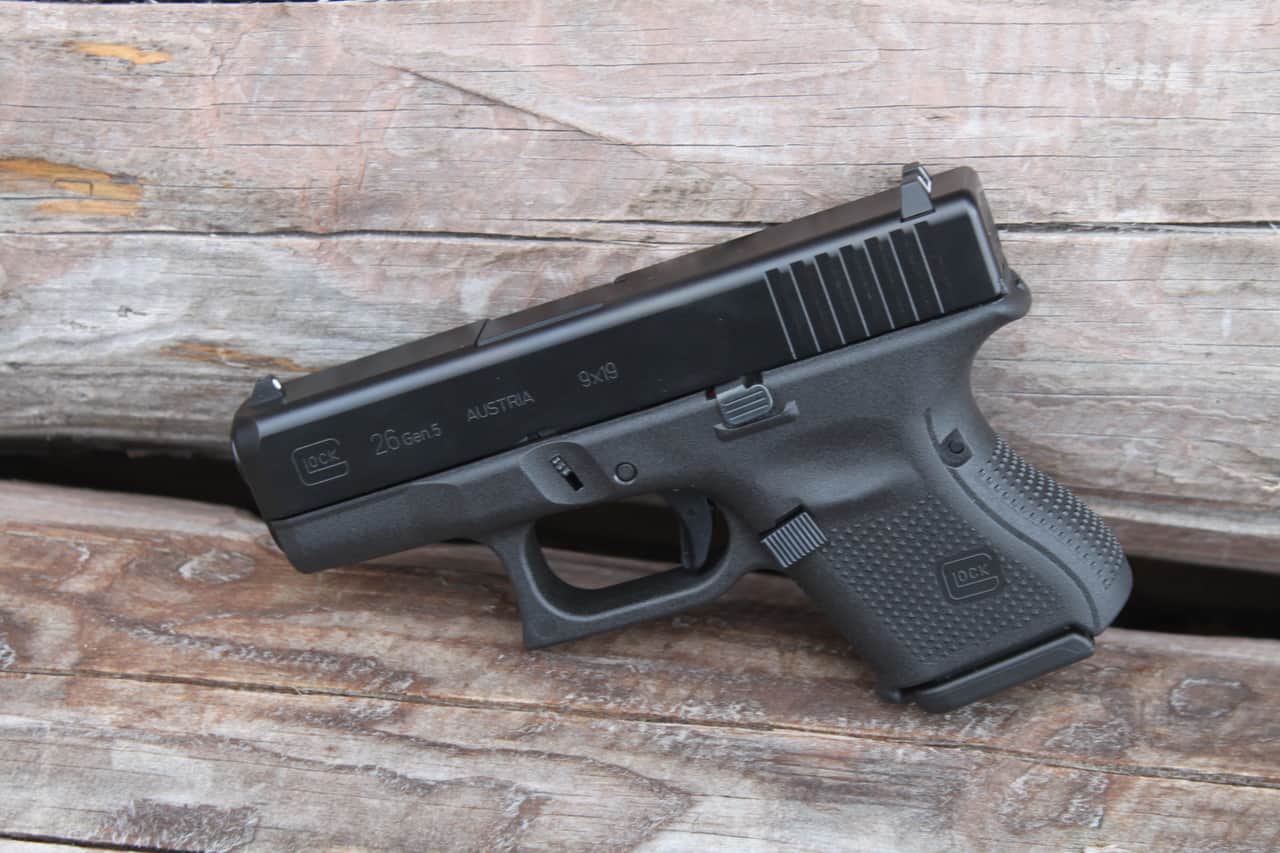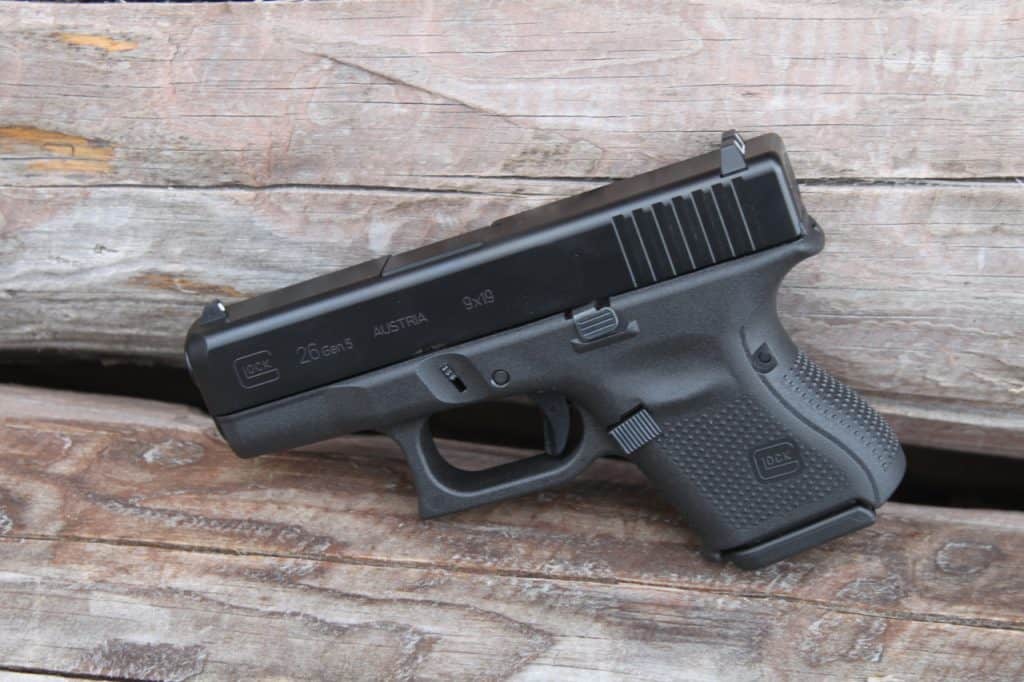 The Relentless Tactical Defender Leather IWB Holster
The Relentless Tactical Defender is made in the USA and with real bullhide leather. The company who makes it, Relentless Tactical, backs up this handy piece of equipment with a full lifetime warranty so you know the quality is there.
The holster fits a large variety of different gun models and it for sure fits your Glock 26! If you have other guns of similar size it will work for these ones too.
Customers are saying that the leather is good quality, although it's not the quality of super high-end leather you're also not paying the price for top of the line leather, either. A few customers have had issues with the holster fitting their gun properly because the trigger guard is essentially too large and creating a large dent which could lead to issues down the road.
One last thing to consider is the clip that clips the holster to the inside of your belt. It appears that the clip is put on with a seam which could indicate that the life expectancy of the clip may not be as long as you like.
The good news? Customer service for Relentless Tactical is awesome! One customer had their clip snagged and bent it beyond repair and when he contacted customer service they sent him another clip for free! That's a true lifetime warranty. Relentless Tactical has got your back if anything goes sour with your experience with this holder.
Pros:
Genuine leather
Fits large array of gun models
Lifetime warranty
Amazing customer service
Cons:
Holster clip has weak spots
Some customers have had trouble fitting their particular gun model
Concealment Express IWB KYDEX Holster (Multiple Models)
The Concealment Express IWB holster is also able to fit a variety of gun models and can be carried in a multitude of ways. This includes the appendix, hip, cross draw and palm in back carry styles, so it'll work for whatever works best for you.
The material itself is a Kydex which is the thermoplastic material that might work better for you comfortability wise in hot and humid environments. It even has a sweat guard and is coated in black oxide to give it corrosion resistance against the elements.
You can even adjust the retention and the way the gun carries in the holster simply with a Phillips head screwdriver. Customers are enjoying the adjustability so you can adjust the way the gun carries depending on if you're using an appendix carry or hip carry or any other variation.
It's been reported to be very slim and minimalist and the sweat guard does a good job of keeping the sweat off of the metal of your gun and keeps any metal from actually touching up against your body.
People find the holster generally comfortable, although one does say that it's definitely more comfortable with an undershirt on in between the holster and your skin. Also, a key element as in most holsters is that it does cover the trigger well to ensure nothing is going to accidentally get into the trigger range which can increase the chance of an accident.
Pros:
Fits a multitude of gun models
Sweat guard so that skin does not touch metal
Adjustable retention and carry angle
Multiple carrying styles
Slim/minimalist
Cons:
Comfortability is less than that of a leather holster but works well if you have an undershirt
Fierce Defender IWB Kydex Holster
Fierce Defender's IWB Kydex holster is another holster made from the Kydex material. As with all Kydex holsters they are specifically designed to hold your gun in a sturdy fashion. The retention and carry are also adjustable and fitted for multiple styles of carrying.
Customers are saying that the holster is as comfortable as a hunk of metal and plastic can be while being shoved in between your body and waistband, so that's a plus. As with some of the other Kydex holsters, it's good to check inside before you put your gun in. The reason is that there can be sharp edges on the holster that you may want to file down before putting the gun in to ensure you don't ruin the finish of your gun.
Most people are preferring the holster in the appendix carry position and find the most comfort and efficiency when using this style of carrying. Customers are also saying that the clip that clips on to carry the holster seems effective but could do with some reinforcement, or even new design.
As far as the Glock 26 customers have specifically stated that it fits the gun perfectly so you can be sure that you don't have to play guinea pig on this holster. It's always good to know what others are experiencing if it's available.
Pros:
Multiple carry styles
Adjustable retention and carry
Fits the Glock 26 perfectly
Kydex material formed for a perfect fit to your gun
Cons:
Check the inside for sharp edges because they sometimes need to be filed down
CYA Supply Co IWB Holster
The CYA Supply Co IWB holster is Boltaron material holster with a stainless steel coating that is designed for a right-hand draw. It is made specifically for the Glock 26, 27 and 33 just so you know. It has the adjustments available for retention and also the carry angle so you can modify it to your personal preference.
The CYA Supply holster has an audible "click" when you put the gun in the holster so you can be sure that it is locked in and secure without having to look at it, but this doesn't make the gun hard to draw. It also has a sweat guard that covers the full length of the slide so you don't have to worry about sweat from your body contaminating the gun or the holster.
The return policy is no questions asked and a lifetime warranty so you can be sure that it's manufactured with care! However, make sure to take note of the tension. It's always safe with a new holster to loosen the tension on a new holster before putting your gun in to avoid any scratches on your Glock 26.
It also has an additional belt clip so you can just unclip it off your belt to re-holster the gun if you wish. It's not necessary of course but it reduces the chance of any foreign object getting into the trigger guard and causing a negligent discharge.
Some customers are saying there's extra material where the trigger guard is and it can actually make it painful to draw the gun which could deter people away from purchasing it. Also, customers say the belt clip doesn't have very much 'grab' and multiple have reported the holster comes off when they draw the gun and so the holster is still attached with no access to the trigger guard when you draw your weapon.
Pros:
Boltaron; resistant material
Retention and carry adjustments
Audible click when you reholster
Sweat guard
Cons:
Design has caused the drawing of the gun to be painful to some customers
Belt clip is reported to not have a very strong grip
Concealment Express IWB KYDEX Holster (Glock 26, 27, 33)
This model of Concealment Express IWB Kydex holster is designed specifically for your Glock 26 and also the 27 and 33 as opposed to their one size fits all version. It also has a multitude of ways you can carry depending on where you place the holster!
This model also includes an audible click where the trigger guard clicks in and secures into the holster saving you that extra look at the holster. It's also got a nifty sweat guard installed and is coated with black oxide to help its resistance against the elements and comes fully packaged with that lifetime guarantee!
This one does require a belt but the majority of IWB holsters are like this, they just don't really mention it. People are extremely happy with the draw from the holster and say that it reholsters really easily and completely covers the trigger.
Some customers are saying that the clip itself that goes on your belt kind of adds bulkiness to the holster unnecessarily which might be a deterrent. The clip could be attached beneath the trigger guard which would limit the bulkiness and make it more minimalist.
Other customers also say that there is too much plastic around the muzzle end. Some people have returned or bought other holsters because they believe it to be unnecessary and it tends to poke and jab them in the thigh.
Pros:
Made specifically for your Glock 26
Audible click that informs you the gun is holstered and secure
Lifetime guarantee
Easy draw and reholstering
Cons:
Belt clip adds unnecessary bulkiness due to position
Customers say there is too much plastic on the muzzle end that pokes and jabs them
Common Questions
Can I go without a holster? – Some people consider going without a holster entirely and just slipping it into their waistband. We wouldn't recommend this. The point of a holster is to cover three primary objectives.
These objectives are 1.) Keep the gun from sliding down your pants 2.) Keeping the guns handle in one spot where you will expect it to be and 3.) Keeping the trigger covered and protected.
Looking at the first 2 objectives you can see why a holster would be useful and the third one can even save your life. Be responsible, get a holster, and don't turn into one of those stories of one of the guys who shot himself in the crotch or legs while checking out at Wal-Mart.
In Conclusion
Now you should feel well informed on which holster is the best IWB holster for Glock 26 handgun! It's important for it to be comfortable, or you won't wear it, but it's also important for it to be durable and effective!
You've learned why an IWB holster might be best for your Glock 26 and if you want to use it for concealed or open carry. Either way, it will work! We wish you an easy road to purchasing your next awesome holster and as always…stay safe!
If you enjoyed this article you'll probably like these: