There are a lot of different ways to carry, and we all have our favorite. There are always different ways you can choose to fit your style and body. The small of back carry is one of the most forgotten but still common options to carry.
However, not all holsters work well with this type of carry. Lucky for you, we've created a list of the 5 best small of back holsters and everything you need to know about them. 
REVIEW OF BEST SMALL OF BACK HOLSTERS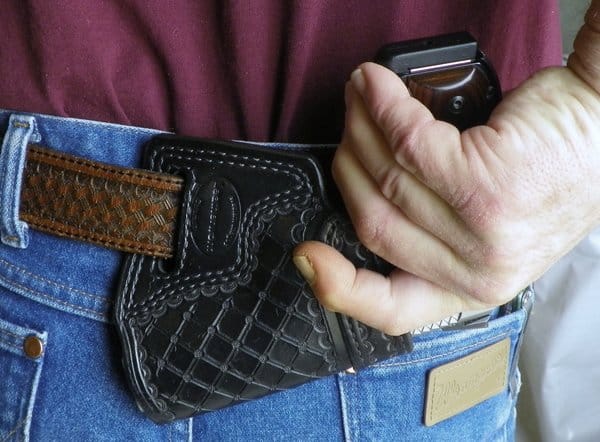 Keep these features in mind as you read our breakdown of the 5 best small of back holsters. The reviews tell you about the design of the holster as well as actual user experience with the product.
DESANTIS SMALL OF BACK HOLSTER FOR GLOCK 26/27/23
Desantis made an above average priced leather holster specifically for the SOB carry. Made completely in the United States, this holster loops through belts up to 1.5" thick.
Like most SOB holsters, this one is meant to be worn butt-up for safety. It also helps the holster be more easily accessed in an emergency.
The gun rides at a strong cant for quick drawing ability, and the adjustable retention keeps the gun in place as you move throughout your normal day. A tension screw adjusts the retention with a Phillips screwdriver.
This holster comes in tan and is right hand oriented. If you're left-handed, look somewhere else on this list.
Keep in mind this holster is designed for Glock 26/27/23. Other models may fit well, but it's not guaranteed.
Customers have this to say:
Positives Recap for This Product
Comfortable leather
Quick draw
Fits Glock models listed tightly
Easily concealed
Negatives Recap for This Product
Difficult to attach to belt
GOULD & GOODRICH G&G BACK HOLSTER 806
Sale
This Gould & Goodrich back holster may stretch your budget, but it comes with some useful features. It's designed to conceal easily and stand the test of time with its high-quality Gold Line leather.
The back holster is designed to fit the Glock 17, 19, 22, 23, 31, 32, 36, and it comes in right and left-handed models. There's also an option for several SIG models.
The holster fits up to a 1.5" belt with an adjustable tension screw to make sure the retention is just how you like it.
Here's what users' experience boils down to:
Positives Recap for This Product
Nice leather
Tight retention
Easy access, draw, and reholstering
High-quality craftsmanship
Negatives Recap for This Product
The outline may be visible through certain clothing
Difficult to get on and off a belt
FREEDOM TACTICAL MAGNETIC RETENTION COMFORTABLE BELLYBAND STYLE GUN HOLSTER
FreedomTactical Magnetic Belly Band Comfortable...
UNIQUE DESIGN FOR MAX COMFORT: Smooth nylon-plastic flexes to fit contour of back and spreads pressure evenly to eliminate...
MAGNETIC RETENTION: Strong neodymium magnets hold gun in place ** Gun only comes out from sustained horizontal pull during...
COMPLETE CONCEALMENT AND SAFETY: Gun disappears into recess of lower back under any basic shirt ** Gun stays in uncommon...
FULL MOBILITY: Allows full unrestricted range of movement and mobility during standing, sitting, jogging, sprinting, or...
FITS MOST GUNS: Excellent fit for all Glocks and similar fullsize, compact, and subcompact polymer-framed semi-autos with...
The bellyband style of holster is a special kind of SOB that carries the gun in an elastic band that stretched around your abdomen. Freedom Tactical has done a lot to make this affordable holster the most unique holster on our list.
The adjustable and easy-to-clip-on band can fit stomachs from 22-50 inches. Because the band spreads the weight and pressure evenly, your chances of back pain decrease.
As the gun rides in the curve of your lower back, it's easily concealed. This model is right-hand only, and the gun rides butt-up and horizontally. If this doesn't work for you, you may want to check out another holster.
Another benefit of the band is that by holding the gun slightly higher than other SOB holsters you can wear this while sitting more easily.
One of the impressive additions to this holster is the magnetic retention. A neodymium magnet holds the pistol in place and prevents holster grabs. The magnetic is only released when you draw horizontal with sustained effort.
This holster is designed by Freedom Tactical to fit many Glocks and Smith & Wessons. The company also claims that it fits most full-sized, compact, and subcompact pistols. They do NOT recommend using this with revolvers.
Positives Recap for This Product
Lightweight and comfortable
Easy draw
Strong magnetic retention
Stays stable in the car and while running
Negatives Recap for This Product
No consistent critiques were found
PRO-TECH OUTDOORS CONCEALED IWB HOLSTER
Pro-Tech Outdoors opted for making a nylon SOB holster. Normally, you won't find one like this on a top 5 list, but the very affordable price combined with the features added into this holster is why it made the cut.
Pro-Tech double stitched the strong-bonded nylon to help make it stiffer and more durable. By turning the edges under, this holster is designed to avoid fraying. On top of this, the company offers a 30-day money back guarantee just in case.
The holster is low profile for easy concealment and rides vertically as it attaches inside your waistband. The strong metal clip secures to your belt, but the clip can be removed and fastened to the other side making this a right and left-handed model.
For the price you pay, you end up getting quite a bit. This holster is built to fit most Glocks and may hold other pistols of comparable size.
Positives Recap for This Product
Fits pistol tightly
Holster is tough and durable
Well-concealed
Easy draw and accessibility
Negatives Recap for This Product
Sight may get caught when drawing on some models
Hard to clip holster to your belt
ADVANCED PERFORMANCE SHOOTING HOLSTERS ASOB (BLACK)
Advanced Performance Shooting Holsters ASOB...
Custom made from the ground up. Even the belt loops!
All Day Comfort!
Super strong kydex hand-crafted in the U.S.A.
Virtually unbreakable design, even with hard use.
See our matching custom magazine pouches by searching: advanced performance shooting magazine pouches.
Advanced Performance Shooting made this almost-small-of-back (ASOB) holster to get the best of all worlds. Like an SOB holster, it's easily concealed and out of the way. As with OWB, this holster provides quick access and comfort.
The ASOB holster is made from Kydex, the most common and strongest synthetic material for holsters. As such, it's molded to fit most pistols for strong retention without sacrificing draw speed.
Advanced Performance backs up their medium-priced holster with a lifetime warranty. This holster comes in both right and left-hand orientations, but aren't meant to fit pistols with red dot optics.
They kept law enforcement and military in mind as they designed the ASOB holster. The USA-made product balances concealment, durability, retention, and draw speed while avoiding pressure on the spine and lower back as with most SOB holsters.
Check out what customers say:
Positives Recap for This Product
Great retention
Rides close to body and comfortable
Out of the way and easy to conceal
Durable material
Negatives Recap for This Product
No consistent critiques were found
PROS AND CONS OF SMALL OF BACK CARRY
There are people out there who dislike small of back (SOB) carry and those who love it. Ultimately, you can do what you want, but it's worthwhile to look at both sides before you decide.
Pros of SOB Carry
Easy to conceal when wearing an open coat such as a suit
Stays out of the way while walking and moving
Good choice for a small backup gun
Cons of SOB Carry
Can get in the way when sitting down
Can aggravate preexisting back pain
If you decide you want to SOB carry, rest assured that our review in this article can help you find a holster that works for you.
FEATURES OF SOB HOLSTERS
When searching for the right SOB holster, it's always good to know what you're looking for. Reading about the features below can help you make the best choice, so you don't end up with a holster you're never going to wear. That's just a waste of money, and we don't want you to do that.
DRAW SPEED/EASY ACCESS
When you choose to carry, you're taking on the responsibility of being ready in case of an emergency. You're willing to step up and do what needs to be done. But is your holster going to let you?
With an SOB holster, draw speed and access are extra important. It takes extra effort to bring your arm around and draw from behind your back.
This draw time can be made worse if the holster blocks your drawing ability. This can be done by having too much material around the grip or having too tight of retention.
Another thing to watch out for is where the holster sits. If the holster can't be reached easily, then your draw speed is going to suffer even more.
MATERIAL/DURABILITY
Durability, or how long a holster can last, is dependent on two factors: craftsmanship and material. If you're dropping the cash for a holster, you want one that lasts over time and doesn't get damaged from repeated use.
Holsters typically come in four types of materials:
Leather – This material usually costs more but it looks great and lasts a long time. It takes some wearing in at first, but it's comfortable once broken in.
Synthetic – A polymer, usually Kydex, holster often has great retention and is resistant to weather and damage. The stiffer plastic material is not as comfortable, but it is typically cheaper.
Hybrid – These holsters often combine elements of leather and synthetic. They may cost more, but they try to get the best of both worlds.
Nylon – This material is soft and inexpensive. When double-stitched, they can hold up decently well but are usually considered a budget option.
CANT/ORIENTATION
When it comes to SOB carry, the cant or angle of the handgun is important. Depending on your own drawing habits and body type, some angles actually make it dangerous to carry.
There are special considerations to think about when drawing from the small of your back. If you're wearing it at an angle, it's easier to draw but more likely to slip out and vice versa.
Also, depending on your dominant hand, make sure you pick the correct orientation to match you. It'd be a shame to get an awesome holster only to return it when you can't draw it because you're a lefty.
COMFORT
Small of back carry already has a tendency to cause back problems if you don't wear it correctly or if you already have back pain. Choosing a cheap holster may only make that worse.
Pay close attention if you think you're at risk for back pain as you read the reviews. We make sure to point out features and reviews about the holster's comfort level.
RETENTION
Imagine you drop your keys as you're walking into a building. When you bend over to pick them up, are you afraid your handgun may slip out?
If the holster has good retention, this isn't a concern. Check the reviews to make sure the retention is enough to hold the gun throughout the normal moving of the day.
PRICE
Holsters don't have to cost a lot, but some of them out there can break the bank. Check out the cost level for each holster on our list to see what's a good choice for your budget. High-quality holsters typically range from $30-100.
COMMONLY ASKED QUESTIONS
What kind of handgun should I wear with a SOB holster? – Actually, there is no right answer to this one. If your holster takes a full-size pistol and you want to carry one, go for it!
I advise you to remember that the more weight you carry, the greater the chance of back strain. If that worries you, opt for a smaller size.
How do I draw from SOB? – Depending on your holster, you may be drawing from a horizontal or vertical position. Either way, make sure you grip the gun firmly as you draw and keep the muzzle pointed away from your body as you bring it to the target.
As always, spend time practicing drawing and reholstering. It protects you and those around you.
CONCLUSION
We hope you enjoyed our review of the 5 best small of back holsters. Each one is unique from the other, so you need to think about what you're looking for.
If you're right-handed, the Freedom Tactical bellyband holster combines every feature you could want in a good balance. But if you're a lefty, it's unsafe to try to draw off-handed unless you have a lot of practice doing so.
On a budget? Go for the Pro-Tech IWB. It's one of the best nylon holsters on the market.
If you enjoyed this article you'll probably like these: