The Springfield XD 9mm is the handgun that performs. With the recent release of the XD-S Mod. 2 more people are finding themselves as owners or this firearm. If that's you then you need to ask "do I have the best holster for the Springfield XD 9mm?".
Best Holsters For The Springfield XD 9mm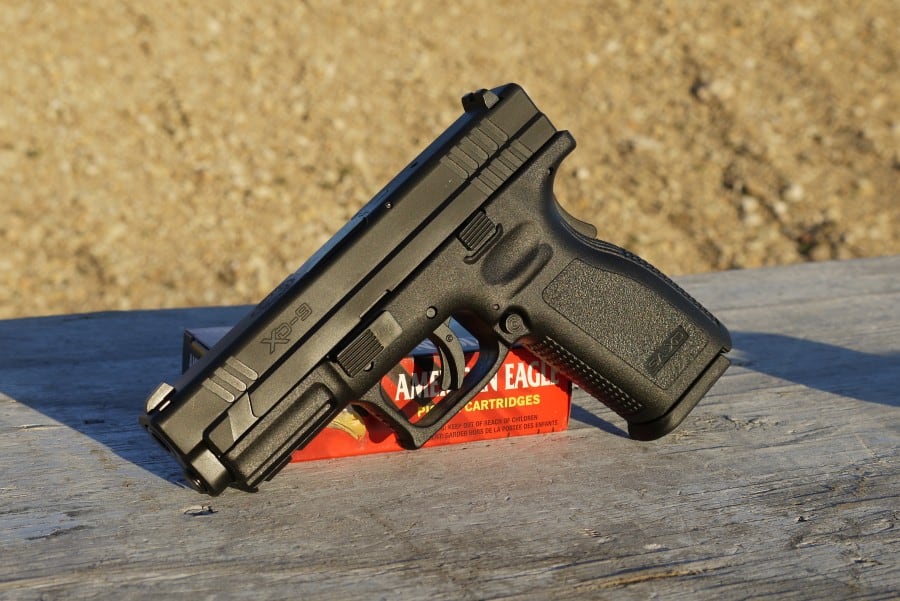 CYA Supply Co. IWB Holster
CYA Supply Co. Fits Springfield XD MOD.2 3"...
Fits Only: Springfield XD MOD.2 3" Sub-Compact - No Light/Laser Attachments (Right Hand Draw Only)
IWB Holster - Inside The Waistband - Easily Adjustable Retention Pressure & Carry Angle (Cant) 0-15 Degrees
Precision molds from CAD milled in house on our CNC. Made of .08" Thickness Boltaron Material - Belt Clip 1.5" wide - All...
Posi-Click' Audible Retention Lock System - Sweat Guard covers full length of slide
Made in USA - WE STAND BY OUR QUALITY: 100% Satisfaction Guarantee, No questions asked return policy and Lifetime Warranty.
CYA Supply Co. has outdone themselves with this holster. It has the slim and sleek low profile design that a concealed carry holster is supposed to have.
Boltaron is the name of the fire retardant, thermoplastic alloy used to make this holster. The material is said to be great for parts subject to high impact, scratches, chemicals, and harsh weather.
Using this material instead of the Kydex, the thermoplastic other holsters are made of, the designers were able to decrease the amount of surface area. Allowing the removal of major wear and friction points around the holster.
Includes an Allen key to adjust the cant of the holster from 0 – 15 degrees. As well as, adjust the retention of the holster by means of a tensioning screw.
Posi-Click audible retention lock system provides the shooter with an audible "click" to let you know the weapon is secure. Fits only 1.5″ wide gun belts with a sweat guard the runs the length of the side.
However. this holster is a right-hand draw only. So if you're left handed I encourage you to check out some of my other submissions for this list.
It was also made in America, and the materials used in making it allow the manufacturer to offer a lifetime warranty. Which is always a plus for something you use every day.
Pros
A thickness of .08″ makes this holster perfect for concealed carry
Made from Boltaron which is very resistant thermoplastic
Allows for quick and easy cant and retention adjustments
Lifetime warranty
Fantastic Price
Cons
No room for weapon attachments
Right hand draw only
Plastic can be abrasive to gun metal finishes
Safariland ALS Concealment Paddle Holster
Sale
Safariland 6378, ALS Concealment Paddle and Belt...
6378-319-411 Fits: S&W M&P(C) 9mm, .40 & M&P 2.0 .40
ALS (automatic Locking system) Secures your weapon once holstered and allows a fast draw
This holster rides close to the body for easy concealment
SafariLaminate construction makes the holster strong on the outside, while SafariSuede on the inside protects the firearm
This holster comes with a concealment paddle and belt loop
If you ever had the problem of using a holster and scratching the paint on your weapon, then you should consider a Safariland ALS paddle. Which has a suede lining to protect your iron sights and the paint.
Safariland also added their "Automatic Locking System" to the holster to increase the amount of retention. This system secures the weapon when it's holstered and lock it in place. That keeps it there until you disengage it with your thumb and draw the weapon.
Equipped with an ergonomically soft nylon paddle that is easy to use and just all around well made. The beefy exterior fits rather snugly when worn and doesn't feel like you have a lump on your side. Though the "concealment' aspect of this holster is thrown off by it.
Although you could open carry with this holster because the ALS system will stop anyone from trying to snatch it from you. While still providing a nice smooth 1 motion draw.
Fits 1.5 and 1.75 belt widths and is designed to take the beating that everyday life has to give. Possible due to their Safarilaminate structure and wrap around design. They say "provides the strongest design combination available".
Pros
ALS retention
Safarilaminate for structure stability
Optional paddle or belt attachment
Cons
Too bulky to conceal easily
Sits very low, so height may be an issue
Springfield Armory XD Gear One Piece Paddle
If your search for a good holster had you checking out the Springfield website then this might look familiar. It is a one piece black paddle holster designed for use with any model Springfield XD firearm.
People have walked, hiked, and ran while wearing these holsters with no problem. Something typically not expected of such a lightweight looking paddle. However, the form fit of the polymer is so exact that it retains the firearm without all the bulk.
The one-piece design adds to the rigidity of the holster. Which can cause some problems after years of routine use, but nothing significant enough to not consider owning one.
The paddle is comfortable and smooth which many prefer over a belt holster because they tend to be more top heavy. A finger groove on the holster helps build muscle memory on your draw.
It has an adjustable tension screw and is one of the only OEM holsters that comes highly recommended by those who use it. With the ease and simplicity of the paddle that can be slipped right off and set aside in places concealed weapons may not be legal.
Pros
Manufactured to fit all Springfield XD firearms
The paddle is form fitting and adjustable
One piece
Cons
ComfortTac Ultimate Belly Band
Ultimate Belly Band Holster (Black, Medium and...
AVAILABLE IN LARGE AND XL - Large neoprene band is adjustable and fits up to a 44" belly. XL fits up to a 54" belly. (Measure...
ONE SIZE HOLSTER IS COMPATIBLE WITH MOST FIREARMS - Surgical grade elastic holster is compatible with small subcompact,...
CARRY IN ANY POSITION - Can be worn inside the waistband IWB, outside the pants OWB, cross draw, appendix, 5 O'clock (behind...
RIGHT OR LEFT HAND DRAW - Bellyband Holster is available in right and left hand draw. Compatible with Glock 19, 23, 38, 25,...
HARD PLASTIC TRIGGER GUARD for extra safety while carrying. Accessory pocket and Movable Spare Magazine Pouch included. Metal...
ComfortTac created one size fits everything holster. The ultimate belly band holster is made up of a neoprene bad that is adjustable up to a 44" stomach with larger options available.
This might be the best holster for your Springfield XD 9mm, or any other compact, subcompact, or full sized pistol. It uses a surgical grade elastic holster to give a snug fit.
Pretty much anyone under 5'5" will appreciate this belly band. It is a nice contrast to bands that require your body to fit it, than it to you. The band allows you to move the holster as high or low on your body until you find a good position.
A metal clip is used to restrain the weapon in place. Personally, the idea of having to unbutton a clip before I can draw is not appealing. Although, customers have said in reviews that it isn't as bad as it sounds., and ComfortTec says that it can be safely cut off if undesired.
It comes with an additional magazine pouch that can be adjusted to wherever you like it most. So everything you need is always right where you put it.
The holster can actually be worn IWB or OWB and can be used with either your right or left hand.
Pros
User-friendly adjustments
Great for multiple weapons
Can be worn multiple ways
Cons
Metal Retention Clasp
Can slide while moving
Tagua SH4-630 Full Slide Shoulder Holster
Shoulder holsters are hit or miss with a lot of people. The very obvious nature of a shoulder holster requires a jacket to be concealed, but when you have the jacket this thing is virtually invisible. The fit of the leather harness is so snug against the body that it is actually comfortable to wear.
This holder is made from Tagua gun leather.  It has a durable and adjustable x-style harness. With a thumb break that has been reinforced to provide quick access.
The front molding and 2 piece construction are all leather lined and covered snaps prevent scratches. Also includes a molded double magazine carrier for additional magazines. However, some customers have said that the magazine is lose fitting in the pouch, but that seems like more of a positive than a negative.
This holster is great for a day at the range or on a long hunt because the weight is able to be carried across your shoulders instead of on your waist. Saving your lower back from the pain of carrying a gun belt around or being stuck inside a belly band.
Pros
Weight Distribution
Made from Tagua gun leather
Double molded magazine carrier
Cons
Hard to conceal without a jacket
The Holster and You
Being able to open carry your weapon is a privilege, and as a carrier, you need to respect that. Aside from following standard firearm safety procedures another way to do that is by having the correct holster.
There isn't really a "best" when it comes down to all the personal preference in holsters. However, I compiled this list based on the idea of "comfortable functionality". What's that? Let's dive into it.
Comfortable
For something that you are going to be wearing often and for long periods, you're going to want something comfortable. Which depending on you could be an IWB, OWB, Shoulder. Or Belly Band.
Inside Waist Band (IWB)
IWB holsters are usually attached to a gun belt via clips or hooks and conceal the weapon inside your waistband. These are good for keeping a low profile because well-fitting clothes almost completely conceal the weapon.
The concealment takes getting used to in order to efficiently draw from an IWB holster. However, a little practice is all it takes and they can be drawn just as fast as an OWB.
Outside Waist Band (OWB)
OWB holsters are a fan favorite for many law enforcement and military professionals. Statistically speaking though open carrying firearms deter crime i.e. Texas.
Traditionally worn on a gun belt outside of your waistband, these holsters have the most efficient drawing and punch out. Great if you want the presence of your firearm to be known, or to conceal with a nice overcoat.
Shoulder Holster
The iconic "detective holster" is a great choice if you wear a jacket. It allows the weight of the firearm to be supported by your shoulders instead of your waist.
Shoulder holsters are very customizable, that makes them great fits for anyone's particular body size. However, a big drawback for me is that when holstered the firearm is just pointing at someone behind you. Which isn't a huge deal if your firearm safety is on point, but just something to consider if you're comfortable with it.
Belly Bands
Belly bands are becoming some of the more popular holsters for men and women. It's an elastic band worn around the waist.
Great for keeping a low profile and is said to be one of the most comfortable ways to conceal carry. The belly band securely fits compact and sub-compact handguns to your body. Always letting you know its there and providing quick access.
1 More Thing…
To consider when thinking about a belly band or an IWB holster is the material it's made of. IWB holsters usually require an undershirt to protect your skin from rubbing against the hard plastic.
While belly band holster stick close to your body and the elastic material could rub as well and aren't particularly good at handling sweat. Luckily, holsters are available in many different materials such as leather and synthetic plastic.
Functionality
Is your holster securing your weapon well enough that no one is going to take it? Do you have additional pouches for magazines? Things like that, ruggedness, and more fall under "Functionality"
Holster Retention
Your holster serves the purpose of securing your weapon. Holster retention refers to the holsters ability to stay connected to you and the weapon in it.
Retention is either Active or Passive. Active retention uses a locking mechanism to hold the weapon in place. Passive retention applies to holsters made out of things like leather which use friction to secure the weapon.
Active Retention
Instead of just drawing your weapon and firing, active retention holsters require additional actions to draw. Such as a lock that has to be pressed, a hood, or maybe both and more.
Holster manufacturers refer to the amount of additional action required as a retention level. With the lowest being 1 and highest being 4 (depending on the company).
The higher levels of retention are used by law enforcement and military personnel to stop their weapons from being taken and used against them. Although, if you carry a sidearm while hunting and holster it, the added security of a lock to stop your weapon from rolling across the deck never hurt.
Storage Space
The weapon loses all functionality if you run out of ammunition or don't have enough. This is where you want to look at available storage room the holster provides.
Most IWB and OWB holsters don't have magazine pouches attached directly to the holster. Usually, you would have to go buy a separate pouch and attach it to your gun belt.
Shoulder holsters and belly bands most often come with additional storage pouches. Shoulder holsters use it to help counterbalance the weight of your firearm, and belly bands have it tucked on either side.
Also, storage space would include accessories attached to the weapon like laser sights or flashlights. That may or may not be able to fit with the gun inside the holster. However, not many people with concealed weapons aren't walking around with a scope, but if that's you then look out for this.
Comfortable Functionality
The holsters provided in this list have, in my opinion, embodied the characteristics of what this phrase means. They serve a purpose, and serve it well, while also providing the user a comfortable experience.
Comfortable Functionality
Every holster serves a different purpose. Which is why this term is so good to go by when picking out holster. As long as the holster you're able to find is comfortable for you to wear and serves the purpose you need it to, then you found the best holster for the Springfield XD 9mm.
I hope you found the information I provided useful and that you have the chance to try out some of these great holsters. I've been carrying for years and it is almost like wearing a wedding ring. Without it, you just feel naked, so do yourself a favor and get a holster that works as hard the weapon does.
If you enjoyed this article you'll probably like these: