Have you just gotten into firearms and are thinking about concealed carry? Or maybe you've been interested in firearms for a while but are looking to purchase another pistol to conceal carry? We've done the research and selected the 8 best concealed carry guns anyone can buy. While everyone has slightly different preferences for the gun they choose to conceal carry, most people can probably agree on this list we've compiled.
If you're a smaller female and you want a smaller gun that's easier to conceal, we've got you covered. But if you're not worried about concealing a slightly larger gun and want one that's easier for you to handle, we've got that too. 
We've included 9mm and .45 pistols (the most common calibers for concealed carry) as well as one .380 pistol in case you're looking for something a little bit smaller and one 40 S&W pistol in case you want an excellent magazine capacity without compromising in concealability. No matter if you prefer 9mm as most women do or a .45 as most men do, we have it all. 
Depending on the features and characteristics you're looking for, we've got them all and organized the list in terms of size, ranging from smaller pistols to larger pistols.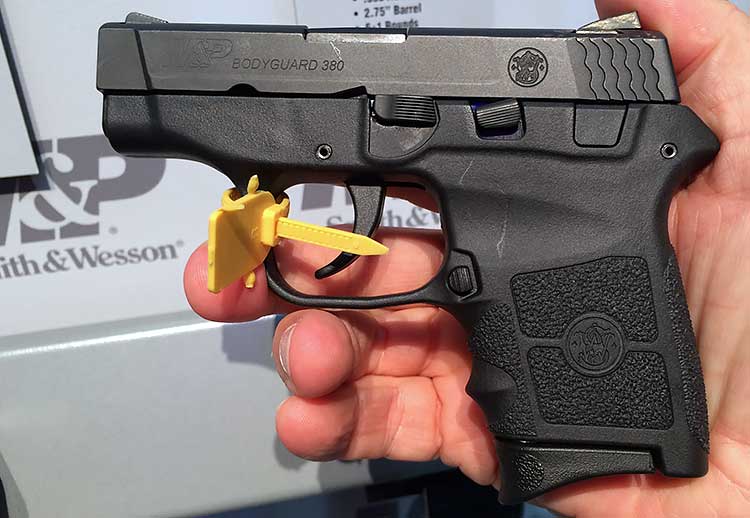 Why It's Cool: At such a small size, the M&P Bodyguard 380 is very concealable and ideal for a smaller individual or someone who doesn't want a very heavy gun.
If you're looking for a very small concealed carry pistol, the M&P Bodyguard 380 could be a great option for you. Even when it's loaded, it weighs less than a pound! Although the capacity can't compare with a larger gun, it still has a 6+1 capacity. 
Because it is so small and lightweight, it's easy to conceal. Depending on the user, it might be more difficult to operate. Its small size makes it a bit challenging and finicky to fire. But some individuals like smaller females may prefer that it is easier to conceal because .380 ammo still can get the job done, especially given shot placement. .380 ammo is just one step down from 9mm (see this helpful handgun caliber guide), and a smaller round has less recoil, which theoretically means you can shoot more accurately and hit the target more.
Even if you're not a smaller female, the Bodyguard 380 still could be a great option for you in the hot, sweaty summer months when you don't want to be dragging around a much heavier gun. Some men also like the Bodyguard as a back-up gun.
As is no surprise given that it is a smaller firearm, the size of the grip can take some time to get used to; there isn't much room for your hand! Additionally, the Bodyguard has a Double Action Only (DAO) trigger, meaning that it is a long trigger pull. Given this fact, it really isn't designed for far-away target shooting, as the larger trigger pull can cause you to move the gun while firing, which isn't a big deal a couple feet away, but would be a miss at 25 feet.
Given its lower cost, decent features, and ease in concealing with almost any attire, the Bodyguard is a great option for those who haven't carried before or those who want a back up gun or something lighter for the summer.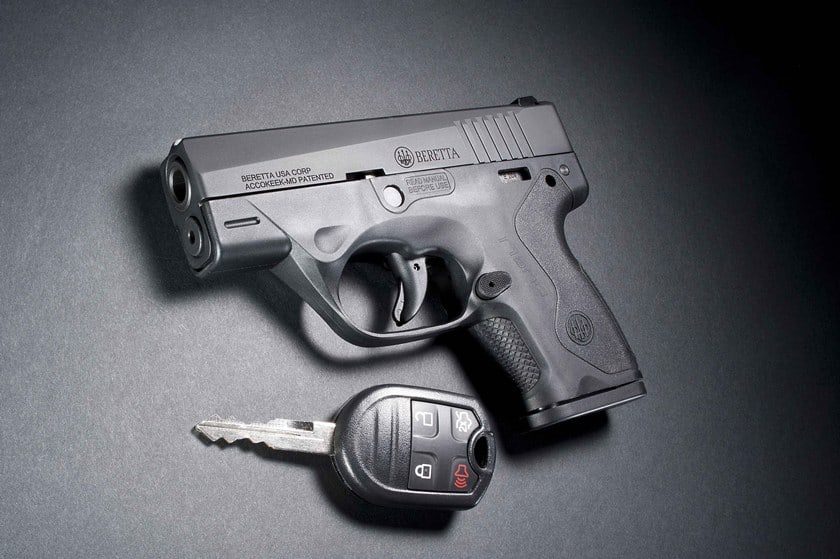 Why It's Cool: It's very concealable without compromising accuracy.
For some people, they won't use a concealed carry weapon that doesn't shoot at least a 9mm caliber. At the same time, those same people also want a very lightweight and easy gun to carry, a problem Beretta tried to solve with their BU9 Nano. It comes with two magazines, one is compact flush-fit that gives you a 6+1 capacity while the other is extended and gives you an 8+1 capacity. Additionally, for those women who really care about color, this pistol even comes in pink.
Depending on the goal of the firearm, the smaller magazine may be more useful as it's more concealable and useful to pocket carry. However, if one desires a greater magazine capacity and a bit more ease in holding the firearm, the larger magazine may be the preferred option. In any case, you can shoot +P loads if you want to although some have favored more controllable loads.
This pistol, though, can even be a little challenging for women with smaller hands because the grip is very short, leaving little room for the pinky even if you have tiny hands. One individual has called it "a two-finger salute to Mr. Bad Guy." Nonetheless, people still like this gun due to its small and light size and its sleek design without a compromise in accuracy.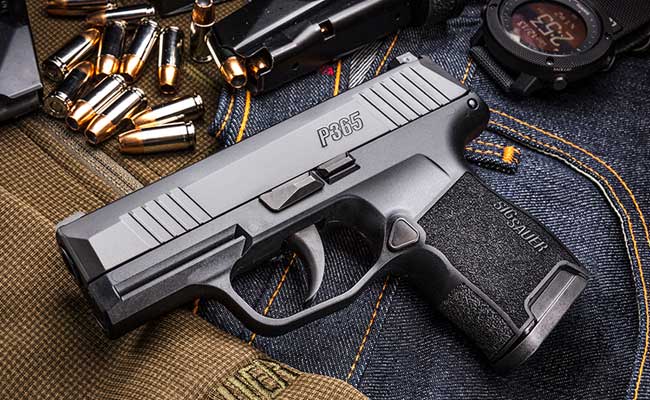 Why It's Cool: It's one-of-a-kind because it has amazing 10+1 or 12+1 capacity for its small size.
SIG Sauer came out with a pretty awesome pistol this year with revolutionary concepts that allowed them to receive three patents: the P365. It's not exactly a single stack, and it's not a double-stack either. It's a combination of the two accomplished by a tapered magazine that is wider at the bottom and narrower at the top.
In comparison with other subcompact firearms of this size, it has an amazing capacity. With the flush magazine, the P365 has a 10+1 capacity, and, with the extended magazine, the capacity goes up to 12+1. No other pistol of this size can compare. As one person noted, "If you run the numbers, the P365 holds 50 percent more ammo than its competitors of similar size." With the extended magazine (sold separately), the P365 is only 3 rounds shy of a much larger gun, the G19. It's chambered for 9mm and is rated for +P ammo.
Unlike the grips of other firearms of a similar size, the P365 fits well into different-sized hands, even ones that are slightly larger than those of small females, and is great for individuals with smaller hands. The P365 has a comfortable, well-designed grip that allows you to securely hold the pistol without having to hold the gun with just two fingers. 
People often complain about the triggers of subcompact firearms, and some people will even replace triggers to make them more comfortable and give them a better trigger pull. That is not needed with the P365; it has an excellent factory trigger. One individual even said that it was "the best concealed carry pistol trigger" he had tried.
In sum, the P365 lives up to all the hype. It's small and concealable, has a great trigger, has unheard of capacity for its size, has well-designed sights, is comfortable to hold, and has amazing accuracy. SIG Sauer says that it's "game-changing." They're not wrong.
Springfield XD-S 3.3" Single Stack 9mm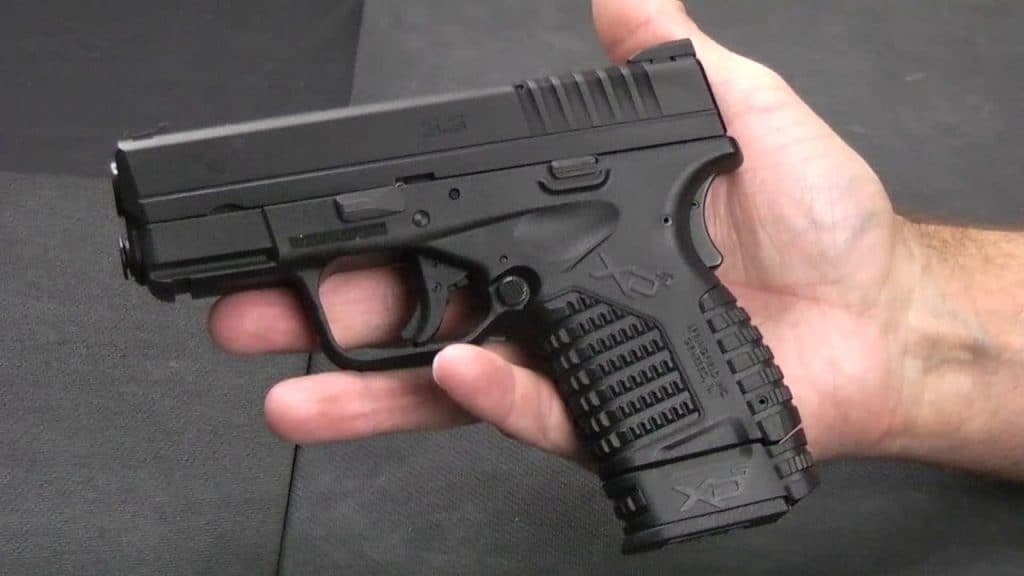 Why It's Cool: It's very concealable with all the perks of a larger "real pistol."
A lot of women prefer smaller guns to conceal carry because it's easier, well, to conceal them. Sometimes, though, a smaller gun can be hard to handle. Springfield tried to address this problem with the XD-S 3.3" 9mm pistol. It's small enough to carry every day, but it also has the features of a larger pistol, like the larger 8-round magazine if desired.
The XD-S 9mm gives the user an excellent magazine capacity for the size of the weapon, and it provides the comfort of a larger pistol while still maintaining a smaller, concealable size. In the words of Springfield, it's "Noticeably Unnoticeable."
It works with a lot of different ammunition from Federal Premium 147gr Hydra-Shok JHP to Winchester PDXI 124gr + P JHP, but it doesn't seem to function well with the Hornady Critical Duty polymer tip, as the polymer tip tended to get caught when trying to feed rounds into the chamber.
The XD-S 9mm is great because it gives the user flexibility. If concealability is your primary concern, the 7-round flush magazine gives you a 7+1 capacity while still being relatively easy to handle and shoot. If you desire greater accuracy as you might prefer while target shooting, the extended magazine gives you an 9+1 capacity.
Almost all pistols of a smaller size comparable to the XD-S 9mm only have a 6+1 capacity, giving this Springfield concealed carry pistol a step-up on the competition. Unlike smaller concealed carry pistols, the XD-S 9mm feels like a real pistol but has all the perks of a smaller pistol like concealable size and lightweight body.
Springfield XD-S 3.3" Single-Stack .45ACP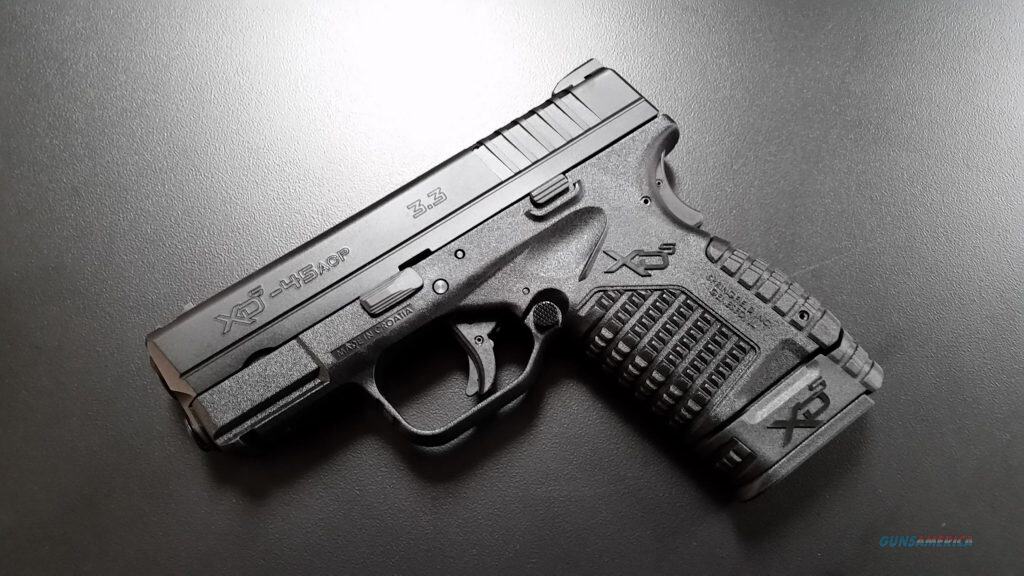 Why It's Cool: It's an extremely concealable firearm that shoots a .45. But not for the recoil sensitive!
A lot of women prefer 9mm for a concealed carry weapon because it doesn't have as much of a kick, but some people, especially men want a firearm that shoots .45. The Springfield XD-S 3.3" .45ACP is the perfect size for smaller individuals who want a .45 that is easier to handle or one that is small enough to conceal. As Springfield notes, the XD-S .45 has "all the features, performance, and power you would find in a full-sized handgun."
Many love the ergonomics of the XD-S .45, the excellent trigger, and the easy concealability. With the shorter flush magazine, you'll get a 5+1 capacity while the extended magazine gives you 7+1 capacity. All in a gun that shoots a .45 and that can easily be concealed in a purse, standard dress pants pockets, and even some larger coat pockets.
It does come at a price, though. Since the firearm is so small, it can be a little jumpy and can hurt after a while. One person called it "high-fiving a hammer, albeit a small one." But it has great accuracy for target acquisition with slow-fire and still does well with +P ammunition and rapid-fire. For people who are more sensitive to recoil, the Springfield XD-S 9mm might be a better gun to start off on.
But for those who desire a very concealable firearm that shoots a .45, the Springfield XD-S .45ACP can't be beat. It comes highly recommended by a family friend (female) who has concealed and carried for many years. You can't ask for more accuracy and power in such a small size.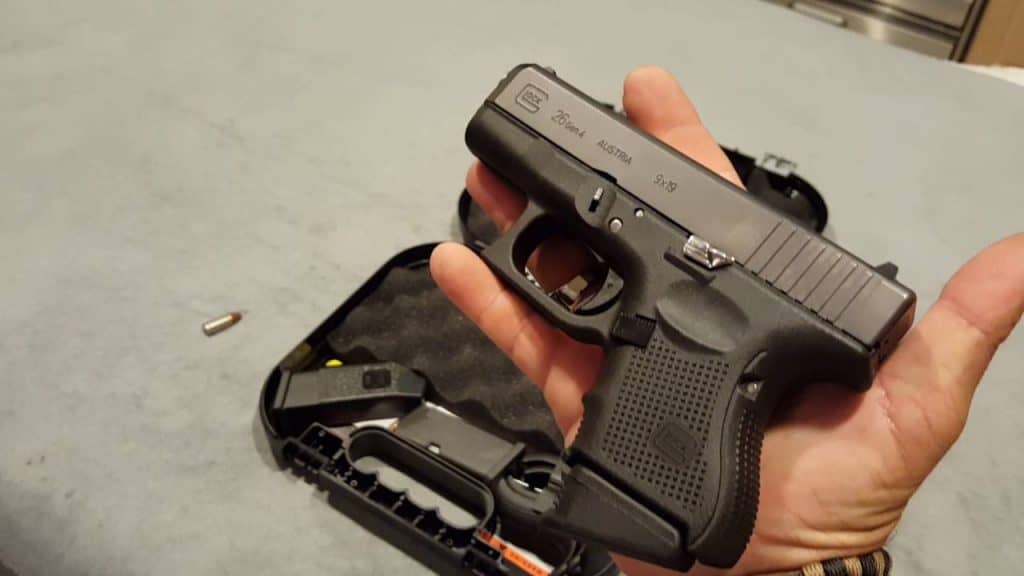 Why It's Cool: It's a compact pistol with an amazing magazine capacity of 10+1 that has the flexibility to function with much larger magazines.
Known as the "Baby Glock," the Glock 26 was first introduced in 1994 and has been extremely well-liked since then. In addition to being widely popular on the internet, this pistol was personally recommended by a family friend (female) who has concealed and carried for many years. Glock called it "the most sought-after concealed carry option since its release in 1994," and while they might be a bit biased, they're not off the mark! Civilians have used it for concealed carry, and police officers have used it as a backup gun. 
What people like about the Glock 26 is that it's compact and light, but still has a carrying capacity of 10+1 of 9mm. Additionally, since it is rated to fire +P ammunition, you can use overpressure rounds with it. Finally, the reversible enlarged magazine catch fits both left- or right-handed users.
When you buy a Glock 26, you'll get two double-stack 10-round magazines as well as the ability to use G17 and G19 mags with your G26. Because Glock has designed the G26, G17, and G19 similarly, new users can fairly easily start with the G17 (or even the slightly smaller G19) and move onto the smaller G26 without having to learn the feel of a new gun. "From manual of operation to feel, the Glock 26 is for all intents and purposes the same gun."
Because the Glock 26 has a much larger capacity of 10+1 than other compact pistols, it has a relatively short grip and lacks a flared magwell. But if you can learn to get used to the grip, even purchasing a grip extension if needed, the Glock 26 is a flexible gun. Because it's so compatible with G17 and G19, "a lot of people carry a 26 but use a G19 magazine with a grip sleeve."
The Glock 26 can function as a subcompact pistol with a large magazine capacity for the size, it can be used as a handgun with the traditional seventeen-round magazine capacity, and it can even utilize Glock's submachine gun-sized thirty-three round stick magazine. This flexibility makes it an ideal firearm not only for concealed carry but also for target shooting at the range.
Why many people prefer the G26 to other Glock pistols is the simplicity of concealing and carrying it without compromising on magazine capacity. Especially for women or for men with smaller hands, the shorter grip shouldn't be a bother, and, if it is, it can be modified if desired.
Related Read: Night Sights for Glock 43.
Smith & Wesson M&P 40 Compact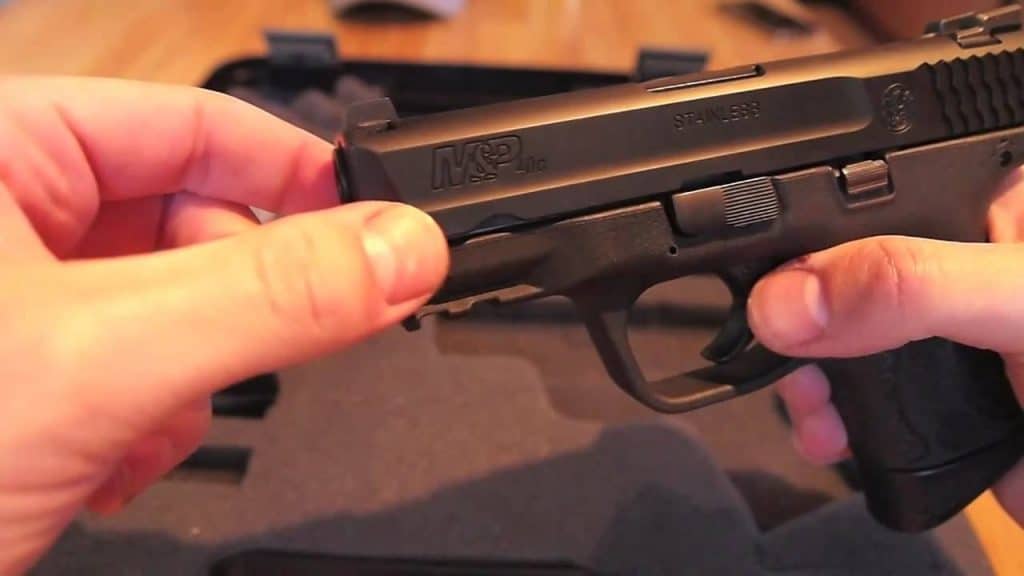 Why It's Cool: Like the Glock 26, it's a compact pistol with an amazing magazine capacity of 10+1 that has the flexibility to function with much larger magazines. The one benefit the M&P40 Compact has over the Glock 26 is that it is chambered for a slightly larger caliber: .40S&W.
For years, Glock had a monopoly on the law enforcement market, and various other firearms manufacturers tried to compete. No one really successfully could, though, until Smith & Wesson came out with the M&P (short for Military & Police), which comes in several versions: 9mm, .40 S&W, or .357 SIG. 
For those individuals who really want to see a .4 in a caliber, the Smith & Wesson M&P40 Compact is a great fit. As a shortened version of the 10mm, the .40 S&W caliber has more recoil than a 9mm but it slightly smaller than a .45ACP, but some people contemptuously call it "short and weak." For most people, though, the .40 S&W is definitely large enough for stopping power.
Because the M&P40 Compact has a smaller grip and a shorter slide, it's very concealable. Even those with larger hands will likely find this grip comfortable. You'll get a 10+1 capacity with this firearm, which is comparable with other pistols of similar size. At the same time, the M&P40 Compact can also accept a longer full-size magazine if desired. 
This flexibility to switch between magazines means that you can easily maintain 26 rounds of ammo with the concealable flush magazine and the full-sized 15-round magazine as a back-up, thus not compromising size for concealability. Although a .40S&W caliber is slightly smaller than a .45, many people like the .40S&W caliber because it allows them to carry more rounds in a magazine with little sacrifice in the amount of bang.
Why It's Cool: While it's slightly larger than some concealed carry guns, the Glock 19 has a great magazine capacity and can function as a duty gun.
Considered by some to be the definitive concealed carry gun in the modern world, the Glock 19 was not designed as a compact pistol. Rather it was supposed to be a carry gun for undercover police officers and police officers with smaller hands. The G19 is obviously larger than its littler cousin the G26, but it still can be concealed and carried, especially for someone who doesn't mind a slightly larger pistol.
The G19 has a 15+1 capacity, making it functional as a duty gun. Because it has a decent-sized capacity but still can be concealed and carried, some people have called it the "Goldilocks gun," because it's the perfect in-between size. Due to this versatile role because it has reduced dimensions of the standard sized pistol while still maintaining a comparatively large magazine capacity, the G19 is very popular for security agencies and as a concealed carry weapon.
Like the G26, the G19 will run +P 9mm ammunition and will also accept G17 magazines if you desire an additional two rounds of capacity. If you want less of a recoil than the G26, the G19 will be the easier pistol to fire.
In the end, people who want a larger magazine capacity and more ease in shooting will prefer the G19 to the G26. For smaller individuals, particularly females, the G19 might be a smidgen too big, but, if they can find a way to easily conceal it, they may prefer the slightly larger size that the G19 offers.
Whether you are looking for a very small pistol that you can conceal easily or if you're looking for something a little bit larger but also a little bit more powerful (as the famous phrase goes, "9mm only kills your body. . . . a .45 kills your soul"), we hope you've enjoyed our list of 8 best concealed carry guns anyone can buy. Hopefully you've been inspired about which one is going to be your next (or maybe first!) concealed carry weapon! If you enjoyed this article, please share it with a friend.