Time to get that scope mounted! Ah, but it looks like you are in need of a gun vise to help you with the process. No worries! We got all the information for you right here to help you determine which vise is the best gun vise for scope mounting. You'll get details on the acute differences between top models to find the one that's the best fit for you!
5 Best Gun Vises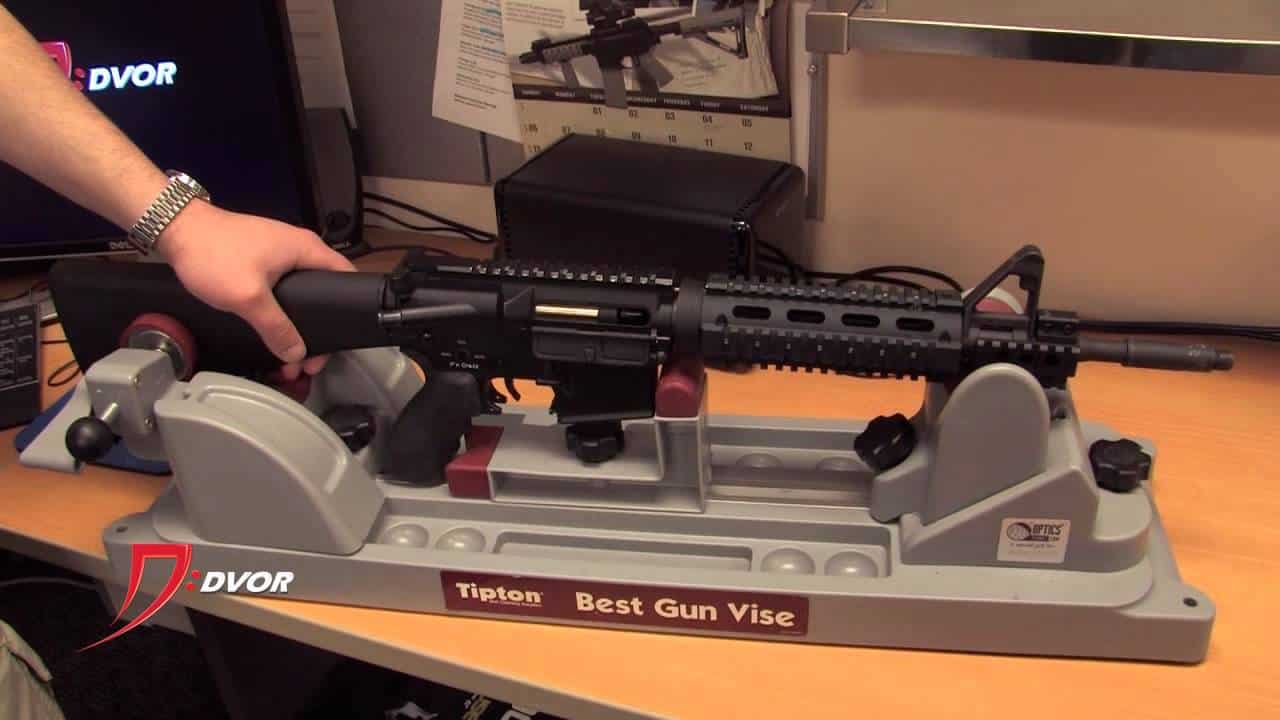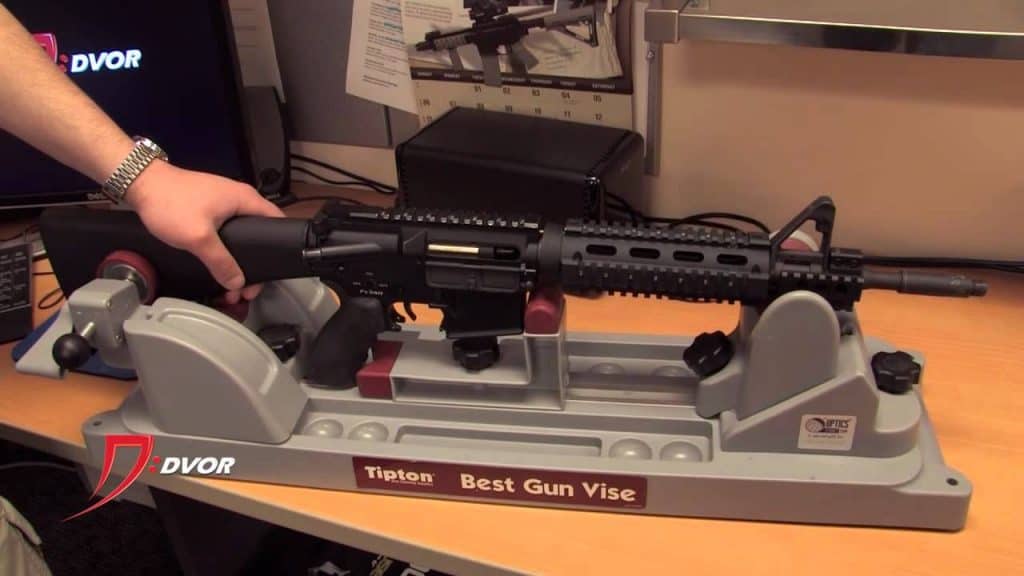 Below we're going to break down five different gun vises that you can consider using. This breakdown is intended to give you insight on how each gun vise works on its own and also how they compare up against other vises on the market. This will give you a well-rounded understanding of the product your purchasing all in one place!
MTM GV-30 Gun Vise Cleaning Maintenance Center
Sale
MTM GV-30 Gun Vise Cleaning Maintenance Center
Quick clamp up using a single cam activated lever for a secure non-marring hold
Ideal for all Gunsmithing needs
Room to organize cleaning supplies with various sized compartments for patches, screw driver bits, jags, brushes, solvents...
Mounted on four skid-resistant rubber feet and is free-standing or can be bolted down
Made in USA,  out of chemical and solvent resistant polypropylene plastic
The GV-30 comes in screaming at a stellar price. Here's the deal, it's made of polypropylene plastic, but it's still pretty strong. It's honestly best used for gun cleaning and maintenance. The quick clamp holds your guns sturdily and surely while you clean it and the soft plastic will make sure you don't damage the finish of your guns.
It's also quite versatile and people have had success using this with both their rifles and their shotguns.
As far as mounting a scope, it can be done with this one but sometimes you have to modify the vise a bit to get it to hold the gun perfectly vertical. It'll work, but it'll take some improvising skills. One customer had success just adding a little padding to offset the tilt.
The vise also comes with a handy space to organize your tools and some compartments to place any floating items. Some have complained that the holes aren't big enough to hold the standard accessories and adaptors used in cleaning your gun and have had to drill them out manually.
One last thing to consider if you purchase this particular device is to make sure you don't overtighten the screws when assembling it. The assembly manual does not mention this but due to the soft plastic of the device, it can become a problem. Basically, overtightening will cause the plastic to bend upwards and it can be a problem if you over tighten the screw to the vise lever.
Essentially, just tighten them so they're snug and you're good to go!
Pros:
Strong, durable plastic and well-designed
A well functioning clamp that holds your guns securely
A fantastic budget option
Cons:
Has trouble holding a gun perfectly vertical for scope mounting
The place to hold tools isn't well designed to fit standard equipment
Assembly instructions don't warn about overtightening screws
Tipton Gun Vise
Sale
Tipton Gun Vise with Adjustable Cradle and...
EASE OF USE: Securing your firearm in the vise is simple with a quick-release cam
VERSATILITY: The front cradle supports nearly all forends, right side up or upside down
DURABLE: Non-marring, solvent-resistant polymer stands up to years of hard use
CONVENIENT: The base includes small compartments to organize your screws, jags and brushes
INNOVATIVE: A rear pivot arm adjusts to fit wide and narrow stocks
The Tipton Gun Vise comes in a convenient one-piece design that makes it easy to assemble. There's obviously some small parts to piece together, but ultimately you only need a few minutes to have it ready to go after it arrives. It does arrive in a pretty big box though, because of this.
The clamps are made to ensure that they don't mar your rifles and customer's state that they are totally comfortable with putting their guns into the clamps with no worries of damage. Also, the plastic that's used is solvent-resistant which will ensure the material will stay durable over a long period of time.
It also comes with an internal compartment that holds your tools for you. It also has the versatility of holding your shotguns as well as your rifles. People have tried to use it for handguns but it doesn't seem to hold the handgun since the design isn't really geared towards that.
The last thing to consider is how the arm clamp is designed in regards to mounting your scope. It's asymmetrical which causes the rifle to get pushed off the centerline of the vise when it clamps down on the butt of the stock. This can be rectified with a little bit of padding on one side of the stock so that it remains centerline while mounting your scope.
Tipton Best Gun Vise
Sale
Tipton Best Gun Vise with Secure Adjustable...
EASE OF USE: L-shape center support holds break-open guns securely and separate quick-release cam blocks move independently...
VERSTILE: Easily configurable to handle bolt-action rifles, break-open shotguns, extendable magazine rifles and handguns and...
DURABLE: Non-marring, solvent-resistant polymer stands up to years of hard use
CONVENIENT: Flat and round bottom compartments hold bottles, screws and parts
INNOVATIVE: Customized patch storage and two adjustable offset clamping mechanism on the rear base for a tight grip on a wide...
Customers are raving about the Tipton Best Gun Vise as it really serves all the needs your looking for from cleaning to getting that scope mounted properly. It's well designed with sliding parts to adjust for any stock shape and is also really simple to operate even as a new gun owner.
The versatility is super desirable as it's going to handle any gun across your arsenal. This includes bolt-action rifles, shotguns, handguns, and extended mag rifles. The sliding parts make it adaptable to all kinds of different guns depending on the project.
It also has a symmetrical arm with clamps down on both sides of the gun stock. This is ideal for mounting a scope and keeping it perfectly level to get that perfect mount you're looking for. Some people are concerned that because of the plastic material they aren't able to clamp it down as tightly as they would like while they're mounting a scope.
It's super durable with the polymer plastic that will last you for years of use. It also ensures the clamps aren't going to mar the finish on your guns, which is fantastic. With the extra compartment and designed based to hold your tools and accessories, what more could you ask for?
Pros:
High versatility that holds all different types of guns
Easy to assemble
Symmetrical clamping arm that keeps the gun centerline
Durable plastic and convenient storage
Cons:
The plastic design can keep you from getting the clamp tight enough when mounting a scope
HYSKORE Cleaning & Sighting Vise
Sale
Hyskore Cleaning & Sighting Vise
Works as a 3 shot sighting system
Adjusts to any length gun
Supports guns perfectly for cleaning and scope mounting
Welded tubular steel construction
Parts tray included
This vise is made primarily of metal with some plastic pieces making up the knobs and the base of the equipment. Even with it being made of metal it still is extremely attractive for gun enthusiasts on a budget. It is extremely sturdy as well and you can get your guns clamped in without worrying about them going anywhere. That really helps out if you got some intense gun maintenance to do!
It also holds up well against any solvents that you'll use when cleaning up your gun. This particular device works really well for getting your scope mounted and it's personally one of my favorites as it doubles as a gun rest, too! Just in case you don't read the instructions you should know that the gun should not be fired while it's clamped in.
 If you're confused how to use this as a sighting vise, just read the instructions but it basically states to unclamp it and shoot a grouping and then you can clamp it in to adjust the sight. Pretty easy! It also adjusts for any length of gun you have so you can mount and clean any of your rifles and shotguns.
Pros:
Well-designed with metal material
Great for mounting a scope and even sighting your scope
Doubles as a gun reset for sighting (do not fire while clamped)
Cons:
The plastic tray to hold accessories isn't attached to the vise very well
The clamp can have a hard time holding gun stocks with irregular surfaces
Tipton Ultra Gun Vise
Sale
Tipton Ultra Gun Vise with Heavy-Duty,...
DIMENSIONS: 32.5 inch L x 11 inch W x 10.5 inch
EASE OF USE: All 4 feet are non-slip and independently adjustable, the tool and accessory trays are removable and the entire...
VERSATILE: Ball and socket articulating clamp pads allow for the pads to adapt to any firearm's surface with height and...
NON-DESTRUCTIVE: Non marring, glass filled nylon vise/clamp construction
DURABLE: Features a steel tube frame structure
This bad boy covers you from all angles allowing you to mount any of your rifles, shotguns, handguns and even bows. It covers anything from cleaning and maintenance to scope mounting as well. The clamps are rubber so you can be sure you won't damage your gun and they also operate on a ball and socket which makes them able to clamp down on any surface.
The device is made of plastic, but it's still durable. It's not to be used for anything that's going to require super high torque and you definitely don't want to be shooting out of it. It's purely for cleaning and basic maintenance and scope mounting.
The feet are all individually adjustable with rubber on the bottom to keep it from sliding around and giving you the ability to get it at an ergonomic level. This also helps to get the vise perfectly level for scope mounting.
Pros:
Ball and socket clamp to attach to any surface
Adjustable to work for all your guns and even bows
Adjustable feet to make it perfectly level for mounting your scope
Cons:
Some people have had issues with the plastic pieces not having the long-lasting durability they're looking for
The Scope Project
Since you're about to embark on getting the best items for your individual situation to get that beast of a scope mounted onto your rifle, it's important to consider the other items you'll need as well. Buying new toys for your rifle is always exciting so to make sure you don't get totally lost in that excitement I'm going to quickly cover some other items you might want to consider to ensure you have a smooth experience with mounting your scope.
One of these items you would want is a leveler. Just a small one! It'll just help to make sure your not "canting" your rifle which essentially means rolling it to the side. Also, you'll need to get some scope rings that fit your scope if you don't already have a pair and some removable thread locker. Don't get the permanent stuff! That's all you'll need though, everything else you should already have for your rifle.
Getting that scope leveled and mounted properly is going to get you that ideal Minute of Angle (MoA) you're looking for so you hit the vital area every time! Also, choosing your scope rings is important for how you want to mount your scope.
Why Consider a Gun Vise?
You might be considering a regular bench vise, but with this, you might damage the stock of your rifle so I wouldn't recommend it. Or you might be considering the old trick of sticking it between the couch cushions and using the coffee table to lift the barrel up and mount your scope.
But remember, while a gun vise is certainly useful for mounting a scope to help you zero the scope to your personal preference, it's also a great tool for cleaning your gun without the risk of damaging it. A lot of people use a bore guide in combination with a cleaning rod. A bore guide simply guides the cleaning rod down the barrel of the rifle and removes the possibility of damaging the rifling in the barrel.
Rifling is essentially grooves carved into your barrel that gives the bullet spin, like an arrow from a bow, that greatly improves the accuracy. This is definitely an important aspect to consider in regards to the maintenance of your rifle and a gun vise is going to help ensure you take care of your rifle properly.
Plastic or Metal
It's important to determine if you're looking at plastic or a gun vise made of metal. Plastic holds the advantage of being cheaper and also removes the concern about the device rusting and the corrosion rate of plastic is extremely slow. However, it's not a very green option as our landfills are already filling up at an alarming rate.
Plastic is also less durable than the harder, stronger metals of steel and iron making it more likely to break which will lead you to discard it. We feel in today's current epoch it's important to consider how we can have less of an ecological impact on the world at an individual level. It's sometimes worth it to spend the few extra dollars and considering today with mass production available metal can even turn out to be cheaper!
But, hey! Some of the plastics in gun vises are proving to be durable and long-lasting and we'll cover that as we get into details of each vise.
Versatility
Something else to consider is the versatility of the design. A lot of designs have the functionality of holding a rifle, a shotgun, handguns and some even hold your bows! This would be an important aspect if your a gun enthusiast with a whole arsenal of equipment to consider.
Jaws of Death
The jaws are extremely important to make note of when considering which vise you're planning on trusting your rifle too. While manufacturers are getting increasingly conscientious of this in their designs it further indicates why you should use a specialized gun vise as opposed to a regular bench vise.
I would avoid any gun vises that just have hard metal vises with no protection because this is going to clamp down and ruin the finish of your rifle. While this isn't going to affect the accuracy or any other element of firing with the gun, it's still no fun. We don't go out and key our car before washing it, why would we do it with our gun?
It's Not A Gun Rest
Some people try to use their gun vise as a gun rest. Maybe you're thinking this is crazy, so hey, I understand! This part's not for you! But if you are thinking of just buying the gun vise and using it as a dual purpose gun rest I would advise you to rethink it.
Why? Well, the gun vise isn't build to handle gun recoil unless it specifically states that it does. This could severely damage your vise and if the vise can't handle it then it can cause problems for you if the gun breaks the vise and the recoil is too much for you to handle since you weren't really expecting it. As gun enthusiasts, it's our job to operate in the safest manner possible to show a good example to the following generations by keeping safety, ultimately, as number one priority.
To Finish Up:
You now know which gun vise is going to be the best gun vise for scope mounting! You can understand now the importance of having a versatile vise that can cover you for all your guns as well as determining which kind of material, plastic or metal, is going to fit your needs best. Also, you can relinquish any worries about the clamps ruining your gun stock because the manufacturers have already thought of this and have you covered.
 You can also clearly see the benefits of getting a specific gun vise for your cleaning and scope mounting needs as opposed to fumbling around with your gun between your legs. It'll be nice to avoid that hassle and keep your guns shining and those scopes zeroed!
If you enjoyed this article you'll probably like these: