Are you building your own custom AR-15?
Would you like to more into the finer points of gun building?
Then buying an AR-15 lower is a necessity.
Finding the right lower can be tricky if you've never done it before. But don't worry, we're here to help.
We looked through dozens of products and found the best AR-15 lower receivers for you. Read on for more helpful information and our reviews below.  
Review Of The Best AR-15 Lower Receivers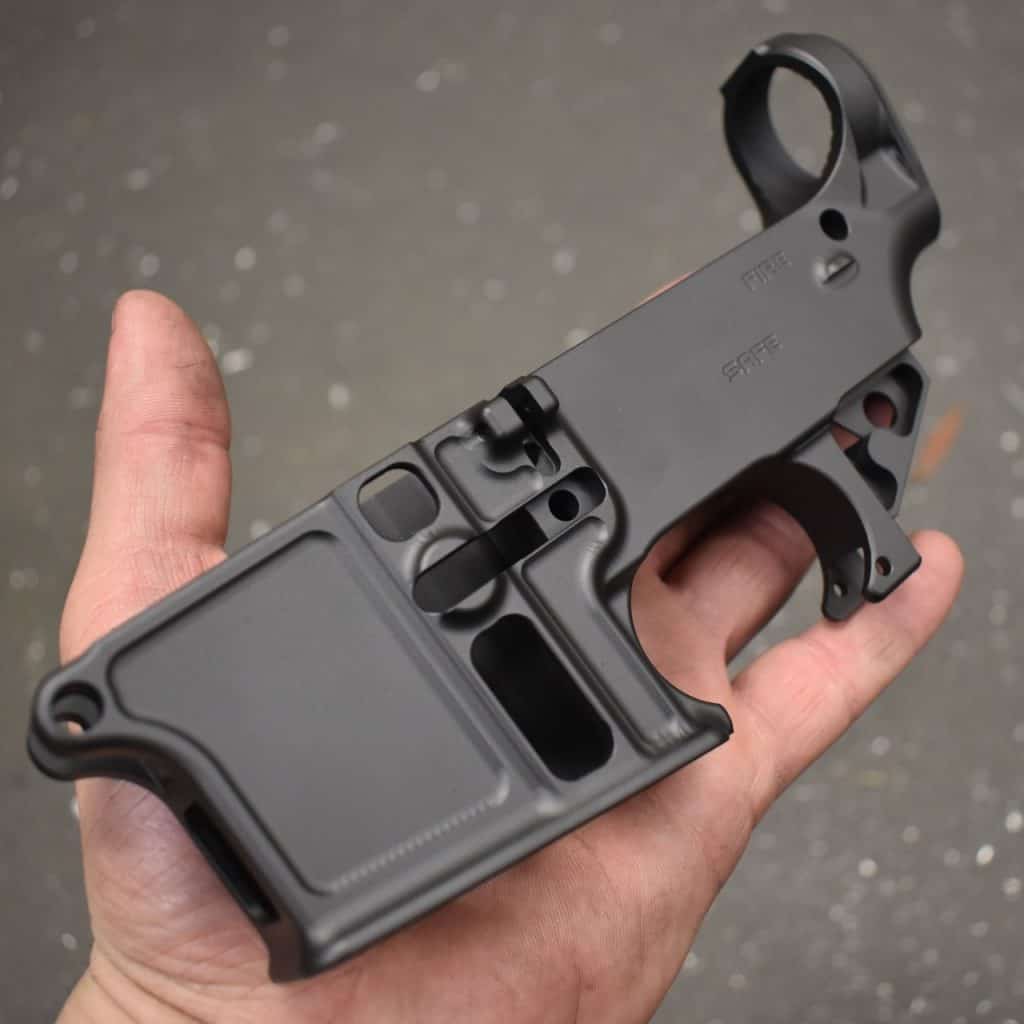 In this section, we break down the lower receiver into their important features and show you how these features impact the use of the lower. Use the information from the guide above to help you decide which of these is the best receiver for your build.
Brownells – AR-15 80% Lower Receiver
Brownells lower receiver here is an affordable option that still gives great and consistent quality. This standard lower is perfect for those of you just looking for a quality part to help with your personal AR build.
This lower, like the others, is an 80% lower. This means that the part isn't finished yet, and you need to do some milling and drilling to get it ready to install.
This does let you get around the FFL requirement for online purchasing, however, so it may be worth it.
The lower is made from 7075-T6 aluminum. This metal keeps the part lightweight while still being durable enough to function well over time and use.
When you buy this product, you also get a takedown-lug pocket.
The receiver features a broached magazine well. Broaching is a metal working process that gets fine and consistent machining of unusualunusual and hard to reach shapes like in a magazine well.
Brownells claims the receiver fits with many types of homemade jigs to help with the finishing process. This lower is also compatible with any standard AR-15 upper receiver, so you don't have to worry about it not fitting.
As far as finishing goes, you have the choice of whether to get the part unfinished (no chemicals) or with a black hard coat anodized finish.
The finish helps protect the part from corrosion, but if you have a specific look or your own finish you want to use, the unfinished receiver may be the one for you.
The lower receiver is meant for the .223 Remington or the 5.56 NATO.
Note: Brownells will not accept any returns once the receiver has been modified.
The user experience boils down to the following:
Positives Recap for This Product
Consistent quality
Metal is light and durable
Works well with standard AR-15 upper receivers
Affordable price
Negatives Recap for This Product
May be tricky to finish without prior experience doing so
Matrix Arms – AR-15 80% Lower Receiver Forged
Matrix Arms made their lower receiver at an affordable price with a tough and easily finished design. This may be for you if you're just starting to get into AR builds.  (We have an article about the best AR builds here if you want to check that out)
This lower receiver is an 80% one. That means that it's not finished by the manufacturer. This lets you get into the finer parts of the build yourself and also avoids the FFL requirement for online gun purchasing.
This part is forged from 7075-T6 aluminum. This keeps the part lightweight yet durable.
On this lower, all of the exterior machining has already been done. All you have to do is finish the interior pocket for the hammer and trigger.
This does make it easier for those who are new to AR builds. It also lets you customize a little bit more than some other 80% parts.
You can select this lower to come with a black, anodized finish or without any chemical finishing.
The finish provides good protection from corrosion. But if you want to customize the look of your receiver then the unfinished option may be for you.
Matrix Arms also includes a take-down lug pocket making it great for custom and advanced AR-15 builds.
As with other 80% lowers, once you have modified the receiver you cannot return it. This receiver fits the .223 Remington cartridge.
Here is what the customers said about the lower receiver:
Positives Recap for This Product
Affordable price
Metal is light but tough
Exterior being finished makes it easier to mill the rest of the part
Allows for advanced customization
Negatives Recap for This Product
May not fit with every upper receiver
James Madison Tactical – AR-15 80% Polymer Gen2 Lower Receiver
James Madison Tactical's lower receiver may cost the most, but it's jammed packed with features and help that may make this the easiest lower to use.
As an 80% lower receiver, you have to finish it yourself. This lets you get into the building process yourself and avoid the FFL requirement for buying guns online.
The polymer material generally sacrifices some durability, but the companycompany is well aware of this. They added to its toughness by reinforcing the lower receiver in key areas like the upper left mag well, extended bolt release posts, and upper interface.
Polymer also makes the lower much easier to finish the drilling and milling compared to a metal part. James Madison makes it even easier by providing clear instructions and a jig for you to use.
The product is also finished in black which matches the tactical look of the AR and provides an easier to handle part.
Those of you wanting a custom look may wish it was unfinished in this way, but with some effort, you can refinish the style yourself.
This lower is also fully compatible with any other standard-sized AR-15 parts. The receiver is also set to work with the .223 Remington cartridge.
As with 80% receivers, once this part has been modified it cannot be returned.
Users had this to say about the product:
Positives Recap for This Product
Polymer is lightweight and corrosion resistant
Very easy to finish
Installs easily with other standard parts
Inclusion of instructions and jig is great for new AR builders
Negatives Recap for This Product
Higher price
Polymer may not be as durable as metal
Polymer80 – AR-15 80% Polymer Lower Receiver & Jig Kit
The higher than average priced lower and kit by Polymer80 is designed to provide a good receiver with a lot of help in finishing the product for use.
As an 80% receiver, you need to finish the drilling and milling yourself. But for those of you into building your own AR-15, this may be just fine.
It also lets you avoid the FFL requirement for online gun purchasing.
The receiver is made from their proprietary polymer composite. In general, polymer is weaker than metal, but Polymer80 helps this problem by reinforcing the magwell and buffer tube housing.
A kit comes with this lower receiver to help you finish the receiver with ease. This kit includes instructions, jigs, and bits needed to finish the receiver.
The kit includes:
 AR-15 80% lower
Set screw bolt catch pin
Dowel pin for bolt catch
Pistol grip nut
Pistol grip screw
Allen wrench
AR-15 jig
End mill for fire control pocket
Drill bit for safety selector
Drill bit for trigger & hammer pin holes
Drill bit for pin holes & trigger hole
Things left to be done are:
Fire control group
Trigger pin
Hammer pin
Trigger slot
Safety selector
This receiver fits the .223 Remington and the 5.56 NATO. The finish offers some grip and style to the receiver.
Polymer80 offers different colors for the finish including black, flat dark earth, gray, O.D. green, pink, purple, white, and zombie green.
As with other 80% parts, once you've modified the lower you cannot return it.
The customers had the following to say about the lower:
Positives Recap for This Product
Very easy to finish
Easy to install
Many different color finishes for custom look
Kit is very helpful
Negatives Recap for This Product
Polymer may not hold up over a long period of time
Higher price
Fitting with other parts may require adjusting
What Is A Lower Receiver?
The receiver is considered to be the heart of the rifle. It contains the firing and loading mechanisms for rifles.
On AR-15s and other rifle like it, the receiver is split into the upper and lower receivers.
The upper receiver typically contains the bolt and chamber for the rounds to be fired from. Sometimes the barrel and sights are included.
Connected by pins is the lower receiver. This is considered the actual firearm of the whole rifle.
The lower contains the trigger, magazine well, and firing mechanism. It sometimes includes the stock, but not when you buy it separately.
Because the lower receiver contains the firing mechanism, this is the part that's regulated. It's also where the serial number is stamped.
The lower receiver can be considered the most important part of the rifle.
Features Of Lower Receivers
In this section, we look at the important features of lower receivers. Consider this a guide to help you pick the lower that best fits your AR build goals and experience.
Material
Most lower receivers are made from forged or stamped steel or aluminum.
Steel used to be the most common receiver material for its durability and reliability. But it's usually very heavy and more susceptible to corrosion from moisture and grime.
Over time, aluminum has taken over as the most common material. It's lightweight, affordable, and still durable.
Despite aluminum's status as the current standard for receivers, reinforced polymer is also quite popular and a solid choice.
In general, polymer is weaker and may not last as long, but new advances in technology and gunsmithing make it nearly as tough as aluminum and almost completely corrosion resistant.
Finish
The finish on the receiver refers to the chemical layer of protection on the part. This layer performs several important jobs.
A good finish can protect the metal from corrosion. If moisture and grime stay on the part, it can wear down over time.
The finish also provides some gripping power. This makes it easier to handle as you're installing it.
The finish also gives the part its look or style. If you want a classic tactical look, black is the most common color, but there are some more outlandish colors like pink if you wanted to go for that.
Stripped Vs. 80%
Receivers come in stripped or 80% varieties. Stripped receivers cost a little more, and they are completely finished.
This means that are considered a firearm and, therefor, subject to restrictions in online purchasing. Buying a stripped receiver requires an FFL on file to buy online.
However, stripped receivers were finished by the manufacturers, so you can trust that they fit as advertised.
80% receivers are just like they sound, 80% finished. Because they aren't completed, they avoid the FFL requirement.
It takes effort and time on your part to finish the drilling and milling, but there are often instructions and parts to help you along the way.
Finishing an 80% receiver is also a great way to customize and own your AR-15 build.
Cartridge
When buying receivers in general, you also need to check that you buy one that fits the right caliber and cartridge you're looking for.
The standard ammo for the AR-15 is the .223 Remington or 5.56 NATO. All the products on our list are set for this caliber.
However, there are other options out there if you wanted to do a custom AR build such as the .450 Bushmaster.
Upper Receiver Compatibility
You need to also check that your lower receiver fits with certain upper receivers.
Many are made to fit with standard AR-15 uppers, but if you have a non-standard upper, then make sure the lower is compatible.
Check out our reviews for more information, but you can also always contact the manufacturer with more specific questions.
Drilling And Milling
When it comes to finishing the 80% lower, most companies provide instructions, but they aren't always the most helpful.
Some companies go out of their way to help you finish the receivers with extra parts and kits. If you're just getting into AR builds, then this is a necessity for you.
However, if you're experienced in working on gun parts, then it's not as important.
The best way to check how easy a lower receiver is to finish is to look at what other users had to say.
We did this for you in our "Recap" section at the end of each product.
Installation
On top of finishing an 80% lower receivers, you also need to install it in the rifle. Or install the other parts on to the receiver depending on how you look at it.
Like the drilling and milling, it all comes down to each product. The maker can help with their instructions and parts.
Ultimately, the only way to know if something is easy to install is to see what users said. And, yes, we took care of this for you as well by looking at customer reviews.
Price
Lower receivers alone, especially 80% finished ones, are not overly expensive products, but you still want to make sure you're not overpaying for something you don't need.
You also want to make sure you're not just buying cheap to get a deal, but then you end up with a product that's not what you want.
Start by thinking about what you want in a receiver and then pick the one in your budget. Another good strategy is to bookmark this article and check back to see if any of receivers are on sale.
Commonly Asked Questions
What is an FFL? – The FFL is the Federal Firearms License.
While it normally only applies to people and entities who engage in business with firearms and ammunition, it also applies when you buy firearms and ammunition online.
Getting one is not difficult or too expensive. All you need to do is go the ATF's website and fill out some paperwork.
You do go through some background checks, but nothing too complicated.
Why do 80% receivers not need an FFL to purchase online? – Stripped lower receivers are finished and contain a fully functioning firing mechanism.
BecauseBecause of this, it's considered an active firearm, and you need an FFL to buy it online.
An 80% receiver is below the threshold of what the Federal government considers a firearm. For this reason, it isn't stamped with a serial number, and you can buy it online.
The ATF does recommend that when you finish the AR you get a serial number imprinted. This helps officials track down crimes committed by the weapon if it were ever stolen and used by a criminal.
Conclusion
We hope you enjoyed our breakdown of the best AR-15 lower receivers.
These products are an essential piece of your AR-15 build, so picking one is an important part of the process.
The 80% lowers we reviewed are all quality products. Now it's up to you to think about the features and specifications and make a confident purchasing choice.  
If you are interested in buying a totally new AR-15, we have an article on the website here about the best of the best.  Check it out if you're interested!