Do you just find holding your AR-15 uncomfortable?
Are you looking for something to help you aim more securely and accurately?
An angled foregrip can make quite a difference, but most folks often forget about it.
They're a relatively inexpensive addition to your AR-15 setup, but it can make a surprising and positive impact on how you shoot.
It may be hard to find the right one for you, so we did the research.
Read on for more information on the best AR-15 angled foregrips and why you need one.
Review Of The Best AR-15 Angled Foregrips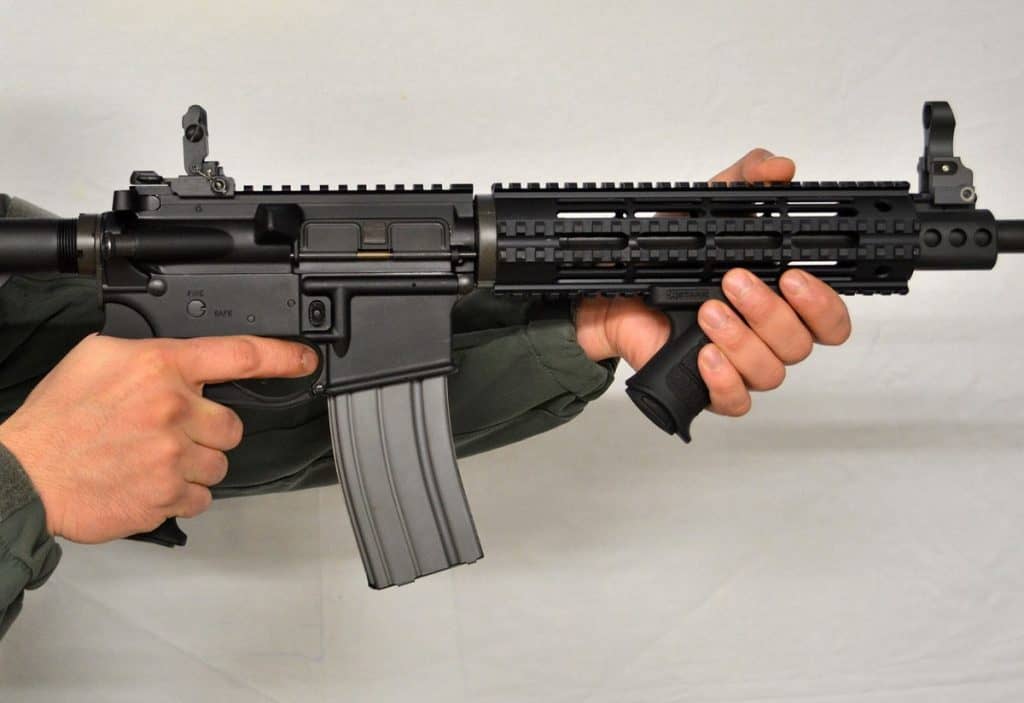 This is the section where we break down our picks into their features and discuss how that impacts the foregrip quality.
Use the guide from the features section above to help you think about each product and pick the one that best suits your needs.
Magpul – Picatinny AFG1 Angled Fore Grip
This angled foregrip by Magpul comes in at an average price, but the comfort and extras it offers are great for its value.
The foregrip is made from heavy-duty, reinforced polymer. This material is standard for grips because it's tough and resistant to weather damage.
The low profile angled shaped gives you better general handling of the rifle while still being able to add that security to your grip when you aim and fire.
Magpul position the foregrip supports close to the centerline of the bore.
This position helps you, as the shooter, stay centered, and it helps the foregrip absorb more of the recoil from that contact point of the rifle.
The grip design keeps your palm up and more open than a grip which requires you to close your fist around it.
While this may seem less secure at first, this style of grip actually helps you have longer shooting stamina. A closed fist style grip exerts more force on the hand and makes you tired faster.
The foregrip also has molded grooves to give you a stronger grip during bad weather and rain.
Magpul also allows with this foregrip interchangeable inserts that slide onto the Picatinny rail. These inserts change the shape slightly to allow for a position customized to your preferences.
Overall, Magpul's angled foregrip gives 5.5 inches more gripping space. You can purchase this foregrip in four colors: black, dark earth, O.D. green, and gray.
Users for this product had the following to say:
Positives Recap for This Product
Easy to install
Tough and durable material
Customizable inserts are really convenient
Comfortable to hold and grip
Adds security to your shooting stance
Negatives Recap for This Product
May be insecure when installed
Related: Best AR-15 Rifles
Strike Industries – Picatinny Cobra Tactical Foregrip
Strike Industries and their affordable foregrip try to create a lightweight product that is easy to use and adds a helpful holding platform for their AR-15.
The molded hard polymer provides a light grip without sacrificing much strength. This one may not perform as durably as reinforced polymers, but it should still do the job well.
The profile on this angled foregrip is very low. It only extends out from the rifle a 1 inch.
There is a hand stop at the rear of the foregrip, so you don't slide off the end. There's also a textured ribbing where your hand holds for stronger grip even in the rain.
The front of the foregrip has a ridged front face. This allows you to brace the rifle against surfaces like barricades for even more security.
Strike Industries designed this foregrip to secure to any Picatinny rail on your AR-15's handguard. The company says that once attached, it's completely secure and wobble-free.
You can buy this foregrip in two colors: black and flat dark earth.
The customer experience boils down to this:
Positives Recap for This Product
Affordable pricing
Looks tactical and great
Ridge front end is a nice extra feature
Compact profile
Good gripping surface
Negatives Recap for This Product
Installation bolt may stick out and dig into your hand
Stark Equipment Group – Express Grip
With Stark Equipment's moderately priced grip, they were looking to provide the best foregrip for recoil absorption and increased accuracy.
The foregrip is made from a hard polymer for the balance of lightweight and durability. They've made the product resistant to weather, chemical exposure, and user error (drops and dings).
Stark believes that the proper placement for the foregrip is as far down the handguard as you can go, and they designed this part to do just that.
The farther down the barrel you hold, the more recoil you can absorb. Some people also claim this is the most comfortable holding posture because your arm is at a natural extension rather than bent.
To help make a secure grip, they also textured the surface for better security even when wet.
As an interesting extra, Stark includes a grip plug, opening up a place to store small objects in the foregrip itself.
The profile of this angled foregrip is more medium. This means that it sticks out farther than others that are lower profile, but it does provide more surface to grasp the grip.
For this foregrip, your color choice is black. It attaches with any standard MIL-STD 1913 Picatinny rails.
User reports told us the following about this angled foregrip:
Positives Recap for This Product
Good value
Comfortable placement farther down the handguard
Secures well to the rifle
Textured grip provides extra security
Storage place is a nice bonus
Negatives Recap for This Product
Larger profile may make it get in the way
Similar: Best AR-15 Build Kits 
Daniel Defense – Ar-15 Stock Set W/Vertical & Foregrip Collapsible Polymer
Daniel Defense's grip is the Cadillac of foregrip including all the bells and whistles and the higher price.
This foregrip is made from glass-reinforced polymer for lightweight and maximum durability. They also add a soft-touch rubber molding in key places to add some comfort to the grip.
The foregrip secures well to the rifle's handguard. Its profile is a little higher than you may prefer, but Daniel Defense has a solution.
As your moving around and handling your weapon, you don't really want a large profile foregrip. So they made the foregrip collapsible.
This feature gives you the benefits of the larger grip surface without the drawbacks of it getting in the way while you move around.
The foregrip is also textured with the soft-touch rubber. Even when wet, you should still be able to get a secure grip on the rifle.
As an added bonus, this product is actually part of a larger set. When you purchase the foregrip, the matching buttstock is included.
The buttstock contains the same polymer and rubber elements for gripping, strength, and lightweight.
The buttstock is also adjustable with insertable butt pads to give more or less length to the stock depending on what you need and prefer.
On top of this, each part was designed at mil-spec which means that it should fit with any other mil-spec part with little to no fitting adjustments needed.
This foregrip and buttstock set come in tornado grey.
The customer experience boils down to the following:
Positives Recap for This Product
Very tough material
Strong gripping and comfortable rubber
Collapsible foregrip is a nice extra feature
Comes with a quality buttstock
Easy to install
Negatives Recap for This Product
What Is An Angled Foregrip?
Normally, when you have an AR-15 you place your shooting hand on the trigger guard and grip and your off-hand on the handguard below the barrel. But some people want more security in their grip and shooting posture when they move about with their AR-15.
So they add the foregrip. The foregrip is an added grip that attached to the handguard of your rifle. It provides a more stable place for you to grip the rifle with your off-hand. There are two main types of foregrips for the AR-15: vertical and angled. The vertical foregrip is held just like a pistol grip, but with your off-hand. Some people really prefer this, but others find that its jutting profile gets in the way as you handle the rifle.
This is where the angled foregrip comes in. An angled foregrip does what its name says. It angles towards the body of the shooter. It offers a balance of a lower profile but still providing a good surface area for extra gripping. Typically, angled foregrip turn toward the shooter at between a 30-45°. 
Reasons To Use An Angled Foregrip
There are many reasons to use an angled foregrip. We'll list a few of them here, but there are many more you want to consider. More secure grip – Using your off-hand to hold at the handguard is the standard shooting position, but no matter how much you adjust your arm, it will always be slightly bent.
With a foregrip, you have a place to add equal holding pressure from a better arm angle and add your hand's strength to grip. This creates an overall more secure grip. Also, most foregrips come with special texturing to give the grip a non-slip surface in the rain. Lower profile – An angled foregrip has a lower profile than a vertical one.
The lower profile gets the part out of the way when you're moving around and handling the weapon. If it sticks out too far, you can actually catch the foregrip on your clothing and branches as you go. Greater control in tactical situations – In tactical situations (whether it's live-fire or at a sportsmen's club), you need to move and shoot a lot. This creates a need to make the AR an extension of your body as much as possible.
With an angled foregrip and the more secure grip that comes with it, the rifle moves with you as you move. So when you're moving around obstacles and shooting as you walk, the foregrip becomes essential for a stable and secure shooting platform. More comfort in long aiming scenarios – Even if all you do is hunt, you may still find the foregrip to be useful to you.
Imagine you're sitting in the blind when a monster buck starts walking through the woods. You can see it through the foliage, but you don't have a good line of fire. You keep aiming and sighting through your scope as you wait to see if the animal gets any closer. You don't want to rest for fear that you'll miss your chance.
But over time, holding the AR gets tiring if your grip isn't comfortable. With an angled foregrip, you have much greater stamina for aiming because it's more comfortable. Increased accuracy – In single shots or small groups of shots, your accuracy with or without an angled foregrip may not be much different.
But over time and over many shots, you may see a great difference. The foregrip is more comfortable and more secure. As you get tired, you may see that your hand and arm get tired faster just holding the handguard. This cause you to lose the accuracy you had when you were fresh.
With a foregrip, you stay fresh longer and have increased accuracy over a longer period of time. Decreased recoil – A foregrip connects the handguard and barrel of the rifle more powerfully to your off hand and arm.
Instead of all the recoil coming into your shoulder, it's now passing through two points on your body. The disperses the recoil better making it less noticeable. This also helps with the problem of muzzle rise losing accuracy when you fire shots repeatedly.
Features of Angled Foregrips
In this section, we talk about the important features to look for in an angled foregrip and how these features can impact the use of the AR-15 as a whole.
Use this section to educate yourself as you read the reviews below.
Material
Foregrips are typically made from some type of polymer. Polymers work well because they are resistant to weather, light, and yet can have some decent durability.
However, not all polymers are made equally. If you want a polymer that's a little tougher than others, you need to look for reinforced polymers. They end up costing a little more, but they are much more durable. Some polymers are just reinforced with more polymer. This works pretty well.
The toughest polymers are reinforced with other materials like glass or fiberglass. Look for these if a long-lasting product is important to you.
Grip
A foregrip helps you hold the AR-15 better, but the actual design of the grip is important too. Many foregrips add texturing to prevent slippage in the rain. Others add specific shaping to mold to your hand and fingers better.
The best way to see how good the grip is to look at what others who bought the product said. We did that for you and condensed the information down into the "Recap" section at the end of each product review.
Related: Help! My AR-15 Fires When Trigger Released
Comfort
Like the grip factor, you also need to watch out for a grip's comfort.
It's not just a matter of personal preference; an uncomfortable foregrip can negatively impact your shooting.
The less comfortable a foregrip is, the less likely you are to shoot. Then, you've just wasted your money.
Also, if the grip is uncomfortable, then you will get tired more easily. Tired hands and arms don't shoot accurately.
Read what other people said about its comfort level, and see if it's right for you.
Installation
Installing foregrips are usually pretty easy. Most are designed to attach to Picatinny rails.
But there are some cases where the foregrip is attached but not secure. This may not be a big deal if you only use your rifle for hunting.
If you use the rifle in tactical situations, then a secure foregrip is essential.
Another thing to watch is if the foregrip was made at mil-spec. These are set dimensions by the military.
Mil-spec gun parts fit with all other mil-spec parts with a minimal amount of extra fitting needed.
Extras
With all else being equal, you may want to consider the foregrip that has some neat extras. These extras may include things like:
Collapsible
Storage compartments
Insertable grips
Adjusting positions
Price
When shopping, it's only common sense to take the price of a product into account.
Angled foregrip are usually relatively inexpensive, but you may not want to just go for the cheapest product out there.
A foregrip can last you a long time and make a big impact on your shooting experience. Find that balance of quality and price.
Don't forget to click the links to check current pricing which tends to fluctuate over time.
Also read: 4 Best AR-15 80 Lower Receivers
Conclusion
We hope you enjoyed reading about the best AR-15 angled foregrips.
Some might consider these grips unnecessary, but comfort is completely necessary when you're an avid gun enthusiast.
Without comfort, you won't shoot as much or you get tired and then your accuracy suffers.
Use our article to help you find the right one for you and buy with confidence.
If you enjoyed this article you'll probably like these: