Watching an action movie, what's the first thing you notice? Does your attention center on the protagonist firing off rounds like his life depends on it? Does your mind's eye immediately jump to his gun?
Do you even consider what sight this fictional action hero has equipped himself with? For the vast majority of us, I would wager that the answer to that last question is a resounding no. But anyone involved in shooting, whether as a hobby or a profession, would be eager to explain the error of your ways.
Weapon sighting systems are one of the most fundamental components of any shooter's arsenal. After all, you can't hit what you can't see. In many cases, even the slightest optical advantage can mean the difference between a kill and a miss, between life and death.
And so, in this brief article we hope to answer any and all questions about one of the most popular weapon sighting systems on the market today. It all starts with one simple question: What is an ACOG Scope?
Sale
Trijicon ACOG 4x32 BAC Dual Illuminated Riflescopes
BATTERY-FREE ILLUMINATION: Features a tritium/fiber optic illuminated reticle that automatically adjusts the brightness based on available light
RUGGED ALUMINUM-ALLOY HOUSING: Forged 7075-T6 aircraft-aluminum-alloy housing provides for a nearly indestructible sighting system
"BOTH EYES OPEN" DESIGN: The ACOG can be used as a CQB sight when shooting "both eyes open," utilizing the Bindon Aiming Concept
COMBAT PROVEN: No other magnifed optic has been used more in combat than the ACOG. Assembled Product Dimensions (L x W x H): 8.25 x 6.62 x 3.62 Inches
BULLET DROP COMPENSATING & RANGING RETICLES: The US Army green Chevron ranging reticle allows for bullet drop compensation out to 800 meters designed for the US Army's M4 weapon system (14.5" barrel)
Before we get started, allow me to provide a rough breakdown of what an ACOG scope is, for those of you completely new to the world of firearms and firearm accessories. An ACOG scope is a fixed magnification weapon sighting system manufactured by the American company Trijicon.
It stands for Advanced Combat Optical Gun sight and that's exactly what it is. Constructed out of the highest quality materials, it is the most common sight equipped by our men and women in uniform. The ACOG is a tried and true platform trusted by those who put their lives at risk on battlefields around the globe.
What, you may ask, is the difference between a fixed magnification sight like the ACOG, and a variable magnification sight like those used by hunters and marksman the world over?
The answer is quite simple actually; a fixed magnification optics system such as Trijicon's ACOG provides only one magnification setting. While Trijicon provides a wide range of magnification options across their ACOG product line, were you to buy a 4x ACOG scope you would be completely limited to 4x magnification. That is, the magnification is not adjustable: fixed, if you will.
On the other hand a variable magnification optical system may allow for two or three different settings. And while arguments can be made for fixed and variable magnification alike, when it comes to the former there is no contest; Trijicon's ACOG scope is the best on the market today.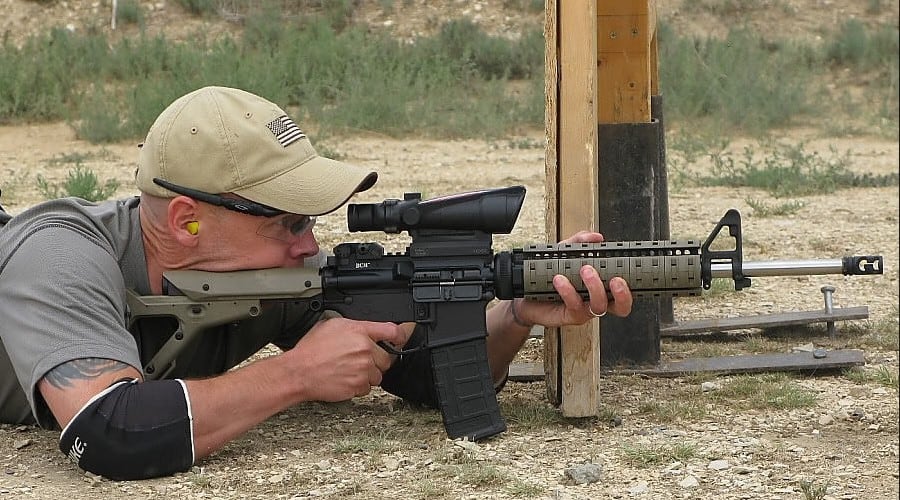 What's The ACOG Scope's Primary Function?
Originally designed for use with the American M16, Trijicon's most popular sighting system has since been employed for a wide range of uses across a multitude of platforms.
Regularly equipped to M16 and M4's in a non-civilian, combat setting, the ACOG continues to find uses off the battlefield. From hunters to hobby shooters and collectors alike mounting this scope on their AR15, the ACOG's dominance of the fixed-sight market is proof enough of its versatility and durability.
While Trijicon's ACOG sight can run on the higher end of weapon accessories, with prices ranging from one to three thousand dollars, for the avid shooter there really is no alternative. Here's our favorite Trijicon ACOG.
For those of you who know what you want or already have it, check out this video on getting started with your ACOG scope:
Trijicon is an optics company founded by a man named Glyn Bindon in 1981. Since first opening their doors, Trijicon has established a name for manufacturing some of the highest-level weapon sighting systems in the industry. While the company's history extends back to the early 80's, it wasn't until 1992 that the first model Trijicon ACOG scope was released.
What followed were over two decades of research and improvements, leading to universal acclaim for the Trijicon ACOG scope throughout every corner of the industry. From hobbyists to hunters to governmental and military organizations, the ACOG scope is pervasive throughout the world of firearms. Long associated with a history of quality construction and customer satisfaction.
Don't take our word for it, check out this video for more on what the big deal is when it comes to the Trijicon ACOG scope:
Is The ACOG Scope Right For Me?
As we've touched on thus far, the ACOG Scope is not merely a government-grade optics system. Despite its' regular use by armed forces around the world, the ACOG maintains a steady following among the civilian population as well.
Fixed magnification optics are incredibly popular within the hunting community and Trijicon's ACOG sits at the top of the list. For those of you not as interested in hunting, the ACOG scope is a favorite among marksmen and hobby shooters as well. While we could sing the ACOG's praises all day, check out the video below for a more in-depth look at what the ACOG offers, and whether it's a cost worthy accessory for your modern arsenal:
ACOG is a term often heard outside the world of shooting. From video games to action movies, the acronym has worked its way into our popular culture. As such, ACOG has become a phrase attached to countless imitation and knock-off optics systems launched on the modern consumer. 
Trijicon created the ACOG scope from nothing and continues to produce the highest quality version on the market today. Do not be lured in by cheap reproductions that will surely fail within months. Trust only the best when making a purchase as significant as this. Here's an example of what to watch out for.
Related Read: Scopes for Your AR10.
That concludes our analysis of the Advanced Combat Optical Gun sight by Trijicon, or what is an ACOG scope. A better fixed magnification optical system is not easily found in today's market and we hope this information has proven both insightful and valuable. Whether you are researching a purchase or simply looking for a little background information, we thank you for reading and hope to see you soon!
If you enjoyed this article check out our piece on muzzleloader scopes.