Adding a scope to a BB gun is not as difficult as you may dread. In fact, you can do it easily without any alterations to the gun. In just a few simple steps you can have your scope set up and be plinking your targets accurately. You only need a few common sense items that shouldn't require you to go out and purchase anything fancy. So, if you're ready to follow this step-by-step guide, I'll show you how to put a scope on a Daisy BB gun.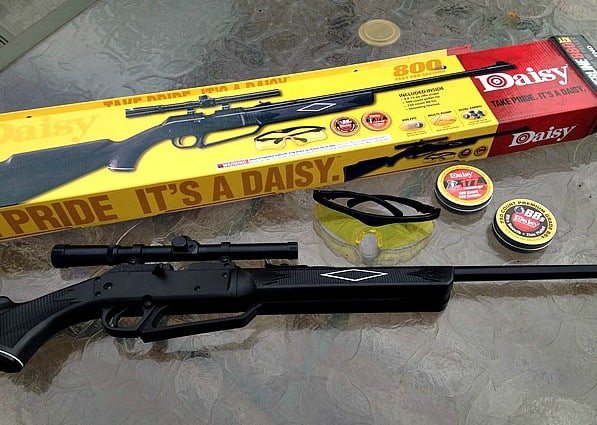 Some Things You Will Need
Daisy BB Gun – This is an old school BB gun, but it's super fun, easy and accurate to shoot. It has a very basic and simple design so it's easy to add the base rail without doing any major modifications or damage to the gun.
Scope And Scope Rings – You will need the scope and rings that you want to mount on the gun. In this guide, we will be using a Lasso rail so be sure that your scope rings are for the Lasso, which is a 3/8-inch dovetail mount. This is a Daisy BB gun base.
Philips Screwdriver – You will need this to remove the rear top screw on your BB gun's stock. This is where you will install the base rail.
Lasso Base Rail – The Lasso mount, or Lever Action Simple Securing Optics mount, is a type of rail that was developed for the Daisy BB gun and will fit and Daisy rifle. It is a 3/8-inch dovetail mount and so should be able to handle various scope rings. It comes with everything you need to secure it to the gun, just make sure you don't lose any of the tiny pieces. It will also come with two spacers which must be installed proper scope elevation.
How To Put A Scope On A Daisy BB Gun
You can install a Picatinny base rail in the same way that the Lasso is installed. The Picatinny is more common, but keep in mind that the Lasso was specifically made with the Daisy BB gun in mind and is also a very affordable option. Otherwise, it's all very straight-forward and will go together easily.
Step 1 – Remove Screws
First, remove the elevation ramp from the rear sight by simply sliding it out. Then, using your Philips-head screwdriver, proceed to remove the rear stock screw.
Step 2 – Place And Center The Lasso
Make sure you have removed the front Acorn nut and washers from the Lasso and place the mount on the rear stock. Lift up on the rear sight and slide the front of the Lasso under it with the machine screw facing upward and into place. The slot in the rear sight will hold the machine screw centered on the gun. Line up the rear screw hole of the mount to the rear screw hole of the gun stock.
Step 3 – Place Spacers
Place your spacers between the two rear screw holes to get the proper elevation and distancing for your scope. This is an important step and is completely necessary, otherwise, your scope sighting will be off. Depending on your scope, you may only need one spacer, but for the most part, you would be using both of them.
Step 4 – Replace Screws
Place a locking washer on top of the rear scope hole and replace and tighten the stock screw first. This will hold everything secure to the gun stock. Then, place the tiny washer, locking washer and Acorn nut onto the machine screw at the front of the mount. This only has to be hand tightened so as not to bend any of the thin rear sight metal on the rifle.
Step 5 – Mount Scope
Now that your base mount is secured in place you can mount the scope. Just line up your dovetail rings over the mount and tighten until they are nice and snug. You now have a scope on your Daisy BB gun!
Common Questions
Do I need to use a BB gun specific scope and mount? – Yes and no. You need a base mount that will fit onto your Daisy BB gun and has a compatible fitting, such as the front screw and rear screw hole. The Lasso is Daisy BB gun specific and is easy to obtain. There are some Picatinny rails out there that are also designed with BB rifles in mind, but just check out the mount and make sure it has the same setup and you should be good.
There are also some Daisy BB gun specific scopes out there, but really you can mount whatever scope you want on your rifle, as long as it fits and has the correct rings to attach to the mount. There are a lot of great scopes out there that are for air rifles that should be a good match for what you need or want on your rifle.
Will I need to drill extra holes to mount a scope in my Daisy rifle? – You shouldn't need to. Especially with the Lasso mount, everything just screws into place with the existing rifle setup so you don't need to worry about altering or damaging your gun. Be aware that when you tighten the front Acorn nut down, it only needs to be hand tightened or else you can damage the thin metal of the rifle's front sight.
Conclusion
I hope that this guide has succeeded in showing you how to put a scope on a Daisy BB gun. It's really sort of foolproof and very nice that you don't have to mutilate your rifle to have a scope on it. After the scope is mounted, make sure to take it out and sight it in and make any adjustments necessary to get the best targeting experience you can. As always, have fun and happy shooting!
If you enjoyed this article you'll probably like these: