Need to know how to mount a scope on a AR15?
It can be annoying to mount a scope perfectly but this tutorial aims to help you do this on the first try.
By following this guide step by step you're going to reduce your odds for error and in the end, you'll have a perfectly mounted scope.
It's even quite fun once you begin getting the hang of it.
After using this guide, you'll be an expert and should be able to mount any scope with your new knowledge.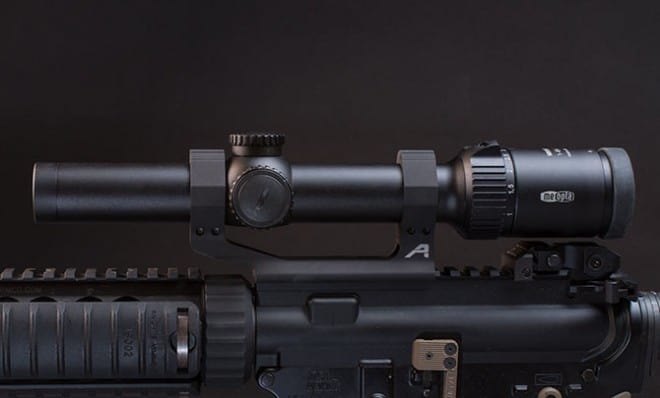 Items Needed To Mount Your Scope
Hex Bit Tool – The hex bit is used on a lot of different guns so it's a useful bit to keep around.
I've linked you to a unique tool equipped with the common bits and tools needed to work on firearms.
It's an all-in-one hand tool with 18 of the most used tools for rifles and shotguns.
Torque Wrench – You're going to need a torque wrench for adding your scope mount to your AR15 railing.
Most attachments require a torque wrench and it's just a tool you should have around anyways.
Bubble Level – Using a bubble level to install scopes or any firearm sight is important.
If you install your optics non-level it's going to ruin your accuracy and cause you headaches in the future.
Always make sure your optics are completely level when installing.
Scope Mount – Many scopes include the hardware to mount onto your rifle. If not you'll need to purchase separately.
Your Rifle Scope – Make sure you have all the required hardware such as scope rings etc… to mount your scope.
Shooting Rest – Using a shooting rest to hold your AR15 in place while is more than worth the money.
Shooting rests are great for mounting scopes on your AR15 and using them to test a newly installed scopes accuracy.
They make quite an impact on the scope mounting process by simply making everything easier to do.
Once you have everything together you're ready to mount a scope.
How To Mount Your Scope On An AR-15
Follow the instructions below to mount your scope on your AR15.
Please remember to take your time and be patient during this process.
If you've never done this before it should be done slowly with patience.
There's nothing worse than getting to the end only to find out you have to re-do the process because you rushed one step or forgot to align something.
Step 1) Preparation
The first thing you need to do is ready your rifle.
Make sure your gun is empty, unloaded, and it's on safety.
Set your AR15 up on the shooting rest and make sure it's secure.
Use your bubble level to make sure it's on a level setting before starting.
Lastly double check for all the tools you're going to need for this process.
Step 2) Adding Scope Mount
Take your scope mount and place it above the upper receiver.
Avoid placing the scope mount on both the upper receiver and the free-floating rail since this can cause unwanted stress on the rifles tube.
Tighten the scope mount by hand so it's stable but not tight.
Now grab your torque wrench to finish tightening the scope mount.
Pay close attention to your specific scope mount instructions at this stage.
Each scope mount will have a torque level you should not go pass so make sure you're not over tightening your mount.
Step 3) Adding The Scope
Now your mount is secure it's time to add your scope.
Place your scope onto the mount.
The rings should sit on a flat surface of your scope.
Take the top portion of the scope rings and place them over the scope and begin securing the scope.
When tightening the scope rings do so in an X pattern.
You shouldn't fully tighten the scope rings just yet.
Use the X pattern to make sure there's the same level gap on each side of the ring while tightening.
Once you've tightened the scope rings and a small gap remains you should be able to still move the scope around.
This is an ideal time to check your scopes eye relief and find a suitable position.
Step 4) Leveling Everything
First, take your bubble level and place it on a flat part of the tube.
If you're using a shooting rest this will be very easy.
Make sure your AR15 is completely level.
Now it's time to level your scope.
Before leveling the scope it's very important to make sure your reticle is aligned horizontally and vertically.
Do this by aligning the reticle to a door frame or target, vertically verified by a level.
Once the reticle is properly aligned place the bubble level on the top of the scope and make sure it is aligned as well.
Step 5) Finishing It Up
Now finish tightening your scope rings.
Remember not to tighten one side first and then the other.
Instead, use the same X pattern to tighten each side evenly so there's an even gap on each side as you tighten the scope rings down.
Now you know how to mount a scope on an AR15 and your scope is secure you're ready to bore sight your rifle.
Commonly Asked Questions
What's the proper scope position for an AR15? – You've likely noticed every time you see a scoped AR15 it's in a different spot.
Sometimes they're further back and sometimes more forward.
This is because there is no set location for the scope.
Where you'll place your scope comes down to eye relief. 
Eye relief is the distance you must hold your shooting eye from the back of the scope in order to see the entire image produced by the scope.
Generally, the more magnification a scope has, the shorter its eye relief.
Are quick release scope mounts worth it? – This really boils down to what you're hunting and should really be considered situational.
Here's one example one hunter ran into and wished he had a quick release mount:
"These hunters targets are usually around 200 yards out but on one of his trips the game, he was hunting walked in the open through some nearby brush and was much closer.
The higher magnification scope made it too difficult to aim and shoot the closer game since he was unable to make out what he was aiming at."
If he would have had a quick release scope and would have been able to swap to a low magnification sight then he may have been able to shoot the closer game.
Can the AR15 be used for hunting? – Yes, the AR15 can be used for hunting.
However, the standard .223 caliber ammunition doesn't offer tons of stopping power.
It's best used for small game hunting or removing local predators such as coyote.
Conclusion
We hope you enjoyed this tutorial and have used it successfully to mount a scope on your AR15.
It's very important to keep everything level while mounting your scope so don't be afraid to over check with a bubble level throughout the entire process.
It's better to be safe than sorry and you don't want to have to start over from scratch.
If you enjoyed this article you'll probably like these: