Burris has a storied history among the top rifle scope brands in the outdoor industry as one of the best optics manufacturers. With the world of outdoor optics changing as many companies seek to produce newer, more advanced scopes for hunters and shooting enthusiasts, the Eliminator III is one that is drawing high amounts of praise from users.
This particular scope has a surprising amount of special capabilities that set it apart from other models made by Burris. It produces a crisp, clear sight picture for the shooter while also serving as a laser rangefinder that has a plethora of different functions and features. With so many advanced features, it's easy to see why the Eliminator III LaserScope 3-12x44mm Rangefinder Scope is so popular with hunters and competitive shooters alike.
In this article, we'll look at the Eliminator III LaserScope 3-12x44mm Rangefinder Scope and see why it's so popular with hunters and shooters in 2021.
Eliminator III LaserScope 3-12x44mm Rangefinder Scope Overview
The Eliminator III is made to be a highly-capable laser scope and rangefinder that is relatively affordable for the average outdoorsman or woman. Taking a closer look at all the features, as well as the specifications reveals just how this scope packs in a high amount of value for users who are looking to get a scope with advanced features, but don't want to spend thousands of dollars in the process.
Specs:
Magnification: 3-12x
Matte Black
X96 Reticle
Objective Lens Diameter: 61 mm
Clear Objective Lens Diameter: 44 mm
Ocular Lens Diameter: 42 mm
Field of View: 33-9 feet at 100 yards
3.5-4 inches of eye relief
Clicks: ⅛ MOA
Weight: 28.8 oz. (including mount/battery)
CR123A Battery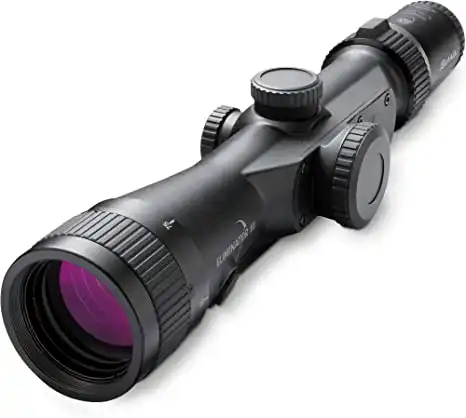 Eliminator III Notable Features
Burris' Eliminator scope series has been wildly popular with hunters over the last few years. These scopes have developed a reputation for being both innovative and effective, as well as being able to stack up against the much more expensive competitors' options quite well. This scope comes with its own mounting kit and will fit to any standard Picatinny or Weaver-style base.
Optics
The Eliminator III comes in three different models including the 3-12x 44mm, 4-16x 50mm, and a 4-16x 50mm that comes with standard remote cable with enhanced software.
The 3-12x is considered to be ideal for whitetail deer hunters across much of America as they will rarely take a shot at more than 300 yards in most cases, especially those who hunt in dense hardwood areas. This particular Eliminator III model is more light and compact than the other models, making it even more ideal for deer hunting rifles, or shooters who simply like a smaller scope on their guns.
Reticle
The scope's X96 Reticle is among the most advanced new reticle designs on any model that is available in 2021. This reticle is capable of calculating and displaying your range in a fraction of a second.
The scope operates with a number of internal mechanisms to create a bright red dot along the vertical alignment plane that represents where the user needs to place their crosshairs at a specific distance based on the given angle of the shot and other factors.
The X96 Reticle is also capable of making specific calculations for where the bullet will strike the intended target based on the user inputting the exact cartridge information. This feature is able to calculate windage adjustment in increments of 10 m.p.h. differences.
The reticle will display how many dots a user should hold their crosshairs into the wind in order to accommodate for crosswinds that often carry a bullet away from the intended target. The scope displays the number of dots a user needs to hold their crosshairs over depending on the wind speed, which the user will have to guess themselves.
Related: Burris Eliminator IV Rangefinder Scope Review 
Rangefinder
The Eliminator III's built-in rangefinder is highly accurate and operates in a way that allows the user to calculate accurate ranges without the need for extra equipment in the field.
The rangefinder works out to a surprising distance of 1,200 yards and has been reported to be highly accurate by users who have used it in a number of different situations. The scope is capable of ranging targets in yards or meters depending on the user's preference.
Users will gain the full functions and capabilities of the Eliminator III by programming their own rifle's specific cartridge type and weight. This will help the scope to display the proper holdover information that allows the user to determine just where to place their crosshairs to make an accurate shot.
Scope Construction
The Eliminator III scope is designed according to a sleek, ergonomic appearance that makes it look similar to a typical scope model while still offering incredible ability to calculate ballistics and distance. The scope is very easily-mounted to just about any rifle and features everything needed to mount to either Picatinny or Weaver-style rails.
This scope is also designed with the same high-quality glass lens that Burris has become known for throughout the last few decades. The glass is designed with Index-matched, Hi-Lume multi-coating that's aimed at providing high levels of light transmission so that hunters will be able to take those crucial shots during low-light conditions at dawn or dusk.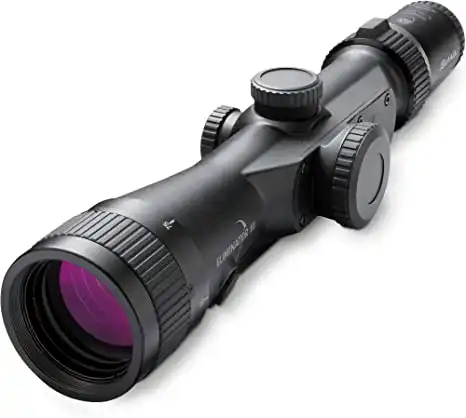 Similar: Swarovski ds 5-25×52 Rangefinder Scope Review 
Conclusion
The Eliminator III LaserScope 3-12x44mm is an excellent choice for users who are looking for a next-gen scope that offers all the usual bells and whistles of the premium models without the gigantic price tag. Burris has designed this scope to function in a way that helps users get the most out of their scope, as well as improving their ability to make accurate shots at longer distances past 500 yards when needed. The scope also comes with the Burris Forever Warranty, making it an exceptionally good all-around deal.