Have you been asking yourself whether or not to use a scope for turkey hunting? Turkey hunting, like any other kind of hunting, has changed a lot in the last decade. We have gone ahead and researched the 5 best turkey scopes on the market right now. One of these scopes is sure to provide you with the edge you desire.
Reviewing The 5 Best Turkey Scopes
Below you will find five of the best scopes for turkey hunting on the market right now. Each one would be a great addition to your shotgun, and give you peace of mind when pulling the trigger. Each one has different features that make them excel in this particular style of hunting, and more importantly, give you some good scopes to choose from.
TRUGLO GOBBLE-STOPPER
TRUGLO Red Dot Dual-Color Sight 30mm Gobble-Dot...
Specially designed reticle for turkey hunting; Two choices of reticle color for contrast against any target or background...
Detachable, extended sunshade eliminates glare from the front lens; Flip-up lens caps with lanyard system
Includes 3V-CR2032 batteries (main and spare); Spare battery storage compartment
Lightweight and easy to mount; Integrated weaver-style mounting system; Constructed of CNC-machined aircraft-grade aluminum
Includes all the award-winning features of our traditional RED-DOT series sights
This scope was designed specifically with the turkey hunter in mind. With the dual colored reticle, it works in any background an situation. It is lightweight and easy to mount or unmount. Truglo has twenty years of experience making scopes, and they put that experience to use on this model.
With unlimited eye relief, it is a great choice for shotguns that have quite a bit of recoil. The wide field of vision makes it easy to track your target and not lose sight of it. It also has 5 settings for brightness to accommodate any lighting conditions you may run into.
There have been mixed reviews on this product from the hunting community. Most are positive experiences but a few feel they did not get what they thought they would.
One customer used this scope for 3.5 inch, 12 gauge loads and put this scope to the test. It held up and kept zero while pumping these rounds off. The circle within the reticle is used to help you judge distance by how much of the turkey fits within the circle. A lot of bang for your money.
However, another customer stated that after running the sixth round through his gun the top cap that holds the battery flew off and stripped the threads. He could not get it back on. The reviews on this scope are at either end of the spectrum, saying they either love it or hate it.
Positives Recap for This Product
Specially designed for turkey hunting
Holds up to recoil
Lightweight
Dual color reticle
5 brightness settings
Negatives Recap for This Product
Hard to hold zero
Some components not durable
Customer service is lacking
Weaver Kaspa 1-4X24mm Turkey Ret Obsession camo 30MM
Weaver Kaspa 1-4X24mm Turkey Ret Obsession Camo...
Hunting scopes rifles
30mm tube design provide rugged performance
Three reticles to choose from including Turkey, Slug/Muzzleloader and Dual-X
Crisp ¼" MOA adjustments for accuracy
Fully multi-coated lenses for excellent clarity and vivid images
This scope is made of high-grade materials with fully multi-coated lenses. It is nitrogen purged to prevent internal fogging, keeping images clear and crisp. The 4X24 magnification makes this scope good for all-around hunting, although it has a specific reticle designed for turkey hunting along with a muzzleloader reticle and a dual x reticle.
Looking over reviews for this scope it is easy to see that it does its job well. It is a bit on the heavier side, but that allows it to handle recoil better than a lighter scope. Clear optics and a solid design are what many hunters look for in a scope and this one delivers in both areas.
Most reviews on this product had a positive experience. One customer noted that it is a nice shotgun scope for turkey hunting. Many customers noted how sturdy it is built and how clear and crisp the image is when looking through.
Negative comments were few and far between. One improvement a customer had pointed out is to have better lens caps because they tend to fall off in the field. In my experience that is pretty minor considering the great price and value of this scope.
Positives Recap for This Product
High-quality construction
Three reticles to choose from
Fully multi-coated lenses
Crisp, clear images
Fog Proof
Negatives Recap for This Product
Lens caps fit loosely
30 MM tube limits mounting options
Bushnell Trophy Shotgun Scope 1.75-4X32
Bushnell Trophy mm Scope with Circle-X Reticle,...
Fully multi-coated optics and rain guard HD offer 91% light transmission in any weather
100% waterproof, Fog proof and shockproof 1 inch one-piece tube construction with integrated saddle
1.75-4X magnification with circle-x reticle and 3.5 inch eye relief in Realtree Xtra camo
Fast-focus eyepiece and 1/4 MOA fingertip windage and elevation adjustments
Backed by Bushnell no Questions Asked Lifetime Warranty
Bushnell has been around for about 70 years. They put all their experience and expertise into every scope they build. This scope is no different. The fully multi-coated lenses give you a clear, precise image when out in the field.
This is a great, all around shotgun scope with a fast focus eyepiece and one-piece tube construction. It is durable, able to take the recoil of slugs in any gauge. It is easy to zero in and holds zero even after the abuse you will put it through in the field.
The eye relief is perfect for high recoil guns and the reticles are very easy to see. Shockproof, waterproof, and fog proof add to the value this scope gives. It also has variable magnification which allows you to zoom in to your target and make even more accurate shots.
High praise for this scope comes from most reviews with only a few negative comments about minor things. One customer stated that this scope is everything that is advertised. The eye relief, clear optics, and camo design are all very well done. Any negative thing about this scope came down to opinions like the camo not matching the customers gun.
Positives Recap for This Product
Great clarity
Holds zero against recoil
Easy viewing
Eye relief
Waterproof, shockproof, and fog proof
Fast focus eyepiece
Negatives Recap for This Product
MOA adjustment knobs mislabeled on some customers' scopes
Simmons Prohunter Prodiamond Shotgun Riflescope
Simmons Prohunter Prodiamond Shotgun Riflescope...
Quality optics with stunning HD clarity
100% quality materials used and tested extensively
Beautiful design and durability built to last
Shotgun riflescope with 5x magnification and 32mm objective lens
Multi-coated optics and high-quality optical glass produce sharp, clear images
The rugged reliability of this scope is seen in its construction. It comes with TrueZero windage and elevation system to hold zero through even the toughest abuse. The Quick Target Acquisition eyepiece is great for turkey hunting where your target can move quickly and without warning.
While this scope is lightweight, it still delivers on durability. The clear bright images given by the multi-coated optics will give you an edge when spotting turkeys in brush habitat. 4" of eye relief will give you plenty of room to deliver the shot.
This scope is really made for between 0-200 yards, and it delivers. It compares to much higher priced scopes in most respects with only a few complaints from customer reviews at all. Glass clarity is where some customers had a problem with it.
Positives Recap for This Product
TrueZero windage and elevation system
Quick Target Acquisition eyepiece
Quick focus
Lightweight
Durable
3 different reticles
Negatives Recap for This Product
Glass could be clearer
Tube is a little long for use on shotguns
Sightmark Core SX 1X24 Shotgun Scope
Sightmark Core SX 1x24 Shotgun Scope
Long eye relief for use on muzzleloaders and shotguns
1x magnification conforms to "no magnification" laws
Designed to withstand heavy recoi
Compact and lightweight
Fully multi-coated optics
Heavy recoil firearms are no match for this scope. It is specifically designed to handle powerful recoil and is all weatherproof. Images come in clear with the fully multi-coated lenses, which are also fog proof.
Whether you're out turkey hunting or hunting for rabbit, squirrel or boar this scope will accomplish what it set out to do. It complies with states that have 1X magnification hunting laws. This is an excellent scope for anyone on a budget and satisfies the needs that turkey hunters want in a scope.
Most customers who bought this scope had positive things to say about it. One such customer said it was the best 1X scope he has used ever. One thing that some customers found to be lacking were the scope covers because they fall off easily. If you do not like using a red dot sight, this scope is a perfect alternative for that.
Positives Recap for This Product
Handles heavy recoil
Solid construction
Clear fully multi-coated glass
Low profile turrets
Amazing eye relief
Shockproof, fog proof, and weatherproof
Lightweight and compact
Negatives Recap for This Product
What Features To Consider When Choosing a Turkey Scope
Using a scope for any kind of hunting is obvious: you will miss fewer turkeys. The way you shoot is the main reason for this. With a scope, most hunters squeeze the trigger, much like shooting a rifle. Without a scope, many hunters tend to jerk the trigger, much like wing shooting.
Scopes come with a myriad of choice and options. Where you hunt should be taken into consideration when choosing some of these options. Since scopes can run anywhere from $100 into the thousands, it is advised to check what kind of budget you are working with, and what kind of options are a necessity for your situation.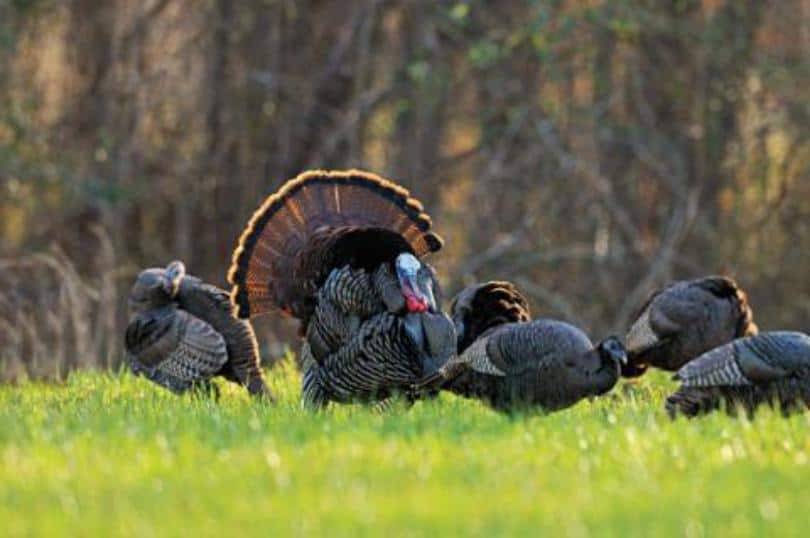 Durability
When it comes to durability it is a tricky business. Many of the parts that make a scope durable are not easily seen or accessed when looking at them. Functional durability is extremely important with any scope, because if the parts within are not durable how do you expect it to hold zero or be adjusted accurately?
Price may or may not have something to do with it. It could be higher priced because it has better optics and magnification, or because it is solidly built. Durability has a lot to do with whether it will hold zero while hunting, bumping it against things, dropping it.
Hunting is often times a rough sport over unforgiving terrain. Considering this is an important step in determining the right scope for your shotgun. Will it handle the abuse you plan on putting it through and still hold zero?
Reticles and Crosshairs
The two terms reticles and crosshairs are used interchangeably and are referring to the same thing. The reticle is the aiming point in your field of view in the scope, while crosshairs mainly refers to the perpendicular lines within the scope. Reticles come in many different styles, each tailored to a specific type of shooting.
It is important for you to do some research on what reticle is best for your situation. It is a good idea to try a few different styles to see which one works best for you. One person may tell you that a dot reticle will work best, while another person will say the duplex reticle is the one you want.
Another important decision to make considering reticles is where it is positioned. Reticles located in the first focal plane(FFP) means the reticle maintains the same perspective with the target size no matter what magnification power is used. A reticle located in the second focal plane(SFP) means that the target appears larger while the reticle stays the same size.
Optics
Optics are basically the lenses used in the construction of any scope. How the optics are constructed will affect how well the scope performs. Brightness, clarity, fogging and other factors will change depending on the quality of the optics.
Any scope you choose should have multi-coated lenses to allow for excellent contrast and clarity. The air to glass surface lenses should be coated with some kind of hydrophilic or hydrophobic coating. The size of the objective lens will determine how much light will enter the scope determining how well it will work in low-light conditions.
Magnification
It is important to know where you hunt before choosing the magnification you want. If you are hunting in an open field with long distances between you and your target you will obviously want a higher magnification. Turkey hunting can go both ways, but generally, you are usually within 100 yards of your target.
Due to the close range of turkey hunting, a low magnification scope usually works best. It offers a wide field of view while offering enough magnification to really place your shot where it needs to be. Generally speaking, most turkey hunters use scopes with no more than 5x power.
Price
With advances in technology over the last 20 years, scopes have become more and more affordable. The expression "you get what you pay for" does not always apply in this instance. Finding a scope that functions as a shotgun scope is all that matters.
A scope that is durable has a solid design, an easy to read reticle, and the right magnification is key to finding a scope that will work well during the turkey hunt. Finding all these with a good price tag is, no doubt, a home run.
Commonly Asked Questions
Why should I use a scope for turkey hunting? – First of all, you will take more birds during your hunt. Second, turkey hunting is not like wing shooting in that you use an ultra-full choke with minimal spread. This decreases your chances of hitting the birds spot on. A scope can accommodate this style of shooting.
Why can't I use a rifle scope on a shotgun? – The biggest reason is recoil. The powerful slugs shotguns use need to have a rugged scope with a few internal parts that can get knocked loose by heavy recoil. Another reason is eye relief. With heavy recoil comes the need for greater eye relief.
How do I choose the right shotgun scope? – The answer to that is really where and what you will be hunting. Optics these days are specific to game and terrain, so it should not be hard to find an optic that fits your needs.
Conclusion
Shotgun scopes are something that has just recently become popular. Many old-schoolers in my family do not use scopes on any shotgun and make fun of those of us that do. That being said, I take home more game than they do on a regular basis.
These 5 of the best turkey scopes are sure to add mojo to your hunting game and will have you taking home many more birds when equipped properly. Now get out there and bring home some dinner. Happy hunting.
If you enjoyed this article you'll probably like these: