The Taurus Judge is a .45 revolver that's rising in popularity for its versatility, unique grip, and safety features. But what is the best holster for Taurus Judge? We did the work and narrowed it down to our top 5 choices.
Read below to find out what you may want to look for and for our breakdowns of the products.
REVIEW OF THE BEST HOLSTER FOR TAURUS JUDGE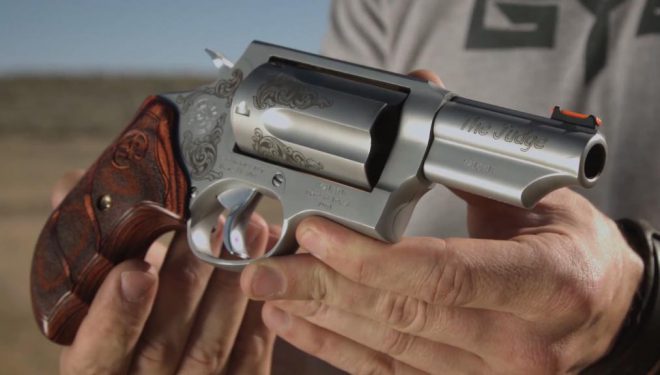 Below are the breakdowns of each holster in turn. We look at the features and how they impact the holster's use. Then we boil the experience of using the holster down into easy-to-read recaps for you to help decide if that product is right for you.
FOBUS TACTICAL TAPD CONCEAL CARRY POLYMER PADDLE HOLSTER
Fobus Tactical TAPD Standard Right Hand Conceal...
The TAPD Fits Taurus Judge Public Defender
Constructed for maximum comfort, Light weight
Durable, hardwearing & lightweight polymer construction
Firearms remain firmly in holster
Low profile and easy to conceal, 100% Lifetime guarantee
The TAPD is an affordable holster for concealed carry specifically for the Taurus Judge. The polymer keeps the holster lightweight while remaining durable and resistant to sweat and moisture.
With a high-tech molding process, the holster's shell is designed to fit the Taurus Judge and offer great retention through the tight fit. This makes it easy to draw the holster with minimal effort, allowing for quick response in an emergency.
Fobus made this holster as low profile as possible to make it easy to conceal. They also tried to keep the holster flexible enough to be comfortable to wear. The holster attaches to belt through a loop running through most of the holster which is great for keeping the holster tight to the body and in place while you move.
Even though this is holster is for concealment, it's still OWB. It also comes with a retention adjustment screw to meet your preference for gun security.
The user experience for the Fobus TAPD holster says this:
Positives Recap for This Product
Good fit for the revolver
Good construction of holster, very durable
Affordable price
Quick and easy draw
Easy to attach to belt
Negatives Recap for This Product
Retention screw doesn't adjust properly
Too bulky for easy concealment
PRO CARRY BELT RIDE RANCH SERIES
If you're looking for a classic looking leather holster with some extra features for your Taurus Judge, this may the holster for you. Pro Carry may have made this holster cost a bit more, but it's got some unique extras on it.
During the leather crafting process, the craftsmen molded the holster specifically to fit the Judge. This kind of work makes it fit nicely and offer good retention.
It attached to your belt through a loop and a second belt slide providing a secure and stable ride. Pro Carry cut down on the material to keep it as slim as they could. This makes it easy to conceal for an OWB holster.
It rides high, which is fine, and it allows the holster to wear at different carry positions. You can even carry it in the small of your back (just get the opposite hand holster if that's what you want).
One of the big drawbacks of the Taurus Judge is its 5 shot cylinder. This holster tries to compensate for that by having slots on the outside of the holster to store 5 extra rounds. This is a useful feature if you need to defend yourself and don't want to run out of bullets.
Actual users have this to say about the Pro Carry Ranch Series:
Positives Recap for This Product
Nice fit and retention
Extra round storage is very useful
Holster sits tightly on belt and doesn't flop around
Easily accessible and to conceal
Comfortable ride height
Negatives Recap for This Product
TRIPLE K LIGHTNING HOLSTER
Triple Ks holster is a sleek, leather holster for the Taurus Judge. This higher cost holster is made from top grain leather which is more durable and comfortable.
The profile is so slim that you shouldn't have any problem concealing if you wanted to. The holster rides high with a forward cant making it better for strong side and cross draw.
This Lightning Holster is a right-hand only design, so lefties would have to be comfortable with a cross draw to use it. With a thumb break strap, this holster has great retention while moving around and protection from holster grabs.
Customers have said this about the Triple K Lightning Holster: 
Positives Recap for This Product
Great quality leather
Strong retention and molding
Fits the Taurus Judge like a glove
Good 
Negatives Recap for This Product
Strap is almost too tight
SHAVER HOLSTERS NYLON BELT OR CLIPON GUN HOLSTER
Shaver holster's affordable nylon holster has a surprising amount of good features for the price. The holster is OWB and features a small degree of adjustability.
It can be worn attached to the belt through a loop or by a clip. The clip can be moved from side to side in order to make it right or left-handed. There is also a loop on either side, so you can wear it that way as well.
Shaver also tries to overcome the Taurus Judge's lack of rounds by adding an extra magazine pouch to the holster. The holster is nylon which usually means that it wouldn't be very durable. This nylon is double-layered and double-stitched to give it toughness and long life.
Shaver holsters believe in this product enough to give it a 30-day money-back guarantee.
Customers have reported the following on the holster:
Positives Recap for This Product
Good construction
Taurus Judge fits tightly
Affordable
Left or right-handed
Light and easy to conceal
Negatives Recap for This Product
Clip is tough to use
A little floppy as you move
GALCO DUAL ACTION OUTDOORSMAN HOLSTER
GALCO - Dual Action Outdoorsman...
DESIGNED TO FIT TAURUS JUDGE 3-INCH (2 1/2-Inch cyl): Galco's DAO (Dual Action Outdoorsman) Holster is designed and molded to...
COMFORTABLE AND SECURE: The DAO can be worn strong side or crossdraw at the user's preference. An adjustable tension unit...
SECURE FIREARM RETENTION: The holster employs a retention strap for simplicity and security in the brush. The retention strap...
PREMIUM MATERIALS: The DAO is constructed of premium saddle leather and designed to fit belts up to 1 3/4".
MADE IN THE USA: The premium saddle leather used in our holsters is sourced from the top 2% of leather available in America...
Don't be scared off by the higher price of this holster. Galco has a great reputation for holsters, and this one is another win.
The leather is of high quality and made by craftsman in the USA. The quality is so good that this holster is frequently used by law enforcement.
Galco's dual action holster is bulkier than the others and not as easy to conceal. With a gun as long as the Taurus Judge, you may not want to conceal it anyway. It's up to you.
With a great mold and strap retention, the handgun isn't going to fall out easily. This feature would be helpful if you were carrying this while hunting and hiking in the woods. If you don't like the tightness of the revolver, you can always adjust it with the retention screw.
Users have reported the following on the holster:
Positives Recap for This Product
High-quality leather
Taurus Judge fits great
Durable and tough
Good retention strap for gun security
Comfortable to wear
Negatives Recap for This Product
No consistent complaints experienced or found
FEATURES FOR HOLSTERS
As when buying any product, you want to make sure you understand what you're looking for in order to make the purchase for you. There are many elements to consider when looking at holsters, so read this section to a get a brief overview of what to look for when checking out our reviews.
HOLSTER WEAR
Most holsters come in two basic varieties: concealed and open carry. Most concealed carry holsters are inside the waistband (IWB) or smaller profile outside the waistband (OWB) holsters. OWB holsters are often open carry.
The Taurus Judge is a fairly large handgun, so you may not be able to conceal it easily. However, it can be done if you want to; it just takes some extra work.
When looking for a holster look for any notes about the type of wear if that's a concern for you.
DRAW SPEED
You carry a handgun such as the Taurus Judge as a method of self-defense just in case you need it. When you find yourself in an emergency situation, every second counts. You don't want to fumble for your revolver when there's an active shooter.
As you read the breakdowns, take note of any information about the draw speed of the holster. You generally want one with the fastest speed possible when balanced with the other features.
DURABILITY
Holsters can range in price from the cheap to super expensive. Our top picks balance price and quality, but all holsters are an investment. You don't want one that's going to wear out quickly.
The biggest factors when it comes to holster durability are craftsmanship and materials. You can judge the craftsmanship by the manufacturer's reputation. The most common holster materials and their pros and cons are below:
Leather- Very durable, comfortable, and stylish. Often cost more and take some breaking in.
Synthetic- A polymer material such as Kydex. It's cheaper than leather, but more resistant to weather changes and very durable. Often less comfortable and wears harder on the gun's slide.
Hybrid- A leather backing for comfort with a synthetic shell for best retention and durability. May be more expensive.
Nylon- Very soft. Too flimsy usually, but they are very affordable.
RETENTION
The retention of the holster refers to the way the holster keeps the firearm in place. All holsters use retention by friction and fit, but you may want more than that if you move around a lot or you're afraid of someone grabbing for your gun.
Extra mechanical retentions come in the form of a strap, locking buttons, and thumb loops. The downside of active retentions is that it takes a little longer to draw. Whether that's worth it is up to you and your situation.
COMFORT
Imagine trying to wear a Taurus Judge all day in a holster, but every time you move or sit it ends up poking you in the back. Do you think you're going to wear that holster often? Probably not.
Comfort is partially determined by the material (discussed above) and partially by how the holster rides in relation to your body. In general, holsters that clip more securely to your belt and fit tightly and closely are more comfortable than those that flop around.
Some holsters allow you to adjust the angle or cant and ride height of the handgun. This lets you find the right spot for your body to carry and lets you try out different positions.
This may not be necessary, but if you have concerns about holster comfort, our breakdowns spell it out for you.
PRICE
You should always be aware of what you're willing to spend on something when shopping. Don't be scared off by a higher price for a holster that's great quality. On the other hand, don't waste time looking at something you can't afford.
Our top 5 holsters for Taurus Judge cover a range of prices, and they're all good quality. Find the one that's the best fit for your price range.
ABOUT THE TAURUS JUDGE
The Taurus Judge is a popular revolver specializing in self-defense situations. The handgun is easy to use and accurate at close ranges.
But why is it so popular? Its unique feature is the elongated barrel and cylinder. Because of this, the gun can fire .45 colt pistol cartridges AND .410 bore shot shells effectively making it a pistol and a hand shotgun at the same time.
The inside of the barrel is rifled to a small degree. This means there is some grooving inside the barrel to give the bullet or shot a little spin. This is what allows it to avoid federal regulation.
On a personal, non-practical note, it also looks amazing. This beast of a revolver may defuse tense situations just when the criminal sees this gun being drawn.
For more information, check out the NRA's spotlight on the Taurus Judge.
CONCLUSION
We hope enjoyed the breakdowns of our top 5 picks for the best holster for Taurus Judge. This revolver is still fairly new to the firearm industry, but its rising popularity is impressive. These holsters may be the perfect companion to complete your self-defense outfit.
If I had to recommend one holster, it would have to be the Galco. The quality and craftsmanship is clear; the only downside is the higher price and bulk. If price and concealment are more important, the other ones can also be great choices.
If you enjoyed this article you'll probably like these: