Are you looking for a AR 15 red dot magnifier combo? Red dot sights are amazing and the best way to upgrade your iron sights. Red dots like this one pair great with the magnifiers we've reviewed below. It's time to upgrade your red dot sight game and take your AR15 to the next level.
About Red Dot Sight Magnifiers
Adding a red dot magnifier to your AR15 can be crazy fun and they're very handy but we want you to be fully educated about the different aspects behind this product. The information in this section will provide you with a better understanding of the differences between magnifiers along with information you should know before buying one.
Before picking up a magnifier
Before you pick up one of these magnifiers make sure you already have your red dot sight. I know how that sounds but believe me we've had people "put the cart before the horse" more than once. That being said one of our 5 picks is a red dot sight and magnifier comb the Eotech HHS I (EXP3-4 with G33 3x Magnifier). It's a higher end combo but it's one of the best on the market.
Other than the one combo, we recommend pairing any of the other red dot magnifiers with the Bushnell Trophy Red Dot Sight Scope that we've linked to at the very top of this article.
Advantages of using a magnifier
Red dot sights are the most popular replacement for iron sights. They improve accuracy and make aiming much easier. When you're in iron sight distance and the red dot is on its target you know you're going to hit your mark. It makes acquiring a target quicker and easier and in today's world they're almost a necessity.
The downside of short distant scopes like red dot sights is when you get above 100 yards. Depending on your eye sight and other factors it becomes more difficult to acquire the perfect target. Some may argue at this stage you should use a rifle scope but if you're moving between distances where you still want a red dot sight this won't be the best solution.
That's where red dot sight magnifiers come into play. It isn't about having a scope for the 200 – 300 yard range but it's more about improving what you already have. The standard x3 magnification creates the perfect storm. It makes targets up to 300 yards feel as if you're still in iron sight distance.
Once you become accustom to using your red dot sight with a magnifier it's arguably hard to return to standard red dot sight.
How to choose the best magnifier
Picking a good AR15 red dot magnifier isn't difficult and a lot of the decision comes down to personal preferences. Depending on how you've built your AR15 and the height of your attachments may align you more with certain magnifiers.
One of the biggest factors we see effecting people isn't so much how well the magnification works but the mechanical parts of the product. Getting a quality product where they've put effort into every detail such as the hinge and mount of the magnifier is important.
If you choose a flip to side magnifier the hinge is the most common problem. Some have had the hinge become loose or weak to where they have had to make their own adjustments and the magnifier doesn't flip to the side anymore. It's just something to consider…
Related Read: The 5 Best 1-6x Scopes
The 2 types of red dot magnifiers
There are 2 main type of red dot magnifiers. You can choose between an inline magnifier that stays constant like a core attachment or a flip to side magnifier where you're able to use it or your standard red dot sight. The majority of red dot magnifiers produced are the flip to side type.
The majority of people go with the flip to side option but if you're looking for an inline we've got one on our list.
A lot of people get worried about the magnifier pairing up with the red dot sight. Nearly any magnifier will match up with any red dot sight in our experience. So you don't technically need to find an AR15 red dot magnifier combo and you're able to choose a better red dot sight that you like and magnifier independently.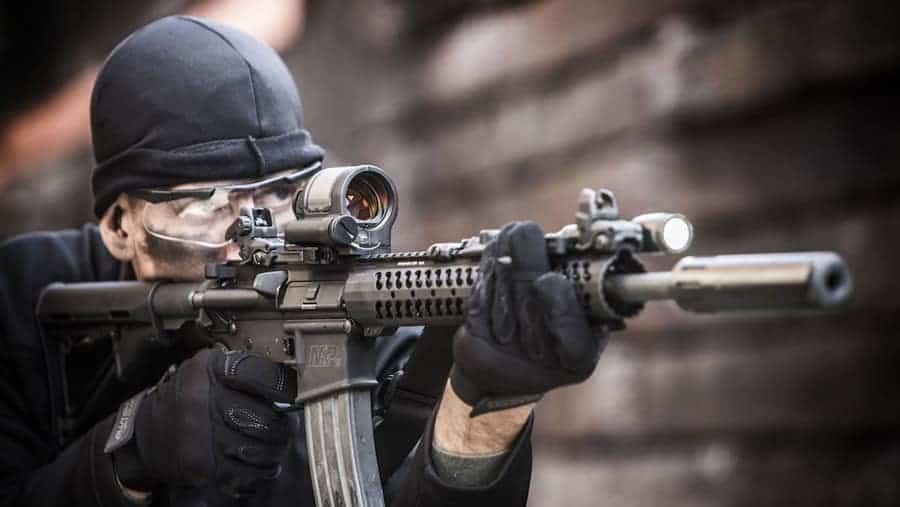 AR 15 Red Dot Magnifier Combo review details
Below you'll find our more detailed information on each of the magnifiers on our list. Please read through to find which red dot magnifier is going to be the most suitable for you. Under each detailed description you'll find a recap of the pro's and cons. You should be able to find a red dot magnifier that will work for you out of our list.
Vortex VMX-3T Magnifier with Flip Mount
Sale
Vortex Optics VMX-3T Magnifier with Built-In Flip Mount
The VMX-3T Magnifier and Flip Mount combo adds a 3x magnification to your rifle's red dot sight. Simple, fast, and effective, the push button design engages and disengages the flip mount allowing the...
The lens are fully multi-coated maximizing resolution, light gathering capability, and color fidelity. The VMX-3T gives you a generous 3.25 inches of eye relief with a 38.2 foot field of view at 100...
The VMX-3T does not require any special sight-in. The dot centering screws can be used to help center your red dot image in the VMX-3T's field of view.
The magnifier is nitrogen purged for reliable waterproof and fogproof performance in the field.
Allows for lower 1/3 or absolute co-witness mounting heights and is ideal for shooters who want to increase the effective range of their red dot sight. Field of View: 38.2 feet/100 yards
The Vortex VMX-3T Magnifier with Flip Mount is an excellent product. It's backed by a powerful Vortex warranty that's known to be the very best in the industry. The goal of this magnifier is to be simple, fast, and effective.
It allows for a quick 3x magnification for red dot sights which is the going standard. You can optionally seek out a x5 alternative but you'll notice they're harder to come across. Typically because it doesn't synergize as well for a iron sight replacement such as the red dot sight.
If you're already a loyal follower of the Vortex brand you're going to get the quality you expect out of their products. This item is very lightweight and extremely tough. It's been purged with nitrogen internally for reliable waterproofing and is fully multi-coated exterior.
Overall customers best describe this red dot magnifier as a home run. We weren't able to come across any real complaints except a few people here and there stating that the eye relief was to close to their cheek. This isn't really a negative for the item itself because eye relief is going to be different for everyone.
Positives Recap for This Product
Negatives Recap for This Product
Eotech HHS I (EXPS3-4 with G33 3x Magnifier)
Sale
EOTECH HHS I Holographic Hybrid Sight
EOTECH HHS I - Holographic Hybrid Sight includes EXPS3-4 sight wth G33 Magnifier
Quick Transitions - Change quickly from close quarter to medium range targets with the included G33 Magnifier and Switch-to-Side mount
Night Vision Campatible - Works with all Gen 1-3 night vision devices
Side Button Operations - Compact design and side button operation consumes minimal rail space
EOTECH HWS Prestige Warranty - Comes with 10 year limited warranty
The Eotech HHS I red dot magnifier combo is the only actual combo set on our list. It's one heck of a combo at that though. This combo is very high end hence the high price tag but for some of you this will be exactly what you're looking for.
This piece is perfect for the .223 AR15 because it's ballistic reticle is specific to this caliber. If you're someone with a lot of toys this combo set is compatible with generation 1,2,3+ Tandem Operation Night Vision Systems.
When focusing down the line with this sight the aiming dots may not be distinguishable from each other without magnification. it comes with a single transverse battery to reduce sight length and the base is shortened to where it only requires 2 3/4 inch of rail space at the most.
Overall this is an extremely well done combination red dot magnification set. Customers all over praise this set and we didn't come across any common negative ground. The only thing we did come across was a few people saying it took some adjusting to get used to but other than that nothing else.
Positives Recap for This Product
Negatives Recap for This Product
Primary Arms Gen 4 Red Dot Magnifier
Primary Arms 3X Long Eye Relief Red Dot Magnifier Gen IV...
RED DOT MAGNIFIER: Place the magnifier behind your red dot or holographic reflex sight to instantly magnify the sight picture at 3x power.
INTEGRATED DIOPTER: Provides a fast focus ability to keep the image clear.
AZIMUTH AND ELEVATION ADJUSTMENTS: Keep the dot centered in your field of view.
1-YEAR WARRANTY: If a defect due to materials, workmanship, or normal wear and tear has caused your product to malfunction, Primary Arms will either repair or replace.
Primary Arms Gen 4 red dot magnifier is the only non-flip magnifier on our list. This means that this magnifier sits inline behind your red dot sight and doesn't allow you to move it to the side. This may appear like a negative thing to some people but it'll be personal preference.
The fact that this optic sits inline gives it some beneficial aspects other magnifiers don't have. The eye relief for this magnifier can be adjusted to a great extent and is one of the bigger bonuses to this optic. We find that magnifier such as this one are the most reliable. Once you become accustom with the red dot and magnifier combo you can continue to leave the magnifier in place without swapping to standard red dot.
Primary Arms is also made in the United States and often are higher quality to similar products. You may end up paying a couple bucks more since it is made in the US but the level of quality follows behind this.
Overall this is a solid optic for your red dot sight. The negative comments we came across stated that it made the red dot blurry and that it was "OK at best". We found these remarks to be the uncommon and not the general consensus of most customers.
Positives Recap for This Product
Negatives Recap for This Product
TMS Tactical 3x Magnifier scope
TMS Tactical 3x Magnifier Scope with Quick Flip to Side FTS...
Instantly converts a CQB red dot sight into a 3x long range sniping scope
Adjustable windage and elevation to center red dot without changing Zero
30mm mounting tube. Fully coated lens for the best optical performance
Includes 90degree FTS quick flip to side mount of 36mm center height that aligns with most EOTech sights of standard height.
Be sure to check the center height of your mounted red dot sight. Should be 36mm or slightly more and less. Check out 42mm model in our store should you need a taller setup, especially when using BUIS...
This is the TMS Tactical 3d Magnifier Scope with quick flip to side FTS mount for red dot sights. This is the mid-range magnifier on our list and it's a popular option. This optic offers features of higher end magnifiers at a cheaper price point.
It instantly converts a CQB red dot sight into a 3x long "sniping scope". You have the option to adjust windage and elevation to center the red dot without changing zero. The mount is a 30mm tube that's fully coated for best optical performance.
The quick flip out is a 90 degree side mount that aligns with most EOTech sights of standard height. Before picking up this red dot magnifier check your center height of your red dot sight. Your height should roughly be within 36mm but there's a second model of this optic that's a 42mm model if needed.
Overall customers appear to be extremely happy with this red dot magnifier. There have been nearly all positive comments regarding this particular model. The one downside we came across were a few people saying they had trouble finding a comfortable eye relief with the optic.
Positives Recap for This Product
Negatives Recap for This Product
UTG 3x Magnifier with Flip to side Mount
UTG 3X Magnifier with Flip-to-side QD Mount, W/E Adjustable
Broadband Multi-coated Lens to Provide Crystal Clear 3X Image, Wide Field of View - 30% Bigger Than Comparable Models from Other Brands.Compatible Rail-Picatinny/Weaver.
Windage/Elevation Adjustability for Optimum View Centering. Refer user manual for list of compatible manuals
42mm Center Height for Most Common Dot Sight Combination, Innovative Flip-to-Side Mechanism for Quick Transition between 1X and 3X Image.Objective Diameter:25mm;Field of View @ 100 yards:45'
Adjustable Eyepiece for Easy Dioptric Correction, Patented Quick-detach Lever Lock Mounting Base
Precision Machining and Anodizing for Maximum Strength and Wear Resistance, Completely Sealed and Nitrogen Filled for Fog/Weather Proof
The UTG red dot magnifier is the most affordable option on our list of 5. It had a broadband multi-coated lens to provide crystal clear 3x images with a wide field of view. The view is 30% bigger than comparable models from other brands.
It has adjustable windage and elevation for view centering with a 42mm center height for most common dot sight combinations. The flip to side mechanism gives you an easy option to change between x1 and x3 images.
This product is created for maximum strength and water resistance. It's completely sealed with nitrogen to prevent fog and weather proof the optic.
We really like this magnifier for its affordability and being effective at this price point. It's difficult to find budget priced magnifiers that work well and this is one of them. Customers overall agree with this statement but some people have experience mechanical issues with the adjustment screws. 
Positives Recap for This Product
Negatives Recap for This Product
Does a magnifier make using a red dot sight at night any better? – Unfortunately, it doesn't make the red dot sight any more capable of being used during night or very low light. Red dot sights in general aren't the best during low light conditions. If it's near dark the red dot sight can make acquiring your target more difficult.
How far away is a red dot accurate? – Red dot sights aren't designed to improve accuracy such as the grouping of your shots. They're designed to acquire targets quickly and as long as you're ringing steel at 100-200 yards you're fine. Adding a red dot magnifier will allow you to acquire your target at a further distance but it's the same concept behind overall accuracy.
When to use a red dot sight? – Obviously you can use a red dot sight whenever you would like. However, a good example of when it's best to use one is with a beginner level shooter. In the beginning a new shooter has a lot of things to learn about firearms. If we take away the iron sight aiming equation that can focus on simply put the dot on the target. This gives them more time in the beginning to learn safety mechanics and focus on basic skills before focusing on becoming a better shot.
Related Read: Optics for the AK47.
The real "winner" in our top 5 list is the EOTech HHS I but honestly each of these magnifiers have a situation they would fill a need for. Some of the budget options are perfectly fine while the higher end higher quality magnifiers have there place.
We've crowned the EOTech because it's the only AR 15 red dot magnifier combo while the other optics are magnifier only. We designed this review in such a way on purpose because these exact magnifiers stand out and can be used with the red dot sight we linked to at the very top of the article.
I hope you enjoyed reading this and if you did make sure to share it with a friend. If you want to share some knowledge with us please leave a comment below. Thanks for reading and check out this article on some other great reflex sights or this one on the AR pistol and our guide to sighting in red dot sights.