The Armorer's Wrench for the AR-15 isn't something that everyone needs for their semi-automatic rifle, but if you want to customize and become an expert in the weapon, you're going to need this handy little tool.
Picking an armorer's wrench can be tricky if you don't know what to look for, but we've got you covered. We searched for the best AR-15 Armorer's wrenches and found them for you. Read on for our break down and a brief guide on the toll and how to use it.
REVIEW OF THE BEST ARMORER'S WRENCH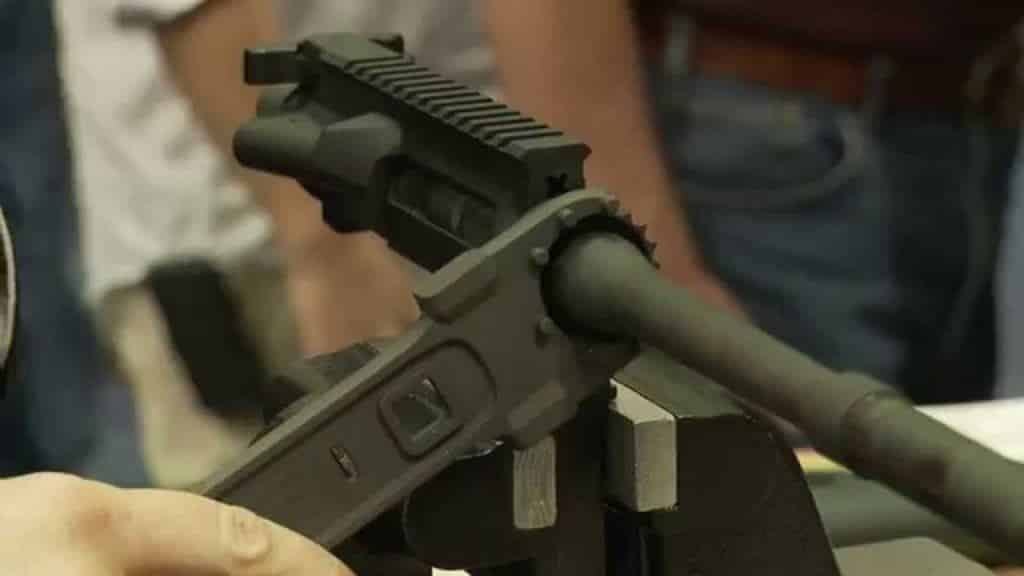 Below is our break down the different armorer's wrenches. Keep the above features in mind as you read, and you can find the wrench that's best for you.
BROWNELLS AR-15 ARMORER'S WRENCH
Brownells armorer's wrench costs a little more than some other models, but it's jam packed with different features and ways to use it that may make it worth it. In addition to that, Brownells is a well-established maker of gun parts and accessories.
The wrench works on encapsulated or peg barrel nuts. This is because both ends of the wrench are used for different styles of nuts including M-4 style receiver extension nuts.
There are 1/2" opening torque wrench use, 5/8″ and 3/4″ slots for receiver extensions and suppressors, and a long arm for more turning power. Brownells makes sure to leave part of the wrench free of pins and slots for comfortable grabbing. This is helpful if you do a lot of work with this wrench because your hand isn't going to be grabbing around these features.
This wrench is made from steel for durability and a manganese-phosphate finish for comfort and chemical protection. Because of this, Brownell's wrench is going to last a long time.
The customer experience boils down to this:
Positives Recap for This Product
Great material and design
Multi-purpose use for the wrench
Long handle for more power
Comfortable to use
Negatives Recap for This Product
REAL AVID ARMORER'S MASTER WRENCH
This Real Avid armorer's wrench costs a little more than the average, and it's not immediately apparent why that is. But when you look into what the wrench does, it's all worth it.
The top of the wrench is designed for work on the AR-15 and can function with barrel nuts, castle nuts, muzzle brakes, flash suppressors, and fixed stock receiver extensions. It has a 5/8″ wrench, 3/4″ muzzle wrench, and 1/2″ torque receiver.
The wrench parts come with a dual opening to work on the different types of nuts on your firearm. The extra-long and covered handle provides the best grip for both comfort and power.
Perhaps the most unique part of the wrench, though, is the interchangeable hammer heads. This is useful for tapping at different parts of the gun without damaging the rifle or the tool itself. The wrench comes with steel, brass, nylon, and rubber hammer heads.
The user experience can be condensed into the following list:
Positives Recap for This Product
Very functional design
Long handle provides top-notch power capabilities
Comfortable to hold and use
Interchangeable hammer heads
Durable and hefty to help with stuck nuts
Negatives Recap for This Product
Higher price
Requires more work to use all functions by switching out parts
TAPCO AR-15/ M16 ARMORER'S TOOL
The TAPCO Armorer's tool is medium-priced and designed for AR-15 and M16 functionality. You may notice the choice of the word "tool" in the title of this product rather than the standard "wrench." TAPCO did that on purpose because this tool is so much more than a simple wrench.
In this single tool, you have many different functions depending on how you use it including:
Hammer
Barrel nut wrench
Muzzle device wrench
Spanner wrench
Forearm wrench
Flathead screwdriver
It's made of heat-treated steel alloy which makes it stronger than standard steel. The olive drab finish gives some degree of protection and grip. It's the size of a standard wrench which means it can apply a lot of pressure to frozen nuts, but all the features may get in the way of your grip. This may make it uncomfortable to use for some people.
TAPCO makes this tool in the USA and offers a lifetime guarantee on the product.
Let's see if using the product backs up these features:
Positives Recap for This Product
Solid and durable steel
A lot of multi-purpose uses on this one tool
Design is great for working with the AR-15
Good price for the quality
Nice size for providing power
Negatives Recap for This Product
Features may get in the way of a comfortable grip
ROCK RIVER ARMS AR-15/M4 STOCK WRENCH
This AR-15/M4 stock wrench is the one to get if you want a wrench for a single purpose. It's extremely affordable because it serves only one function: to work on the AR-15/ M4 stock.
Made of steel with a parkerized finish, this wrench can remove extension tubes and install new A4 stocks. The handle does have a cutout to use with extension tubes that can help remove A1 and A2 stocks as well.
This wrench is pretty small so you can expect to get less overall leverage from the tool. On the other hand, it comes with a rubber handle for excellent gripping and slip-prevention.
Overall, it works great with castle nuts, and if that's all you need it for, you can't beat the price.
Customers reported the following in their experience with using the product:
Positives Recap for This Product
Good fit for castle nuts on the AR-15
Great price
Handle grip is comfortable and helps with preventing slipping
Negatives Recap for This Product
Shorter handle
One function
MAGPUL AR-15/M16 ARMORER'S WRENCH
MAGPUL's armorer's wrench is the pinnacle in the industry. The company's standard for useful design has earned it a great reputation, and this wrench is no exception.
Though the wrench is found at a high price, the solid steel and phosphate finish provide great grip, durability, and chemical resistance. The longer and simple handle means that you can exert more force on the parts with comfort in your grip.
The tool parts are designed to work on both stock and pin-style barrel nut for the AR-15/M16. MAGPUL built the wrench for functionality with standard-sized flash suppressors, receiver extensions, carbine castle nuts, and ASAP plates.
Other notable features include extended teeth for guaranteed locking of the nut, 1/2″ torque wrench size, slots for different nuts and uses, and clear labels to tell you what fits where. On top of this, there are two hammer faces for use in tapping parts in gently.
Although this serves no function for guns, the wrench can also serve as a bottle opener for when you're done working on your rifle. You may find this kind of funny (and we agree), but it also shows the MAGPUL really understands their clients.
When users talked about the product, this is what they said:
Positives Recap for This Product
Very durable material and finish
Multi-purpose
Long handle with a comfortable grip
Perfect design for AR-15 use
Negatives Recap for This Product
No consistent complaints were found
WHAT IS AN ARMORER'S WRENCH FOR?
The armorer's wrench is an additional tool built for AR-15 style rifles to help with some serious gun customization and part-changing. If all you do is clean your rifle, then you won't really need it.
The armorer's wrench is critical for doing some of the more complicated work on your gun. It's a metal tool that has different parts that hook or grip onto the firearm. While you may be able to replace this wrench with several standard tools, this one is all-encompassing and works the best for what you need it to do.
The armorer's wrench is typically used in helping with the following tasks:
Removing or putting on a muzzle device
Tightening and loosening barrel nuts
Works on carbine castle nuts
Helps manipulate receiver extensions
HOW TO USE AN ARMORER'S WRENCH
As you work on your AR-15, you may notice a lot of specialized torque nuts holding things together. This is really common on this style of rifle, but the nuts are often hard to get to, tightened extremely well, and different on the part of the rifle and company that made it.
Your options are either to have a huge catalog of torque wrenches that may fit the nuts, or you use the armorer's wrench. On most good wrenches (such as the ones we found), have different sides to match the type of nut.
There are standard teeth to grip the nut or extended and reinforced pins if the wrench can't get a good grip ordinarily. To use the armorer's wrench, you align the nut with the part of the wrench that best fits it and then turn. Don't be afraid to try several parts of the wrench to find the right fit.
Pro-tip: If the nut is stuck where you're having a hard time moving it, you have two options: extend the length of the wrench by adding a pipe (which gives you more leverage). Or you can lightly tap on the wrench with a rubber mallet which may knock the nut free.
FEATURES TO LOOK FOR IN AN ARMORER'S WRENCH
Armorer's wrenches aren't all made equal. There are some things you need to look out for when picking the right one for you. Read on for some ideas on what to watch out for.
QUALITY OF CONSTRUCTION
Perhaps the most important feature is picking from a brand that has a strong reputation for creating quality products. The armorer's wrench you buy is going to get used, and you don't want to be frustrated when the tool breaks while you're trying to get a barrel piece back on.
As you read the breakdowns, take note of the company and what they're reputation for designing quality tool is.
MULTI-PURPOSE
You can find a wrench to do a single job for a low price. But if you plan on doing more work your gun or multiple guns, you're going to need a wrench that has the ability to work in different ways. We make sure to call out the types of work these armorer's wrenches can do when we review the products below.
MATERIAL AND FINISH
These wrenches are going to do hard work. They're also going to come into contact with different types of grease, sweat, and solvents as you work. A wrench's material and finish are good indicators of how the tool is going to hold up under this pressure.
Steel is the most common type of metal used in construction. But if the steel is heat-treated or anything else like that, it tends to add some rigidity and durability to an already useful tool material.
Common finishes/coatings include:
Phosphate
Parkerized
Powder coat
Finishes serve the dual purpose of protecting the wrench from chemicals and moisture and also to give more grip on the tool. Sometimes the nuts are stuck and you need to apply more pressure. You don't want your hands to slip off the wrench as you're putting a lot of pressure on it.
Related: Best AR-15 Rifles
LENGTH
The whole idea behind wrenches is that by applying leverage, you can exert more force on the area than you could do with just your hands. That's why longer wrenches can move things that require more force like a stuck nut.
The downside of longer wrenches is that they don't fit as well into smaller storage spaces, but you need to balance that on what you're looking for.
EASE OF STORING
Some of these wrenches can get quite big and awkward looking the more functions it adds. If you want this to fit in a toolbox, make sure that you check its size and shape to see if it fits what space you have for it.
SAFETY
You can find many armorer's wrenches that look like cool and rugged monsters. But remember, that it's your hands that have to use the tool. If you're worried about what the wrench feels like, we make sure to call out if the design has some reported problems with comfort.
On top of this, you also want to make sure the wrench isn't going to scratch or damage the gun itself. Most of the time if used properly, the wrench won't cause damage, but some are more prone to that than others.
PRICE
As always when shopping, keep your budget in mind. If you think about what exactly it is you need and you find the wrench that meets that need, you can usually save a few bucks by shopping smart.
That being said, picking a cheap wrench just because it's cheap may result in you losing more money. If you don't check that it meets your needs, you may have just wasted money by getting the wrong kind altogether.
Related: Best AR-15 Stripped Lower Receiver
COMMONLY ASKED QUESTIONS
Is the AR-15 an assault rifle? – Every time the AR-15 comes up, this question always follows. It's important to dispel the myth.
The AR-15 may have started as an assault rifle (a gun that can switch between semi-auto fire and full auto), but the civilian models don't allow that option. This is one of those terms that people are always using wrong, but you can help educate them.
Do I need an armorer's wrench to work on my AR-15? – Technically, no. You can make your regular wrenches work as long as you find the right sizes and types.
However, using a regular wrench to get at some of the different nuts may result in scratches and damages to the look and outside of your rifle. For the price of a single purpose armorer's wrench, I would advise getting one just make sure your gun looks good for a long time.
Why change my AR-15s parts? – There are many reasons you may want to change the stock, receiver, etc on your AR-15, but the two biggest ones are replacing older parts and customization. Over time depending on how much use it, parts will start to go, so you need the wrench to help replace those parts.
For customization, every accessory or upgrade you can make to your firearm makes it better for you. On top of that, isn't it just kind of fun to work on something and make it your own?
CONCLUSION
We hope you enjoyed checking out these best armorer's wrenches. These useful tools can mean the difference between a gun amateur and a gun pro.
Any of these choices can be great for what you need, but there's so much variety in what people are looking for that it's hard to pin down a specific recommendation. The obvious choice is the MAGPUL wrench, but it may be more than what you need. Think about what you need and pick the wrench that's right for you.