If you've just gotten a new AR-15 and you're looking for a scope, you've probably started looking at different 1-6x scopes. Depending on the price you're willing to pay and the characteristics you're looking for, there are a wide variety of options. We've done the research and have compiled a list of the top 5 best 1-6x scopes. Read this review, and you'll be able to find the best 1-6x scope.
What to Look for in 1-6x Scopes
Many people prefer 1-6x scopes because they are a versatile scope that can be used for 3-gun competitions, hunting, and tactical situations. In particular, many individuals have opted to use 1-6x scopes on their ARs because they are ideal for a short- to medium-range engagement.
Although scopes of any variety have some similarities, certain characteristics and advantages are provided by the use of a specific scope. In the case of the 1-6x scope, it provides you the advantages of having a variable power, giving you the ability to quickly engage close targets without magnification and then adjust the magnification to engage far targets.
When the scope is set to the 1x magnification setting, you will be able to see the equivalent of what you can see with the naked eye. The lowest magnification setting will also provide you the widest field of view (FOV), allowing you to quickly identify and engage targets at close range.
With the variable power, you will have the option of increasing the magnification to a 6x, giving you the ability to engage a target at a much farther distance. Someone who wishes to engage a target at 600 yards is not so concerned with speed as much as he or she is with precision. A variable power scope like the 1-6x is the perfect combination of close in speed and long-range precision.
Thus, when selecting the best 1-6x scope, the following characteristics will likely be most helpful: construction, eye relief, and optical quality (lenses and reticle).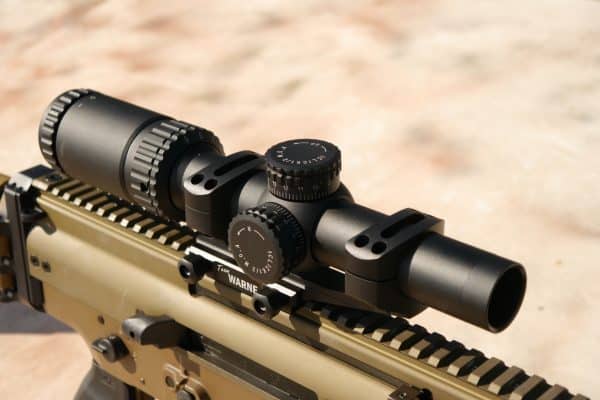 First, you'll want aircraft grade aluminum for the body of your scope, as it is durable and lightweight.
Due to the fact that you'll most likely be using this scope on an AR style rifle, you'll want a scope mount that is designed for your style of rifle. Your traditional two-piece Weaver style mount is not ideal for an AR Picatinny rail. Fortunately for you, most websites have simplified the process and will provide you several mounting options designed for your particular scope. 
Finally, remember to pick a scope that is water resistant and fog proof and will resist corrosion, as you'll probably put a lot of wear and tear on this scope. 
Just like with any optic, having proper eye relief is essential to improving your accuracy. The advantage you have when mounting your scope on an AR style rifle is that it provides you a large area in which to adjust the position of your scope on the rifle. 
Also, make sure that the scope has a large eye box that gives you a wide field of view, as this will allow you to quickly and effectively engage a target.
Pro tip: Here's a quick way to ensure that you have proper eye relief.  Place your scope on your rifle in the position you believe is correct but don't tighten it down all the way. Assume a stable shooting position—most likely a sitting position. Once you are in a natural position, close your eyes and breathe in and out, open your eyes, and your body should have assumed its natural position. Remain in this position while you have a friend adjust the scope until you have proper eye relief and no scope shadow.
Be sure to select a 1-6x scope with excellent quality lenses. Always remember you get what you pay for. A cheap scope is easier on your wallet, but you should expect the clarity and performance on par with what you are paying.
Coated lenses are important because not only do they resist scratching but they also maximize light transmission, meaning that you have a clear view of the target without glare.
Optical Quality (Reticle)
Depending on your preference, you will have a wide variety of reticle options available to you. It could be BDC, duplex, horus, mil dots, red dots, or TREMOR. Other reticles may be illuminated. You should decide what's best for you.
Review of Best 1-6x Scopes
Below you're going to find our breakdown of each individual scope. All 5 of these scopes are the best 1-6x scopes. We've included a couple different options because everyone is going to have diverse ideas for budget, construction, and optical quality.
With that in mind, we've put together a list ranging in price and features so you should be able to find a great 1-6x scope for you. We like to make sure that you know what real customers of products have to say about them, so we've compiled their thoughts into this list of the best 1-6x scopes.
Vortex Optics SE-1624-1 Strike Eagle 1-6x24
Vortex Optics Strike Eagle 1-6x24 Second Focal Plane...
The Strike Eagle 1-6x24 is defined by speed and versatility. A true one power provides quick target acquisition in close quarter scenarios. Adjust to six power when you need to engage targets at a...
High quality, fully multi-coated lenses deliver a clear, crisp sight picture and optimal low light performance. The fast focus dial on the eyepiece ensures that your reticle is always sharp.
The illuminated, glass-etched BDC reticle features 11 illumination settings to accomodate for changing light conditions. An extra battery can be stored in the windage cap and easily released.
Waterproof, shockproof, and fogproof ensures reliability in all weather conditions.
The 2-inch offset of this cantilever mount positions the scope in a forward location, allowing the correct eye relief and head placement on your rifle at a height of 1.59 inches (40.39 mm) from the...
Eye Relief: 3.5 inches
Field of View: 116.5-19.2 feet/100 yards
Weight: 17.6 ounces
Warranty: Unlimited Lifetime
Designed specifically for 3-gun competitions, the Vortex Optics Strike Eagle has the following optical features: the optic is fully multi-coated, there is a second focal plane reticle, the glass-etched reticle has 11 stops of illumination, and the eyepiece is fast focus. Additionally, in its construction, it is made from aircraft-grade aluminum and is fogproof, shockproof, and waterproof.
Because it was designed for 3-gun competitions, the Strike Eagle is built for speed, so its original use was not for hunting, but many hunters have been pleased with the ability to quickly engage targets at both close and far distances. Its optic is military-grade at very reasonable price, making it a great scope for shooting 15-600 yards.
Individuals have commented on how quickly they could sight in the scope as well as how much they liked the optic. They noted that the glass was extremely clear and the optic was one of the brightest and clearest that they had used. Although the scope can be used with other cartridges and calibers with the reference chart included in the manual or Vortex's ballistic calculator, which is currently not available but will be the end of July, it was originally designed for 5.56 ammo. Thus, many individuals consider this optic their go-to for their ARs. Some even said that it was the best AR optic for the price.
Many noted that the scope had a true power 1 setting, allowing both eyes to remain open without strain. Some people noted how the 1x setting is similar to a red dot optic, but with the option of magnification if needed.
The BDC reticle can be illuminated, and it has a battery life of 150 hours when using medium brightness, which one individual tested. Many people commented on how they appreciated the spare battery under the windage turret cap. With the etched reticle, it is still visible in low visibility. Additionally, the BDC reticle is black when not illuminated and red when illuminated.
There were very few downsides. If people had a con for this scope, it was that it could get heavy, especially with the mount. For most circumstances like an afternoon at the range, its weight isn't going to matter, but in some instances, it might.
Additionally, one person found the eye relief limiting, and another that the eye relief took some time to adjust to. Others, however, found the eye relief perfect for rapid target acquisition. Finally, one person noted that there was no parallex adjustment, but often mid-power hunting scopes and tactical scopes have very little parallex.
Related Read: What is a Cantilever mount?
Positives Recap for This Product
Negatives Recap for This Product
Primary Arms 1-6X24mm SFP Riflescope
Primary Arms 1-6X24 SFP Rifle Scope (Gen III) with...
Primary Arms 1-6x scope features the ACSS standard 5.56 / 5.45 / .308 reticle for fast and accurate results
Second focal plane design keeps the reticle the same size through all 1-6x levels of magnification
Reticle is partially illuminated in red with 11 brightness settings and powered by the included CR2032 battery
6063-aluminum scope body has multi-coated lenses and is nitrogen purged, fog resistant and IP67 waterproof
Covered by a lifetime manufacturer warranty for defects due to materials, workmanship or normal wear and tear
Eye relief: 3.3 inches to 3.5 inches
Field of view: 110 ft. to 19.3 ft. @ 100 yards
Weight: 16.9 ounces
Warranty: Lifetime
Made of 6063-aluminum, the Primary Arms ACSS scope has 11 settings of brightness, a IP67 waterproof rating, fog resistant glass, and shock resistant body. The windage cap even has space to hold a spare battery. What really sets this scope from the rest, though, is the reticle.
Many individuals couldn't stop raving about the patented advanced combined sighting system (ACSS) reticle on this riflescope. This BDC reticle is compatible with 5.56 NATO, 5.45X39, and .308 Win and is the money maker for this scope because you don't have to spend time at the range calculating. Many people found the reticle crisp and very user friendly to range targets from 15-400 yards. In fact, the etched reticle still works even if the battery dies. The glass quality is excellent and isn't far off of the top of the line, and it has excellent clarity.
Very few people had complaints about this scope, but when they did, they all centered around three areas. First of all, sometimes people experienced minor distortions on 1x and 6x powers, and a small halo would appear. Some people said that this ACSS scope was a true 1x power scope while others were not so certain. Additionally, some individuals noted that illumination can dim at higher settings. Next, people noted that there is sometimes limited eye relief at full magnification. Finally, several people noted that the covers seemed cheap, but that it wasn't a major issue as you could take them off.
In summary, many individuals noted that although this scope isn't the most expensive out there, that doesn't mean that it is cheap. It is an excellent scope that has an amazing ACSS reticle and has a superb construction that does well in muddy conditions and heavy rains. Almost everyone considers it an outstanding bargain for the price.
Positives Recap for This Product
Negatives Recap for This Product
TRUGLO TRU-BRITE 30 Series 1-6 X 24mm
TRUGLO TRU-Brite 30 Series 1-6 X 24mm Dual-Color...
30mm tube for increased brightness and click adjustments
Includes two pre-calibrated BDC turrets in calibers .223 and .308 to engage targets up to 800 yards away
Scope includes reversible, offset, monolithic 30mm scope rings/mount CNC-machined from aircraft grade aluminum
1/2 MOA wind age/elevation adjustments
Bright 24mm objective lens
Eye Relief: 3.75 inches 
Warranty: Lifetime
CNC-machined from aircraft grade aluminum, this TRU-BRITE 30 scope includes two pre-calibrated BDC turrets in calibers .223 and .308 to engage targets up to 800 yards away. Its fully-coated lenses provide maximum brightness, clarity and contrast, and its duplex mil-dot etched reticle includes two illuminated reticles in both green and red as well as the standard unilluminated black reticle. It is fogproof, waterproof, and nitrogen gas-filled.
Many people consider this optic as the best for the price point and an excellent bargain optic. It has a clear optic that adjusts well and has crisp glass. It is easy to zero and keep at zero, and it is great for engaging a target at 10-500 yards. Finally, many individuals observed how the scope has true 1x magnification and a good eye box at 1x power and how they liked the sturdy mount.
While almost everyone agreed that they would highly recommend purchasing this budget-priced optic, they did note some disadvantages. Some consider the reticle a bit thick and observed that the illuminated reticle is not useful at high brightness. Additionally, they also state that the clarity diminishes past the 4x magnification while it is crystal clear at 1x. Thus, many consider that the scope is only usable out to 4x power, especially given that the eye relief is picky at max power. 
Others mentioned how the scope was a little heavy, and some had issues with the glass. After some usage, they observed round defects in the glass. Finally, many noted that the glass is not up to par with full magnification and that the green illumination can be a little fuzzy.
Thus, as long as you are not expecting a top-of-the-line scope, the TRU-BRITE 30 is an excellent plinking optic as it is extremely affordable. It is especially first-rate at lower magnifications.
Positives Recap for This Product
Negatives Recap for This Product
Millett Tactical BK81624 Designated Marksman DMS-2 1-6 x 24mm
Sale
Millett Tactical BK81624 Designated Marksman DMS-2 1-6 x...
30mm aluminum tube, locking exposed target turrets
1-6x magnification, 24mm objective; true 1x scope allows target acquisition with both eyes open at low power
Illuminated reticle with 11 brightness settings allows you to see your target clearly in low-light conditions
Illuminated BCR-1 reticle is calibrated to .223/5.56 ammunition; provides hold over points out to 500 yards
Fully multicoated optics deliver ultra-bright, razor-sharp images
Eye Relief: 3.5 inches to 3.75 inches
Weight: 20.7 ounces
Warranty: One year that covers workmanship 
This fully multicoated optic that delivers ultra-bright, razor-sharp images is an illuminated BCR-1 reticle with 11 brightness settings calibrated to .223/5.56 ammunition. It allows you to see your target clearly out to 500 yards in low-light conditions.
Many people consider this a quality optic for the price. It is easy to zero and hold zero, and even after a long day at the range shooting in the rain and bad conditions, the reticle is still intact and the illumination still worked. It has great clear glass and a bright image. Finally, many individuals consider that the scope is tough and well built, speaking to its construction.
Almost everyone agreed that this was an excellent entry-level AR optic that does a superb job of CQB in medium- to long-range targets. This Millett scope has quick target acquisition in the daylight and precision at long-range, and many individuals considered it worth the investment, especially for 3-gun competitions.
There were a several complaints. Some considered that the Millett 1-6x scope is basically like the 1-4x option, and thus they preferred the Millett 1-4x option. The fact that the scope loses its sharp clarity at 6x and that it takes more time to ensure proper eye relief at 5x and 6x suggests that this observation has some basis in reality. Others noted that the scope has limited parallex through the 4x setting and that the scope can be a little heavy for some individuals.
Positives Recap for This Product
Negatives Recap for This Product
Bushnell Simmons 655124 1-6 X 24, Black
Eye Relief: 3.9 inches
Field of View: 105-18ft /100yds
Weight: 20.5 ounces
Fully fogproof and waterproof, this Simmons Predator scope is ideal for short- to medium-range varmint hunting. Calibrated for .223/5.56 ammunition, this scope has fully multicoated glass that is excellent for the money. It also has an illuminated BDC StrikeZone 223 reticle. Made of durable, but lightweight, aluminum material, the Predator scope is hard to beat at such an affordable price.
People mentioned how they found the changing magnification easy to use and that the optic had true clear colors with bright illumination. Additionally, the scope maintains a crisp, clear image even through the 6x setting. Finally, in contrast to many other optics of this price and quality, the Predator retains the same eye relief on 1x or 6x power.
The disadvantages that individuals observed were more varied. The scope could be a little heavy for some people, and others considered the illumination too bright over 7. Additionally, some noted that anything over 8-9 of the 11 settings threw a ring around the eyepiece. Finally, some people noted that there was the most distortion at 1x power and that the 1x power was not a true 1x and was instead more like 1.5x.
Positives Recap for This Product
Negatives Recap for This Product
What is the price range of a 1-6x scope? Just like any other scope, a 1-6x scope can range in price from $150 to $2,500. For a beginner, you can probably select a scope on the more affordable end. If you are more advanced, even some cheaper scopes can be excellent for the money like the Vortex Strike Eagle and the Primary Arms ACSS scope.
Can I use a 1-6x scope on a non-AR firearm? Yes, you can although you may have to change the scope mount based on the rifle you want to mount it on.
Hopefully we were able to help you find the best 1-6x scope. Our top 5 picks covered a range of price points and features that should be suitable for most budgets and still have the construction, eye relief, and optical quality that you need. You should have a good idea of what 1-6x scope is going to be the best fit for you, and with any luck, you're one step closer to trying out your new AR-15.