One of the most prized rights that we're afforded as United States citizens is the right to bear arms. Although Americans account for only about 4% of the world's population, we own approximately 46% of the world's guns.
Around 1/3 Americans report owning a gun, however, not all citizens and residents of the US are allowed to purchase and own them. So, who cannot possess a firearm in the US? Let's investigate.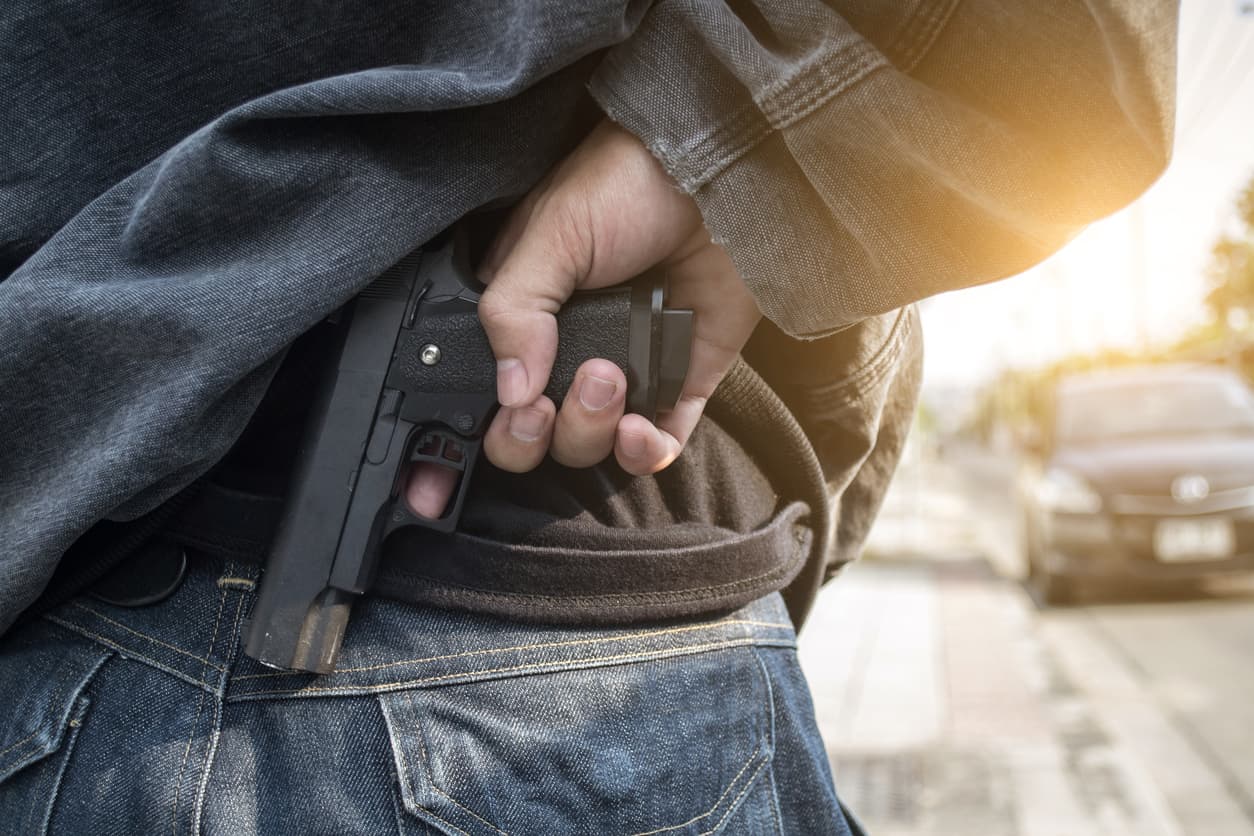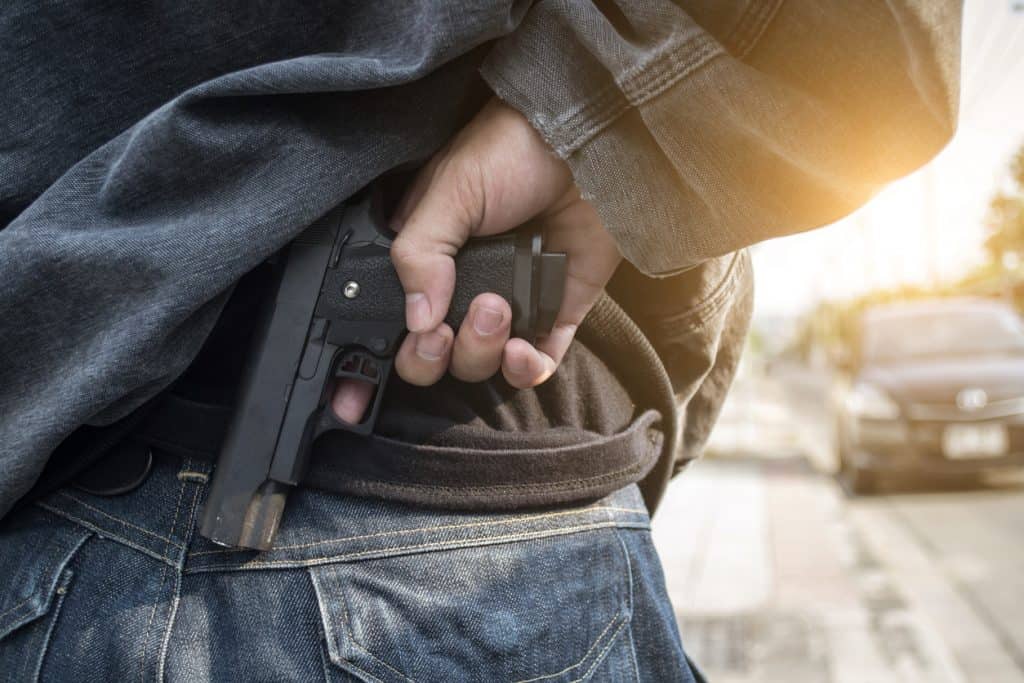 DISCLAIMER
This article is intended to provide an overview of people who cannot legally possess firearms in the United States. We are not attorneys. Firearm ownership laws vary by state. If you're trying to figure out if you're legally allowed to own a firearm, consult an attorney licensed in your state of residency and/or your state's firearm legislation.
REGULATED FIREARM CATEGORIES
Specific categories of weapons are regulated for all US citizens. Machine guns, fully automatic rifles and pistols, short-barrel (sawed-off) shotguns, silencers, and destructive devices (explosives, missiles, poison gasses, etc.) are subject to a special tax and must be registered.
AOW's (any other weapon) also fall under this category. This includes unusual weapons like a spy-style pen or umbrella that shoots a bullet. Like the other regulated categories, you have to pay a tax on an AOW and register it.
PROHIBITED PERSONS
There are nine categories of persons who are prohibited from purchasing or owning a gun under Federal law. States can enact their own laws to strengthen prohibitions on gun ownership, so check the laws where you reside before attempting to purchase a firearm.
PERSONS CONVICTED OF A CRIME WITH A MAXIMUM IMPRISONMENT TERM EXCEEDING ONE YEAR
Felons are not allowed to own firearms in the United States. Even after release from prison, 49 out of the 50 states revoke a felon's gun ownership rights for life. The exception is Vermont where only people convicted of violent felonies are prohibited. Violent crimes, as considered by Vermont, include murder, stalking, and domestic violence.
If a person has been charged with a felony crime and is awaiting trial, the court can require that person to turn over all of his or her weapons until the charge is adjudicated.
Persons convicted of a felony may be able to get their gun ownership rights restored in some circumstances. If the conviction is expunged, the person is pardoned of the crime for which they were convicted, or their civil rights have been restored, they may be able to purchase and possess firearms once again.
FUGITIVES FROM JUSTICE
A fugitive from justice is a person who has an outstanding warrant for his or her arrest who has fled across state lines to avoid prosecution. Prior to 2017, this included all persons who left a state in which they had an active warrant.
There was a conflict between the FBI who conducts the firearm background searches and the ATF about who qualified as a fugitive from justice. The FBI considered anyone with an active out-of-state warrant to be a fugitive, while the ATF considered only those with the intent of fleeing from justice to be a fugitive.
In early 2017 the Department of Justice finally weighted in and sided with the ATF. As a result, many people who had previously been excluded from gun ownership because of outstanding arrest warrants are now legally able to possess guns.
The primary issue with the new distinction is that it's challenging to prove who crossed state lines to flee justice, versus those who crossed lines for economic or other benign reasons.
ADDICTS AND UNLAWFUL USERS OF CONTROLLED SUBSTANCES
Persons with drug convictions or a history of addiction are prohibited from owning firearms.
Numerous studies have searched for connections between controlled substance use and violence. People often claim that using alcohol and drugs causes someone to be violent. Studies have determined that there is a small to moderate correlation between drug use and violent behavior.
However, correlation is not causation. Using drugs and alcohol does not cause people to be violent. People who are not violent when sober are not as likely to become violent when using controlled substances as those who are predisposed toward violent actions even when sober.
Several states have recently legalized marijuana for recreational use, but it's still illegal under Federal law. If you want to continue owning firearms, you cannot use marijuana. A marijuana conviction can cause you to lose your firearm ownership rights, decide which is more important to you before you consider taking that puff.
A PERSON WHO HAS BEEN ADJUDICATED AS A MENTAL DEFECTIVE OR HAS BEEN INVOLUNTARILY COMMITTED TO A MENTAL INSTITUTION
There's been a great deal of conversation in the past couple of years about people with mental illnesses owning and using firearms against other Americans. It's easy to understand how the public can look at someone who commits mass violence and assume that he or she must have a mental illness to have committed such a travesty.
However, data does not support the presumption that there's a large number of violent people with mental illnesses. What the data shows is that people with diagnosable psychiatric disorders report committing violent acts more than those without diagnosable illnesses, but also that they are 3 times more likely to be the victim of violence than to be the perpetrator.
Like the general population, the vast majority of people with mental illnesses are not violent. One study found that only 3 – 5% of violent crimes in the US are committed by mentally ill persons. Also, the percentage of crimes committed with a firearm by people diagnosed with a mental illness are lower than the general population. Another study found that less than 2% of people discharged from inpatient mental illness treatment go on to be convicted of gun violence.
No one can argue that mentally ill people who show signs of violence should own guns, but merely being diagnosed with a mental illness is notenough to strip a person of his or her Second Amendment rights. A judge has to formally declare a person unfit to own a gun after a hearing and/or involuntary commit the person to a mental institution to restrict gun ownership rights.
ALIEN/ILLEGAL PERSONS IN THE COUNTY AND THOSE ADMITTED LEGALLY ON NONIMMIGRANT VISAS
The US Constitution gives American citizens the right to own firearms, but not all of the Constitution's protections extend to non-citizens on US soil.
A person who enters the US illegally does not have the right to own a firearm while he or she is in America. As recently as January 2019, Federal courts have upheld the ban on illegal aliens owning guns, reaffirming that Second Amendment rights are reserved for citizens.
A person on a nonimmigrant visa is someone who is in the US for travel, work, or school but who retains residency in another country. These persons are not legally allowed to possess or purchase firearms. However, non-citizens who are in the US as a legal resident with an immigrant visa may be entitled to own a gun. Those who have a visa and hunting or sporting licenses may also be permitted to possess firearms.
PERSONS DISHONORABLY DISCHARGED FROM THE UNITED STATES ARMED FORCES
There are multiple levels of discharge from the Armed Forces that reflect a person's service. Some discharges come with more Veteran's benefits than others to reward exceptional service.
A dishonorable discharge is the worst discharge the Armed Forces can award. It is only given when a soldier is convicted of a felony-level offense by a general court-martial. Such crimes may include desertion from duty, rape, and murder.
If a person is dishonorably discharged, they are ineligible for all Veteran's benefits and have their Second Amendment rights stripped. He or she can no longer own or purchase firearms or ammunition of any sort.
Persons discharged from the Armed Forces for bad conduct lose access to Veteran's benefits, but their behavior is not enough to warrant the loss of their Second Amendment rights.
PERSONS WHO WERE UNITED STATES CITIZENS BUT WHO RENOUNCED THEIR CITIZENSHIP
The Second Amendment is intended to protect the right of United States citizens to purchase and possess firearms, so a person who renounces his or her US citizenship is no longer protected by the US Constitution.
People who expatriate may not realize that even if they decide to regain their US citizenship, they can never regain their right to own firearms. The law states that any person who has renounced citizenship may not possess firearms, and it gives no provision for reinstating that right in the future. 
PERSONS SUBJECT TO A COURT ORDER THAT PREVENTS THE POSSESSION OF FIREARMS AFTER AN INCIDENT OF HARASSMENT, STALKING, OR THREATENING VIOLENCE
A person accused of harassment, stalking, or making threats of violence can have his or her right to possess guns taken away. This can only occur after a court hearing has taken place at which the person was given the opportunity to participate.
At the hearing, a judge must find proof of a credible threat of violence against an "intimate partner" or the child of an intimate partner, and the judge must prohibit the threat or use of violence against the partner. Having found proof, the judge must then sign a domestic violence protection/restraining order.
The accused does not have to attend the hearing to have his or her rights stripped. A person need only be notified of the accusation and be served with a summons to appear in court. If that person chooses not to appear and the judge finds proof of a credible threat, the court can then take possession of any firearms owned by the accused and prohibit the future purchase or ownership of guns.
The restriction on gun ownership is active as long as the judge's order is active. This may be temporary or in perpetuity. 60% of intimate partner homicide is committed with a firearm, so these orders are the judiciary's way of trying to protect victims who have been threatened with violence.
PERSONS WHO HAVE BEEN CONVICTED OF MISDEMEANOR DOMESTIC VIOLENCE OFFENSES
Not all incidents of domestic violence lead to criminal convictions. Domestic violence protection/restraining orders are usually filed civilly rather than criminally. Prosecutors may choose also to file criminal charges after an incident of domestic violence, but they are not required to do so.
Similarly, criminal convictions of domestic violence may not be accompanied by a civil protection/restraining order. Having two avenues to protect victims (criminal and civil processes) gives the judiciary more power to revoke gun ownership rights from persons who have a proven history of violence against an intimate partner.
Domestic violence convictions only apply to violence against spouses, live-in partners, and children with an intimate partner. Violence against parents, siblings or a significant other who lives separately and with whom the accused does not share a child fall under different statues.
PROHIBITED LOCATIONS
Certain places in the United States prohibit guns on their premises. Even adults with legally obtained and permitted weapons are restricted from carrying their firearms onto school grounds. This includes daycares but does not always include colleges. Each college or university can decide whether it will prohibit firearms.
Churches and government buildings also prohibit guns. Government buildings include but are not limited to, post offices, courthouses, national parks, and airports (except in checked baggage). Additionally, private businesses may post a sign on their premises banning guns.
ADDITIONAL READING
The literature about firearm rights and restrictions is extensive. The following links are great resources if you'd like to learn more about some of the Second Amendment restrictions.
CONCLUSION
The vast majority of United States citizens are legally able to purchase and possess firearms, but even our pro-gun country restricts ownership by unfit persons. If you're trying to determine who cannot possess a firearm or your own eligibility to own one, study your state's laws or consult with an attorney.
If you enjoyed this article you'll probably like these: