Have you ever been out duck hunting with your Remington 870 shotgun when the gun got dirty? Do know how to clean the pump-action firearm so that it keeps working for a long time?
We've got you covered. In this article, we go over the steps and materials you need to learn how to clean a Remington 870.
Cleaning this weapon isn't tricky at all if you know how and have the right tools. It's important to clean your shotgun regularly for the safety of yourself and others as well as keeping the gun in good condition.
Read on for more details.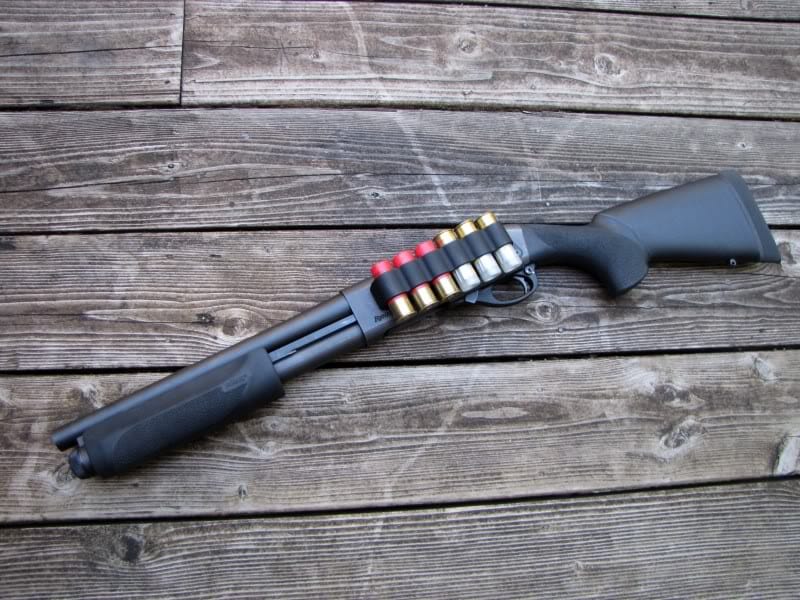 WHAT YOU'LL NEED
WD-40 – WD-40 is a solvent and lubricant that works to break down dirt and ensure smooth functions of all working parts. If you're like me, you probably already have quite a few containers of these around your garage (and house and shed). This is a great purchase for many things, not just guns.
Cleaning Rag – You can get away with any microfiber cloth or even a gentle rag. Or you can try these. You need something gentle on the gun to remove fingerprints and scrub off grime. 
Gun Oil – Gun oil is specifically designed to also degrade dirt and debris, but this oil is also absorbed by porous metal to ensure long-term, smooth function. Used in combination with WD-40, your gun parts and metal can stay in excellent working condition for a long time.
Cleaning Kit – If you can swing it, you can always just opt for an all-in-one cleaning kit like this one. It may cost more, but it includes everything you need to clean your shotgun all in one place. Otherwise, you can probably get away with just piecing it together using what you have around.
Wooden Dowel or Screwdriver – To remove the pins holding the trigger assembly in place, you need to press the thin pieces out of their slots. A thin wooden dowel or skinny screwdriver does the trick easily. I've also pushed them out with a pen before, but if the pins are at all stuck the pen bends too much.
If you don't buy the kit, you do need to a rod that fits cleanly through the barrel to help clean.
And that's it! Now follow the steps to clean your Remington 870.
STEP BY STEP INSTRUCTIONS
Read the steps below and watch the video for how to clean a Remington 870. As you clean the gun, make sure you always follow the Golden Rules for firearm safety. The most important two of these are to always act like the gun is loaded and never point the barrel at another person.
1) PREPARE YOUR SPACE
Find a clear table space to work and bring your tools close by so that you don't have to go around hunting for what you need. If you have to keep going back and forth, you increase the chances of losing or forgetting something.
Spread out newspaper or a large cloth over the table. This protects the table from the oil and grease on your gun parts, and it also prevents scratched and damage to the gun parts.
2) CLEAN THE OUTSIDE OF THE GUN
Warning! Always check the gun is unloaded by look into the breach end of the barrel and feeling inside with your finger.
Using your cleaning rag, rub down the outside of your gun. Once the grime and debris is knocked off, spray and/or rub some gun oil onto the outer metal parts of the 870. Leave it to sit for a few minutes and then lightly rub the area again with your cloth or paper towel.
If you want to clean a wood stock, a good cleaning cloth/rag can remove fingerprints naturally. If it's a big concern for you, you can always go purchase some stock cleaning chemicals. I don't recommend this actually because I like to keep sprays away from wood if I can.
3) REMOVE THE BARREL
Unscrew the magazine cap near the muzzle end of the barrel. Usually, this can be done with a firm grip, but if it's too tight, put a cloth around the cap and use pliers to gently twist it off.
Don't hit or tap the cap with anything like a hammer. If it's still too stuck, spray some WD-40 in the seam using the straw attachment and let it sit for a while and then try it again.
At this point, the spring from the magazine chamber is going to come out. Take care not to lose or bend this. If you notice the spring seems degraded, you can brush it down and/or spray it with WD-40.
If your shotgun has a magazine extension, you're going to need to also remove any brackets holding it to the barrel. This may require a screwdriver.
The barrel should just lift out at this point.
4) CLEAN THE BARREL
Spray down the barrel with your solvent (WD-40) to break up the gunk inside. Then, let it sit for 5-10 minutes.
At this point, take your bore brush (or metal rod wrapped in the cleaning cloth) and run it through the barrel 5 times or so. Check to see if you notice any stuck on debris, and run it through again as needed.
Next, spray or rub your gun oil down the inside of the barrel. Push the bore brush (or alternative) wrapped in a paper towel or different rag through to get out any extra oil and last bits of dirt.
Do a visual check for any stuck on dirt by shining a flashlight through the barrel.
5) REMOVE AND CLEAN THE TRIGGER ASSEMBLY
The trigger assembly is held in place by two pins, one at the front and one at the end. These pins can usually be tapped out easily using a thin object like a dowel or thin screwdriver. Once the pins are out, the trigger assembly can be pushed forward slightly and then pulled out.
To clean the trigger assembly you do the same steps as with the barrel.
Spray with WD-40 and let sit for a few minutes.
Wipe it off.
Spray or rub with oil.
Wipe off excess.
6) REMOVE AND CLEAN THE FOREND
Pull the forend forward while holding the lever in the magazine chamber that keeps it from getting pulled out fully. With the lever depressed, the forend should just slide out.
Spray some solvent (WD-40) into the cavity and threads in both the forend and the receiver it was pulled from. Let sit for a few minutes and wipe off excess. Gun oil isn't necessary for these parts, but it won't hurt anything to use it if you wish.
7) REASSEMBLE
Time to put it back together. The trigger assembly pops right back in. Make sure you line up the holes to insert the pins into (they may require some gentle tapping with the dowel or screwdriver).
Reinsert the forend into the receiver until you feel it hit the lever. Press the lever to let it back in. Keep pushing until you feel it hit the action bar lock and then press up against it.
Put the barrel back in taking care that inserts smoothly and is facing the correct way. Then put the spring back in and screw the cap back on. Tighten by hand until it can't be tightened anymore.
If you have an extended magazine, you also need to reattach any brackets that held it to the barrel. 
Your Remington 870 is now cleaned! Doing this twice a year or after a lot of shooting at the gun range keeps you safe and prevents damage to your shotgun.
COMMONLY ASKED QUESTIONS
What makes the Remington 870 so popular? – This shotgun has been around since it was developed in 1950. The 870's design is just flat-out reliable and affordable. It's nothing too fancy, but that works in its favor because there's less room for parts to fail.
What are some good accessories for the 870? – You don't have to add anything to get great value out of the 870 especially if you take care of it by cleaning it regularly. However, you can add some of these common things to make your shotgun experience more personal to what you need:
Sidesaddle pouches for extra shells
Magazine extensions
Tactical mounted flashlights
Buttstock pistol grips
Higher-quality magazine followers
How often should I clean my gun? – This is an area of some debate between gun users, but here are some conditions that make me always clean my gun:
1-2 times a year at the minimum
Anytime debris gets on or near the gun barrel
After I go the shooting range
Every 200-300 shots
Whenever one of these conditions is met, I clean the gun. It keeps it safe and helps it to last longer.
CONCLUSION
We hope you enjoyed reading on how to clean a Remington 870. It's not tricky at all with practice. Just make sure to follow the steps carefully and always be safe when handling guns, and you'll be fine.