The Remington 700 is one of the best-selling rifles of all time. Remington even claims that it's America's favorite bolt-action rifle. With so many in American homes, it makes sense that companies would create a wide variety of stocks so that Remington owners can customize their 700s to their unique specifications.
In this article, we'll talk about what to look for in a stock and review five different options to help you figure out which is the best Remington 700 stocks for you.
REMINGTON 700 BASICS
Remington first released its 700 model in 1962, and the company has sold more to consumers since then than any rifle created before or after it. It's also a top choice for military and law enforcement snipers because of its exceptional accuracy and reliability.
The specially designed recoil pad reduces up to 54% of recoil, the trigger has almost no creep, and the recessed bolt face encloses the entire bullet cartridge head to reduce the chance of rupturing the case. With all of these well-thought design and safety features, it's no wonder the 700 is so popular.
The 700 comes in multiple caliber options from 6.5 mm Creedmore (suitable for long-range target shooting) to .270 Winchester (ideal for game hunting) and .25-06 Remington wildcat (custom-made or modified) ammunition. The 700 chambering you choose will depend upon how you intend to use the rifle.
Because the Remington 700 is such a common rifle, there are nearly endless ways to customize your gun. You can change the stock, mount a scope, upgrade the factory trigger, put the gun on a bipod, and much more. Trying to decide which version of each accessory you'll purchase can get overwhelming!
You can easily spend a boatload of money creating the ultimate rifle but tailoring your gun to your needs doesn't have to break the bank. Side note: the Remington is an excellent rifle out of the box, so you don't have to change anything. However, it can be a lot of fun to add and change accessories, so let's dive in with stocks.
WHY WOULD I UPGRADE MY STOCK?
As we said, you certainly don't need to upgrade your 700 stock, but there are several reasons why some gun owners choose to replace their factory stock:
If your 700 has a wood stock, it may have changed shape or warped slightly if you or someone in your family has owned and loved it for decades. Hunting in rainy or humid conditions can affect the wood over time, so you may want to replace your stock with either a synthetic stock that won't change shape over time or a new wooden stock.

Stability is essential in a stock, so you aren't just upgrading for looks here. It can become a safety issue if your stock doesn't fit snugly anymore.

The factory cheek rest (comb) may not be the correct height for you.
The factory butt may not cushion your shoulder as much as you'd like.
You may want a stock with a thumb hole to give you a more stable grip on the rifle.
Perhaps you prefer the look of a different kind of stock.

The design options are virtually unlimited. You can get wooden, tactical, patterned, and colorful stocks, just for starters.

You may want to add bedding to your wooden stock to give it more stability.
Maybe you want an adjustable synthetic stock so you can shoot from different positions.
Perhaps your factory stock makes your rifle too heavy, and you want something lighter.
If your gun has taken a tumble and your stock cracked, it's not safe to fire the gun without a new stock.
The reasons for customizing your gun are as varied as the options for customization. Whatever your reason, you have a considerable number of options. Whether you want a tactical, polymer stock so you can attach extra accessories or prefer a sleek, classic walnut stock, you'll find several options within your budget.
If you get overwhelmed with all of your choices, don't hesitate to speak with an expert, either in a store or online. It would be a shame to purchase a pricy stock only to find that it isn't right for your particular 700 model or needs.
WHAT TO LOOK FOR IN A STOCK
When you upgrade or replace your stock, there are a few things you should prioritize. The performance of your gun shouldn't be compromised by the new stock, neither in accuracy nor in safety. Not just any stock will do, so it's important to take some time to evaluate all of your options rather than just grabbing any old stock that's popular online. But don't worry, we're here to help!
ERGONOMICS
Everyone holds their rifle just a little different than the next person, so it's important that you find a stock that's going to fit your hands, your body, and your shooting position well. The size of your hand and the length of your arm, as well as how you like the comb (the upper portion of the butt where you rest your cheek while you aim) positioned will all affect which stock feels comfortable to you.
A person who prefers to hunt lying prone with a bipod may not choose the same stock as someone who sport-shoots targets while standing.
FIT
It probably goes without saying, but we'll say it anyway: the stock you select should be a very snug fit for your rifle. The stock and the action need to fit like a glove so that your rifle stays stable throughout the shot and recoil.
The stability of your gun will have a significant impact on your accuracy, so if you intend to hit your target, which we're sure you do, you need to make sure that your new stock fits tightly to your barrel and action.
MATERIAL
Polymer and wooden stocks are two of the most popular materials, and for good cause. They're both solid, stable materials. You should seek a stock that won't change shape or warp in various environmental conditions like heat, rain, and humidity. Polymers resist environmental changes flawlessly.
Wooden stocks can, over time, warp slightly if you usually hunt in less than perfect weather. They can be made incredibly sturdy to last for decades; however, getting a super high-quality wooden stock can be very pricy. One strategy you can employ to make your wooden stock last longer is to use bedding (a rigid foundation) between the receiver and the stock to increase the sturdiness of your rifle.
BUDGET
Stocks vary wildly in price. You can find a polymer stock for a very reasonable price, or you can spend many thousands on a custom-made, one-of-a-kind wooden stock. The more decoration on the stock, the higher the price in most cases.
Bolt-action rifles like the Remington 700 usually use a single piece of wood for the stock, whereas lever-action rifles often use two-piece stocks. Finding one exceptional, large piece of wood that a craftsman can turn into a bolt-action stock is more difficult than finding two matching pieces, which can drive up the cost of stocks made from natural wood like walnut.
THE BEST REMINGTON 700 STOCKS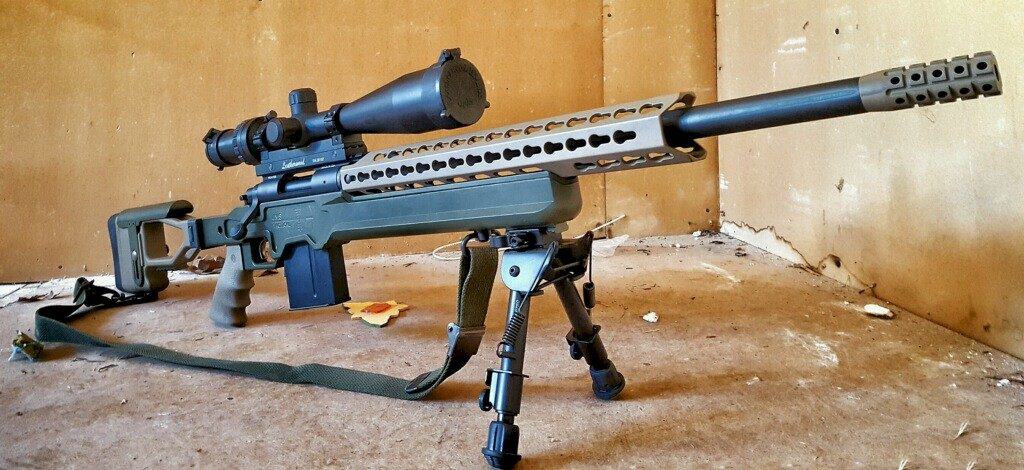 Let's take a look at five different stocks and assess them for ergonomics, fit, and material. We'll go in order of price, from most affordable to most expensive, so you can evaluate which is the best stock for you.
HOGUE 70201 REMINGTON 700 LONG ACTION OVERMOLDED STOCK
Hogue makes stocks with their patented OverMolded process. Hogue builds a fiberglass skeleton to provide exceptional sturdiness and stability for your rifle. Then, they permanently bond an outer layer of soft, synthetic rubber to the fiberglass.
If you're worried about the coating feeling sticky, rest assured that it doesn't feel tacky or gross. The coating gives shooters a great grip, which improves shot accuracy without collecting dust, grass, and whatever else your gun touches.
This Hogue stock is precisely molded to fit the Remington 700. It's considered a "drop-in" stock because it's such a perfect fit that you can install it in just a few minutes for a snug fit. You won't need to drill any holes or do any sanding to make it fit. It's an ideal stock upgrade for new hunters and shooters.
People who own this stock will love the improved accuracy from the fiberglass skeleton. It provides unparalleled sturdiness. There's no wiggle or give between the stock and the barrel, so your shots land exactly where you aim every time.
POSITIVES RECAP FOR THIS PRODUCT
VERY budget friendly.
Super easy installation.
Sturdy fiberglass skeleton improves accuracy compared to weaker stocks.
NEGATIVES RECAP FOR THIS PRODUCT
No frills olive design may not appeal to all gun owners.
MAGPUL REMINGTON 700 LONG ACTION HUNTER STOCK, ADJUSTABLE
The Magpul Hunter is a polymer stock with a reinforced aluminum bedding, so it requires no additional bedding to keep the barrel rigid when you shoot. Like the Hogue, it's a drop-in stock. The installation is simple and suitable for owners who are replacing their stock for the first time.
The quality of the Magpul Hunter is such that even experienced gun owners who have been upgrading their stocks for decades would be thrilled to have this in their collection. The only downside with this stock is that it's available for right-handed shooters only.
The Magpul Hunter is compatible with the M-LOK rail system so you can attach various accessories like flashlights. It uses an innovative negative space mounting system where you add rails only where you need them rather than across the length of the gun. The weight reduction of the M-LOK system compared to older rail systems like the Picatinny makes the gun lighter and easier to handle and shoot.
The comb height is adjustable on this stock, so shooters can get their ideal height for more comfortable and more accurate aiming. You can also adjust the length of the pull (the distance from the center of the trigger to the back of the butt plate) from 13" to 15" with .5" spacers included with your purchase.
POSITIVES RECAP FOR THIS PRODUCT
Easy to install, drop-in stock.
Comes with pre-installed aluminum bedding so you don't need anything extra to enhance rigidity.
Adjustable comb and length of pull.
NEGATIVES RECAP FOR THIS PRODUCT
Only available for right-handed shooters.
BROWNELLS REMINGTON 700 BRN-1 PRECISION CHASSIS
The Brownells chassis is the first two-piece stock on our list. The BRN-1 Precision Chassis comes with just the chassis, which attaches under the barrel of the rifle (where the fore-end of a one-piece stock attaches).
If you decide to upgrade to the Brownells chassis, you'll need to buy a buttstock separately. The BRN-1 is the third stock on our list, so it's already more expensive than our first two one-piece options. After you factor in the additional cost of purchasing a buttstock separately, this can become a costly upgrade.
A popular combination with this chassis is an adjustable buttstock, which will make your Remington look similar to AR-style rifles. The chassis is made from strong aluminum and is capable of accommodating Remington 700 barrels as well as rifles modeled after the 700.
This Brownells chassis free-floats your barrel. Instead of the barrel resting along the entire length of the fore-end, the barrel will attach to the receiver but nowhere else. Environmental factors like humidity can alter the fit of your stock and barrel, but free-floating barrels don't have this issue so they can be more accurate than other stocks.
POSITIVES RECAP FOR THIS PRODUCT
Accommodates free-floating barrels for improved accuracy.
Compatible with M-LOK attachments.
Strong, sturdy aluminum.
NEGATIVES RECAP FOR THIS PRODUCT
It's not an all-in-one stock solution, so you'll need to buy a buttstock separately.
KINETIC RESEARCH GROUP WHISKEY 3 REMINGTON 700 CHASSIS
Like the Brownells chassis, the KRG Whiskey 3 is aluminum. It's a lightweight, sturdy option. Unlike the Brownells, the KRG is a one-piece solution, so you don't need to purchase a buttstock separately.
This chassis is compatible with popular Accuracy International (AICS) pattern magazines without extra tooling or modification. It's also primed for adding accessories like bipods and monopods, as well as sling mounts.
As if this chassis wasn't customizable enough already, it also features a modular grip, so you can tailor the fit of the stock to your exact hand size. Like many AR-style butts, the length of pull is adjustable on the Whiskey 3, as is the comb height. You can even adjust the angle of the butt up to 15 degrees to each side. To top it off, all of the adjustments are tool-less.
The KRG is an excellent option for shooters who want their gear to fit like a glove, but who don't want to spend hours tweaking screws to get each adjustment perfect.
The design of the KRG Whiskey 3 is surprisingly sleek for how tactical it is, so it's suitable for both sport shooting and hunting. It's lightweight and compact, so it works for trekking through the woods just as well as it would for a shooting competition or home defense.
POSITIVES RECAP FOR THIS PRODUCT
Variable uses including hunting, sport shooting, and home defense.
Customizable for hand size, comb height, length of pull, and angle of the butt.
It's a one-piece chassis, unlike the Brownell chassis.
NEGATIVES RECAP FOR THIS PRODUCT
This high-quality, one-piece stock is pretty pricey to purchase.
JP ENTERPRISES REMINGTON 700 AMCS BENCHREST SA STOCK CHASSIS
Like the Kinetic Research Group chassis, this is a one-piece stock. It's the most expensive option on our list, so this may not be the stock for you if your budget is tight. This JP stock is for short action versions of the Remington 700 rifle, unlike the Hogue and Magpul which are for the long action versions of the gun.
JP uses aircraft-grade aluminum to make this Remington 700 stock, and it also works with Remington 700 clones. It can accommodate AICS magazines, and you can attach a JP tactical rail to the chassis so you can add your preferred accessories. If you choose to attach a tactical Picatinny rail, be aware that it'll increase the weight of your rifle more than the negative-space versions like the M-LOK compatible stocks from Magpul and Brownells.
You can customize this chassis for an AR-style rifle or a hunting rifle. The comb is adjustable to suit AR-style scopes, but hunters can also lower it to shoot while laying prone.
JP designed an ergonomic grip for comfort and accuracy. Sport shooters will appreciate that the magazine release is ambidextrous, so you don't have to let go of the grip to change your magazine.
POSITIVES RECAP FOR THIS PRODUCT
Extremely sturdy, aircraft-grade aluminum.
Can be used in an AR-style configuration or for hunting.
Ergonomically-designed grip and ambidextrous magazine release.
NEGATIVES RECAP FOR THIS PRODUCT
You can attach a Picatinny rail, but it'll make the gun heavier than those with M-LOK rail systems.
It's the most expensive option on our list.
CONCLUSION
We've suggested a lot of great stocks whether you want to use your Remington 700 as a tactical, AR-style rifle or create the perfect hunting rifle. Whatever your budget, we hope you found a stock that suits you on our list of the best Remington 700 stocks.