The Sig P238 is an excellent micro-compact gun. Its refined frame is perfect for concealing, especially for people with a slimmer build. The gun has a lot of unique features that we're excited to share. We'll also share what we think you should look for in a holster. After reviewing a few different options, you'll be able to choose the best holster for the Sig P238.
REVIEW OF THE BEST HOLSTER FOR SIG P238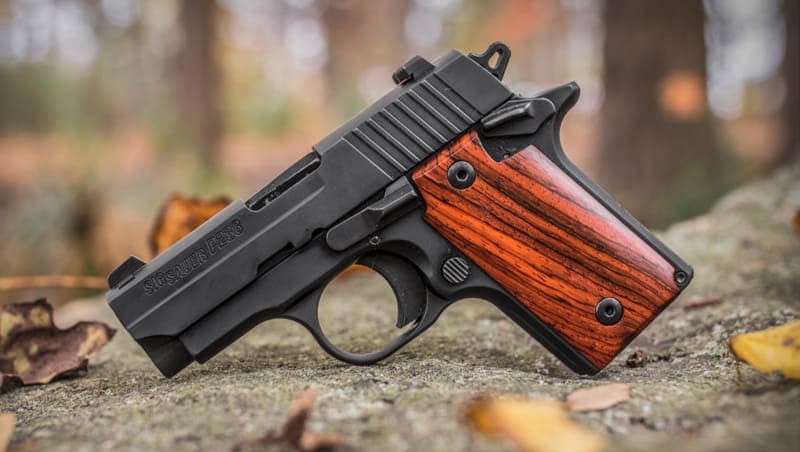 Let's take a look at five different holsters so you can assess them for comfort, concealment, and accessibility. Most of the holsters on our list are suitable for multiple carrying locations, so we know you'll find the best one for you.
CONCEALMENT EXPRESS IWB KYDEX HOLSTER
Concealment Express IWB KYDEX Holster fits Sig...
Type: IWB - Inside The Waistband - Easily Adjustable Retention Pressure & Carry Angle (Cant) 0-15 Degrees with Phillips...
Posi 'Click' Audible Retention Lock System - Integrated Full Length Sweat Guard - Black Oxide Treated Hardware w/Threadlock
Material: .08 inch KYDEX for a Perfect Custom Molded Fit - Weight: Only 2.5 oz. - Standard Belt Clip: 1.5 inch Fiber...
CountryOrgin : USA
Kydex is a hard, thermoplastic material that's heat-molded to fit a specific model of gun. This Concealment Express holster will only fit the Sig P238, and you'll actually hear a click when you've fully secured the gun.
This inside-the-waistband, or IWB, sheath-style holster is very versatile – it can be worn at the appendix, at the hip, at the kidney, and for cross-draw. If you prefer to carry outside-the-waistband, or OWB, you can still use this holster, just purchase the opposite draw hand. As far as versatility goes, the Concealment Express is a winner.
You can adjust the cant, or forward tilt, of the holster with a Philips screwdriver to get your preferred position. Like many Kydex holsters, you can also adjust the retention by tightening or loosening a screw. No matter where you like to wear your holster or how you want it to perform, the Concealment Express has got you covered.
This holster doesn't provide deep concealment inside your waistband, so you'll need to wear a shirt or jacket that can drape loosely over the weapon to keep it concealed. It does, however, have a simple-to-use, sturdy clip that'll keep the holster in place throughout your draw.
POSITIVES RECAP FOR THIS PRODUCT
This holster is extremely versatile and adjustable to suit any gun owner.
Simple, no frills sheath that's well made and gets the job done.
Has adequate safety features like a clicking retention and a trigger guard on both sides.
NEGATIVES RECAP FOR THIS PRODUCT
Doesn't provide deep IWB concealment, so you'll need to wear a loose garment to conceal the holster.
DESANTIS NEMESIS SIG P238 AMBIDEXTROUS POCKET HOLSTER
Sale
DeSantis Nemesis Pocket Holster For Pistols,Made...
FITS COLT PONY,MUSTANG, SPRINGFIELD 911, SIG P238, P238 EQUINOX, S&W M&P BODYGUARD 380, KIMBER MICRO CARRY
The inside is made of a slick pack cloth for a low friction draw
The core is just the right amount of foam to break up the outline of the gun
Available in black
The DeSantis Nemesis is the only pocket holster on our list. Rather than clipping this to your belt, you can just slide it into your front pocket. The Sig P238 is a micro-compact gun, so owners who choose to carry it in their pocket for comfort and will appreciate this simply-designed carrier.
The essential feature to look for in a pocket holster is whether it keeps the gun positioned properly in your pocket as you move. In an emergency, you need to be able to draw quickly. However, poor-quality holsters, or not using a pocket holster at all, will let your gun shift in your pocket as you move. You'll lose valuable time if you have to dig around to reposition your gun before you can draw it, which could lead to injury or worse if you're under attack.
Other than maintaining a consistent angle, one of the main reasons to keep your gun inside a holster when you pocket carry is to protect the trigger. An unintended discharge would be devastating. You can protect yourself by never carrying anything in your pocket other than your gun and by using a holster that covers the trigger.
The exterior of the DeSantis is a sticky material that will adhere to your pocket material just enough to keep it in place. The interior of the holster is a slick material so your draw will be smooth and seamless.
POSITIVES RECAP FOR THIS PRODUCT
It's very budget friendly.
Simple to use – just slip it into your pocket, and you're good to go.
Sticky exterior keeps your gun positioned at your ideal draw angle.
NEGATIVES RECAP FOR THIS PRODUCT
Only suitable for pocket carry, no other positions or locations.
1791 GUNLEATHER SIG P238 PREMIUM LEATHER IWB HOLSTER
1791 GunLeather SIG P238 & P938 Premium Leather...
FITS - Sig Sauer P238 and Sig Sauer P938 like a glove! Don't settle for cheap leather!
COMFORT & QUALITY: This PREMIUM Leather Sig Holster is THE MOST COMFORTABLE IWB Sig holster available and requires no...
CONCEALMENT & CONVENIENCE: 1791's smooth leather gun holsters are designed for concealment and convenience. Our easy to...
PROTECTION & CRAFTSMANSHIP: Made with all American steel clips and a smooth suede interior 1791 Gunleather's smooth...
The 1791 GunLeather is a high-quality leather holster. It's designed for IWB wear, and the supple leather is soft and comfortable as it rests against your skin. Leather holsters sometimes require a break-in period to soften, but 1791 uses premium leather, so it'll be smooth and sleek the first time you use it. It's a little pricy, but quality often is.
Like the Concealment Express, this is a sheath-style holster with a clip. You can wear it in various positions, so it's suitable for a wide variety of gun owners. Unlike some sheaths, leather carriers mold to your gun over time, which is how they provide retention. The leather hugs the weapon and provides friction to keep the gun from falling out.
This holster checks all of our boxes: the premium leather is exceptionally comfortable, the design is sleek to make concealment a breeze, and there are no retention straps or buttons to monkey with so it's easy to access but still secure. 1791 GunLeather handcrafts each holster for superior quality and durability, so this holster is built to last.
POSITIVES RECAP FOR THIS PRODUCT
Made from high-quality, soft leather, so it's comfortable to wear.
Simple, sleek design is easy to conceal.
Fits the Sig P238 like a glove, so it'll be secure in the holster.
NEGATIVES RECAP FOR THIS PRODUCT
It's more expensive than most of our other holster suggestions.
RELENTLESS TACTICAL THE ULTIMATE SUEDE LEATHER IWB HOLSTER
The Ultimate Suede Leather IWB Holster Made in USA...
Handmade by American Craftsmen, From Genuine USA Suede Leather! American made with American Pride, No synthetic materials or...
Designed to Fit Most .380 Autos! Including Ruger LCP, LCP2, Sig P238, P290, S&W Bodyguard .380, Colt Mustang, Bersa Thunder,...
Backed by Relentless Tactical's Lifetime Warranty! Carry the best IWB Holster on Amazon with confidence for the rest of your...
Say No to Cheap Nylon Holsters! Why settle for inferior nylon or imitation leather when you can have a Genuine, Made in the...
Designed for Optimum Performance and Maximum Comfort! Sturdy, dependable, and form-fitted for easy, effective concealment and...
Relentless Tactical is a quality, American-made brand. This leather holster is suede, so it's one of the most comfortable options on our list. Like most sheath-style clip-on holsters, you can wear this in a variety of IWB positions.
Unlike the 1791 holster, this is made to fit most any .380 pistol, so it'll need some time to mold to your Sig. The suede is soft, so it shouldn't take much effort on your part, just a few days of use.
It conceals deeper than the Kydex Concealment Express, so you won't need to work as hard to get your clothes to obscure the holster and the grip of your gun. It's high enough, though, that drawing it is still seamless. It strikes a great balance between being deep enough for easy concealment but still high enough to draw quickly.
POSITIVES RECAP FOR THIS PRODUCT
High-quality, but very budget friendly!
Incredibly soft suede is comfortable for long, daily wear.
NEGATIVES RECAP FOR THIS PRODUCT
The suede leather is so soft that the holster can collapse after you draw your gun, so you'll need to re-holster carefully.
ALIEN GEAR CLOAK TUCK 3.5 IWB HOLSTER
Sig P238 Alien Gear Holsters Cloak Tuck 3.5 IWB...
Custom fit to your specific pistol to ensure for proper fitment and retention. Custom Fit to: Sig P238
Fully Adjustable: Get the ride height and cant exactly the way you want it all without any tools! Allows you to carry the way...
Conceal in Comfort: Soft neoprene backing that is flexible to move and form to your body while retaining shape for...
Simplicity at its Finest: Very simple design where it counts without sacrificing the quality of the materials or the comfort...
Made right here in the USA, insuring the use of high quality materials and hardworking American craftsmanship where we stand...
The Alien Gear Cloak Tuck is a pancake-style holster. Rather than clipping onto your belt in just one spot like our other options, the Cloak Tuck has two clips. A lot of gun owners favor pancake holsters for their comfort. They spread the weight of the gun over two positions on your belt and have a large piece of material protecting your skin, so it doesn't rub against the grip of your gun.
Alien Gear's Cloak Tuck uses their patented CoolVent neoprene material. It's supposed to be highly breathable to wick away sweat caused by wearing a holster. The outer shell of the carrier is made from custom-molded thermoplastic to keep your weapon secure. The CoolVent neoprene wraps over the edges of the shell, so it'll never dig into your skin.
If you're particular about the position of your gun while you carry it, you'll appreciate that the ride height, cant, and retention are all adjustable. If you've tried several sheath holsters and had a hard time getting them adjusted just how you like, give the Cloak Tuck a try.
POSITIVES RECAP FOR THIS PRODUCT
The breathable neoprene and pancake-style holster are very comfortable for extended wear.
The ride height, cant, and retention are adjustable so you can tailor the holster to your individual preferences.
NEGATIVES RECAP FOR THIS PRODUCT
It's the most expensive option on our list.
SIG P238 OVERVIEW
The P238 is .380 micro-compact pistol. It's unique compared to some of the other guns in this class because the frame is made entirely of metal. It's a little heavier than the similarly-sized Glock 42, weighing in at 15.2 ounces unloaded compared to the G42's 13.76 ounces. It might not seem like a lot, but every ounce matters when you carry the gun around all day.
Your tolerance for a gun's weight is personal preference. Some people like the sturdiness of an all-metal gun, while others like the lightness of a polymer pistol. Heavier guns, especially those that shoot lower caliber ammunition, may feel like they have less recoil. The P238, in particular, is well-liked specifically because the recoil is much easier to manage than other .380 pistols.
The classic 1911 style handguns inspired the design of the P238. Decades ago, consumers sought smaller guns than the 1911 for daily carry, so Colt released a few different models. Over time, they slimmed and refined their frames until they released the popular Colt Mustang.
Eventually, Colt stop manufacturing the Mustang and Sig bought the rights to the design. After a few more modifications, the P238 was born. Sig still pays homage to its roots with a design that looks like the classic 1911, complete with a silver finish and walnut grip. Like 1911s, the P238 is a single action pistol and has a manual safety.
New gun owners may like Sig's single action trigger. If you don't have a lot of experience, a double action trigger with a long pull may make your shot less accurate. However, a single action trigger has a much shorter travel, so it's easier for beginning and novice gun owners to shoot with accuracy.
Sig offers the P238 in a variety of designs. No matter your style, you're sure to find something you like in the P238 roster. You can choose from a few tactical/military-inspired designs, various versions of the American flag, rose gold metal with classic engraving, and even pearlized rainbow metal with a rosewood grip.
The Sig P238 is an excellent choice for gun owners who want a reliable, comfortable gun for concealed carrying, but also want to show a little flair and personality with their weapon.
HOLSTER FOR SIG P238
There are three main features you should seek in a holster, regardless of the gun you intend to carry: comfort, concealment, and accessibility.
COMFORT
One of the primary purposes for concealing a weapon is to be prepared for unforeseen circumstances. If your holster is uncomfortable, you won't wear it daily. If you find yourself in a situation where you need protection, it would be a tragedy for you to be unarmed because your holster was too uncomfortable to wear.
Play with different positions, holster materials, and designs to find what works best for your weapon and your body.
CONCEALMENT
Not everyone wears their holsters concealed, certainly, but many people choose smaller guns like the Sig P238 specifically because they intend to carry their gun concealed. A holster needs to be able to safely and effectively keep your weapon out of sight.
ACCESSIBILITY
No matter the holster you choose, you should be able to quickly and seamlessly draw your weapon when you need it. A good holster will provide retention, but it shouldn't be complicated to release. Seconds count when you're in an emergency. The holster you choose should be one that lets you access your gun easily, but one that never lets your gun slip out unintentionally.
OTHER HOLSTER FEATURES
If you've selected the P238 as your weapon of choice, the chances are that you were drawn to the design. Your holster should be a style that suits your weapon and your personal style.
Any good holster should have an adequately-sized trigger guard, especially if you intend to keep a bullet in the chamber while you carry. Most guns, including the Sig P238, have a manual safety as an added layer of protection, but you can never take too many precautions.
CONCLUSION
The Sig P238 is a great gun for daily carry, and all five of the holsters on our list are designed to help you conceal your weapon effectively. Our holster choices are comfortable, concealable, and accessible. You can't go wrong with any of the options, as any one of them could be your best holster for the Sig P238.
If you enjoyed this article you'll probably like these: