Are you looking for the best holster for HK VP9? The Heckler and Koch VP9 is one of the newest and most popular 9 mm handguns to come on the firearm scene. The pistol has become a staple because of its modern design and trigger shoe safety.
We took care of that for you with this review. We found the 5 best choices for holsters to fit any situation. Read on to find out more on what to look for in a holster and our break downs of each product.
REVIEW OF THE BEST HOLSTERs FOR HK VP9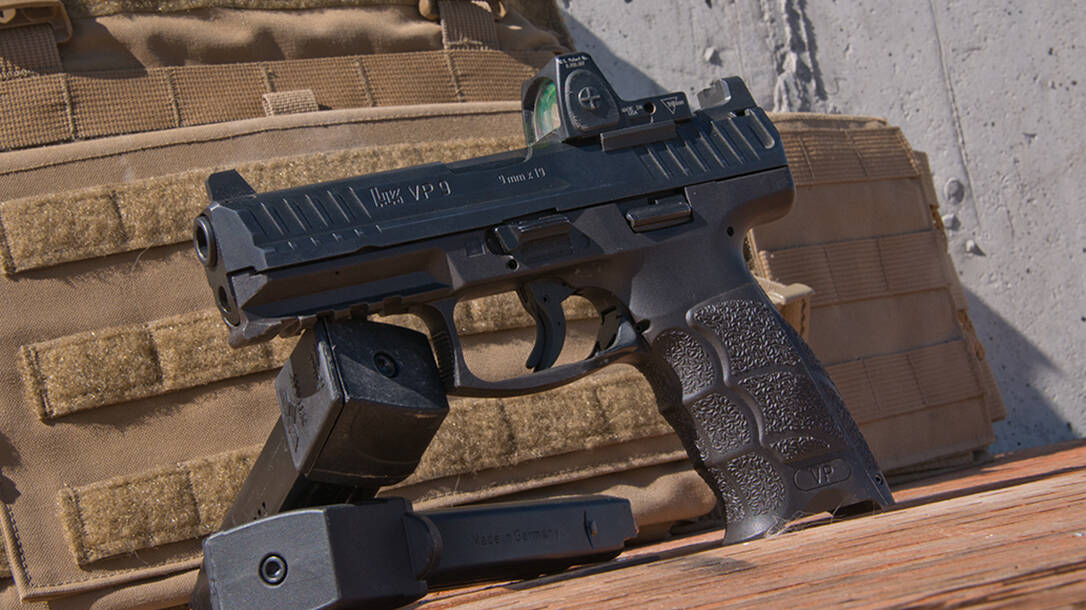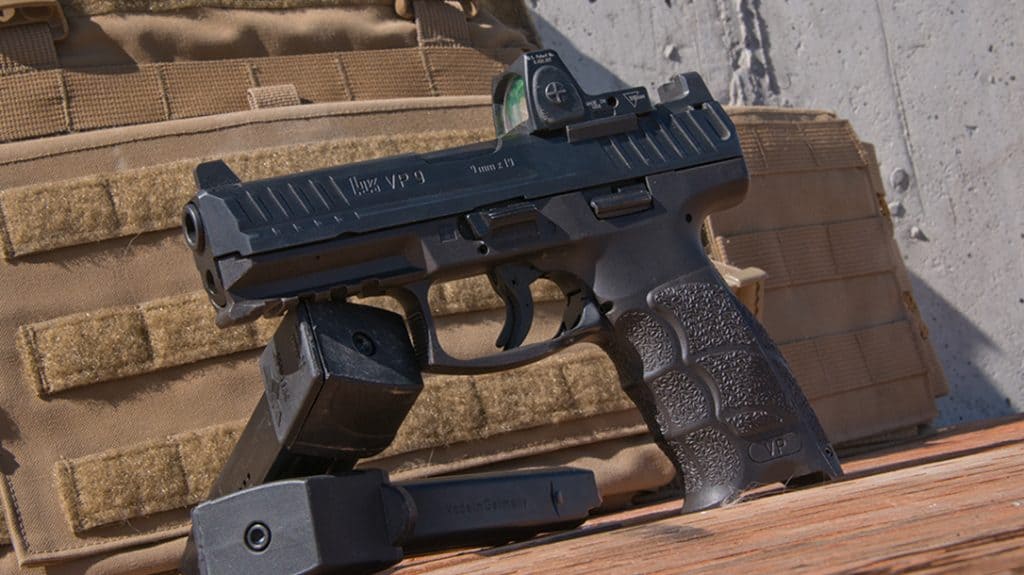 Below is our break downs of the best holsters for HK VP9. We picked a variety of holster types to meet everyone's individual needs. Think about features from above that are important to you and look at the reviews below.
CONCEALMENT EXPRESS IWB KYDEX HOLSTER
Concealment Express IWB KYDEX Holster fits H&K VP9...
Compatible with: Heckler & Koch VP9
Type: IWB - Inside The Waistband - Easily Adjustable Retention Pressure & Carry Angle (Cant) -5 to +20 Degrees with Phillips...
Material: 0.08 inch KYDEX for a Perfect Custom Molded Fit - Weight: Only 2.5 oz - Standard Belt Clip: 1.5 inch Fiber...
Posi Click Audible Retention Lock System - Integrated Full Length Sweat Guard - Black Oxide Treated Hardware w/Threadlock
Concealment Express made this affordable IWB holster to balance durability and concealment. As an IWB, it's easy to conceal even when wearing dress clothes.
The holster is designed for a variety of carry options with its adjustable cant (angle) and left and right-handed options. With a strong plastic clip, the holster isn't going to move too much.
Kydex is a great polymer for holsters because it's durable and water-resistant. The shell is molded for the HK VP9, so it has great passive retention that is also adjustable with a Phillips screwdriver.
This holster also features an active retention system that includes Concealment Express' audible Posi-Click lock. The retention is easy to release with your thumb as you draw, so it doesn't sacrifice much in draw speed.
The holster is made in the USA and comes with an Unconditional Lifetime Warranty. It also comes in black and carbon fiber styles.
See what users have to say:
Positives Recap for This Product
Adjustable features are nice
Comfortable to wear
Clip holds well
Easy and fairly quick draw
Durable
Negatives Recap for This Product
HK VP9 may not fit perfectly
WE THE PEOPLE CARBON FIBER IWB KYDEX HOLSTER
We The People Holsters - Carbon Fiber - Right Hand...
Specifically designed and molded for the Heckler & Koch (H&K) VP9, this concealed carry holster is made using only top...
In order to be effective for self defense you need to be comfortable with your holster. This compatible with Heckler & Koch...
With its thick wall Kydex construction and comfortable hardware, we have crafted a holster compatible with Heckler & Koch...
Designed to be worn inside the waistband with a belt and an un-tucked shirt to properly conceal the weapon, this compatible...
This compatible with Heckler & Koch (H&K) VP9 Kydex holster is a durable, form-fitting piece, offering effective concealment...
This kydex holster by We The People costs in the mid-range of holsters, but comes in different sizes for specific guns including the HK VP9. With this holster, you can a step up in materials and adjustment features.
Not only is the cant (angle) adjustable like on many synthetic holsters, but you can also adjust the ride height as well. This is great for matching different body types and making it as comfortable as possible.
The Kydex material has been waterproofed for extra weather and sweat resistance. As with most synthetic holsters, you can also count on the durability of the material over time.
As an IWB holster, it's easy to conceal and clips to your belt with a strong metal clip. The holster uses only a passive retention system, but with IWBs that may be OK. Holster are harder to grab when they're tucked in.
Made in the USA, this right or left-handed holster comes with a Lifetime Warranty from We The People.
See if the customer experiences back up the company's design choices below:
Positives Recap for This Product
Tight retention
Strong belt clip
Completely adjustable cant and ride height
Comfortable to wear
Tough material
Negatives Recap for This Product
Some screws may catch on clothing
White logo on clip attracts the eye (not as good for concealment)
1791 GUNLEATHER HOLSTER
1791 GunLeather Holster for Sig Sauer P226, P220,...
COMFORT & QUALITY: Upgrade your carry to the Sig P226 leather gun holster. Made with 100% American Steerhide Leather that is...
CONCEALMENT & CONVENIENCE: 1791's Sig Sauer P226, P220, P229 holster is designed for concealment and convenience. Our easy to...
PROTECTION & CRAFTSMANSHIP: 1791 Gunleather's Sig Sauer Belt Holster is hand crafted to protect both you and your firearm at...
VERSATILE FIT: This Sig Sauer P226 holster also fits Sig P220, P229 models as well as 1911 with Rails, H&K VP9 and Beretta...
LIFETIME WARRANTY: All 1791 products are backed by lifetime warranty. We produce the finest leather gun holsters used by law...
This leather holster by Gunleather is on the higher price side which is to be expected with leather holsters. The leather material is classic with a great look, proven durability, and comfortable feel.
The holster is designed to fit a certain size of pistol which included the HK VP9. This may make you a little nervous about how well it actually retains the handgun, but leather does a good job of forming to the gun it's carrying as long as you break it in properly.
With belt slots, this holster fits tightly against your belt as you wear it OWB. Gunleather opted for only passive retention and an open-top for maximum draw speed. The downside of this is that the only thing preventing a holster grab is the friction of the holster itself.
As with all Gunleather products, the leather materials is 100% made in the USA by craftsman. The double-stitching adds durability to the already tough material. Gunleather also offers this holster in four great-looking styles: carbon fiber, classic brown, stealth black, and signature brown.
The user experience boils down to this:
Positives Recap for This Product
Great material
Awesome look and style
Comfortable and close ride to body
Strong retention
Negatives Recap for This Product
Requires a lot of breaking in
NEW FOBUS HK2CH GUN HOLSTER
This affordable OWB holster by New Fobus is actually made of nylon. Usually, you can expect nylon holsters to have some serious flaws for their lower price, but New Fobus goes out of its way to make this a holster you can easily use.
This model is specifically sized for the HK VP9 which means the fit is close to perfect. In case you were worried about the retention, they added an active retention forefinger-activated guard locking system. Once holstered, this gun won't be drawn unless you want it to be.
This is only for right-handed shooters, so if you're a lefty you may need to look elsewhere. The nylon is mold-injected which means that the shell holding the gun is reinforced to provide a better fit. Nylon is a softer material, so this feels more comfortable against your skin.
We were able to condense many customer responses to this product into the following lists:
Positives Recap for This Product
Good design
Tough material for nylon
Locking trigger is secure and easy-to-use
Light and comfortable
Quick draw speed
Negatives Recap for This Product
VLAMITEX S1 SHOULDER HOLSTER LEATHER FOR HK VP9
VlaMiTex S5 Shoulder Holster Leather Fits Heckler...
Shoulder holster for right handers made of cow leather.
Holster's leather is 2.5 - 3.0 mm thick.
The magazine pouch is designed for a standard magazine (17 shots).
If necessary, the shoulder holster can be combined with M2 ( double magazine holster) or with M20 ( handcuffs and magazine...
Our products are 5 years guaranteed, and if you receive a defective item from us, which cannot always be ruled out during...
VlaMiTex made this holster more expensive, but that's to be expected from a holster made from leather. The shoulder holster design of the holster makes it stand out on our list.
Shoulder holsters work by making a cross of straps across your back and shoulders going down to your hips. This lets your HK VP9 be easily concealed by a jacket. One side of the shoulder rig has the holster while the other has a pouch for an extra magazine.
You can wear this shoulder holster as is or remove the holster part and attach it to your belt. There is a metal accelerator sown in to the holster. The leather material is tough and thick to hold well and stand up to the rigors of daily movement.
Customers report the following in their experience:
Positives Recap for This Product
Leather is tough but comfortable
HK VP9 fits perfectly
Great passive retention
Good for concealment
Negatives Recap for This Product
No consistent complaints were found
WHAT TO LOOK FOR IN A HOLSTER
Not every holster is going to be a good fit for every situation. Depending on what you're looking for, you may be able to narrow down your choices quickly. Take a look at the common features and how they might apply to your situation.
CONCEALMENT
When some people carry, concealment is an important feature. Concealed carry may be controversial in today's media, but there are several good reasons to do so including safety, comfort for those around you, and discretion.
If this is something you're worried about, look for an inside the waistband (IWB) holster or outside the waistband (OWB) holster that has a low profile. We make sure to mention if the holster's below are good for concealing.
DURABILITY
Holsters range in price, but no matter what it costs, you don't want one that's going to come apart after a few weeks of wearing it. This largely comes down to the design and the material used in the holster. There are four main types of holster material.
Leather – This is the classic material. It's more expensive and vulnerable to water, but it's sturdy, looks great, and is comfortable to wear. It does require some extra breaking in.
Synthetic – When you use a polymer to make the holster, it generally lasts a long time and is really resistant to weather. They may be more affordable, but they also are less comfortable.
Hybrid – With a hybrid holster, the backing material is leather so it feels good against your body, but the shell of the holster is synthetic for better retention and moisture resistance.
Nylon – These holsters are usually much cheaper for good reasons. They feel soft to touch, but they flop around and don't last long. You can avoid this to some degree if the nylon is double-layered with strong stitching.
RETENTION
A holster's retention refers to how tightly the gun is held in the holster. There are two types of retention: passive and active.
Passive retention is when the gun is just held in the holster by the force of friction. Holsters that only use this are quick on the draw, but your handgun is in danger of being grabbed.
If you're afraid of holster grabs, you may want to opt for some active retention systems. These systems can include straps, mechanical locks, buttons, and levers. They slow down your draw speed but offer more security.
DRAW SPEED
In an emergency, seconds can make the difference between life and death. Holsters that are clumsy can put your life in danger. A quick draw speed is a must.
All the holsters on this list have a fast draw, but depending on other factors like IWB vs OWB and active retentions in place. It's a balance game in deciding what you need.
PRICE
As always when shopping, be honest about what you can spend and what you need. You don't want to be dissatisfied with a purchase because you spent too much or because the quality of the holster is low.
All of these holsters are good quality, but you may not need all the bells and whistles the highest priced model comes with. Then again, if you can swing, you're not going to be disappointed.
COMMONLY ASKED QUESTIONS
What should I use the HK VP9 for? – The two main reasons people use the HK VP9 are for home defense and personal carry. The weapon is large enough to pack a punch in a home defense situation, but it's still small enough to be carried easily throughout your day. It's a versatile weapon.
Is the trigger shoe safety dangerous? – A trigger shoe safety means that a small tab must be pushed on the trigger face before the trigger can be pulled. It may seem weird to not have a safety switch and feel unsafe to you, but (just like any other aspect of firearms) you just need to spend time practicing and training with safety procedures to protect yourself and those around you.
The main benefit of this safety is that the whole process of drawing and firing is streamlined. This makes people nervous and has resulted in negligent discharge from those who didn't get themselves trained or prepared for the gun.
CONCLUSION
We hope you enjoyed our review of the best holster for HK VP9. These are all good holsters, but they're also widely different from each other.
I recommend the VlaMiText shoulder holster if that style is something you think you may be interested in. The extra mag pouch and the ability to use it as a shoulder and belt holster means that it's extra versatile.
If you don't want to pay that higher price, We The People's Kydex holster is more affordable, but still offers a lot of adjustments to fit your needs and body. On top of that, the material is treated to last a long time.
If you enjoyed this article you'll probably like these: