When hunting at night, it is imperative to have a bright, long-lasting and far-reaching light that will allow you to hunt safely and effectively, while not scaring away your game. A green light is a wonderful tool that does just that. So what is the best green light for hunting at night? Let's explore the options and check out our top five picks.
Most people are aware that if you shine a light on an animal they will see it and spook. However, some animals have a hard time seeing colors, like how dogs are thought to only see in black and white. Using a colored light while night hunting blinds the animal to the light to some extent. 
There are a couple good advantages to this. The first is the obvious one, that if your game can't see the light they have no reason to spook. The second is that in the dark, the bright light will still reflect the color of the game's eyes back to you, thus making it even easier to spot them in the night. This does not apply to hogs. Hogs cannot see the green color of the light, so green light is the best for hunting hogs, but hogs lack the reflective surface lining in the eye that predators have, so their eyes do not shine back at you. 
Green Lights Vs Red Lights
Is there a reason to choose red over green or visa versa? Not really. Some have said that the colors are a bit animal specific as to what they are least sensitive to. It's said that hog hunters do much better using a green night light, whereas coyote hunters have better luck using a red light. Raccoons are debatable, and it seems that either color is fine for them. 
That said, as far as the hunter is concerned a green light would be the better choice because it has the same light power intensity of a white light and so allows you to see farther and clearer in the darkness. Obviously, this could be a safety factor when in unstable or obstructed terrain and gives you better range when you spot your prey.
Related Read: Learn how to paint your rifle scope.
5 Best Green Lights for Hunting At Night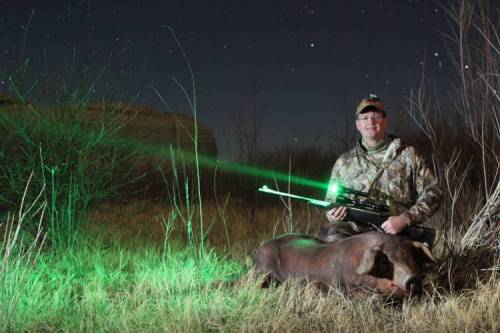 WindFire WF802 Green Hunting Light
WINDFIRE WF802 Waterproof 350 Lumens 250 Yards Green Cree...
Tactical Portable LED Flashlight Best High Lumen CREE Green Light - Water & Shock Resistant - Ideal for Outdoors coon deer pig Hunting Gift-Giving
Complete hunting kit: 1x Green hunting light flashlight,2 x 18650 3.7V rechargeable battery , 1 x two channel charger, 1x pressure switch, 1x Scope Bike Mount
350 lumens unfiltered green light output produced by Cree green LED.250 Yards bright and focused Green beam that helps you find your game in the distance without disturbing them.
Momentary on pressure switch and On/Off push button switch, spare battery for enjoying longer time hunting
High Quality Plastic Mount for Torches / Telescope sights / Lasers. A Large Easily Turned Knob.quickly mounted and released
A great green light for night hunting, the WindFire WF802 has an illumination distance of 250-300 yards thanks to its high output 350-lumen CREE LED green light. It is also rugged and ready to stand up to the elements with a water and shockproof design that's ideal for the outdoors. 
Additional accessories that come with this light include two 3.7v rechargeable batteries and the two-channel charger for the batteries, a pressure switch, and a mount for installing on a rifle, bike, or whatever else you need to attach it to. This is a great kit to improve the quality of your hunt. 
Customers who have purchased this light praise the brightness of it and a solid center beam that does not scare game away even when suddenly turned on. The multi-function of the simple clamp is great and very useful and seems to be quite appealing to those who use it. 
Complaints about this product are that though advertised as a 250-300 yard light, it only really is effective at 70-180 yards max. Also, there seems to be a lot of complaints about the batteries and charger either taking incredibly long to charge or burning up. 
Positives Recap for This Product
Negatives Recap for This Product
Sale
Ulako Green Light LED Coyote Hog Pig Varmint Predator...
Support more than 4.5 hours running time when full charged. the torch come with a actual capacity 2600mah rechargeable 18650 battery which is specially designed for high power hunting flashlight
Human's eyes are most sensitive to the green and red range of light.
Animals are not spooked by a green or red light flashlight, great tool for fishing & hunting.
Two switch mode:Toggle pressure switch/Tactical Switch.
Hog hunting tactical flashlight with 20mm rail mount .Waterproof, can use it in rainy day
The Ulako green light has an impressive 4.5 hours plus running time when fully charged on a single rechargeable battery that has been specifically designed for high powered hunting flashlights. This light features two switch modes, a toggle pressure switch and a tactical switch, for easy and versatile operation.  
Along with the remote pressure switch, battery and battery charger provided, this light also includes a shock absorption capable flashlight mount that can be installed on a standard 20mm Weaver rail. The light itself is waterproof ensuring though dark and rainy, your hunt won't be interrupted.
Customers of this light like the high quality, extreme brightness and it's ability to totally light up everything up to 100-150 yards. What customers don't seem to like is the pressure switch which people are consistently saying is defective or poorly made. 
Positives Recap for This Product
Negatives Recap for This Product
Sale
VASTFIRE 350 Yard Zoomable CREE Green Flashlight Predator...
Hog light is Single 1 mode 1000 lumens, throw up long distance. Focus Feature : zoom out spotlight up to 250 yard, zoom in flood light could reach 200 yard
Predator Light Comes with Momentary coiled pressure remote switch(no noisy click sound and has a free lifetime warranty, send us an e-mail will get a new one pressure switch), and standard 20 mm...
Green Flashlight kit: VASTFIRE CREE LED Adjustable focus Flashlight, 18650 Rechargeable Lithium Battery(2400mah), Charger, Pressure Switch, Picatinny weaver rail Mount, Carrying case, Cylinder to use...
Varmint Light with Long-lasting battery life up to 2.5 hours, made of high quality aluminum alloy which is a very durable, Portable and Stable Light, Slip-Resistant, Daily Waterproof
Hunt Gift for men, husband, boyfriend, farther, grandfather, brother, hobby or friend
The VASTFIRE green light features an adjustable focus for zooming the light in or out. The single mode 1000 lumens shines as a spotlight when zoomed out to 250 yards, and a floodlight when zoomed in to 200 yards. 
This light has a pretty long lasting battery life at 2.5 hours with a single, rechargeable lithium battery, plus comes with an extra cylinder for using a AAA battery. Other accessories included with this waterproof light are a pressure switch, a hard plastic carrying case and a mount for a standard 20mm Picatinny rail. 
Customers who use this light have been impressed with the super-brightness of the VASTFIRE, and how great it is at illuminating out to 150 yards without scaring off game. Plus people really seem to like the convenience of the zoom feature. 
Customer complaints are varied with no real consistent complaints, other than individual units arriving defective in one way or another. 
Positives Recap for This Product
Negatives Recap for This Product
Nitecore P30 Hunting Light
Nitecore P30 1000 Lumens 676 Yards Red and Green...
SUPER BRIGHT - Produces a strong 1000 lumen beam powered by an advanced CREE XP-L HI V3 LED with five brightness levels for complete control of your visibility
EXTREMELY LONG THROW - Optimized for long-range visibility, the P30 has a throw of 676 yards enabling you to see an incredible distance
VERSATILE HUNTING LIGHT - Included Red and Green filters offer different output color options, perfect for tactical operations or hunting, whether held in hand or mounted to a rifle
EASY TO USE - Dual-switch interface offers precise control of the operation. Power the light off and on with the tailcap while the side switch controls the brightness level and special modes. The...
COMPLETE HUNTING KIT - Includes a Nitecore P30 flashlight, holster, lanyard, battery magazine, and clip, plus Red & Green filters, LumenTac offset and high clearance mounts for rifle attachment,...
The Nitecore P30 is an impressive hunting and tactical light with a very far-reaching beam and five levels of brightness for control of your visibility. The light beam is a strong 1000 lumen LED that throws out to an incredible 676 yards. The Nitecore also comes with snap-on red and green filters for change of color options while night shooting. 
This light is super user-friendly with the on/off switch in the back of the light, and brightness level and special mode switch on the side. It is offered in a complete hunting light kit containing the Nitecore P30 flashlight, holster, lanyard, battery magazine and clip, red and green filters, LumenTac offset and high clearance rifle mounts, pressure switch, rechargeable battery, charger and a convenient hard-sided carry case. That's a lot of bang for your buck!
Customers use this as a super strong, ultra bright light that's perfect for hog hunting, and is covered by a five-year warranty. And, the two different position scope mounts are a nice option to have.
Customer complaints are mostly that the light really doesn't reach as far as it claims to, otherwise it's a very powerful unit. 
Positives Recap for This Product
Negatives Recap for This Product
UltraFire Green Hunting/Tactical Flashlight
ULTRAFIRE Green Hunting Flashlight, XP-E2 LED 650 Lumens,...
Super bright green hunting flashlight, featuring 3 pcs the latest XP-E2 Green LED,Single mode green light design easy to use.
Provide 256 yards lighting distance and 100 degree wide angle light, helps you find your prey in the distance without disturbing them.
Aviation-grade aluminum with matte anodized resistant to strong impacts and scratches,highly durable and reliable,daily waterproof,works in heavy rain.
Maximum Brightness: 650 lumens, 520-535 nm, long service life up to 100,000 hours,Power by 1x 18650 3.7v battery(Battery are not included)
Finally, the UltraFire green hunting/tactical flashlight provides a 256-yard beam and a 100-degree wide angle green light to help you find your prey without alerting them. Featuring 650 lumens of brightness and a long service life of up to 100,000 hours with a lithium-ion 3.7v battery that must be purchased separately.
Built to military standards, the aviation-grade, anodized aluminum construction is resistant to strong impacts and scratches, is highly durable and reliable, daily waterproof and works well in heavy rain. 
Customers have complemented this light as very bright and works well at distances up to the 100-yard range. Complaints were mostly that the light came without batteries, otherwise, it's a great budget pick for hunters. 
Positives Recap for This Product
Negatives Recap for This Product
Why is green the best color for hogs? – Green lights are less noticeable to hogs than red due to their visual spectrum. Of course, you will want to keep the hog in the outskirts of the light, as the animal will be able to see a bright light shined at it regardless of color. The other great thing about green lights are that they show better color contrast in the dark, so the dark coloration of the hog will make him stand out more. 
Can coyotes see the green light? – Coyotes have more of a color blindness to red than green, but the green is still somewhat shaded to them as opposed to straight white light. Ideally, red is a better color when hunting coyotes. 
What is the best color for the human hunter? – Green would be the way to go. They have the same light power as a bright white light, thus giving good clarity and the ability to see farther distances, but are not quite as intense and are somewhat shaded from game because of the coloration. 
Hopefully, this guide was helpful in assisting you to pick out the best green light for hunting at night. Of all the color choices out there, green really does stand out as the best for spotting, range, safety, and contrast. Of these five pics, I'm sure you'll be able to pick out which light fits your needs and will benefit your hunt the most. 
If you enjoyed this article you may also be interested in our article on scopes of a bolt action .308.