Looking for the best FFP scope for the money? There's so many options out there and it makes it difficult to find a quality product that isn't going to break the bank. While everyone's budget is different we've put together a list of scopes that range in price and there should be something here you'll find an excellent option for your rifle.
5 Best FFP Scopes For the Money
Below you're going to find our breakdown of each of the 5 first focal plane scopes on our list. The scopes aren't in any particular order so it isn't best to worst or anything of the such. This review is focused on getting the money bang for your buck. The following scopes were picked on a price to quality ratio and any of these 5 scopes will be a great choice and it's up to you to determine the one you want to see on your rifle.
Athlon Optics 6-24×50 FFP Scope
This is the Athlon Optics FFP 6-24×50 scope with illuminated reticle. This is one of the two higher end scopes on our list but it's one heck of a scope. It comes with advanced fully multi-coated lenses to give you better light transmission and bring optimal brightness for a crystal clear image at long range.
The reticle for this scope is etched on the glass to provide excellent backing support for complex reticle design. The scope is designed to offer great durability with high shock resistance for higher caliber rifles. The body is made from aircraft grade aluminum with exceptional strength and quality mechanical integrity to protect this unit from any punishment you throw its way.
Overall customers really like this scope and have some great things to say about it. Some of the most positive remarks regard the quality of the glass, reticle, and the pure value this scope offers. Many people saying how easily comparable this scope is to other scopes in the $1,000 range.
However, there were also a few mentions of features this scope lacks in. The scope's parallax settings aren't as precise as you would expect. A 30 yard setting might be closer to a 45 yard setting. The turrets on this scope also don't offer any way to lock in. A feature you would expect to have at this price point.
Positives Recap for This Product
Amazing Quality Glass
Amazing Reticle
Amazing Value
Negatives Recap for This Product
Parallax Settings are Off
Turrets Don't Lock In Place
Bushnell Optics FFP Illuminated Scope
This is the Bushnell Optics FFP Illuminated reticle 223 scope. It's fully multi-coated for durable strength and has a 1-4x magnification. The reticle is illuminated on the FFP with 11 different settings. It comes backed by Bushnell's strong no questions asked warranty.
It come equipped with an exclusive throw down PCL lever for quick power change. It has outstanding low light performance and accurate holdovers out to 500 yards. If you're a Bushnell lover this scope is a no-brainer for your your first focal plane purchase.
If there's any scope that should be considered well worth the money this is it. You get extreme quality at an even better price point. Don't just take our word for it because this is what actual customers of this scope are saying about it.
We did come across one negative feature and it's the same issue with the scope above. The adjustment turrets do not lock into place on this scope. So accidental adjustments are made quite easily if you're not careful. One other thing which can be a factor for tournament shooters with weight limits is some customers found the scope to be heavy.
Positives Recap for This Product
No Questions Asked Warranty
PCL Lever for Quick Power Change
Negatives Recap for This Product
Adjustment Turrets Don't Lock
Heavier Scope
Primary Arms 4-14×44 FFP Riflescope
This is the Primary Arms 4-14×44 FFP riflescope with a ACSS HUD DMR 5356 Reticle. It has a 4-14x magnification with 6 different brightness settings. It's also backed with a 3 year warranty.
Primary Arms is a great company to purchase from. They're a United States based company that manufacture their scopes in the US. If you're looking for quality made US product they're a great company to do business with. The vast majority of Primary Arms product we come across are highly reviewed by customers and they put out a good product.
One customer pointed out that this model has better glass than his Nikon and Vortex scopes. The parallax adjustments work flawlessly and he thinks its one of the best reticles on the market. Sighted in for a 5.56 and ran over 100 yards with pinpoint accuracy. These are the sort of remarks we like to see from customers of products and this guy wasn't alone with his opinion. Many others feel the same way about this scope.
We didn't come across any negative comments about this scope. Sometimes there just isn't anything to complain about and while that isn't always the case it is the case for this scope. If this scope fits your needs you can purchase with confidence.
Positives Recap for This Product
Flawless Parallax Adjustments
Pinpoint 5.56 Accuracy
Illumination Great for a Sunny Day
Negatives Recap for This Product
We didn't come across any common negative comments about this model scope. Buy with confidence.
Monstrum Tactical 4-14×44 FFP Scope
This is the Monstrum Tactical 4-14×44 first focal plane scope. It's a high precision tactical scope with a 4-14x magnification, a 44m objective lens, and eye relief of up to 4.5″ inches. It's equipped with with an adjustable objective lens (AO) that allows for a sharper focus and clarity.
The illumination is touch button in both red and green with multiple brightness options for the best visibility at night or in low light conditions. This purchase also includes medium profile picatinny scope rings, a detachable honeycomb filter shade, lens covers, and other accessories for maintaining your scope.
Although this isn't a major name brand and you're likely not as familiar with this scope but that doesn't mean you're not going to get a quality product. A lot of people are hesitant when buying non name brand scopes but this shouldn't be the case.
Just as customers of this scope have come to find out it's a scope that exceeds expectations. This scope is considered a great option for getting into shooting 800-1500 meters. While it isn't as perfectly tuned as some $2,500 scopes it's really close.
Positives Recap for This Product
Exceeds Expectations
Tight Shots Even at 800-1500 meters
Negatives Recap for This Product
No Strong Warranty
Weaker Illumination
Nikon Prostaff 5 FFP Scope 3.5-14×40
this is the Nikon Prostaff 5. it's a first focal plane scope at 3.5-14x40mm. The new BDC distance lock function keeps everything in the first focal plane while aiming points provided by the spot on application remain the same, regardless of what magnification the scope is set to.
Hand turn reticle adjustments with spring loaded instant zero reset turrets. This is an excellent feature for helping you make adjustments when you need to. The spring loaded zero reset is very convenient and speeds things up a bit.
You're getting high quality Nikon glass. This glass has multiple layers of anti-reflective compounds on every glass surface. This provides bright, vivid pictures and excellent clarity with optimum light transmission from dawn to dusk.
Customers really like this scope but that's no surprise when it's made by Nikon since they typically always put out a great product. It's got great features overall and you'll find quality in all of its features. Though it's one of the higher priced scopes on our list it's a good quality product.
Positives Recap for This Product
Quality in all Features
Extremely Good Glass
Good Clarity Dawn to Dusk
Negatives Recap for This Product
We didn't come across any common negative aspects. Buy with confidence.
What is the first focal plane?
There are two types of scopes you can buy. There's the first focal plane and second focal plane. This refers to how the scope's reticle changes when using a scopes zoom when long distance shooting. Speaking of long-distance shooting, here's another article we wrote on a great budget long range scope.
A scope designed for the first focal plane has its reticle on the front of the scope forward of the magnification lens. This makes the cross hairs increase in size as you zoom in on your target. The benefit of this is having your mil-dot or MOA values constant through the entire zoom range of your scope.
This gives you an advantage for shooting at greater distances. This is one reason the FFP is growing in popularity with more shooters swapping over to these type of scopes.
The second focal plane is when your cross hair remains the same exact size while zooming in on a target. This is the type of scope you see on a more regular basis. Either type of scope will get the job done and it comes down to personal preference for determining the type you should use.
It's a good idea to get comfortable with using either type of scope so you're able to adapt in situations where one type of scope would be more beneficial than the other. Each scope type benefits one area such as hunting at close range and the other long range or competition shooting.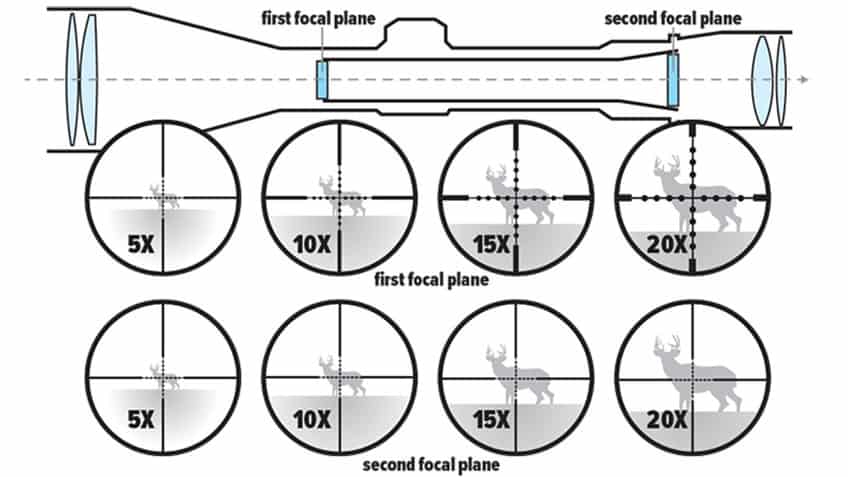 Pro's & cons of Using the FFP
The pro's and cons of this scope type come from the core function of the first focal plane. The biggest positive aspect of using these type of scopes is having a consistent accurate reading of your mil dot or moa reticle. As you zoom in your able to have a clear image of your reticle and its distance options.
This gives you a more accurate reading to make adjustments for long distance or tactical shooting. This gives you better odds of hitting your target exactly where you need to at further distances.
The only downside of this is having a large reticle when you're zoomed in. The cross hairs cover more visible area within the scope. Honestly, it's not a big problem in our opinion but it's worth noting and it's the only thing you could consider a negative feature of the first focal plane.
Is FFP Better for Hunting?
While it's still a personal preference on the scope you choose to use there are situations where first focal plane would have an extreme benefit over the second focal plane. First take a moment and think about the situations you're in for the majority of your hunts.
Think about your typical hunting environment. This is going to be different from person to person but if you find yourself hunting in situations where your game can be 500 yards out then you could greatly benefit from using a first focal plane scope.
No one's saying you wouldn't be successful with a second focal plane but wouldn't you rather increase your odds and use tools available to make sure you have a successful hunt? Even using the best FFP scope for the money you'll be able to make adjustments at that long distance and have more confidence your shot is going to land right where it needs to.
Commonly Asked Questions
Should I use FFP on an AR15? – The first focal plane is great for tactical shooting. It's where this type of scope sprang up and its just become popular in all other areas of shooting. So, yes you can use an FFP scope on your AR15 and pick up a good quick detachable scope mount to go with it.
FFP or SFP for Long Range Shooting? – If you're shooting further than 500 yards you'll benefit from using a first focal plane scope. With good mil-dot or MOA reticle adjustments it'll help you make a more accurate shot and be more confident shooting at longer range distances.
Why are illuminated reticles so common for FFP scopes? – The main reason for an illuminated reticle is to help during different less favorable lighting conditions. It helps the settings on a mil-dot or MOA reticle to stand out and be easier to read. Some people prefer a non-illuminated reticle and there's just as many of them if not more than there are illuminated. It's just a matter of preference.
Conclusion
I hope you enjoyed this article and were able to find the best ffp scope for the money. When looking for scopes on a budget it can be difficult to find something that's both quality and affordable. Hopefully we've done a good job of putting together a list of scopes that fit those traits.
Everyone's budget is different so what one person considers affordable may not be so for someone else. That's why we provided a list of FFP scopes in a varying price range without sacrificing quality.
If you enjoyed this article you'll probably like these: