If you are looking for the best conceal carry belt that you could own, you've come to the right place. We have looked at some of the top belts on the market to help isolate and identify the one with the characteristics that fit your needs. It's important to find a proper conceal carry belt that's going to be reliable and hold against the weight of the gun in its holster.
Gun Belt To Gun Size
Make sure to take into account the size of the gun you are going to be carrying! If you are carrying a full-size pistol you'll want to make sure the gun belt is going to hold up against the extra weight over a period of time.
Also, if you're carrying a gun that's going to serve better in a pocket you may not need a gun belt at all. There are holsters that fit into your pocket that you can utilize to not use a gun belt at all.
You can also consider using a shoulder holster or an ankle holster which allows you to draw from your shoulder area or your ankle, respectively. Any style of carrying you might consider would probably be best to decide upon before making the decision to purchase a gun belt.
You would consider a gun belt primarily if you're going to use any style of carrying that is on your hip. This would include outside the waistband (OWB) and inside the waistband (IWB) holsters but it's usually best to carry IWB if you have concealment in mind.
Of course, a conceal carry gun belt is only going to be holding another couple pounds of weight which doesn't sound very intense. But over time this can do damage to your belt especially if you don't have a specific gun belt. Some leather gun belts have a steel stiffener added into them which is very effective for the long term use of the belt.
Dress And Tact
There is some debate on a leather belt versus a tactical nylon belt and it's up to you which is going to best for you in the long run. However, a leather belt is going to blend in well with the business casual dress that is common for everyday wear. A nylon tactical belt is going to have a more tactical look, naturally. 
If you are looking to carry a firearm discreetly it takes more than covering the gun. A leather gun belt is going to help you closer towards fulfilling your goal of concealed carry. You want to blend into the crowd, rather than draw attention to yourself.
Leather is also well known to last for extended periods of time and do well under exposure to the elements. Keep in mind it can take a while for the leather belt to break in properly and for it to be worn comfortably.
The belt itself should be about 2 inches longer than you would normally wear and also have the 7 holes in the tongue for the belt buckle. Ensuring you have a little extra length on the belt will allow you to carry IWB without the belt running too tight.
Reliability
The durability of your gun belt must be top notch especially if you're using it to conceal. You don't want to use any type of gun belt that is tearing or sagging. It is important that the belt holds its shape every day for the gun that you are going to be carrying on it.
If the belt were to break while you were on your daily errands, it could be more than a safety issue depending on what your everyday life brings you! The best way to tell if a belt is quality and is going to suit your needs is to simply check out how other customers have faired with the equipment.
Gun belts have an added stiffener inside of them that gives it the support that it requires to hold the extra weight of a gun and its holster. This is one of the primary reasons for a gun belt because it will give you the insight to know that it's worth it to get a gun belt instead of your dress belt
Your Safety
One other thing to consider is how much you trust the equipment. The nice thing about a leather gun belt is they have a stainless steel belt buckle that holds it in place. You don't have to worry about going through gun belts that are cheaply made. The world of nylon belts runs into this problem as every belt buckle is slightly different and trying to be more innovative than the last.
Keep these things in mind and you will be lead to the gun belt that works best for you! All different choices come with their own set of pros and cons but we believe these belts should serve you in the manner that you see fit.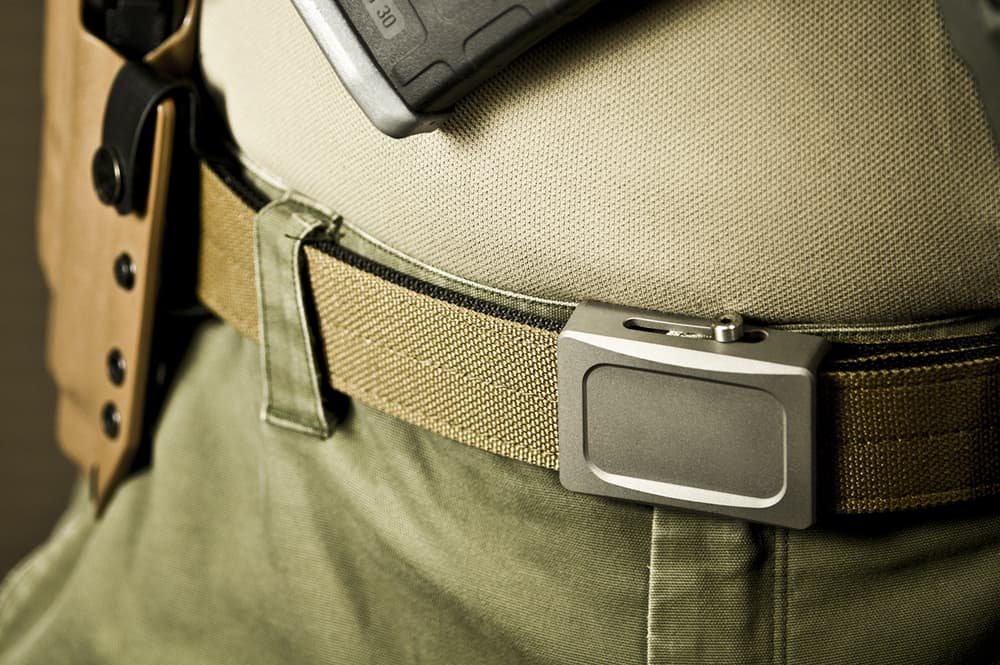 Relentless Tactical The Ultimate Conceal Carry Belt
This leather belt comes in with a lifetime warranty with Premium Full Grain US Leather. The width of the belt is 1.5" so it should fit within your belt loops just fine. The leather is strong enough to hold up all your equipment and still pass the concealment factor of being dressy.
Customers are saying that the belt is sturdy and able to carry even their full-size guns. If you use the size chart before purchasing that Relentless Tactical provides then you will be able to get the proper size pretty easily.
Customers report that the size gives a little bit of slack when you're carrying OWB but not too much. It also provides enough slack that you'd be able to use an IWB holster still and it would be comfortable.
Also, if you get the incorrect size of belt Relentless Tactical is known for their quality customer service and no hassle return or exchange. They will be able to get you fitted to the right belt if you happen to purchase the wrong one the first time!
This 14oz high-quality leather belt will fulfill all your needs to have a well functioning conceal carry belt. The one complaint is that the belt buckle has an extra sleeve on it that can make the hook of the buckle stick out. This could have been a one-off scenario but something to keep in mind before purchasing!
Pros:
Lifetime warranty / Great Customer support
Easy to acquire the proper size the first time
High-quality leather
Cons:
Hanks Extreme Conceal Carry Gun Belt
Hank's Gun Belt is super thick, so it doesn't have a separate piece to stiffen the belt. The thickness keeps the gun belt from sagging from the weight of the gun and other utility items you might be carrying
The belt is made from a strip of full grain steer hide leather and is weighing in at 17 oz total. It's made and manufactured in the USA as well.
Hank's offers a 100-year guarantee so you know it will last you a lifetime. If the belt breaks in any way, they'll give you a new one, free!
The leather is really very thick with 5 layers of normal leather forming up the entire belt. Some people complain that it's too thick and can throw down the concealment factor due to its bulkiness in exchange for some extra sturdiness and rigidness.
Some people have had issues fitting the belt through the belt loops and getting the belt loops to fit, but this largely comes down to size. You would always be able to exchange for a proper fitting one as you find the right size that fits both you and your holster.
Pros:
100-year guarantee
Extra thickness for added stability and rigidity
USA made
Cons:
Bulkiness detracts from the conceal factor of a CCW
Ultimate Steel Core Gun Belt by Relentless Tactical
The Ultimate Steel Core Gun Belt is handmade in the USA and has a steel core metal insert to make the belt even tougher than before. You can be sure that anything you need to tack onto this belt it will be able to carry it without bending or sagging.
The belt is measured at 1 3/8th inch wide so it should fit through most standard belt loops without any problem. This piece of equipment also comes with Relentless Tactical's lifetime warranty so you know it's going to last you!
The belt is sturdy with the steel reinforcement and will work for a larger gun for every day carry. If you're choosing to carry a smaller gun then it might be a good idea to save some money and buy a belt that is a little more lightweight.
The steel core insert of the belt helps distribute the weight of the handgun across the length of the belt more evenly and provides better support. It also provides a level of comfort because you can leave the belt a little looser and it will still hold up great.
A lot of customers are using this belt for IWB concealed carry and experiencing good results with the belt. One customer had an issue with the nylon stitching coming out but with Relentless Tactical's lifetime guarantee you won't have anything to worry about!
Pros:
Steel core insert for added support and reliability
Lifetime warranty
USA Made
Cons:
Some customers have experienced minor cosmetic issues over time
Might be worth it to get a less extreme belt for a smaller, compact firearm
Daltech Force Bullhide Leather Belt
The Daltech Force Bullhide leather belt is 100% full grain leather that has the material come from the top of the rawhide on a bull, the toughest part of a bull's hide. It is completely one piece and with no fillers or inserts.
It's 14-15 oz of leather and 1.5 inches is the width of the belt. The buckle itself is held by screws that you can easily take off to swap out belt buckles if you wanted to. Daltech also offers a lifetime guarantee for this product.
The sizing should just be 2 inches to your belt size and that will give you the proper measurements by their sizing to use an OWB or IWB holster of your choice. This USA made leather belt will anchor down your belt to supply you with a confident draw if you ever need to draw your firearm.
Customers exclaim that the quality of this particular belt is great and is genuinely felt to be worth more than it costs. It's not too thick, or too stiff and the length of the belt seems to contour well with the average human body without the belt feeling like a rigid hula hoop around your waist.
A few customers though have had issues with it sagging after a few weeks to a few months after everyday use. These statements are countered with the reviews stating it works great without sagging for their 1911's, though. It's good to have a full perspective as a buyer.
Pros:
One piece, made from rawhide leather
Interchangeable buckle option
Breaks in well
Cons:
Some have experienced an issue with sagging
Crossbreed Holsters 1 ½ Leather Classic Gun Belt
Crossbreed Holsters Classic Gun Belt is USA made with Top Grain Cow Hide. It's got a tough belt design that is ¼" thick and built to hold your firearms without sagging or bending. The buckle is made of nickel and fashions the standard belt buckle you'd find on a dress belt.
People state that this belt is extremely durable and sturdy and one customer even stated he was buying a second one after having one for 7 years. The only reason he bought a new one is that he had thought that he lost the first one but it was still going strong.
For this particular belt, there aren't really any customers that have exclaimed any issues for this specific item. It seems to be running strong in the market and is a proper quality belt if you're looking to get something that will last you.
Pros:
¼ inch thick and sturdy design
Strong customer satisfaction
Cons:
None experienced at this point in time
That's it!

Now you got the information you need to find the best conceal carry belt for you! It can be tough with so many designs out there on the market but now you can isolate it down to what you really need for yourself and make an intelligent purchase. With a gun belt, you're just looking for one that's going to last a lifetime, fit the look you need to portray and hold your gun without sagging! That's it! Stay safe.
If you enjoyed this article you'll probably like these: