If you're looking for the best 3-9×40 scope you're in the right place because we've put together this top 5 list just for you. The 3-9×40 has become a staple for North America hunting because it gives you a lot of what you need without needless frills.
Below you'll find a quick table with the 5 scopes we recommend. There's both budget friendly options or options great for the money along with my personal favorites in this category from Leupold and Vortex. You'll find a break down of each scope further down this article.
What To look For In Your Scope
Picking out a scope isn't very difficult but there are a couple factors to consider when making your purchase. The features such as focal plane, reticle, and resolution to name a few are important traits to pay attention to. While all of the best 3-9×40 scopes on our list of five are excellent options there may be one more suitable to your needs.
Below I'll quickly go over some traits or characteristics you may want to take into consideration while making your scope decision. Hopefully this way you'll have taken everything into consideration before the purchase and make your best possible choice.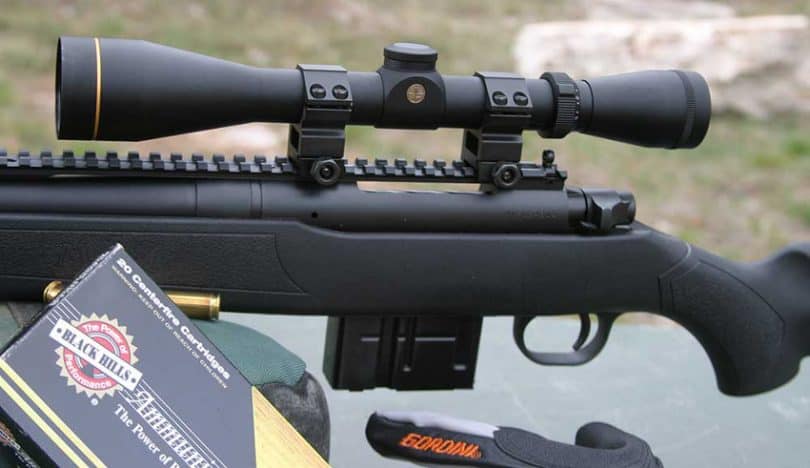 Your Shooting Environment
One of the most important things in my opinion is the environment you'll be shooting in the majority of the time. If most your time will be spent in the woods you'll need a scope that's very durable, provides fog purging, water resistant, and overall has the ability to withstand these tougher conditions.
Range shooting or sport shooting is often done in better weather conditions. This lets you focus less on the durability of the exterior of the scope and maybe find a scope that puts your money into the glass, turrets, and clarity.
Unfortunately we don't live in a perfect world and not all scopes excel in all areas. If you're going for a 3-9×40 scope that budget friendly you'll have to decide which traits are important to you. However, if you're willing to spend the extra money on a higher end scope you can really get something special.
Does Focal Plane Matter?
The short answer is no focal plane doesn't matter. It really comes down to what you're used to or if you're a beginner just find the one you understand easier. There's always an ongoing debate on first focal plane vs second focal plane for hunting and which is better for competition but it all boils down to personal preferences.
Detailed Features
The more detailed features or traits you want to look at are the reticle, zoom, parallax, and resolution. Each of the best 3-9×40 scope will vary so pay attention to the more detailed information of your scope.
Your reticle is very important. You can get a glass etched reticle or standard but the quality of glass with your reticle will make a big difference. Since it's what you'll be focusing on through your scope you need to make sure it's a good one.
A lot of scopes lose clarity when you're zoomed in at max. If you're going to be using max magnification often make sure your scope has a reputation of clear images when at maximum zoom. If you're going to be hunting with this scope most hunting is done around 300 yards so you should be fine without using the maximum.
The standard parallax for a 3-9×40 scope is around 50 yards with two options exist for magnification and resolution: digital or optical. Parallax is essentially an optical illusion that makes the reticle appear to move.
Resolution is another one of the most important things to consider for your scope. Most decently priced scopes will have a good resolution and that's why I typically recommend staying away from very cheap scopes. As long as you're spending at least a little money on a decent scope you should have something with good resolution. Make sure it's high on your priority list.
Why Use A 3-9×40 Scope?
The 3-9×40 scope is popular because it gives you a lot of what you need without other extras. This means you're getting exactly what you pay for without wasting money on other features you may not need. The 3-9×40 magnification of 3x is low but favorable for most hunting conditions.
This has made this type of scope ideal for hunting in North America. It still gives you enough magnification for a little longer distance shooting if needed. I think it will continue to grow in popularity because people want a practical hunting scope without worrying about the extra frills.
There are still choices to make though, You'll choose between illuminated options, compact designs, but the majority of these scopes are classic, sleek, and won't break your bank while providing you with a scope you can be confident in.
The Best 3-9×40 Scope
Below you're going to find the 5 best scope options for your 3-9×40 scope purchase. Make sure to still take into consideration the features you want and what is going to be most important to you in a scope. Then find the one below that matches your criteria the best but any of these 5 scopes will make a great option!
Nikon Buckmasters II
This is the Nikon Buckmasters II. It's a scope that probably doesn't need an introduction because it's so popular. This scope grew through word of mouth for its popularity. From one hunter talking to another this scope grew into a large center piece of the 3-9×40 scopes.
This model scope is highly durable. It has a bright anti-reflective system of multi-coated lenses. The claim is a 92% anti-reflection capability which is really good. It has a BDC (bullet drop compensator) reticle that helps you find accurate aiming points for different distances.
The scope is 100% fog & water proof. It's sealed with nitrogen to prevent moisture getting into the interior housing. Overall it's a well made product and its popularity is well deserved.
Customers who already own this scope have a lot of good things to say about it. What I've come across is that many people who purchased this scope end up buying a second or third one for their other rifles. That's definitely a strong sign of strength.
Just make sure you have the appropriate rings and mount to go with the scope.
Positives Recap for This Product
huge following and popularity
extreme value for the price
quality features found on higher end scopes
great pick if you're on a tight budget
Negatives Recap for This Product
scope mount and rings not included
Bushnell Banner Dusk & Dawn
Sale
This is the Bushnell Banner Desk & Dawn. It's a great 3-9×40 option that's known for its great clarity. It has a multi-x reticle with around 3.3″ inches of eye relief. The Bushnell brand tries to make products that are both high quality yet affordable at the same time. They've been achieving this for many years.
Bushnell is a reputable name in the rifle scope industry like Nikon and their 3-9×40 scopes come with some premium features aimed at increasing your shooting accuracy and efficiency. This model is made from high quality materials that are put through durability tests and built to last.
The name Dusk & Dawn come from it's ability to perform well in low light conditions. It will hold its clarity and brightness in these less than favorable lighting conditions. The adjustments work in a 1/4 MOA system or minute of angle. MOA is a great option to go with for adjustments if you're unsure what to use. It's the simplest math which comes out to 1″ inch per tick per 100 yards.
The fast focus eyepiece measures 12″ inches long. The durability features are 100% water & fog proof. This is the most budget friendly option on our list. You shouldn't expect the same features as scopes in the higher spectrum but the one thing I would rely on for this scope is it's clarity.
Customers who already own this scope love the level of clarity that the scope achieves which is important since its the scopes main claim to fame. One thing to pay attention to is that it's rated for pellet guns or air rifles but people have been successfully using it on their AR-15 and even 12 guage shot guns.
As long as you keep your expectations reasonable for a scope this price you'll end up happy.
Positives Recap for This Product
good clarity in low light conditions
quality features on a budget
works on your AR-15 and other rifles
Negatives Recap for This Product
rated for pellet guns and air rifles
Nikon Prostaff Rimfire
Nikon PROSTAFF RIMFIRE II 3-9X40 BDC150
BDC 150 reticle - developed specifically for the trajectory of hyper velocity .22 long rifle rimfire round.
Precise 1/4" @ 50 yards adjustment.
Spring loaded instant zero reset turrets.
3-9x40 parallax free @ 50 yards.
Fully multi-coated optics.
This is the Nikon Prostaff Rimfire scope with BDC reticle. It's another scope on our list that won't break the bank and would perform well in hunting conditions. It's fully multi-coated lenses provide up to 98% light transmission, it's precise turrets adjust at 1/4-inch at 50 yards and have a quick zero reset feature.
The housing is nitrogen filled and sealed to be water proof and fog proof. It has a quick focus eyepiece and backed by a full lifetime warranty. This model is a popular option among hunters so you may have heard of it before. It's popularity comes from its performance and durability in the woods. It can be dinged over and over without breaking down.
Don't let the budget price fool you with this scope. The glass is crystal clear, the crosshairs look sharp, and you'll maintain a good image even at maximum zoom. The turrets have a click you can hear and feel when making adjustment. It's also backed by a strong lifetime warranty that covers any defects that may happen over time.
Customers are overall happy with the scope. The main downside we came across were some people getting used to the scopes parallax. It's built to shoot at 50 yards and has a BDC reticle but some people still found it difficult to adjust at 100 yards.
Positives Recap for This Product
great budget scope for hunting
Negatives Recap for This Product
parallax can take getting used to
built for shooting at 50 yards
some people found the reticle to be blurry over 100 yards
Leupold VX-2
Leupold 110797 VX-2 3-9x40mm Compact Waterproof Fogproof...
1/4 MOA precision finger click adjustments for windage and elevation offer absolute repeatability and dependability over a lifetime of extreme use.
Absolute waterproof and fog proof integrity - each is ready for a lifetime in the field, in all conditions.
A versatile 3:1 zoom ratio erector system that is ideal for virtually any situation.
DiamondCoat lens coatings on exterior lens surfaces provides the ultimate in abrasion resistance. The result is a flawless sight picture over a lifetime of hard use.
A Leupold exclusive, our Index Matched Lens System provides exceptional brightness and extremely sharp resolution across the entire visual field.
This is the Leupold VX-2 and while it's one of the more expensive options on our list it is a Leupold after all. If you're seeking something that's going to excel in most areas for a 3-9×40 scope this is going to be the one. While some of the other scopes have their flaws, all scopes do, this model from Leupold makes them difficult to come across.
This scope has 1/4 MOA precision turrets with click adjustments for windage and elevation. The turrets are very dependable and maintain their accuracy over a lot of use and time. It can withstand nearly any outside conditions. It's 100% waterproof and fog proof.
As with all 3-9×40 scopes the 3:1 zoom ratio is great for nearly any situation. The lens is coated with a Diamond Coat to prevent abrasion or scratches. The glass is highly resistant so it'll provide you with a great picture even over a lifetime of hard use.
Customers really like their Leupold scopes. The biggest mentions from customers were the scope being lightweight, great field of view, crisp image even out to the edges, and a generous eye relief when compared to some other comparable scopes.
The one thing we noticed was that from time to time someone would receive a scope with mechanical issues with the turrets. This may be a quality assurance issue where they check them before sending them out. In all instances the people who received this issue were able to exchange the scope and had it fixed.
Positives Recap for This Product
strong scratch resistant glass
lightweight hunting option
crisp image out to the edges
Negatives Recap for This Product
quality assurance issue from time to time with the scopes turrets
Vortex Crossfire II
Vortex Optics Crossfire II 3-9x40 SFP Riflescope Dead-Hold...
The 3-9x40 Crossfire II riflescope is one of many configurations in the Crossfire II line. The Dead-Hold BDC reticle is good for hunting/shooting at varying ranges where estimating holdover is a...
With long eye relief and an ultra-forgiving eye box, you'll be able to quickly get a sight picture and acquire your target. The fast focus eyepiece allows quick and easy reticle focusing.
Anti-reflective, fully multi-coated lenses provide bright and clear views for the user.
Capped reset turrets are finger adjustable with MOA clicks that can be reset to zero after sighting in.
A single piece tube constructed from aircraft grade aluminum ensures strength and shockproof performance. O-ring sealed and nitrogen purged, the Crossfire II delivers waterproof and fogproof...
This is the Vortex Crossfire II. Vortex makes a great beginner level scope as well as high end professional scopes. They really make products suitable for both levels of the spectrum and any shooter can appreciate a brand dedicated to the multiple levels of shooting.
All Vortex scopes aim to provide a wider field of view with very clear images and well balanced illumination while maintaining a lightweight body with durable construction. They also aim to remain affordable at all levels of their product ranges.
This model has a dead-hold BDC reticle, generous eye relief, and fast focus eyepiece for quick reticle focusing. The lenses are anti-reflective fully multi-coated and provide bright and clear views. It has capped reset turrets with MOA clicks that can be reset to zero quickly.
The body is very durable with shockproof performance. A sealed O-ring and nitrogen housing keeps your scope waterproof and fog proof. Vortex delivers a great 3-9×40 scope that won't break the bank.
Customers of the product often mention the clarity of the glass at this price point is spectacular. It's great for medium range shots and lives up to providing clear images in both foggy and light rain conditions. It's also holding zero while mounted to heavier recoil guns like a 30-06.
Positives Recap for This Product
shockproof body and very durable
good image in fog or light rain
Negatives Recap for This Product
Commonly Asked Questions
What does the 3-9×40 mean on a scope? – The 3 means three power or 3x. This means the image appearing through the scope is 3 times closer than it appears with the naked eye. The 9 means the exact same thing except at 9x closer than what the naked eye would see. Lastly, the 40 is the objective diameter of the lens in millimeters.
Is a 3-9×40 scope sufficient for long shots? – It will depend on some different factors such as your vision and type of game you're hunting. However, you should be able to hunt deer size game at 100 – 300 yards very easily with this type of scope. When you're at 9x with basic vision you should be able to hit at 450 yards.
Is it possible to mount a scope without a rail? – It is possible to mount a scope without a rail but it will require the help of a gunsmith if you want it done properly. It's not something I would venture out and try without any experience.
Conclusion
That's it for our review of the best 3-9×40 scope. I hope you found one of our 5 listed scopes suitable for your needs. My personal favorites are the Leupold and Vortex options. Either way you'll be happy with any of the 5 on our list and I'm happy we were able to fit some of the budget friendly options in it.
If you did enjoy the article you may also like our review of 1-6x scopes or tutorial on scoping a BB gun.