1911 pistols have been some of the most used for the past 100+ years since its adoption as the official handgun of the Armed Forces. Many people own and love them, maybe you already do.
But a pistol's usefulness is severely limited by using poor gear with it. A leather holster of good quality can make an excellent companion to your 1911, but there are hundreds out there.
Fortunately, we did the research and narrowed down the list to top 5 choices for the best 1911 leather holster.  We've also included everything you need to know about getting a new pistol holster.  Read on to find out more.
REVIEW OF THE BEST 1911 LEATHER HOLSTERS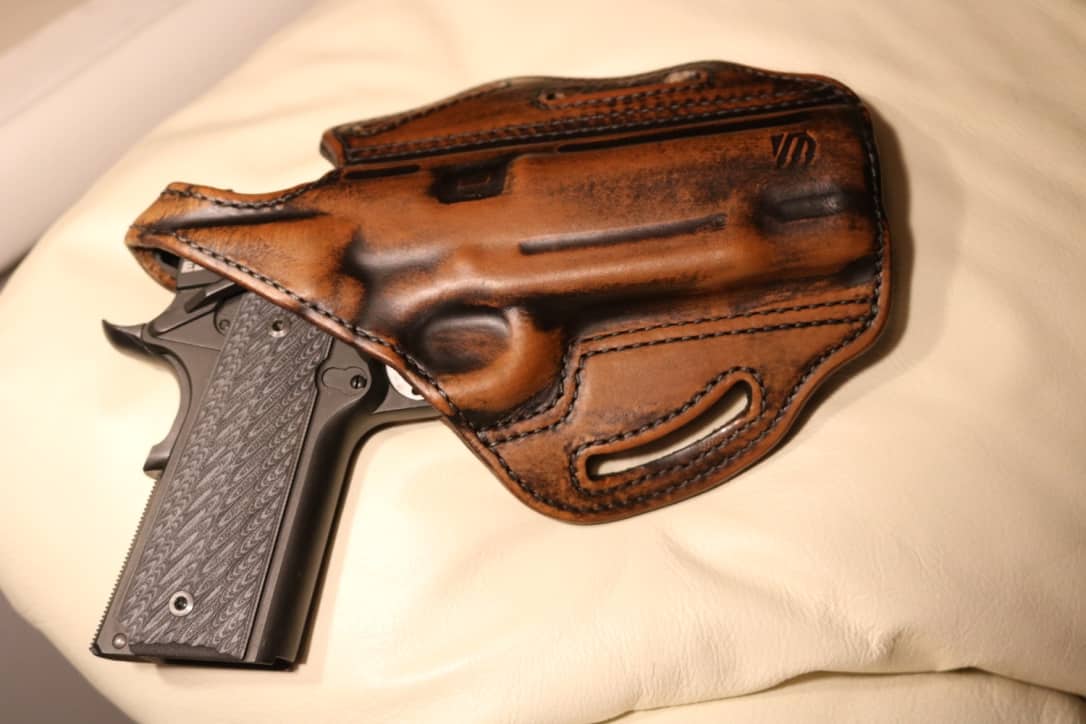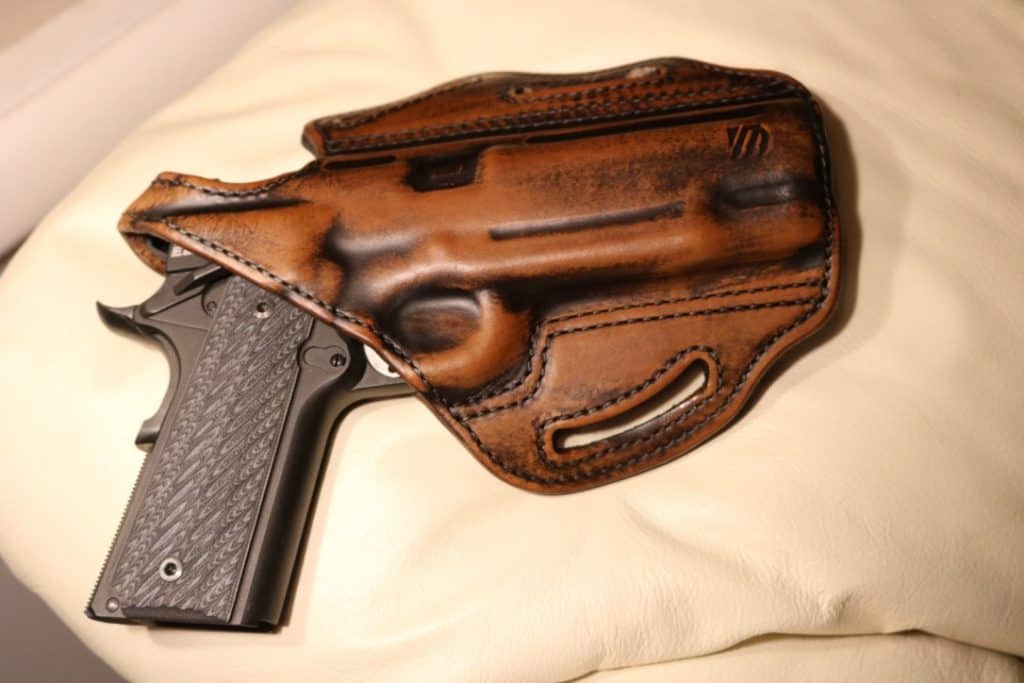 Next is our breakdown of the best 1911 leather holsters and their features. Think about what you need in a holster and compare that with the customer reviews to arrive at the purchase you can be happy with.
1791 GUNLEATHER 1911 OWB LEATHER GUN HOLSTER
1791 GUNLEATHER Right Hand OWB Leather Gun Holster...
COMFORT & QUALITY: Upgrade your carry to the 1911 leather gun holster. Made with 100% American Steerhide Leather that is...
CONCEALMENT & CONVENIENCE: 1791's 1911 holster is designed for concealment and convenience. Our easy to conceal OWB leather...
PROTECTION & CRAFTSMANSHIP: 1791 Gunleather's 1911 Belt Holster is hand crafted to protect both you and your firearm at all...
CUSTOM FIT: This 1911 leather pistol holster fits both 4 and 5 inch barrels as well as belts up to 1 & 3/4 inches. Its...
LIFETIME WARRANTY: All 1791 products are backed by lifetime warranty. We produce the finest leather gun holsters used by law...
1791 made this holster specifically for the popular 1911 pistol. They designed the holster for 4 and 5-inch barrels, but it does not fit 1911s with rails or Commander size. If you have these, you need to look elsewhere.
The medium-priced OWB holster is low profile and easy to conceal. Its draw speed is smooth and quick despite its stiff retention which keeps the pistol securely in place.
1791's craftsmen built the holster with reinforced, double-stitched leather for durability and style. It comes in 6 different colors for your preference but only in the right-hand variety. If you're a lefty, you may want to look elsewhere.
The holster attached to your belt through belt loops. It fits up to a 1.75-inch gun belt for maximum security and comfort.
As with all 1791 Gunleather products, this holster comes with a lifetime warranty.
Customers have this to say about using the holster:
Positives Recap for This Product
Durable, stiff leather
Fits most 1911 pistols like a glove
Comfortable and held close to your body
Looks great
Negatives recap for This Product
Extra stiff when first used
Loose fit for 4-inch barrels or smaller 1911s
Tight fit wears on the pistols over time
RELENTLESS TACTICAL THE DEFENDER LEATHER IWB HOLSTER
Relentless Tactical The Defender Leather IWB...
GET THE CUSTOM MADE FEEL AND WORLD CLASS QUALITY WITHOUT SPENDING A FORTUNE! You don't have to wait months and spend hundreds...
BACKED BY RELENTLESS TACTICAL'S LIFETIME WARRANTY! Carry the best leather 1911 IWB Holster with confidence, for the rest of...
FITS MOST 1911 STYLE HANDGUNS WITH ANY BARREL LENGTH! Kimber, S & W, Colt, Remington, Browning, Ruger, Taurus, Sig Sauer and...
HANDMADE BY AMERICAN CRAFTSMEN, FROM GENUINE USA BULLHIDE LEATHER! American made with American Pride, No synthetic materials...
DESIGNED FOR OPTIMUM PERFORMANCE AND MAXIMUM COMFORT! Sturdy, dependable, and form-fitted for easy, effective concealment and...
The Relentless Tactical IWB holster is an affordable model designed to fit most 1911 style handguns. They offer a lifetime warranty on their American-made product built with bull hide leather by their craftsmen.
The claim The Defender holster fits any barrel length of 1911 pistols including the following:
Kimber
Smith & Wesson
Colt
Remington
Browning
Ruger
Taurus
Sig Sauer
As an inside the waistband holster, it's built to be low profile and easy to conceal. Despite its location IWB, Relentless Tactical wanted to make sure the holster is still easy to access with a quick draw speed in case of emergencies.
The holster attaches to your belt with a sturdy metal clip. With stiff leather molding and double stitching, the holster isn't likely to lose its shape or come apart over time.
Even though it's meant for concealed carry, the holster still looks great. It comes in three great colors in both right and left-hand varieties.
Here's what actual users have to say about Relentless Tactical's The Defender:
Positives Recap for This Product
High-quality leather
Strong holster clip
Affordable
Comfortable feel of the leather
Great retention
Negatives Recap for This Product
Some types of sights may catch on the leather and tear it or get caught when drawing
Holster rides low
RELENTLESS TACTICAL THE ULTIMATE LEATHER GUN HOLSTER
Relentless Tactical The Ultimate Leather Gun...
PROUDLY HANDMADE IN THE USA! Made from genuine US cowhide leather.
VERSATILE 3 SLOT PANCAKE DESIGN! Use straight drop or butt forward cant. Wear strong-side, cross-draw or behind-the-hip...
SAY NO TO CHEAP NYLON HOLSTERS! Highest quality leather belt holster pleases even the most demanding gun owner.
EFFECTIVE CONCEALMENT WITH MAXIMUM COMFORT! Pre-curved to fit close to body while still providing easy access.
THE BEST LEATHER GUN HOLSTER ON AMAZON! FITS MOST 1911 STYLE HANDGUNS WITH ANY BARREL LENGTH! Kimber, S & W, Colt, Remington,...
Where the earlier Relentless Tactical holster was designed for IWB and low-profile use, The Ultimate Leather Gun Holster is the company's attempt at creating a customizable OWB holster.
This holster may cost more, but the 3-slot pancake style belt holster means that you can wear it in different ways depending on how you like to wear it. Wear it on your strong side straight up or butt-up for a cross draw. They claim it also works for behind-the-hip carry.
Like all Relentless Tactical leather products, the materials are assembled by their craftsman in America using American-made materials. The leather lasts a long time and is stiff enough to provide good retention without sacrificing draw speed.
The holster is curved to fit as close to your body as possible. An open muzzle style means that various muzzle lengths can fit in here. The manufacturer claims that The Ultimate Leather Gun Holster fits all 1911 type pistols.
It looks great but color options are limited to brown and black for right-handed models, and brown only for left-handed folks. Relentless Tactical offers a lifetime warranty for this holster, so you can return it if it breaks or you don't like it.
The experience of customers boils down to the following points:
Positive Recap for This Product
Great quality leather for the price
Comfortable; rides close to your body
Looks great
American Made
3-slot style lets you adjust how you carry
Negatives Recap for This Product
Front sight gets caught as you draw
May be too tight on larger models; requires effort to draw
GALCO COMBAT MASTER BELT HOLSTER FOR 1911 5-INCH COLT, KIMBER, PARA, SPRINGFIELD
Galco Combat Master Belt Holster for Kimber Colt...
DESIGNED TO FIT PARA, COLT, KIMBER, SPRINGFIELD 1911: Galco's Combat Master is designed and molded to fit Kimber 5" 1911,...
COMFORTABLE AND CONCEALABLE: Featuring a traditional pancake design with an open muzzle, the butt-forward cant allows easy...
SECURE FIREARM RETENTION: The hand-molded open top design offers a fast draw and presentation while providing secure...
PREMIUM MATERIALS: The Combat Master combines premium saddle leather, double-stitched seams, and a hand-molded fit to create...
MADE IN THE USA: The premium saddle leather used in our holsters is sourced from the top 2% of leather available in America...
The Galco Combat Master Belt Holster is the most expensive on our list, but it's very specifically designed for the 5-inch Colt, Kimber, Para, or Springfield. The leather is of premium quality and hand-molded to fit these models for optimal retention and draw speed.
Galco made this holster with a butt-forward cant to help conceal this OWB holster if you wanted but still allow for easy access. They test it for durability and quality, and the Combat Master is geared towards use by law enforcement, military, and citizens looking for a high-quality, tactical leather holster.
A belt up to 1.75" thick goes through the two slots for a close wear. This imported holster comes in tan and black in right and left-handed options.
Because this is specially designed for the 1911 models listed, make sure if you purchase this holster you're using it with these models. A number of reviewers who left poor reviews complained it didn't fit their gun when the company didn't design this holster to do so. Use your head.
Galco users had this to say about their product (when using the holster with the correct 1911):
Positives Recap for This Product
High-quality, thick leather
No wear on the gun
Good concealment for an OWB
Lasts a long time
Great retention
Negatives Recap for This Product
Gun may touch your body directly as you wear it
1911 with rail may be too tight
XCH SIG SAUER P238/P938, S&W 1911, COLT 1911, COLT DEFENDER, COLT COMMANDER, SHOULDER GUN HOLSTER
XCH Shoulder Gun Holster Sig Sauer P238 / P938,...
Fits 1911 type pistol, Colt Defender, Colt Commander, Sig Sauer P238/P938, Bersa Thunder .380 plus, subcompact handguns
Horizontal or vertical carry position. Ambidextrous, left/right handed. Removable magazine pouch can be used as OWB....
Made of high quality genuine leather, high durability . High quality workmanship.
100% cowhide genuine leather.
XCH's leather shoulder gun holster is designed for some of the most common 1911 types. Shoulder holsters are not as common to wear, but they offer some unique benefits including:
Even weight distribution
Discreet access by crossing arms
Usually, only one layer to go through when reaching for your gun
Carries extra ammo easily
The XCH medium-priced holster can be worn with a horizontal or vertical draw in right and left-handed style.  The leather used is high-quality and durable.
Some customers said they were able to take off the holster and extra mag from the shoulder strap and also wear it on their belt. This may make this the most flexible wear on our list.
Here are what users had to say about the XCH shoulder gun holster:
Positives Recap for This Product
Fits 1911s nicely
Many wearing configurations
Comfortable feel of the leather
Well-crafted leather
Affordable over-the-shoulder
Negatives Recap for This Product
Some adjustments are limited in their range
Made in Russia
FEATURES OF LEATHER HOLSTERS
As is usually the case when buying holsters, there are a lot of different things to keep in mind. As you read about the common features of leather holsters, ask yourself which is most important to you.
Our top 5 choices do well in all of these areas, but knowing what to look for helps you make the best purchasing decision for your needs.
Holster Types – The three most common types of holsters are over the waistband (OWB), inside the waistband (IWB), and shoulder holsters.
OWB are built for open carry and easy access but can get uncomfortable if not held tight to the body. IWB are made to conceal but can have slow draw speed. Shoulder holsters are unique and make for easy access, concealment, and extra magazines.
Durability – Buying a holster is an investment. You buy a holster to wear it, and you expect to last over time. Not all holsters excel in this area, but the holsters on our list do well here.
Draw Speed – The reason you are carrying is so you're prepared in case of an emergency. In this kind of dire situation, you don't want to struggle to draw your gun. A fast draw speed is key.
Fit – Leather holsters often rely on friction as their main source of retention. In other words, the gun is held in place by the tightness of the leather. The downside of this tightness is that the leather can wear and scratch your gun.
I know I'd be furious if my gun was scratched from a holster, especially if that gun once belonged to one of my relatives.
Style – If you're going for leather, you are picking it because of its durable quality and its classic look. There's nothing wrong with wanting to buy a holster that looks how you want it to (as long as the other features are met).
Everything else being equal, take a look at the pictures and the different styles to pick the one that looks best to you.
Comfort – A comfortable holster is one that you're going to wear again and again. Getting one where the gun pokes you or the holster rides too low keeps you from carrying.
Price – Of course, you can get want the best holster with all the bells and whistles, but if it costs too much don't get it. Our top 5 come in a range of prices, so check out what you can swing without getting in too much trouble at home.
ABOUT THE M1911 PISTOL
John Moses Browning was a legendary firearm inventor during the turn of the 20th century. In the early 1900s, he wanted to design a pistol better fitted for the needs of the United States Armed Forces at the time.
The military was looking for something with more stopping power than the .38 Long Colt that was used at the time but was also semi-automatic and durable. Browning's model, later produced by Colt, met all of these requirements.
After undergoing a tough test, the M1911 pistol was adopted as the official gun of the US Armed Forces in March of 1911 (which is where the name comes from).
Since then, the 1911 has remained a top choice for handgun lovers over the past 100+ years. Although it was pulled from active service by the military in the 1980s, there are many service members who still prefer it.
CONCLUSION
A 1911 pistol is a great choice for anyone who wants to carry. The tried and true design has stood the test of time and only gotten better with newer technology.
The best 1911 leather holsters listed above can make your entire carrying set complete. Take our information on the quality of craftsmanship, comfort, fit, and price to find the best one for you.
If you have the money and one of the 1911 types listed, I recommend going for the Galco holster. It costs a lot, but there were no consistent complaints from the people who tried it with the right type of gun.
Otherwise, pick from your favorite style of holster. All the others may be great choices depending on what you're looking for. Whatever you decide, rest easy knowing that any of these is a safe purchase.
If you enjoyed this article you'll probably like these: