The Colorado State Shooting Association is an avid protector of freedom in The United States.  They strongly support the right Americans have to bear arms.  Their mission is to support this privilege and to help facilitate the advantages of it through ethical and responsible education, informative research, and active participation in legislative matters.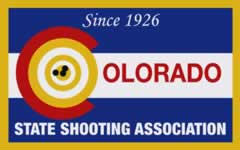 The CSSA is a statewide organization powered by volunteers and made possible by donations from members across the state and country.  They are the official state association of the National Rifle Association, NRA, for Colorado.  Whereas the NRA serves the entire territory of the United States, the CSSA's territory is limited to the state of Colorado.  They work in accordance with the NRA and within all of their laws and requirements, however, the CSSA is a completely separate and independent entity, relying on their own members for support and continuation.
The role the CSSA plays as a state association is very important and their impact can be felt in almost every scenario which includes legal arms and weaponry.  To begin, the CSSA is the sanctioning body for all firearm matches that take place within Colorado.  Competing in any state or regional match first requires membership with the CSSA.  In addition to the matches, the CSSA provides training, support, and funding for all shooting sports that take place in the state.  They sponsor shooting events and teams, locate and integrate corporate sponsorship for such events, and assign volunteers to work at the events and matches.  The CSSA will assist in finding instructors for anyone interested in becoming a legal and active marksman.  
The CSSA is also the official state association of the Civilian Marksmanship Program or CMP.  This regulatory program sponsor matches to help make rifle marksmanship available to the public.  They also sell military and match equipment, rifles, ammunition, and more.  Before purchasing items, one must first be a member of CSSA or a CMP sanctioned club.
The Colorado State Shooting Association plays a major role in discovering and sharing all the information a shooter in Colorado would want to know.  They share knowledge on the law and how it pertains to shooting regulations both for sport and for personal protection purposes.  They communicate to the public about firearm related topics via radio, television broadcasts, newspapers, and magazines.  
Laws and regulations surrounding firearms are closely monitored by the CSSA.  No changes take place without the active testimony and participation of CSSA members.  They remain the number one advocate for firearms rights in the state of Colorado.  The CSSA is an passionate team of gun enthusiasts who understands and supports the many reasons why the right to bear arms must be protected.
The CSSA brings together the people of Colorado who respect and appreciate their right to bear arms for activities such as hunting, sporting, collecting, and more.  They serve as a beacon of hope for members of society who still believe in the power behind the second amendment.
Through the CSSA, people from a variety of backgrounds are brought together for the purpose of competing, studying, practicing, and training with firearms.  The CSSA defends rights to carry and use concealed weapons.  Safe and responsible methods for use are enforced and help to highlight the benefits of providing a safe space to practice and study with these powerful tools.  
Shooting sports are a popular choice by many in The United States.  The CSSA respects this desire of the residents of Colorado and provides the facilities, personnel, and knowledge necessary to continue such a valued tradition.  They host, advertise, and volunteer at sporting events, ensuring the games take place fairly and lawfully.  
Access to shooting sports, hunting, and firearms overall is a right that is constantly challenged in this country.  Due to the dedicated work from the CSSA, these rights are defended and maintained on many levels of government.  They are working to ensure every voice is heard on behalf of all firearm owners.  Whether it be for sport or protection, the CSSA is ready to provide the information and testimony necessary to those who make the important decisions in politics and government.
To assist in future generation's understanding and respect for firearms and their abilities and importance, the CSSA offers women and junior programs to anyone who is interested.  They provide a safe and welcoming atmosphere that harnesses honor and appreciation for firearms and their applicable uses.  Igniting passion in juniors will help to maintain the momentum behind second amendment support for years to come.  
The CSSA works for the people and also because of the people.  With the generous donations of time and money by enthusiasts across the country and state, they continue to strengthen safety and freedom not just for Coloradans, but citizens across the USA.  
The combined efforts of CSSA members and volunteers have served to enlighten members of society, from juniors up to legislative leaders and politicians. They have persisted in their mission to protect Colorado residents from government intervention in dealings with firearms. With this association in action, legislators will not successfully ban firearms or limit the public's access to them.
The CSSA helped to clean up the confusing laws that changed as residents traveled from one municipality to another within Colorado.  It has been made official that any place where carrying is not permitted must explicitly state so via public signage visible at each entrance into the city.  Failure for a city to do so relieves firearm owners from obeying such regulations.
The CSSA works diligently in the Capitol, fighting for resident rights to own and carry legal firearms on their person.  They have effectively defeated several anti-gun bills introduced to the General Assembly, making their voice and position heard and respected.  Furthermore, they have worked for pro-gun legislation which is currently in lawful effect throughout the state.  The CSSA also played a pivotal role in passing uniform concealed handgun permit legislation as well as many other bills. 
The CSSA receives news, updates, and information coming from legislation at state and local levels almost immediately.  They are fully committed to protecting law-abiding citizens who choose to enjoy shooting, hunting, and collecting firearms.  They are often found testifying in front of committee hearings to ensure that their voice, and those they represent, are heard.  They have had a major hand in many bills that have been written regarding firearms and their variety of uses.  The CSSA ensures that residents who value their freedom to own and carry firearms are heard when it matters most.
The Colorado State Shooting Association is fully invested in protecting Americans rights to enjoy shooting sports as well as their right to bear arms on their person.  They exist to defend the rights of Coloradans who find the second amendment to be a valuable addition to their lives.  As long as they continue to receive the support of the people, they will remain a force to be reckoned with on state and local levels.